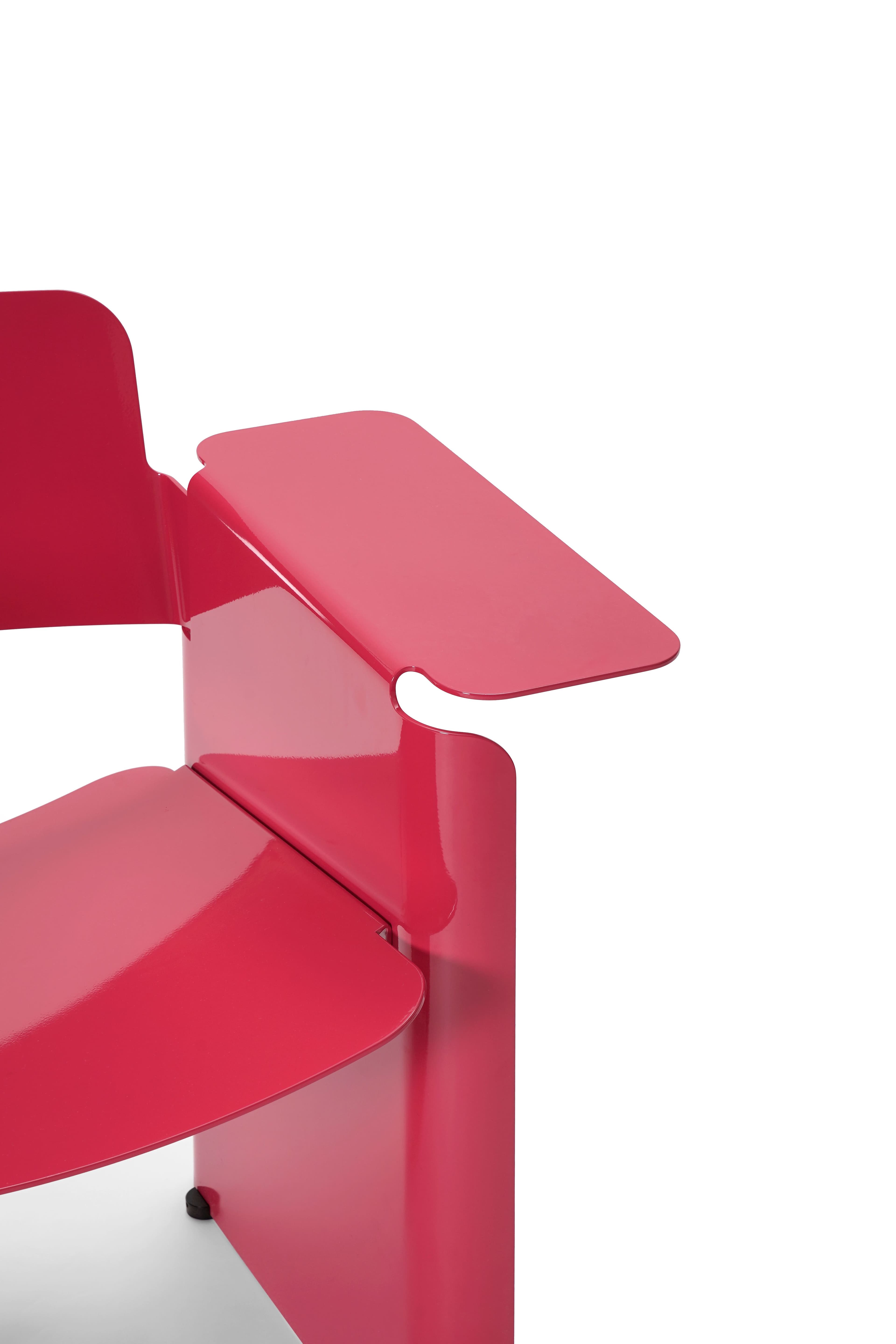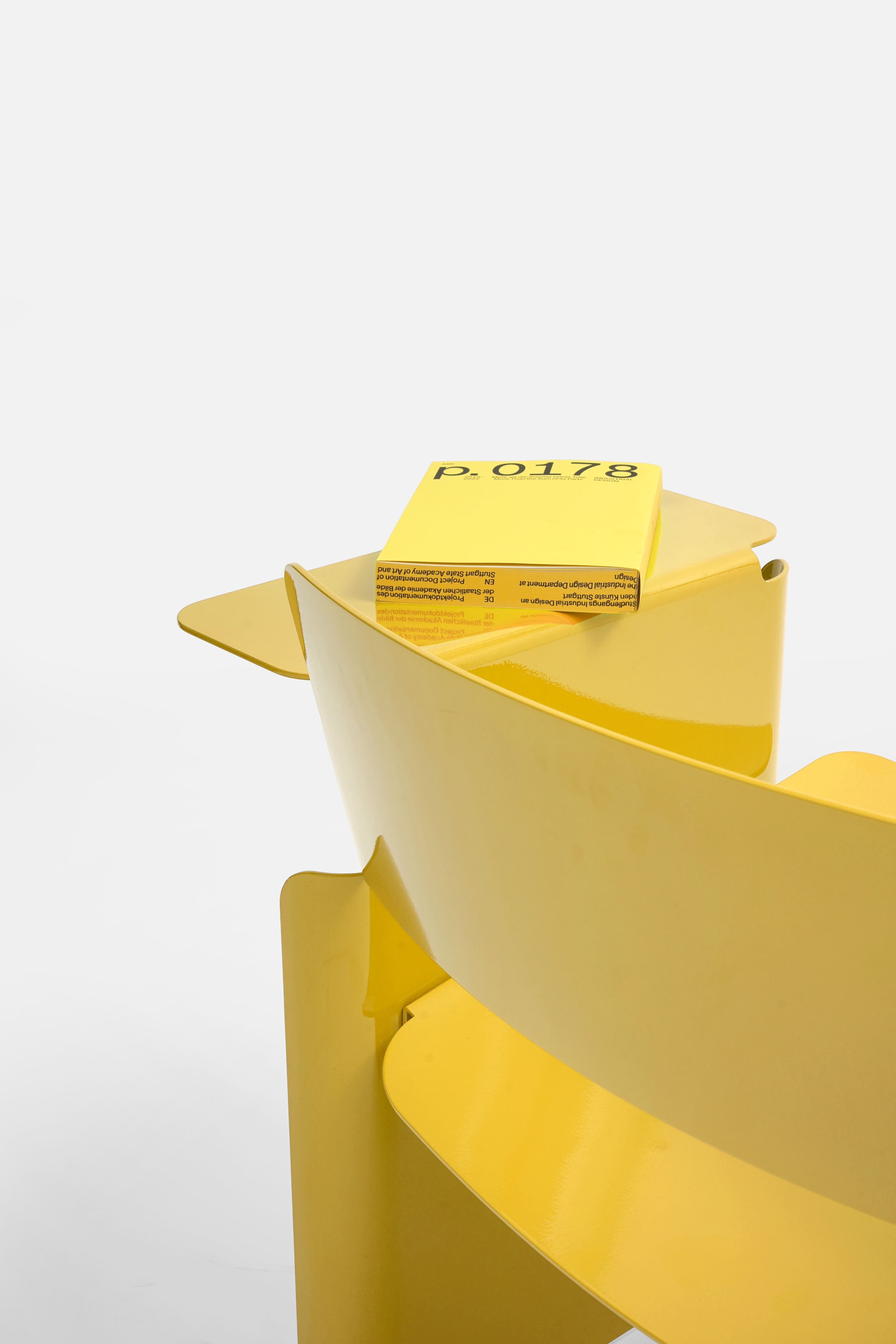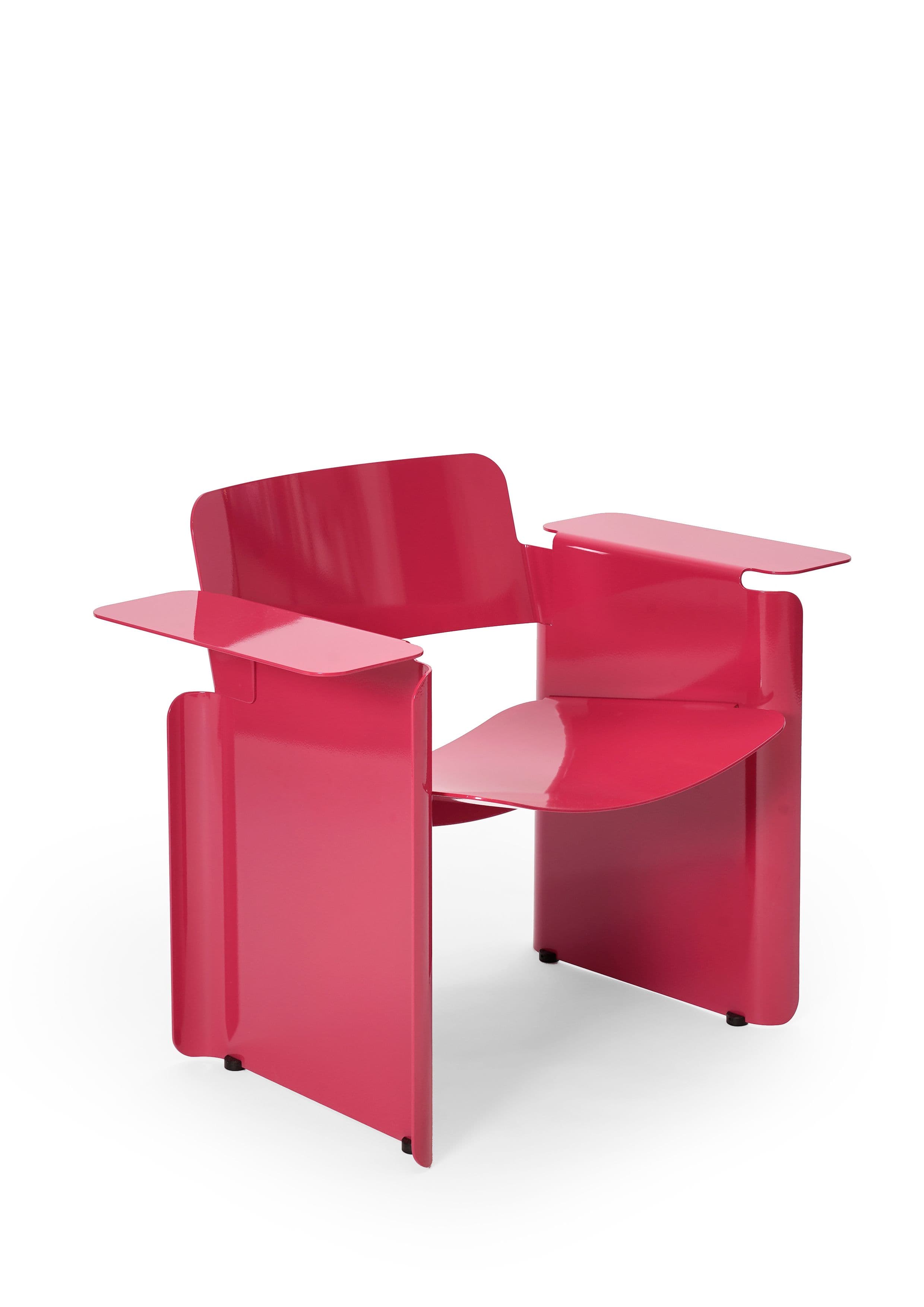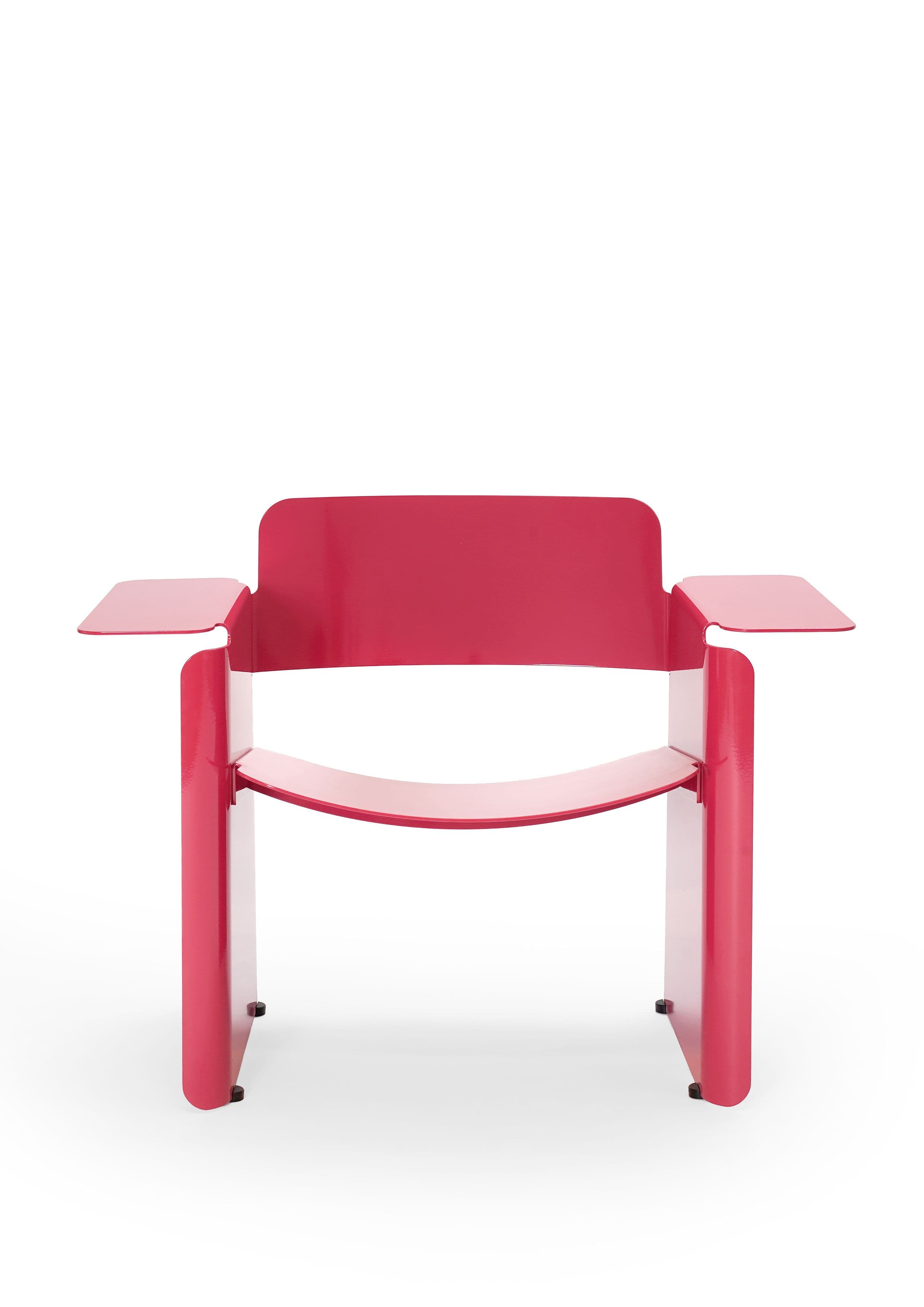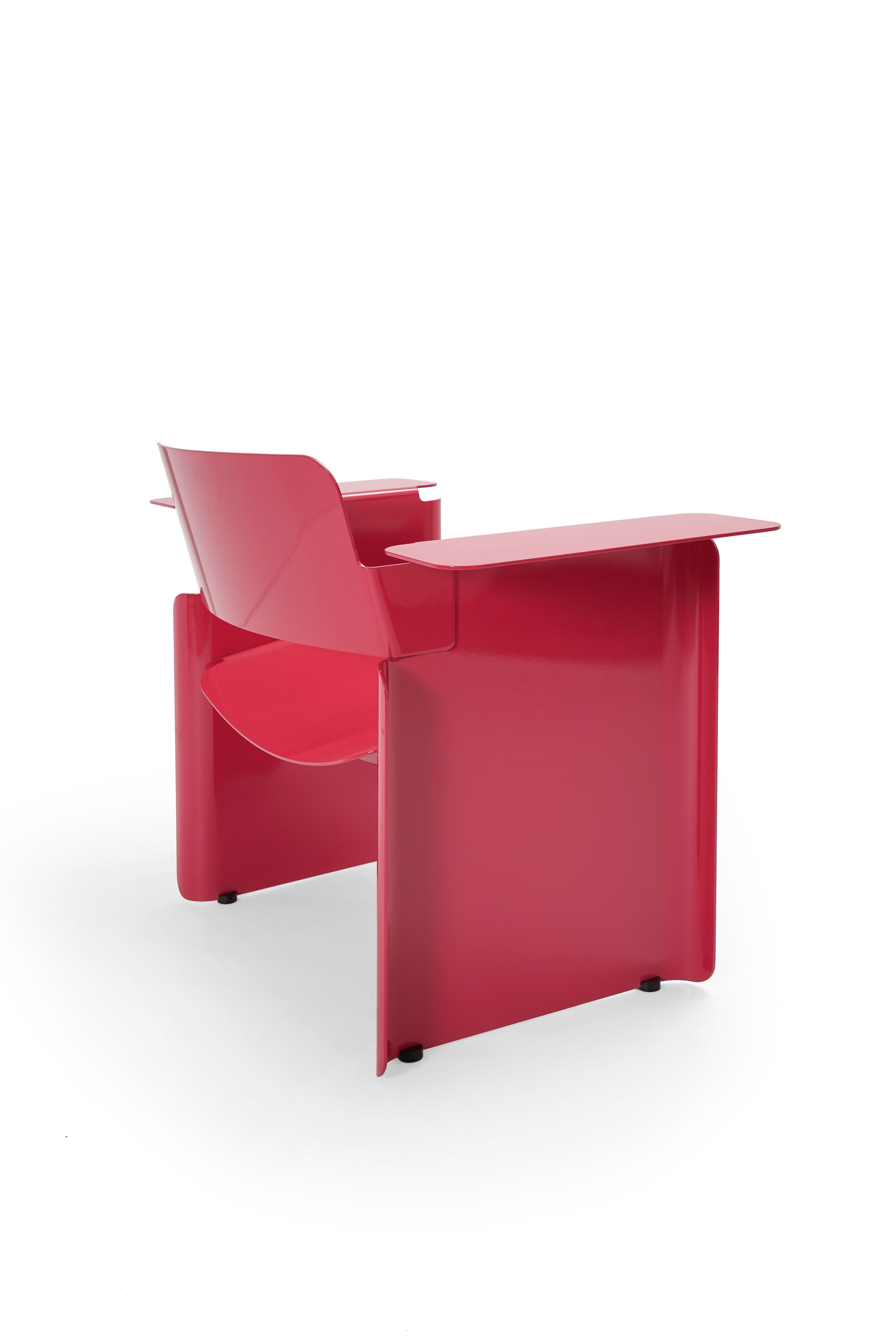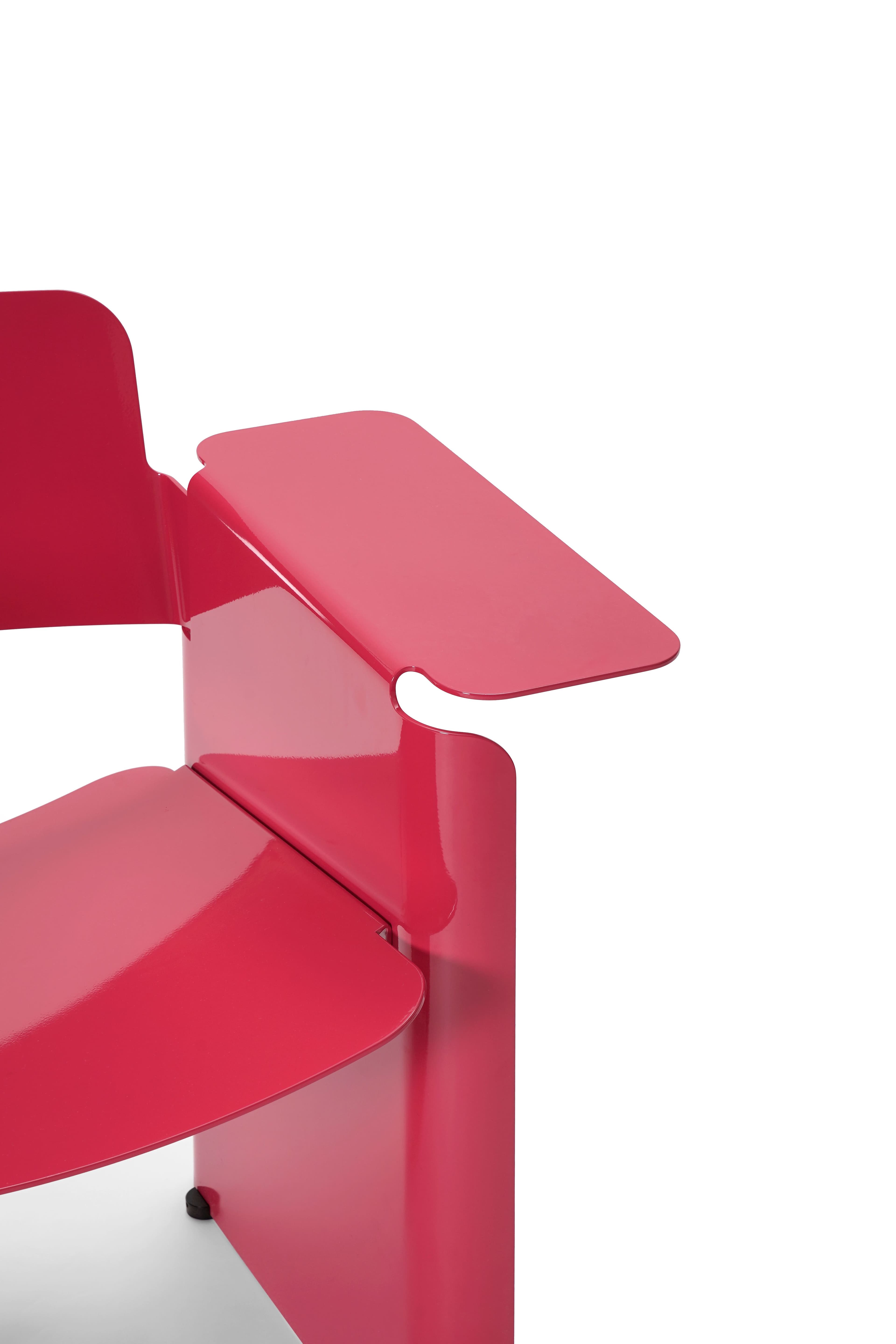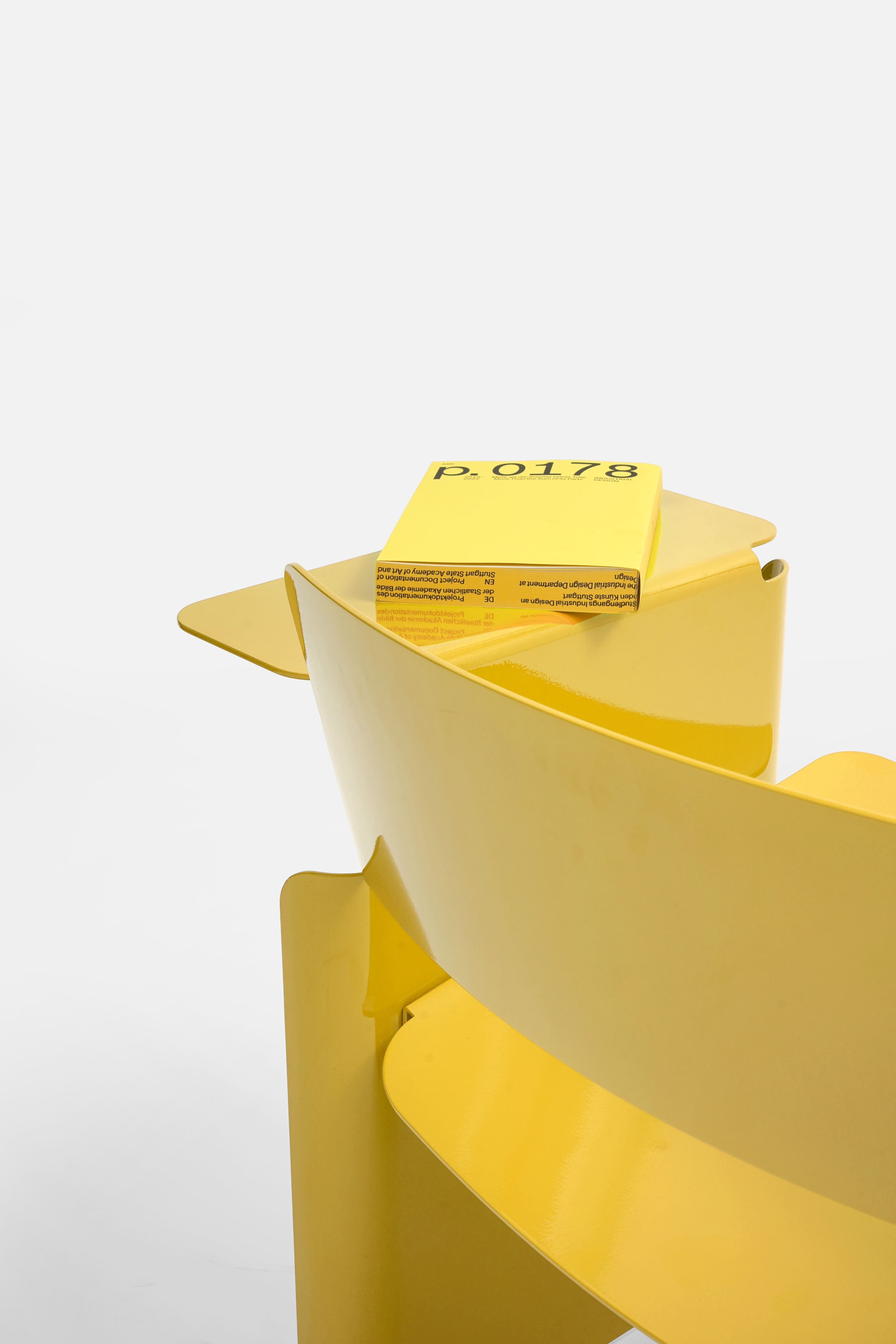 AL13 for Dante is a lounge chair made from laser-cut and bent aluminum sheets. The chair can be used both indoors and outdoors and fits into different spatial environments without losing its very own typology. The highlighted armrest allows for flexible use and can serve as a side table or temporary work space that meets today's needs. The parts can be disassembled for easy repair and reprocessing, taking advantage of the good recycling properties of aluminum. Each chair is marked with the exact material specification and is optionally available with upholstered seat cushions.
Client: Dante - Goods And Bads
Photography: ©Katarina Cirkovic
Presskit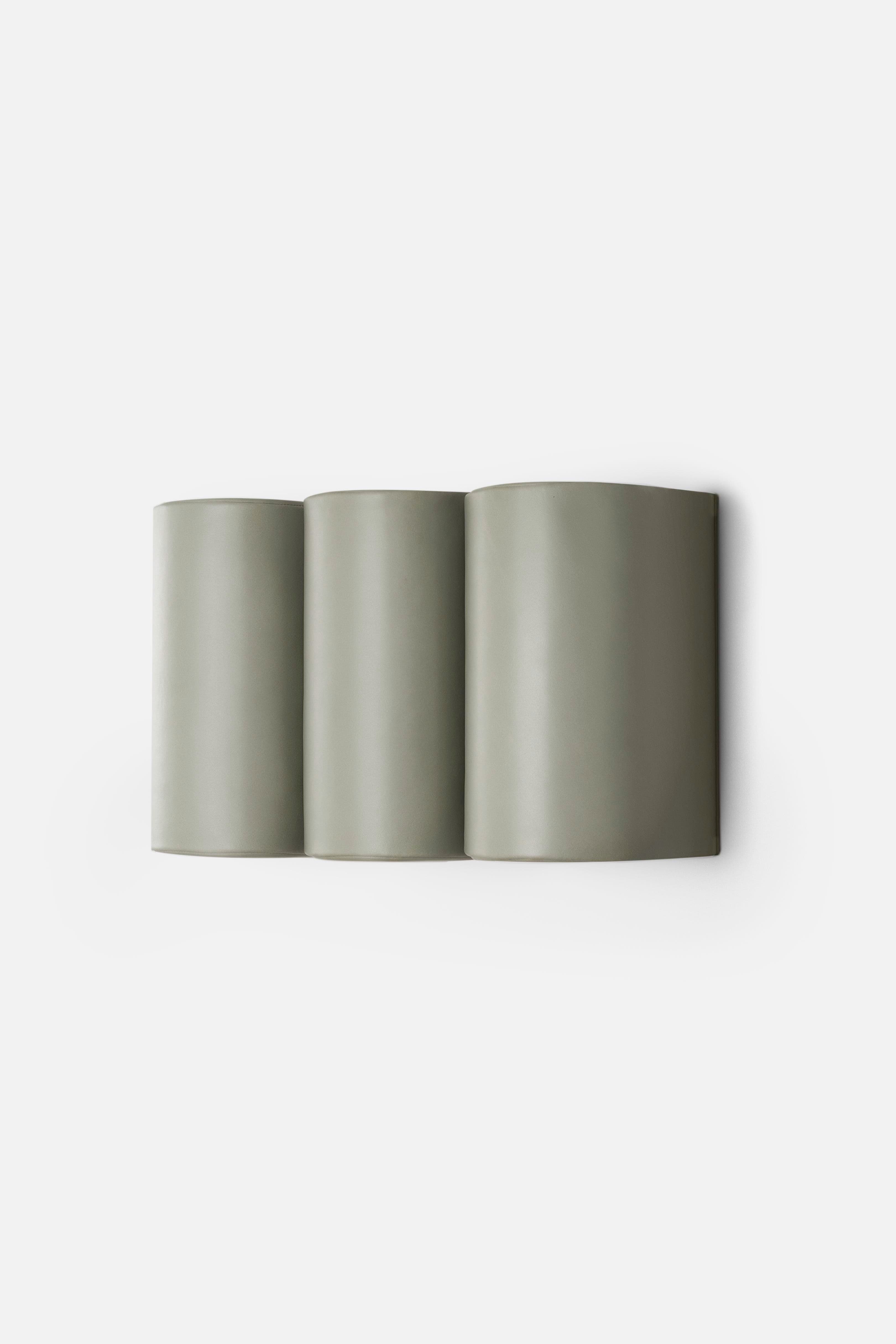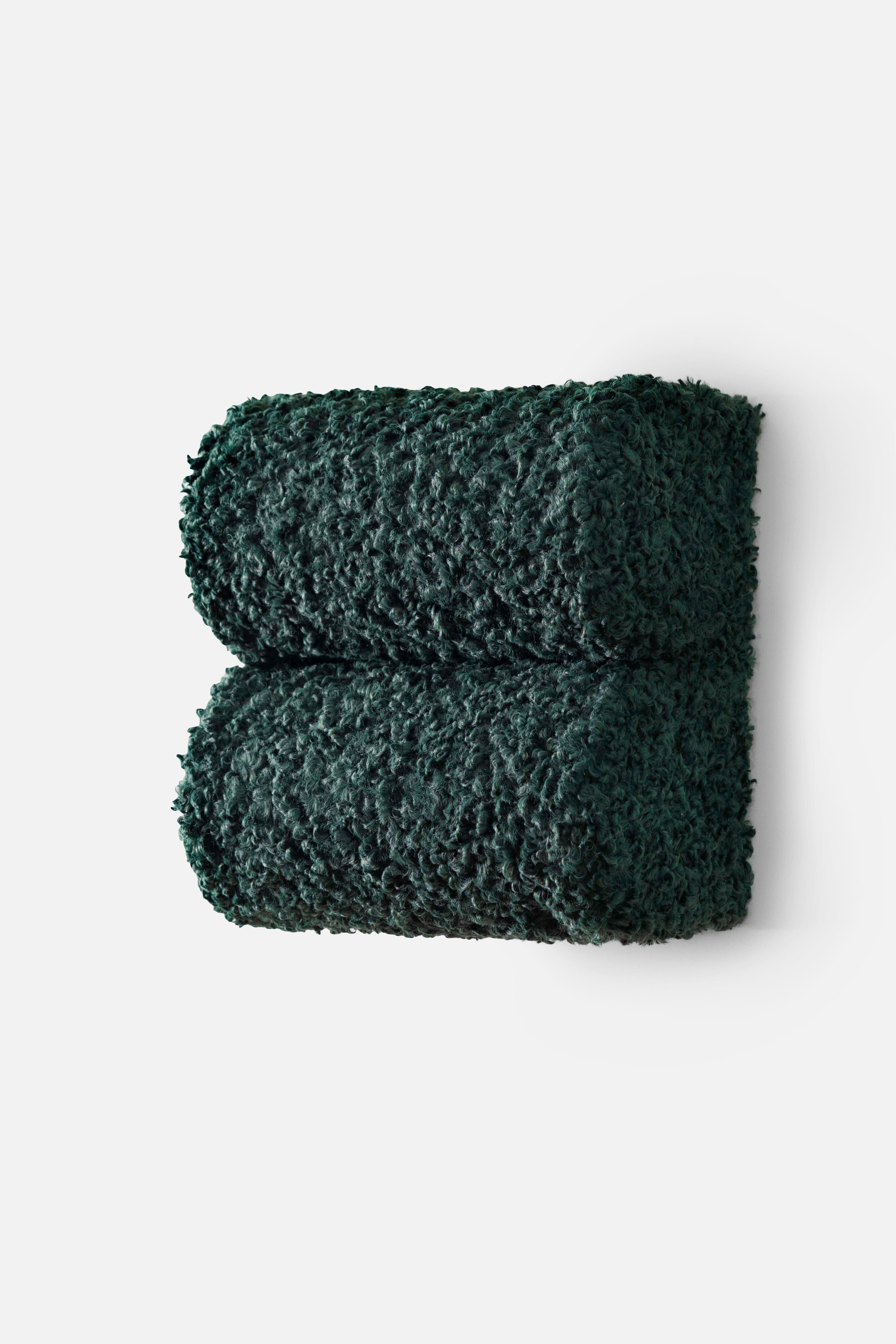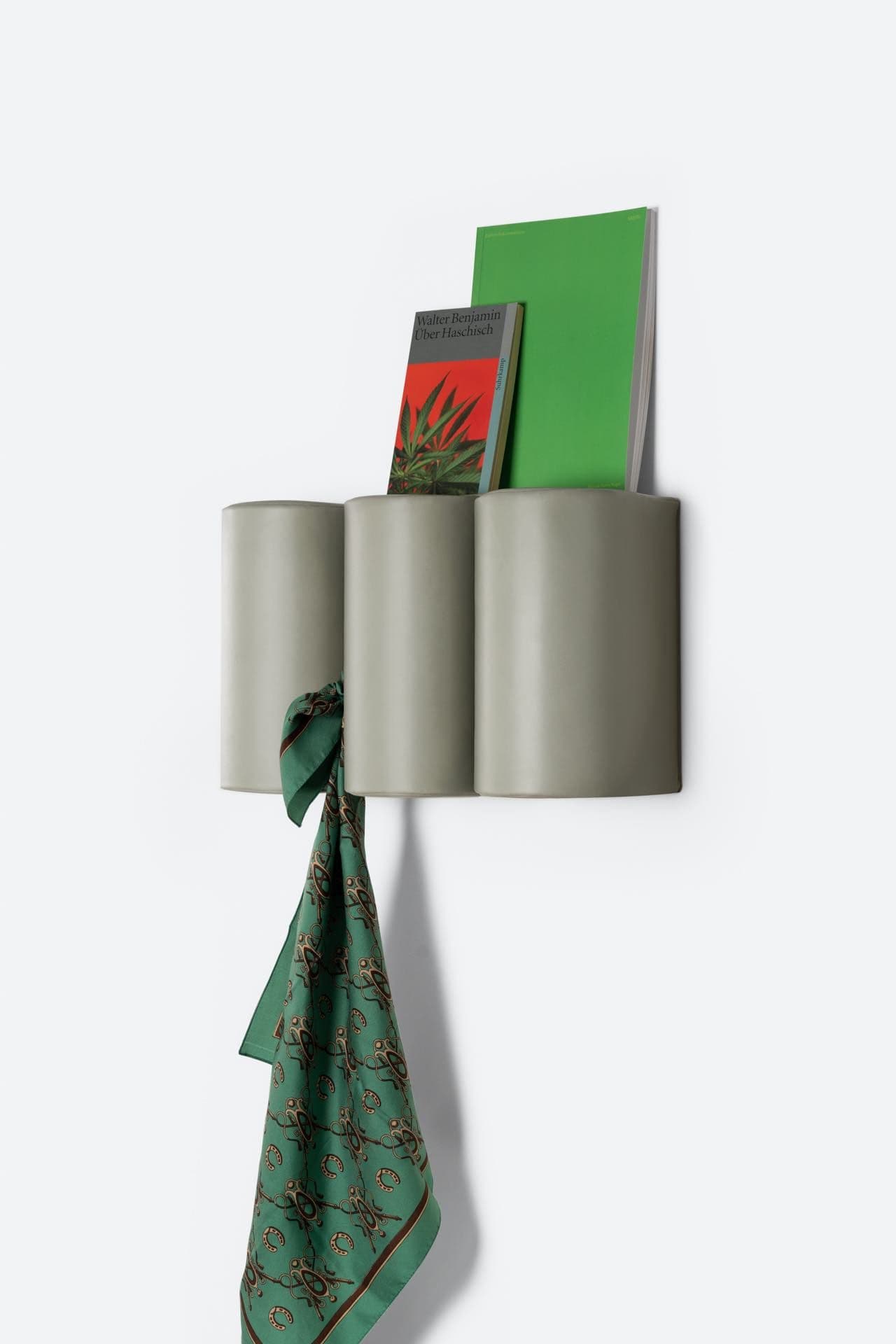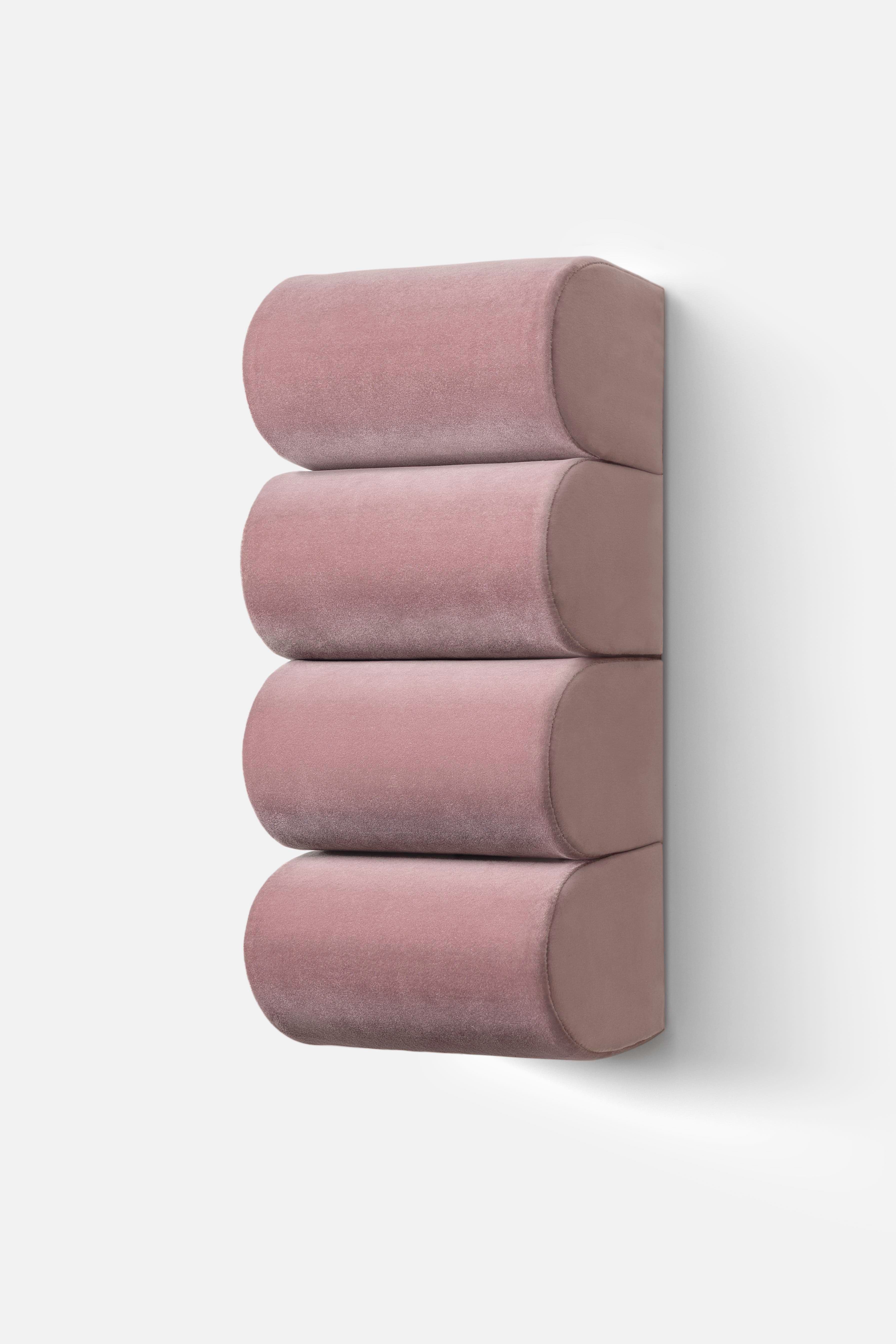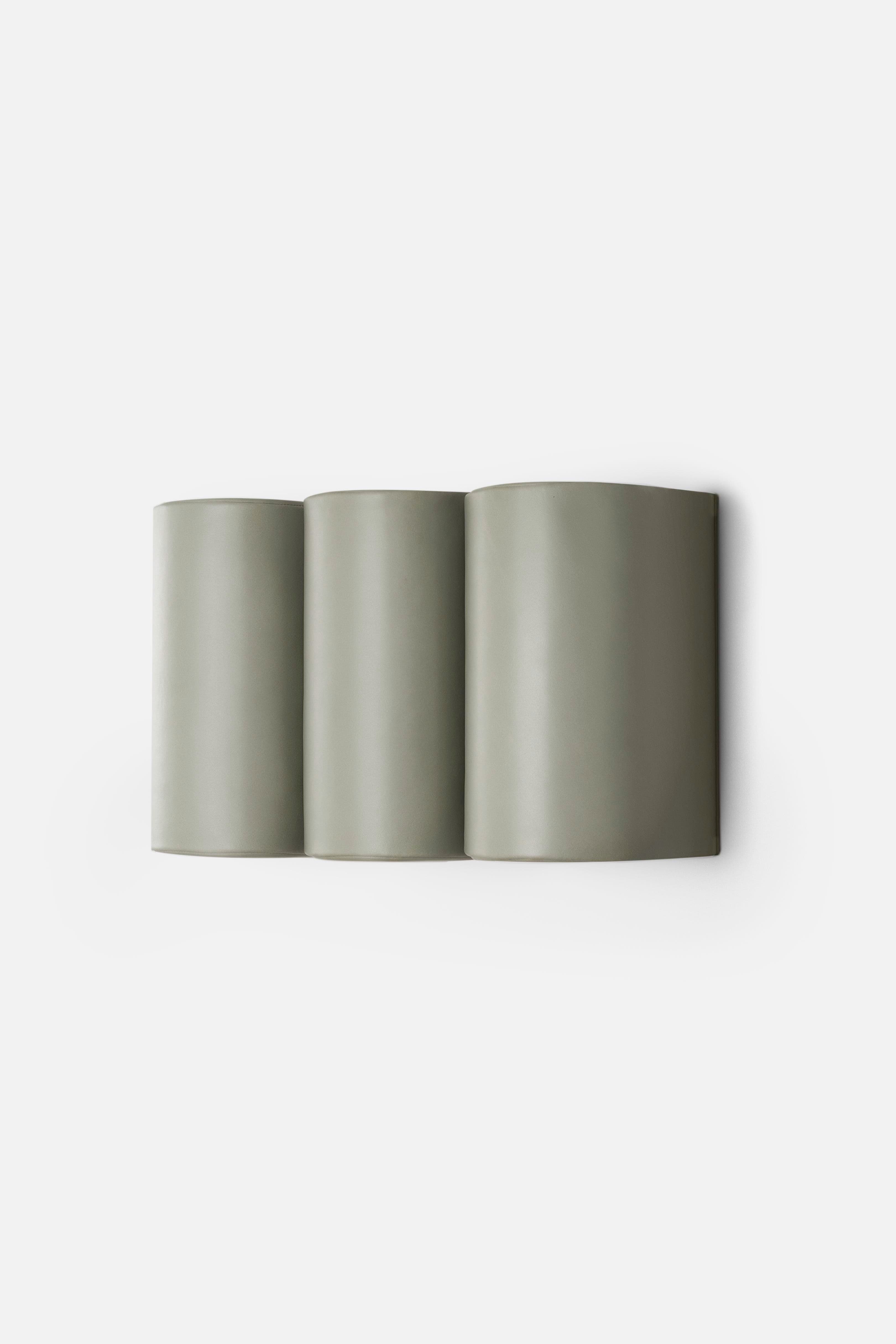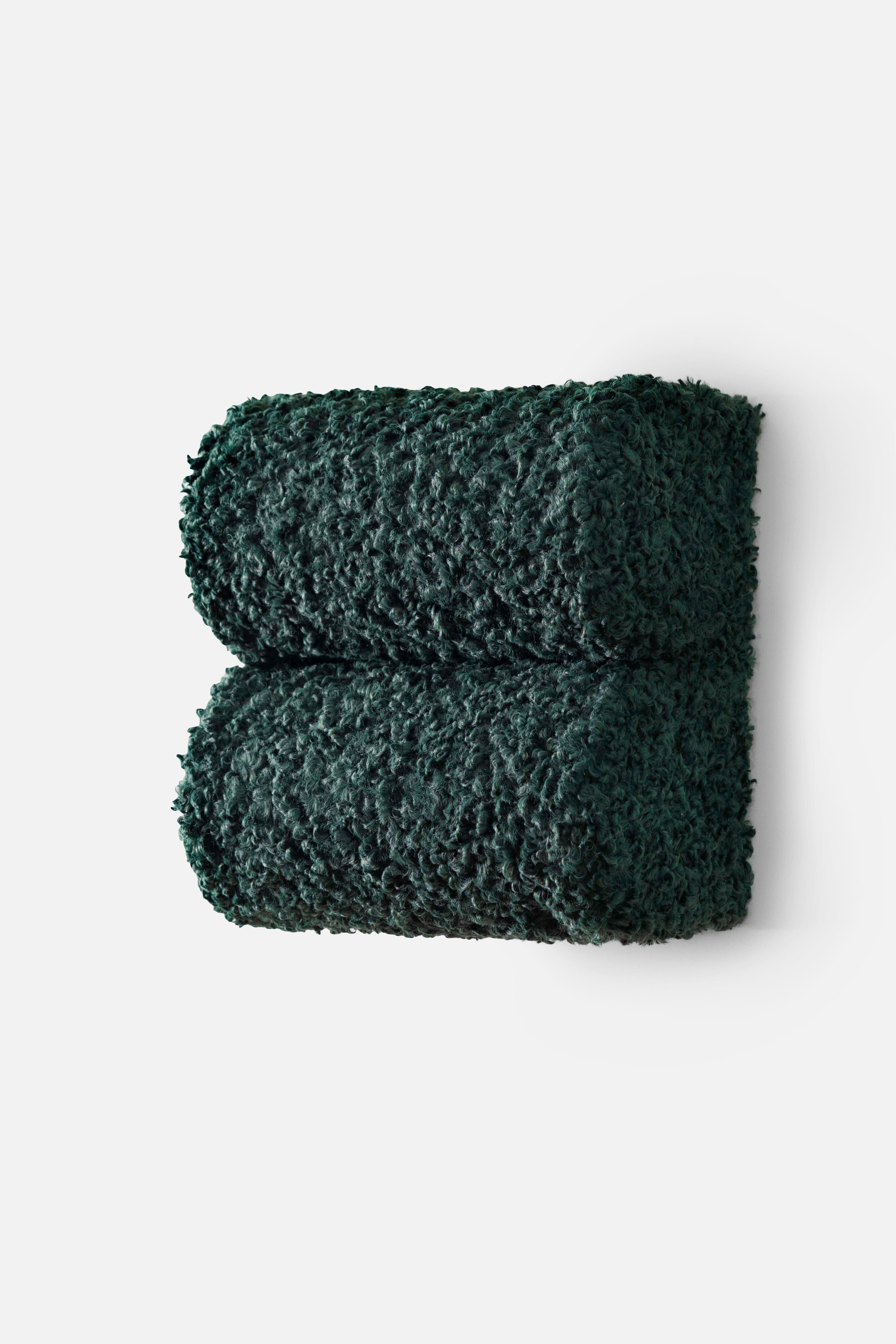 The upholstered wall hook creates a minimalist, horizontal storage platform and offers the possibility to attach your daily items to a wall using a quick, charming gesture. The hook can be vertically and horizontally attached to the wall and comes in various finishes.
Client: Dante - Goods And Bads
Photography: ©Katarina Cirkovic
Presskit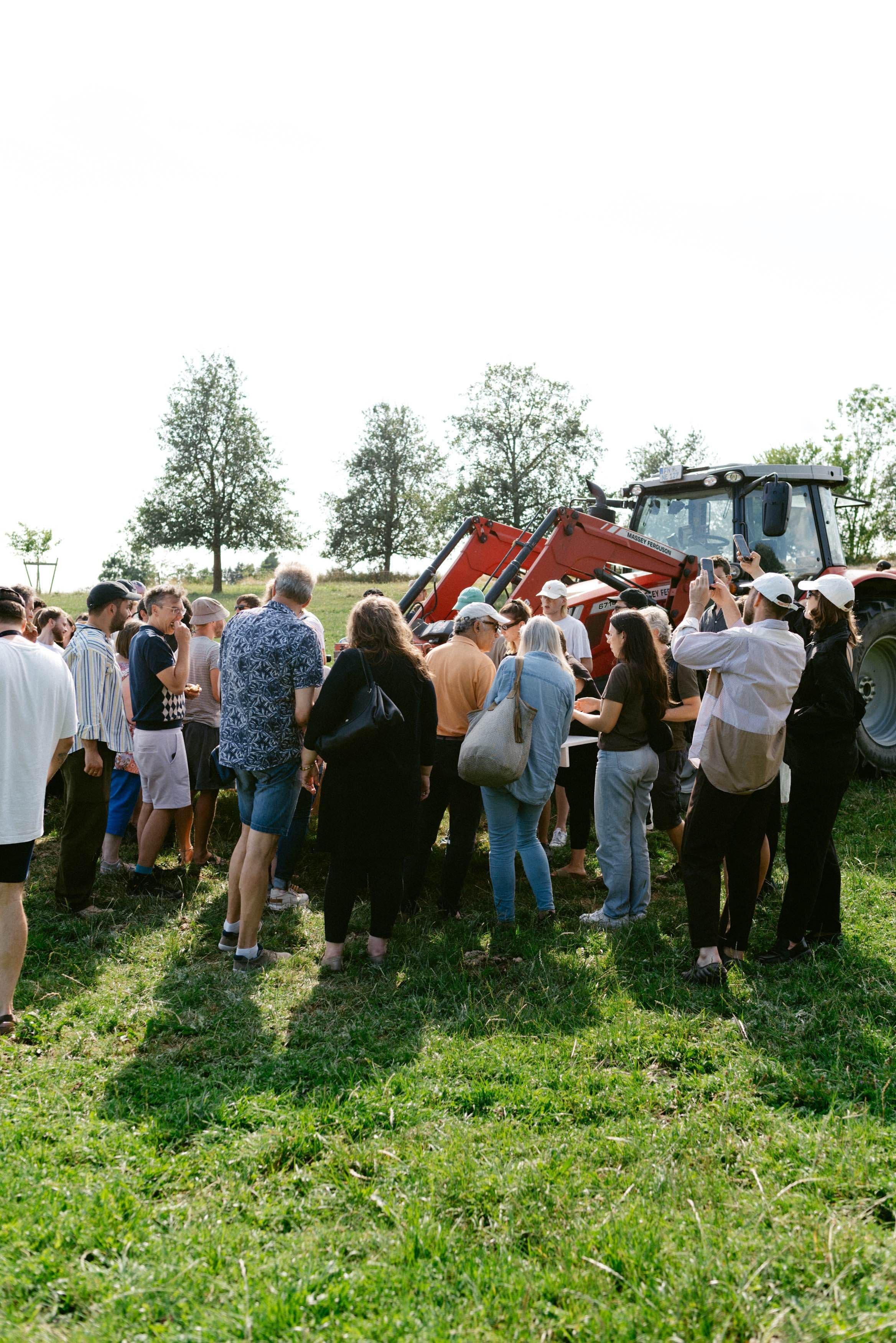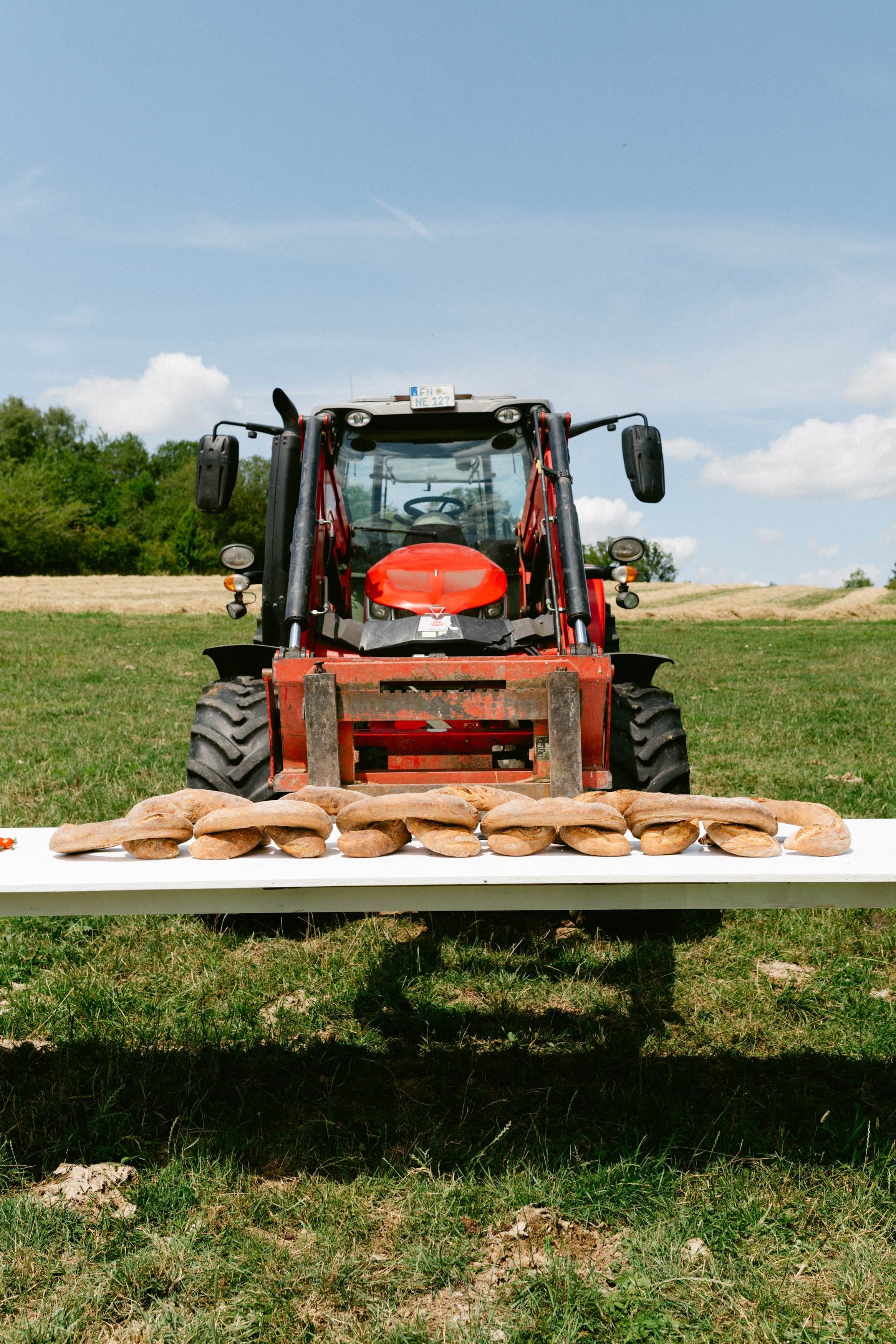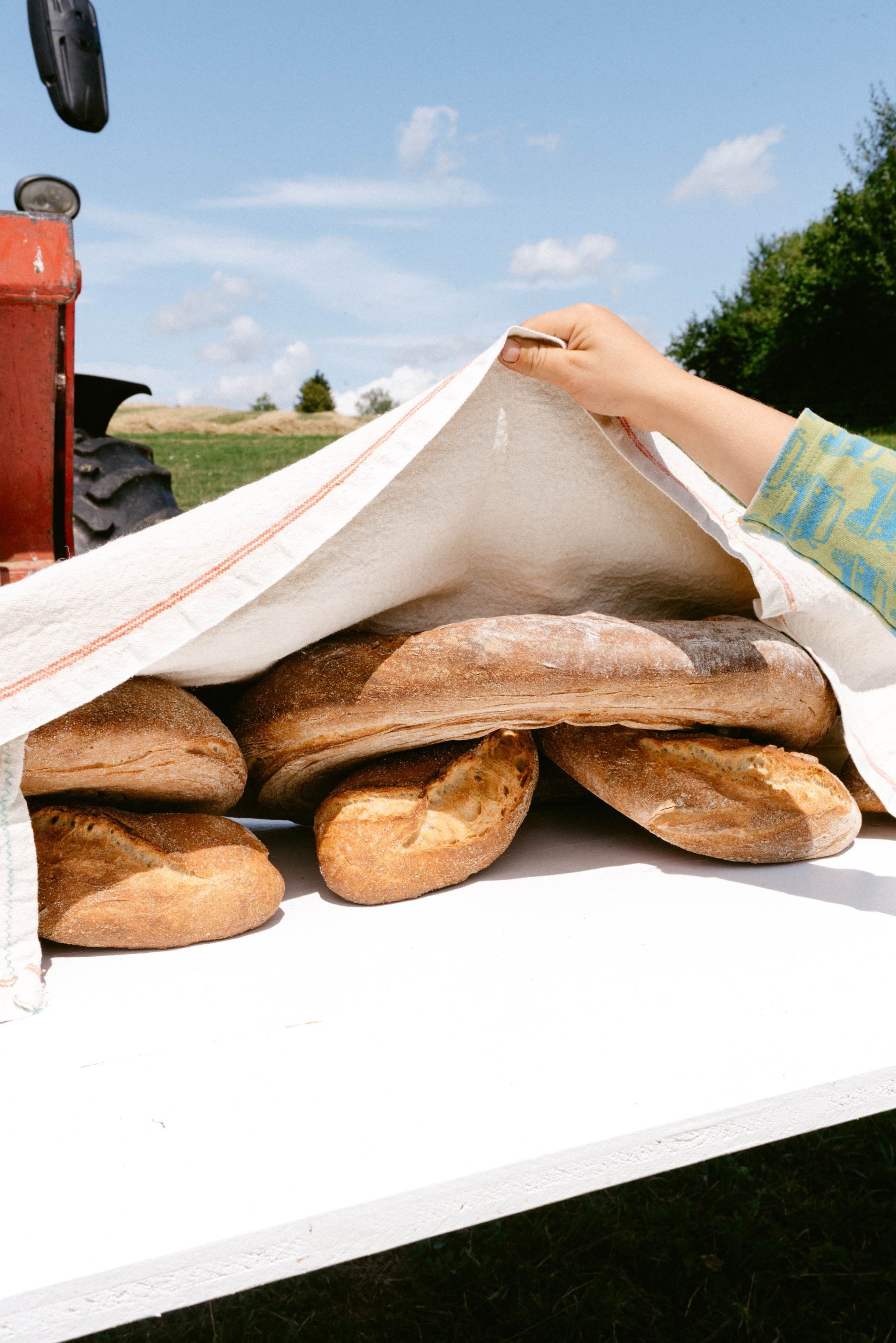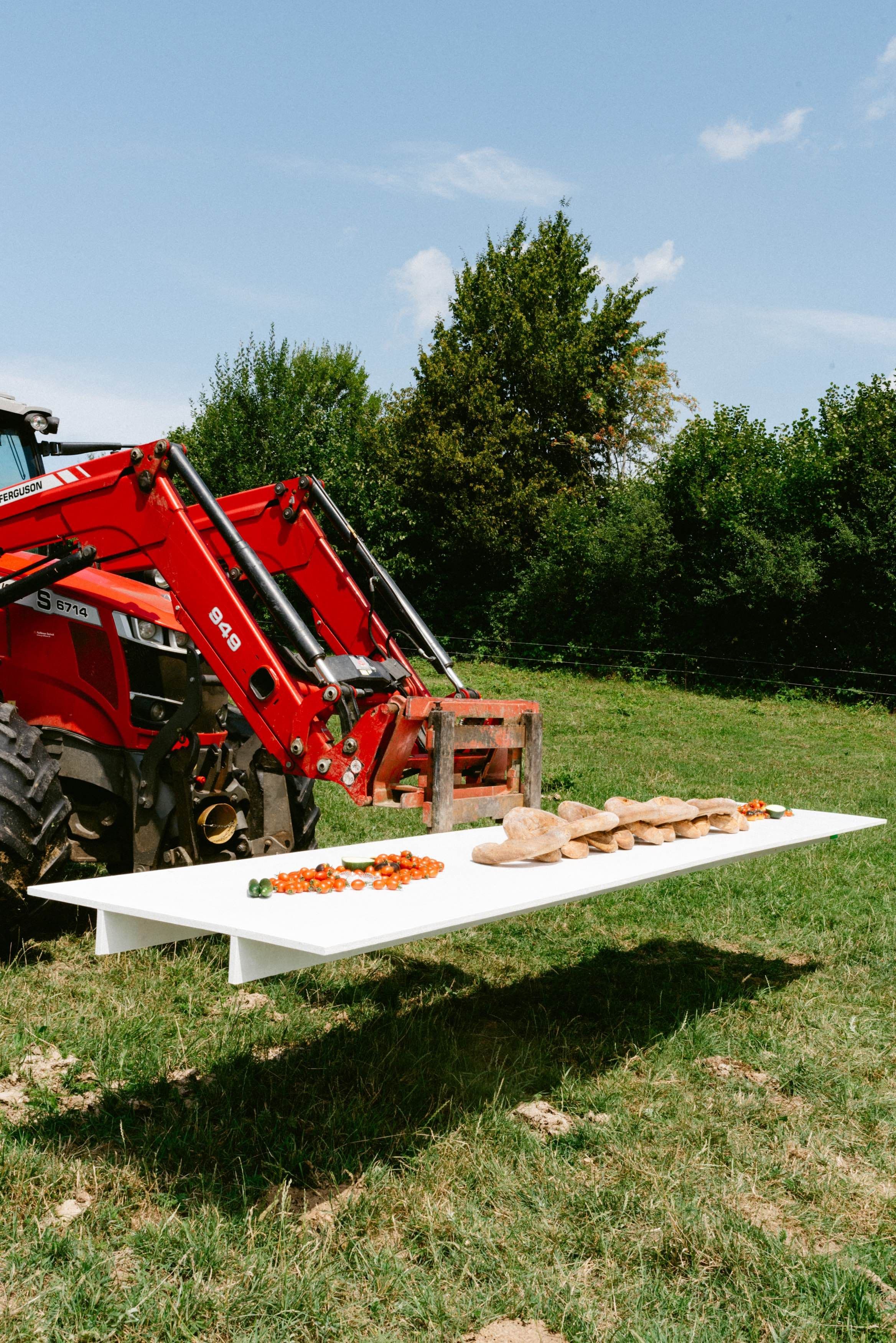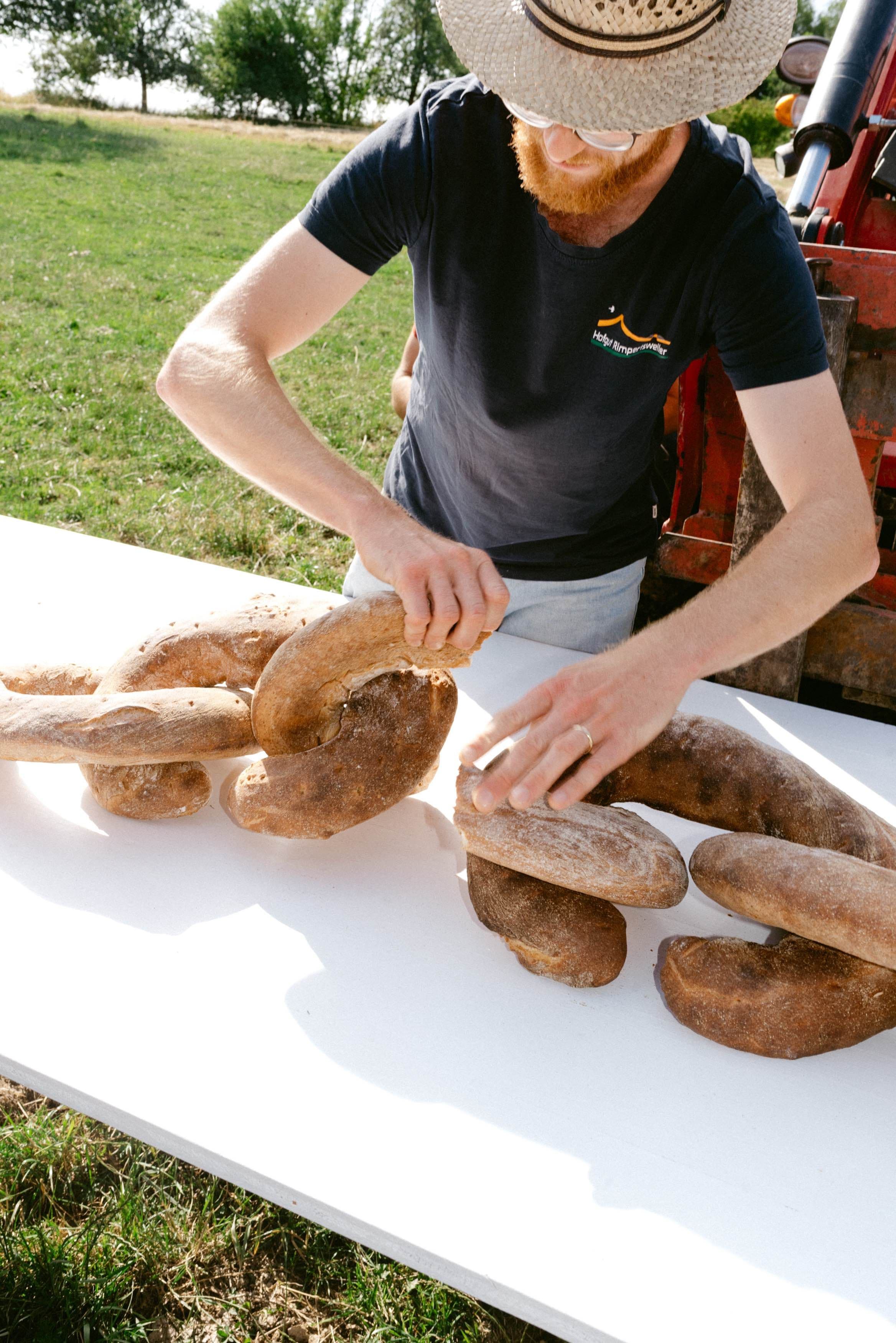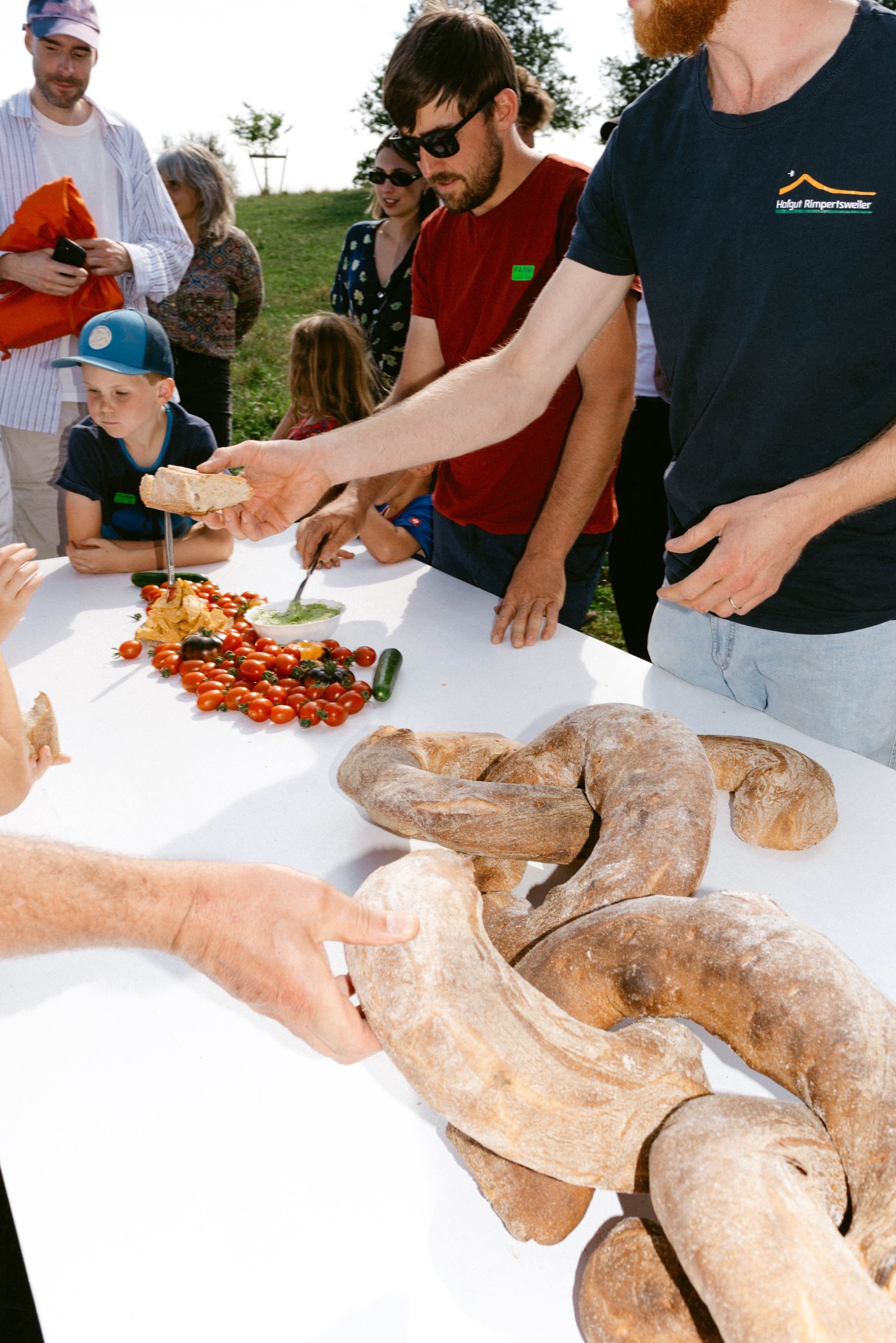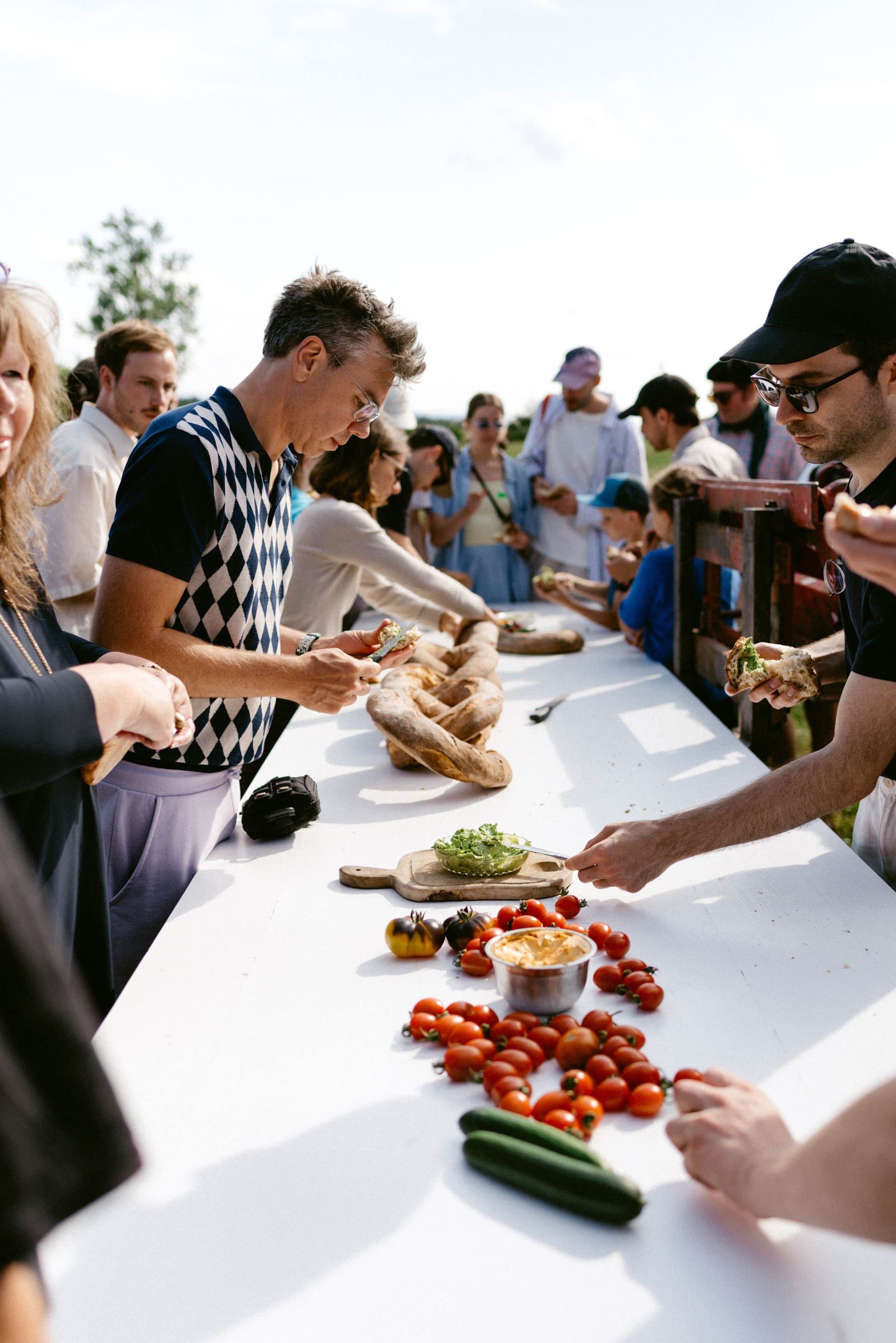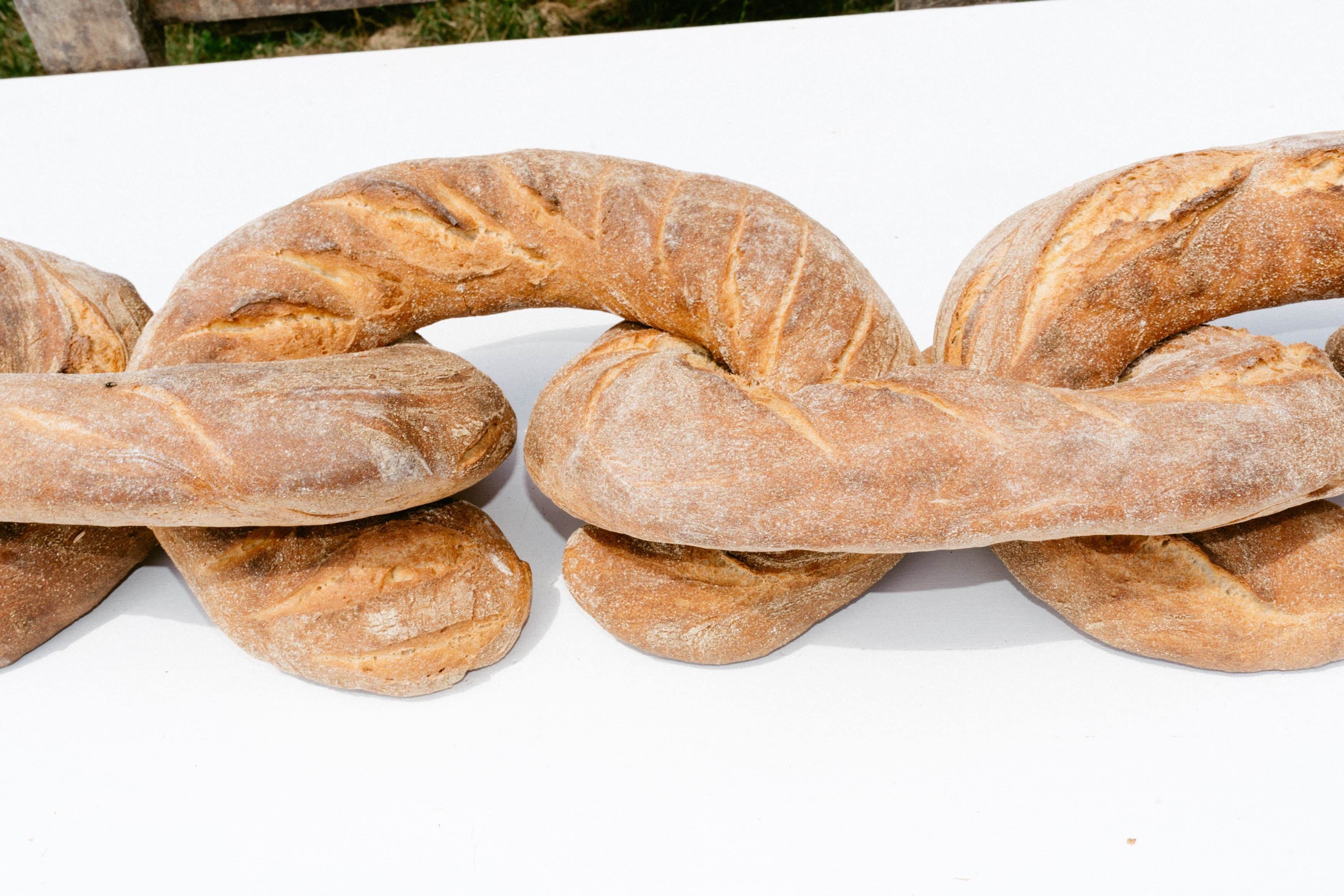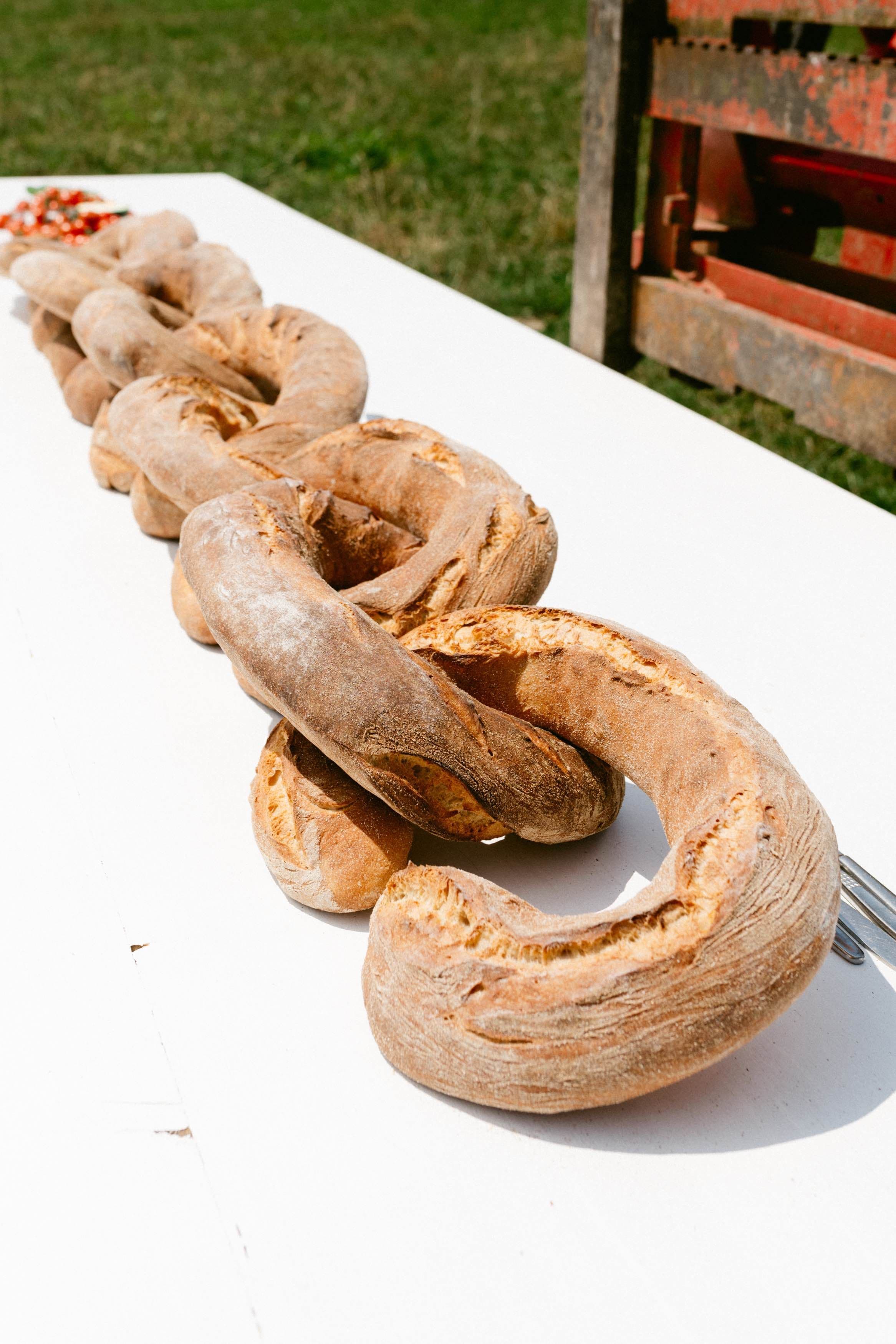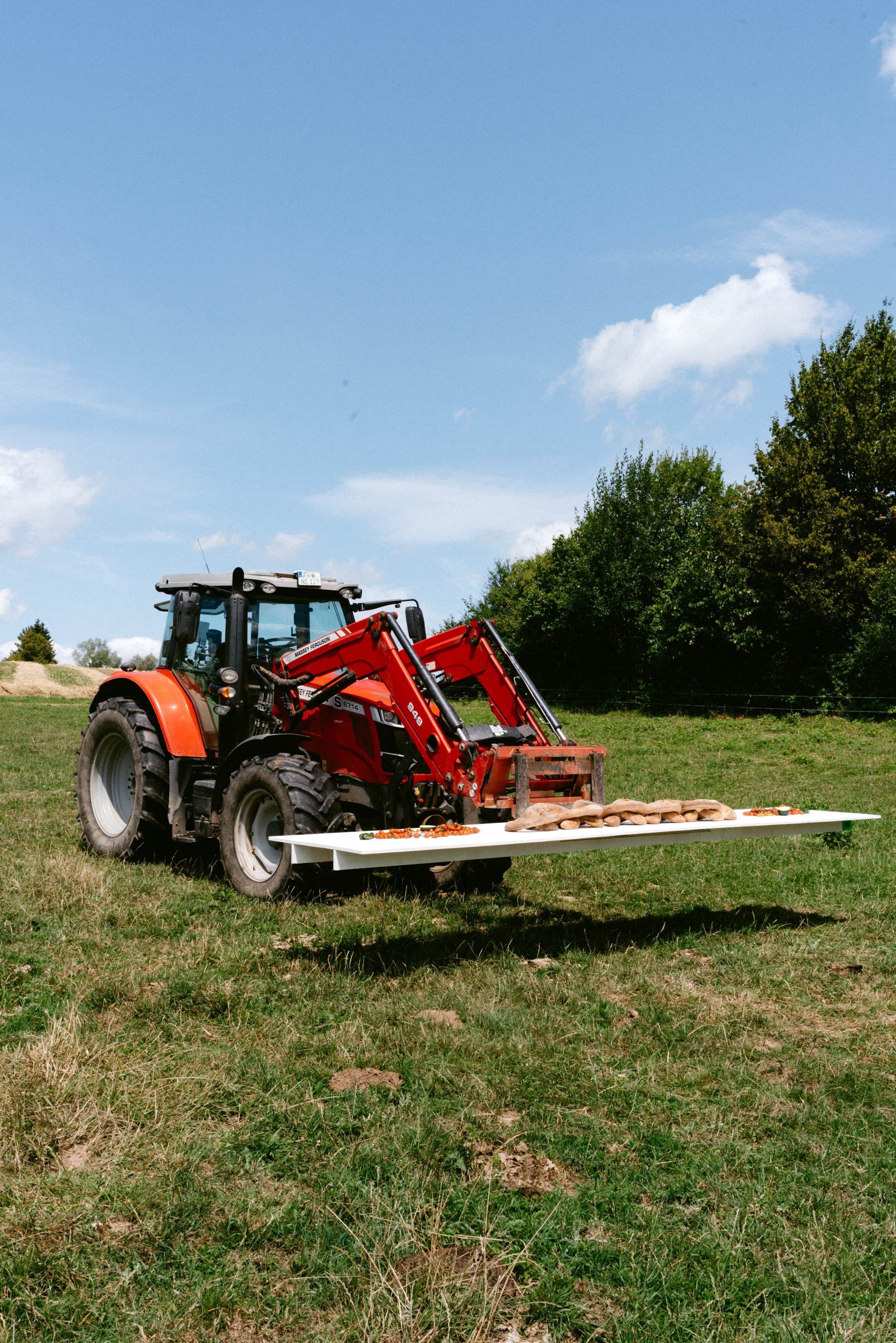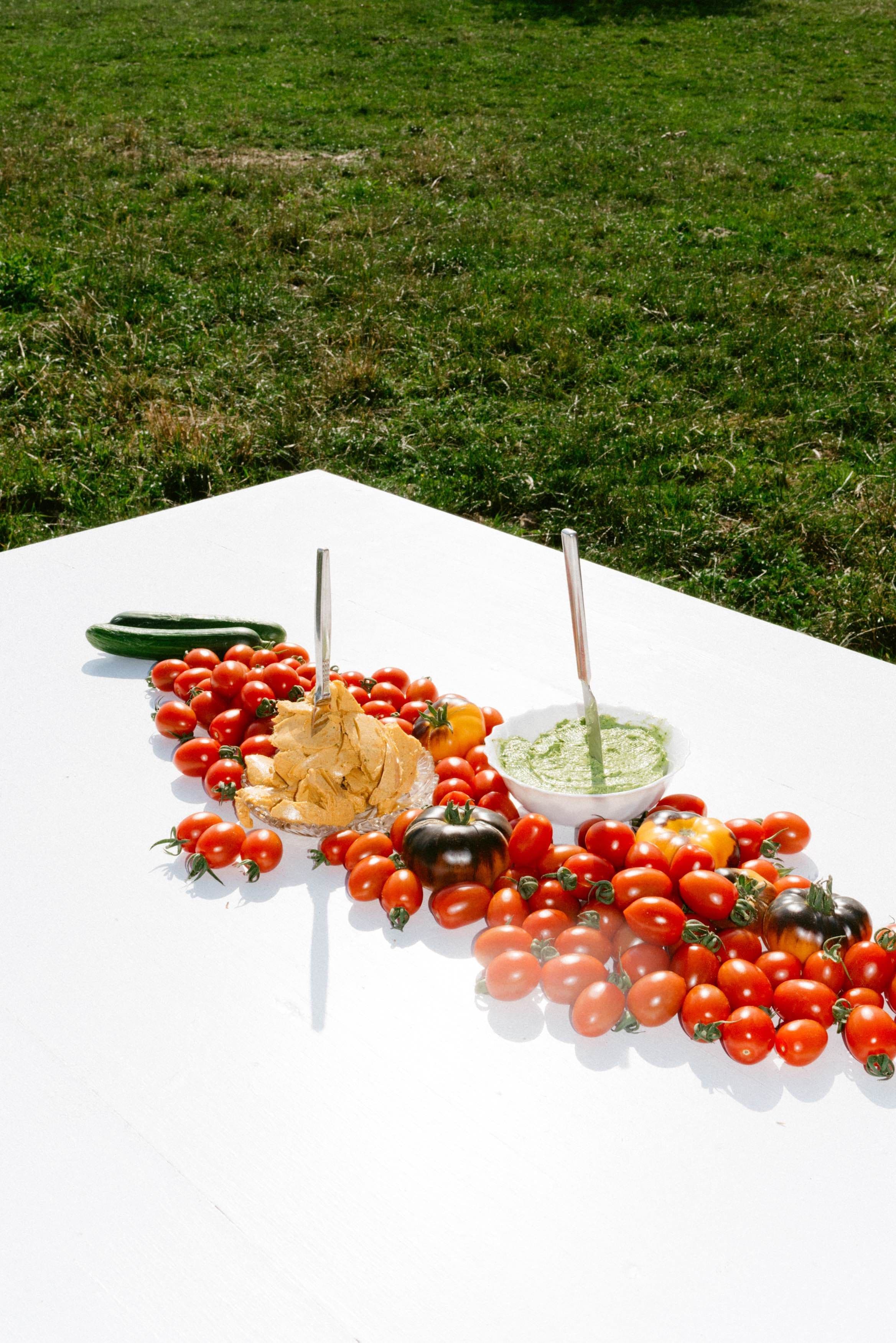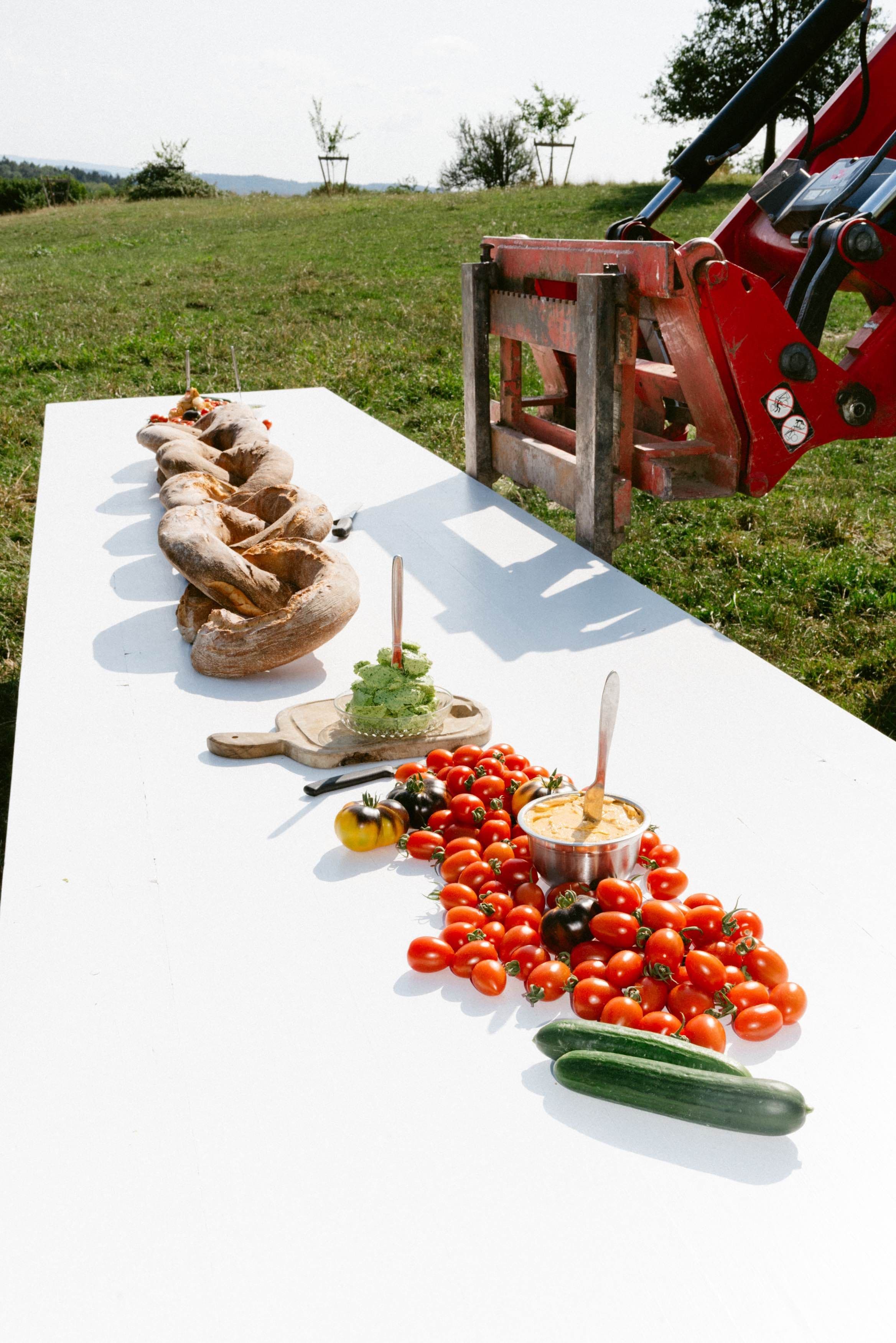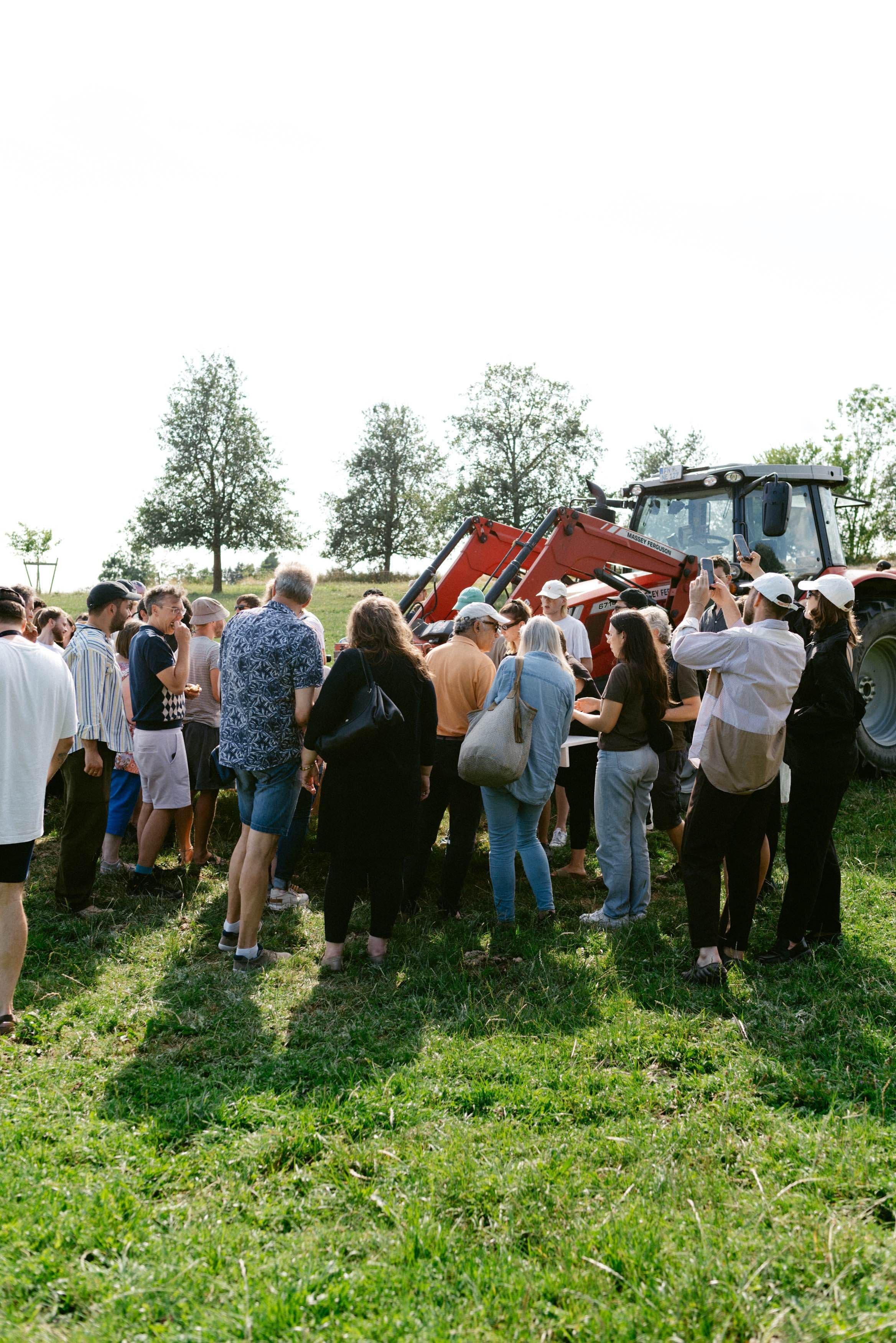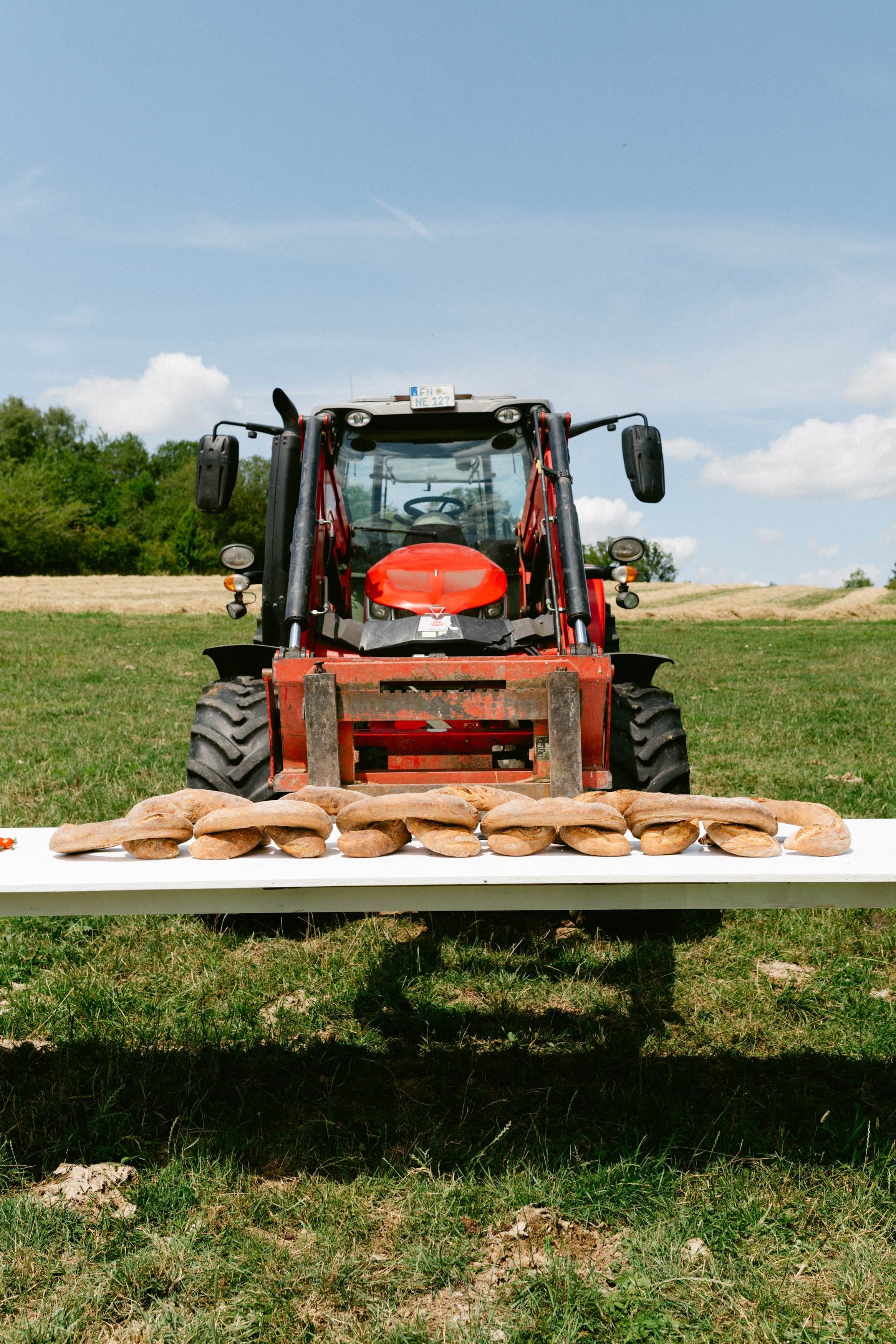 Endless Bread is a modular bread that can be joint and extended, creating the impression of one endless bread chain.
As one of the oldest foods in our history, bread has shaped the early formation of human society. From its earliest origins in ancient Egypt thousands of years ago, it has played an essential role in religious and secular cultures. Because of the modular structure of the loaf, endless bread can be infinitely expanded, eaten and shared by groups of different sizes and is designed for collective gatherings.
The bread is part of the FARM project, a free and participatory art and design project with the goal of fostering a dialog between art, agriculture and design. It is a collaboration with the baker of the organic farm Rimpertsweiler and founder of The Autónomo e.V. Svende Schlingmann.
Material: Wheat, spelt, salt, yeast, water.
Photography: ©Julia Sang Nguyen
Presskit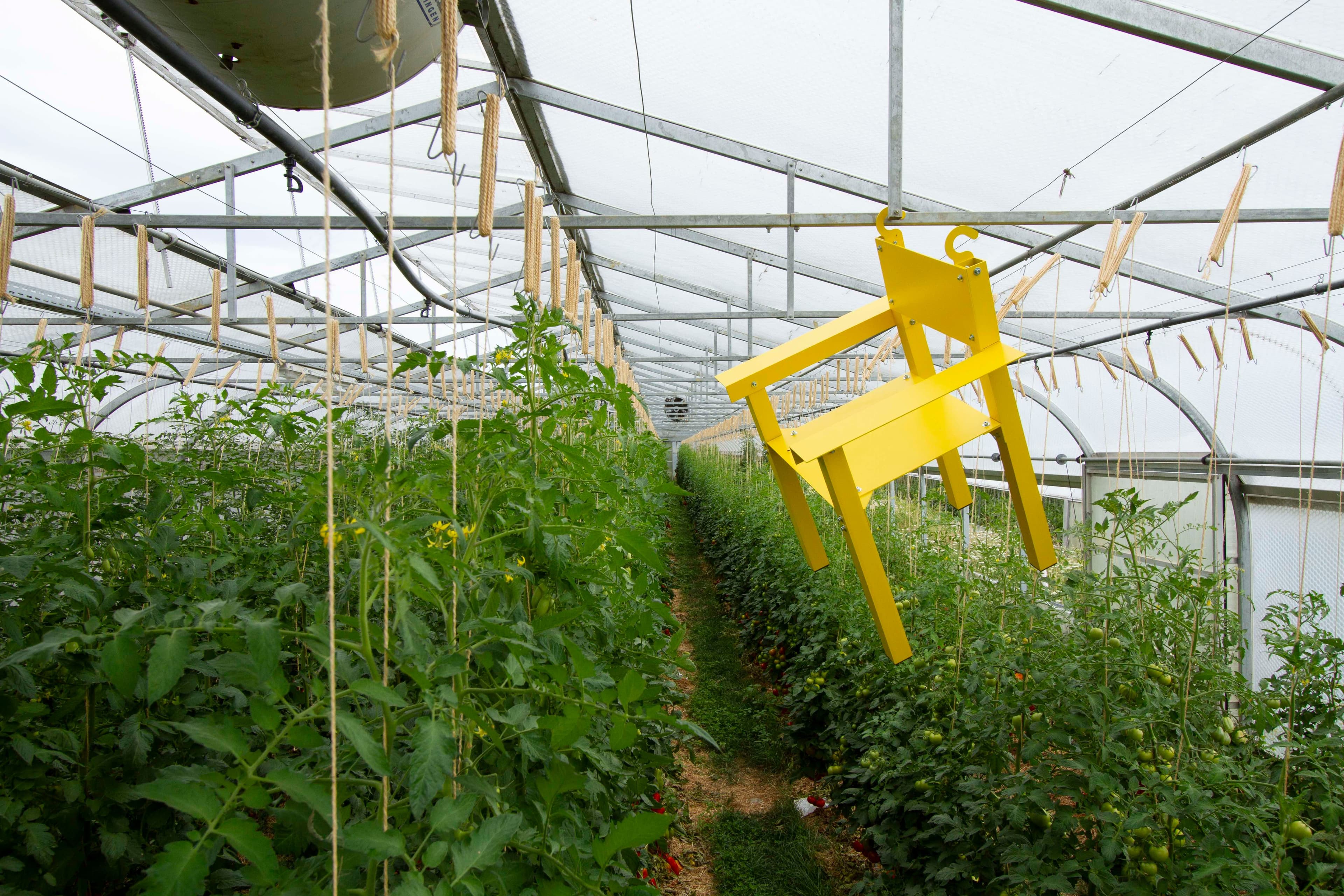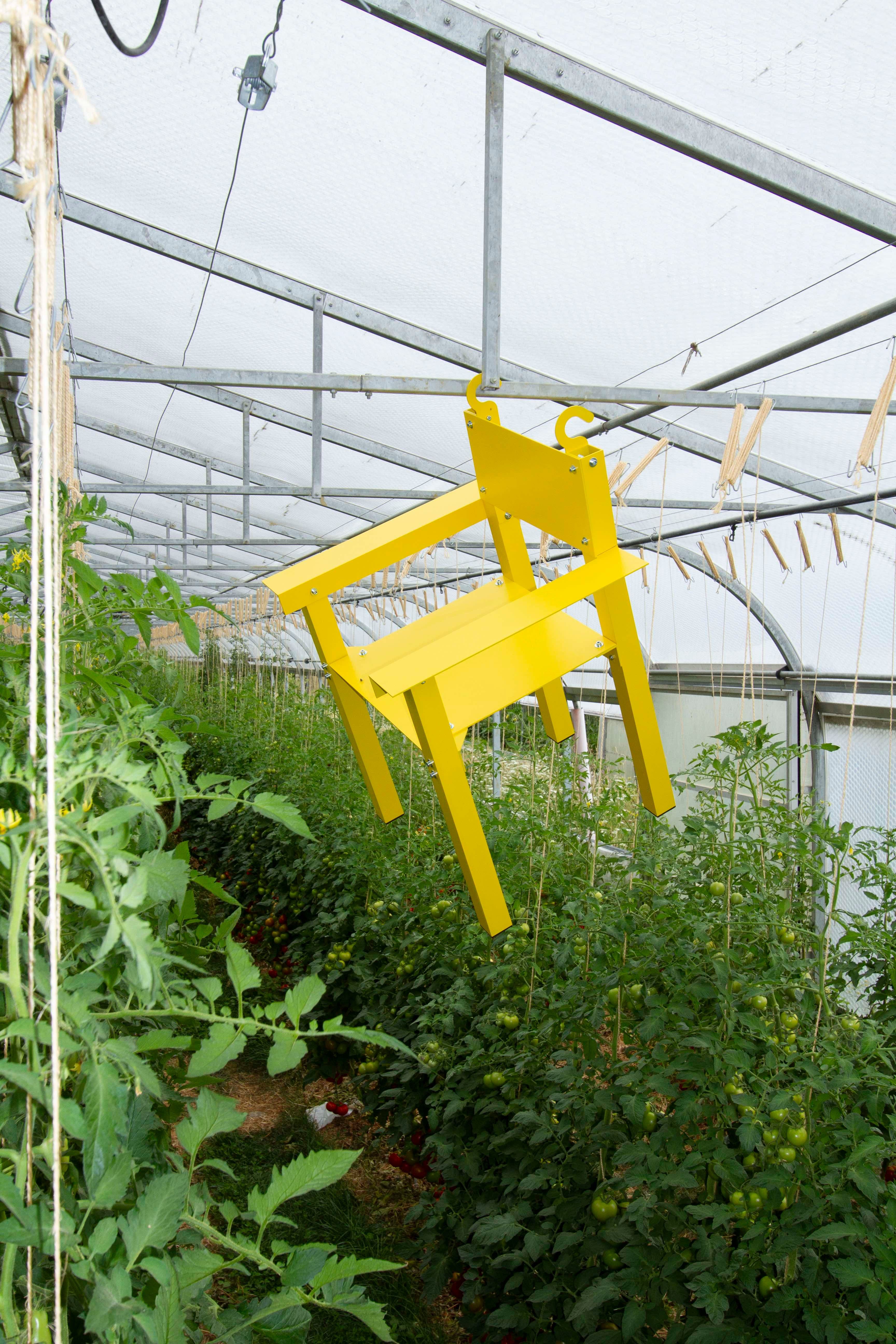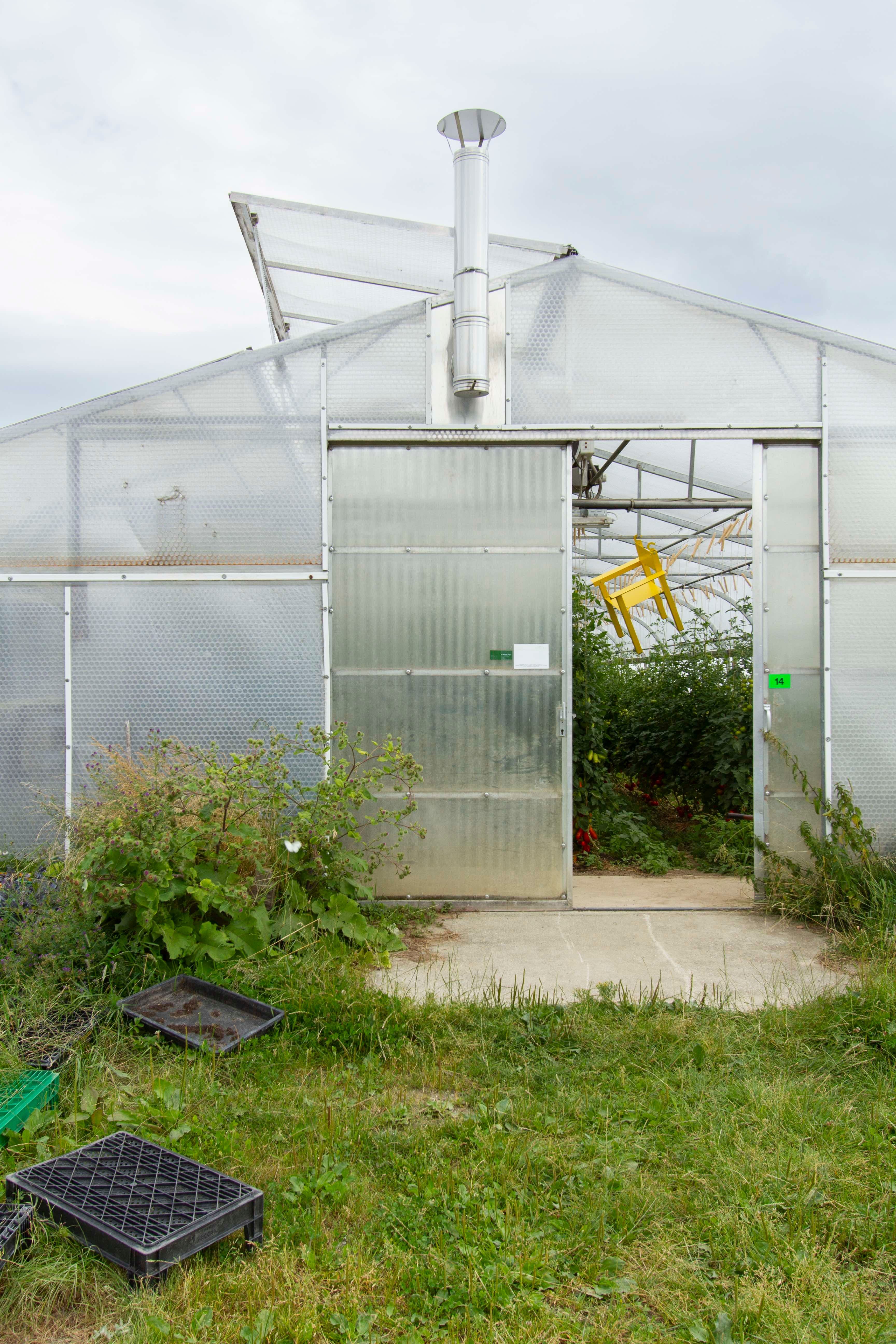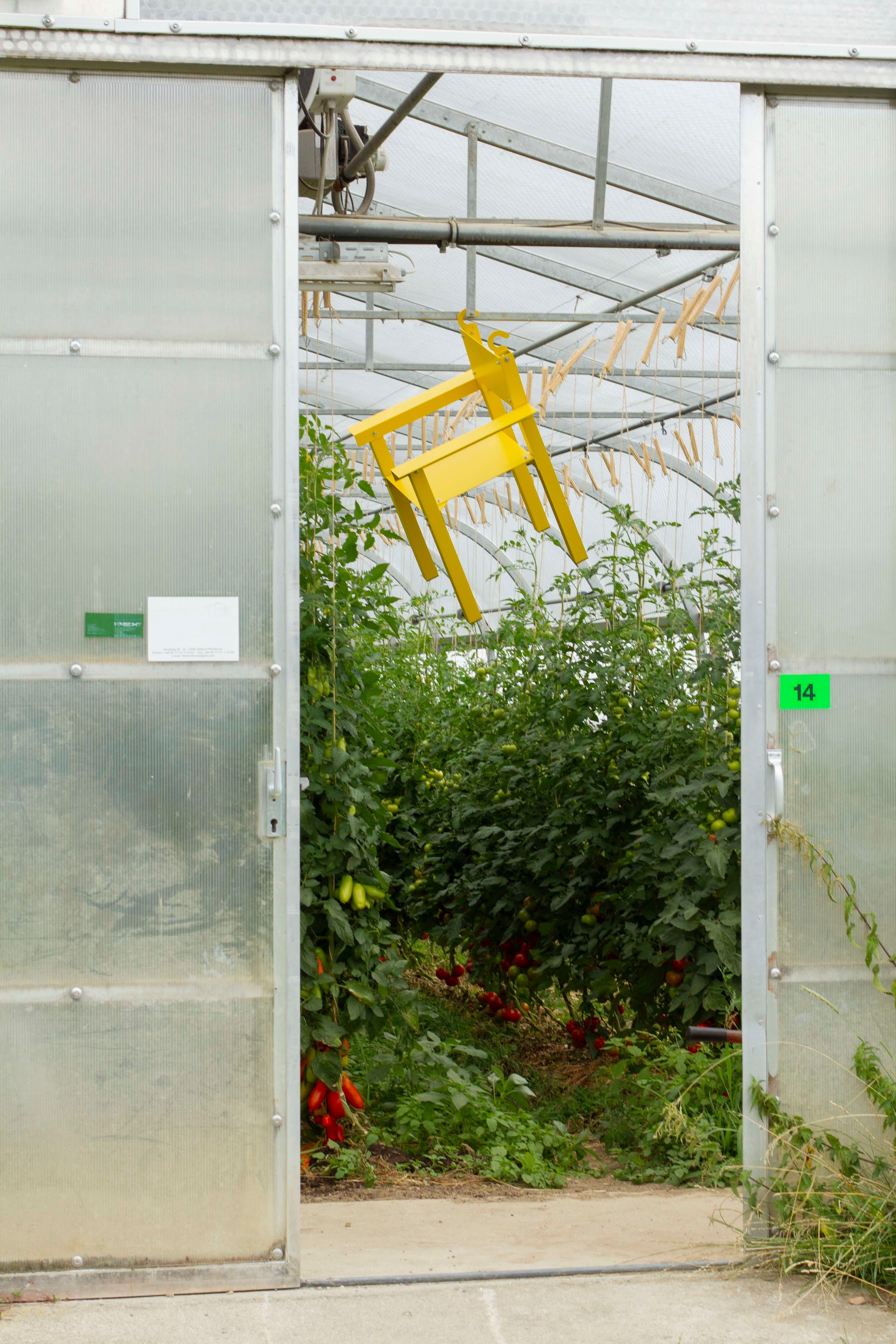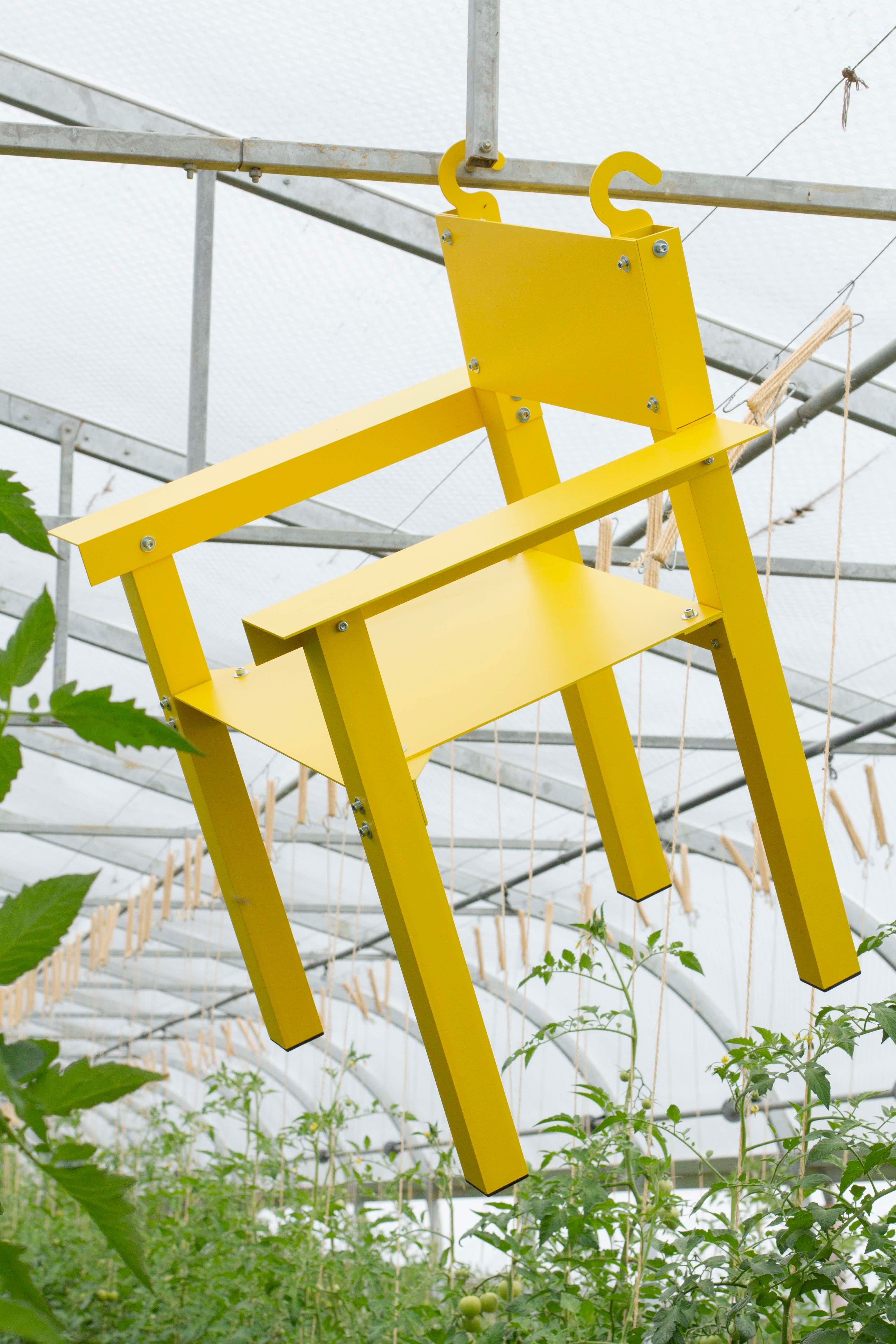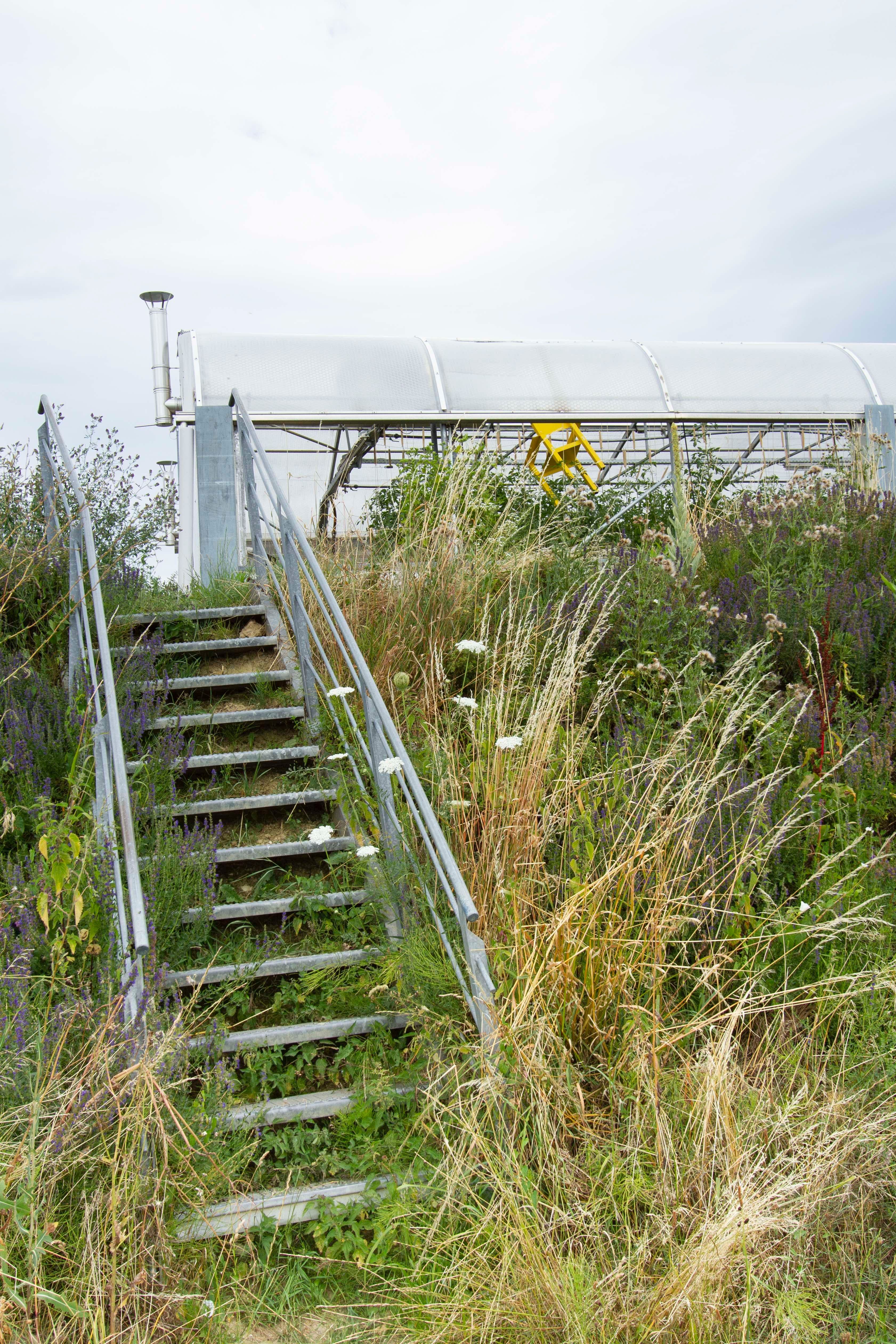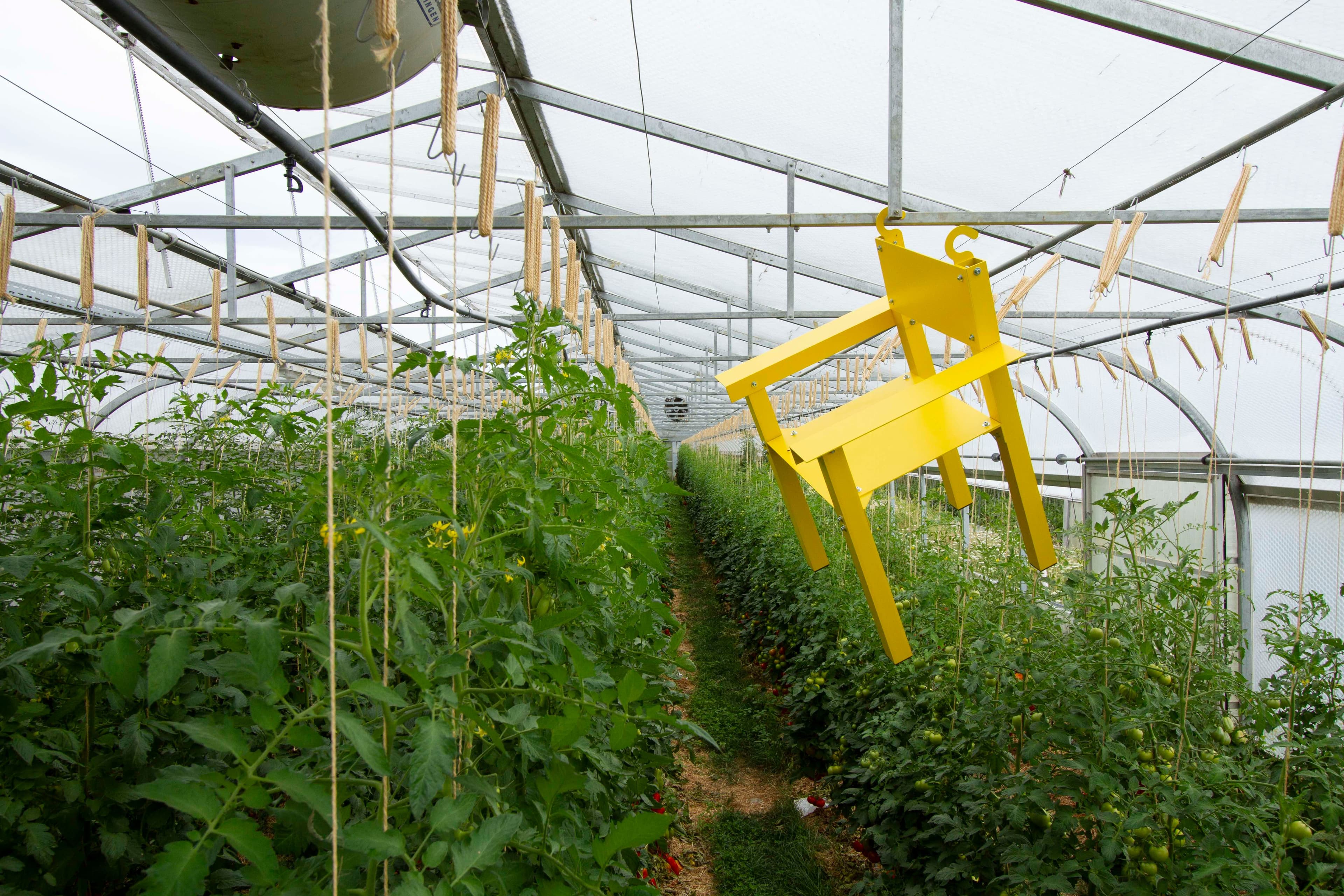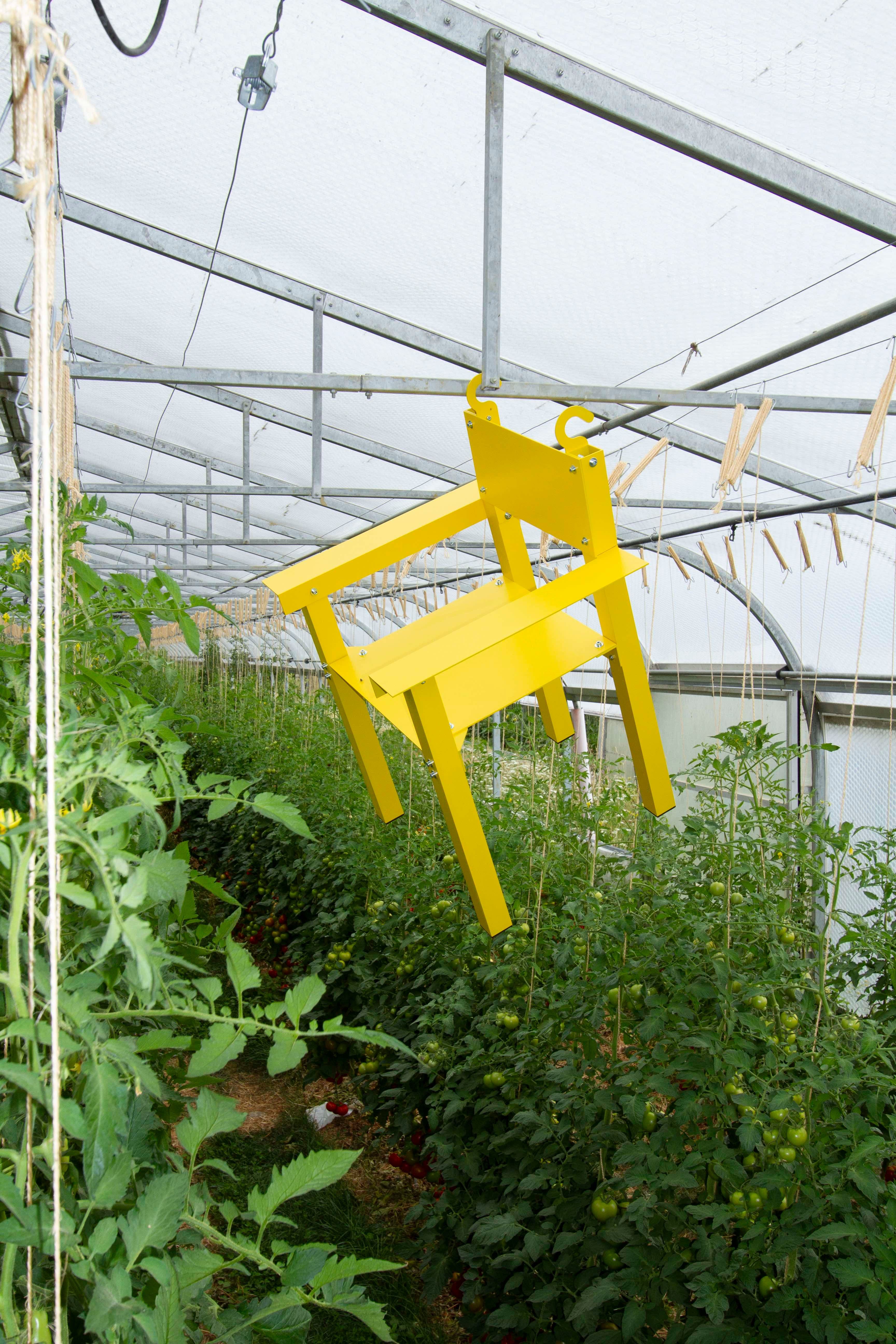 Inspired by the typology of a tractor and the functionality of shaker furniture from the early 1800´s the chair can be hung of the floor serving two purposes. First, to get the chair of the floor, making clean- up easy. Second, additional seating can be kept nearby and readily available without taking up space, which can be used in different spacial environments.
The chair is made out of aluminium parts which are connected through a simple construction, making it easy for repair and reprocessing, taking advantage of the good recycling properties of the material. Using a semi finished, standardized DIN Material, the chair is a playful interpretation of the the functional and optimized aesthetic of our times and used for small scale production.
It was developed as part of FARM a free and participatory art and design project in collaboration with the Hofgut Rimpertsweiler.
Photography: ©Nils Körner
Presskit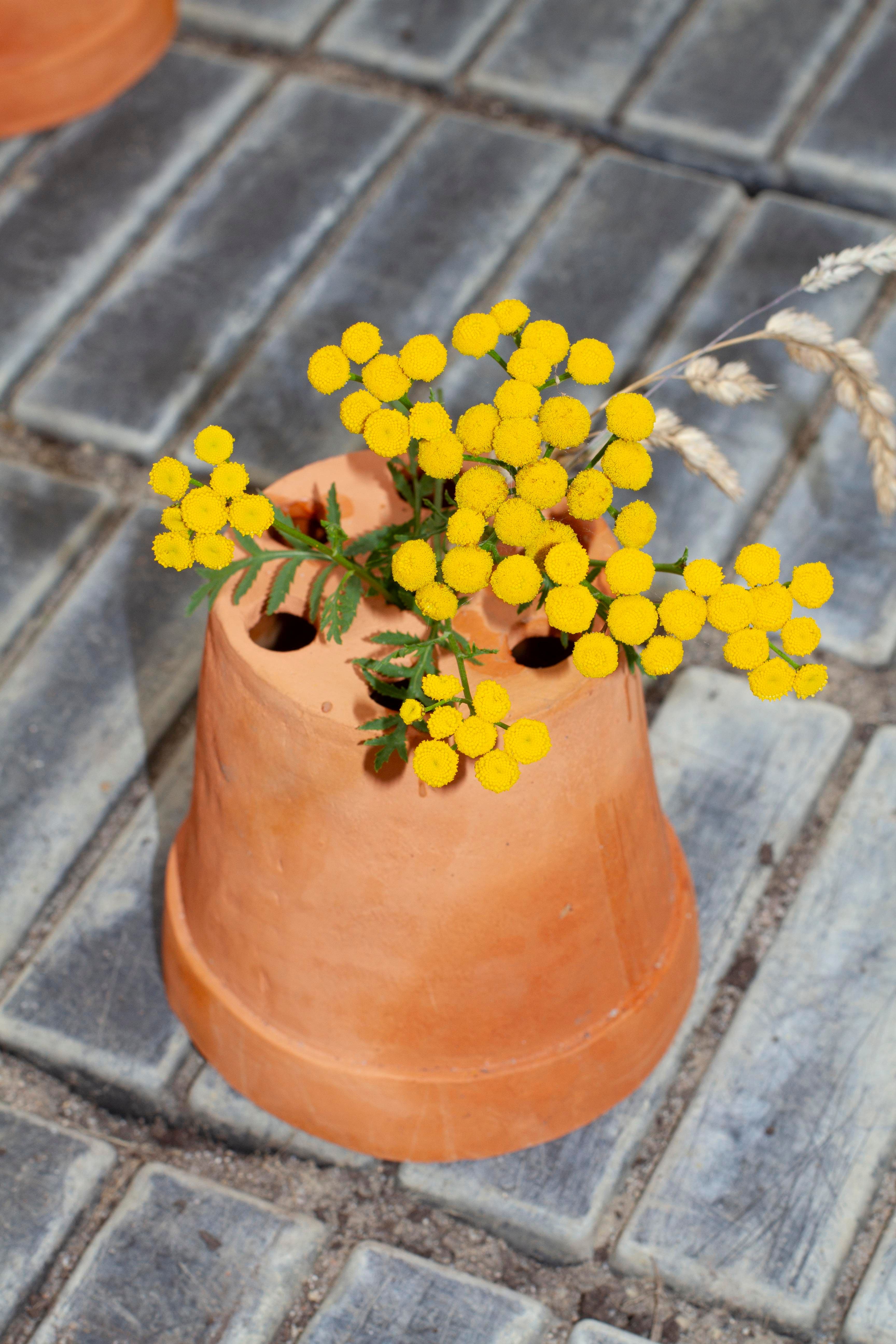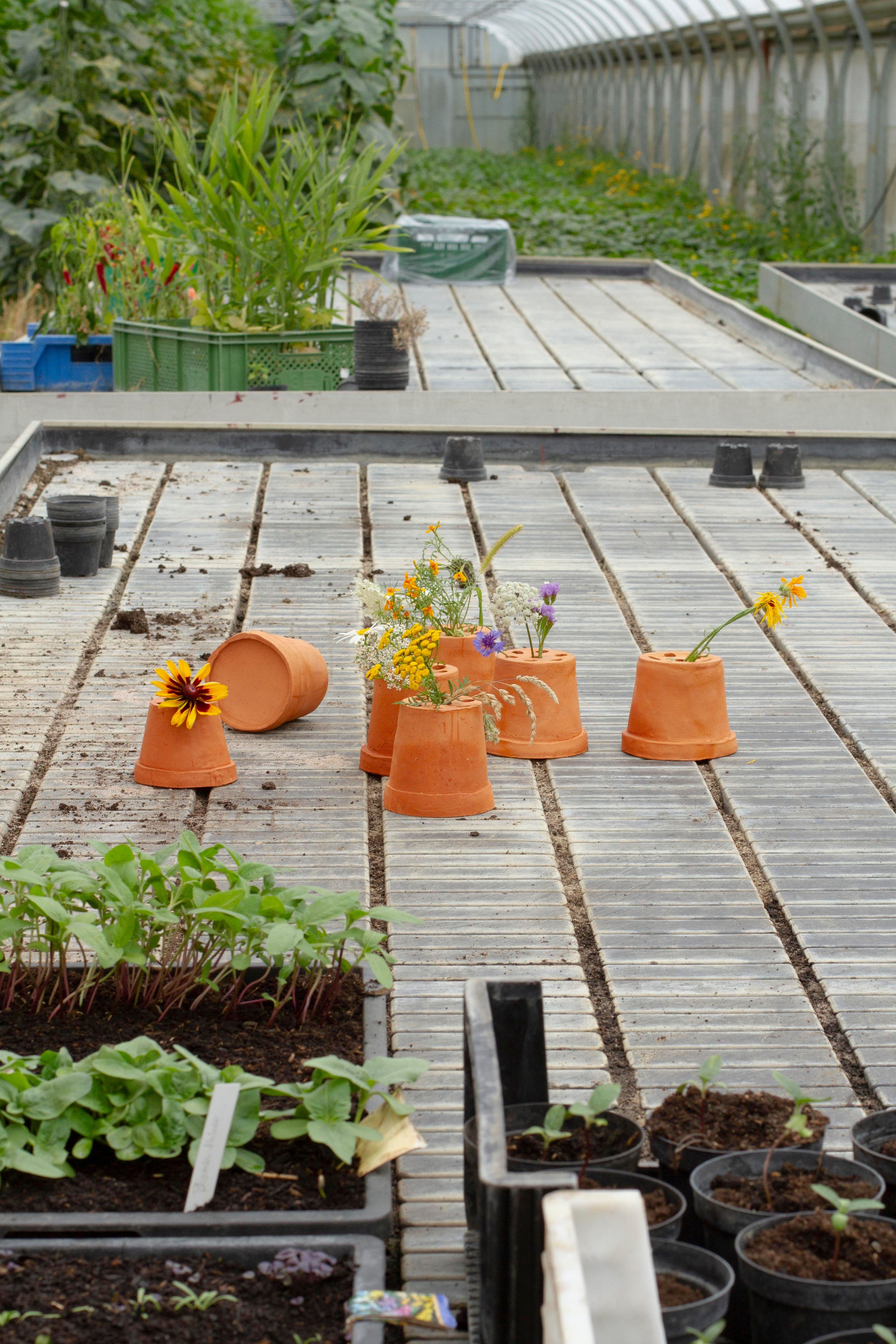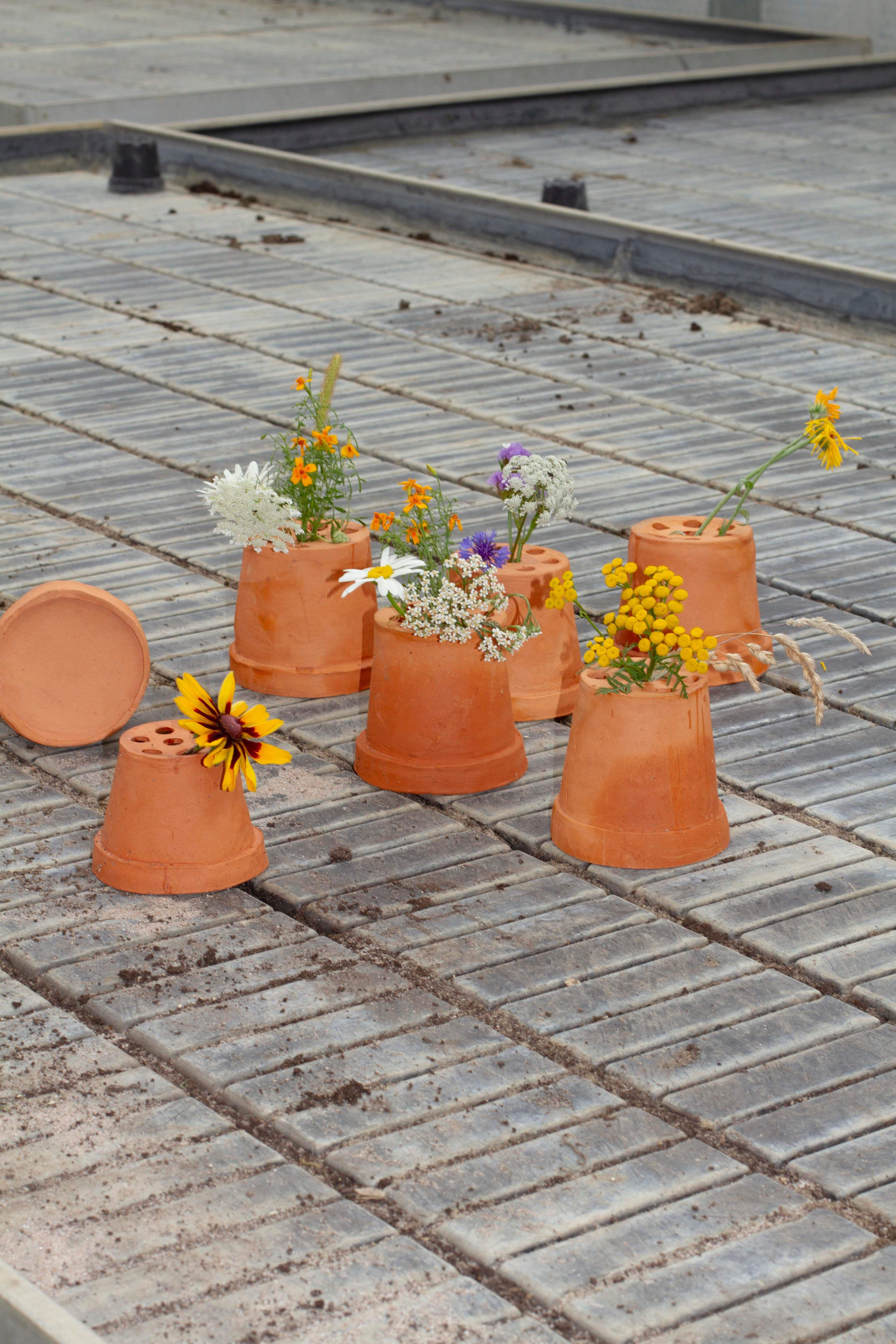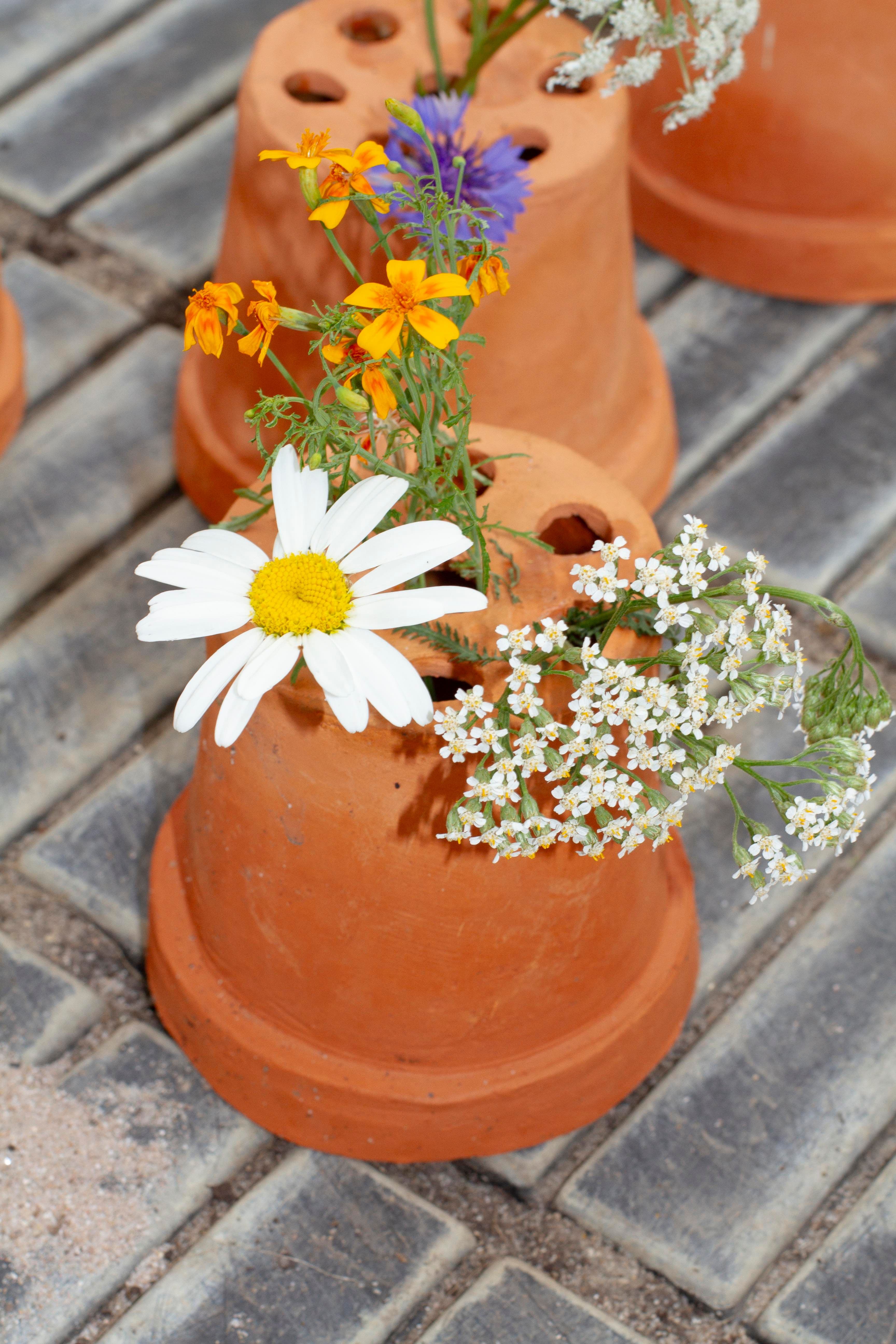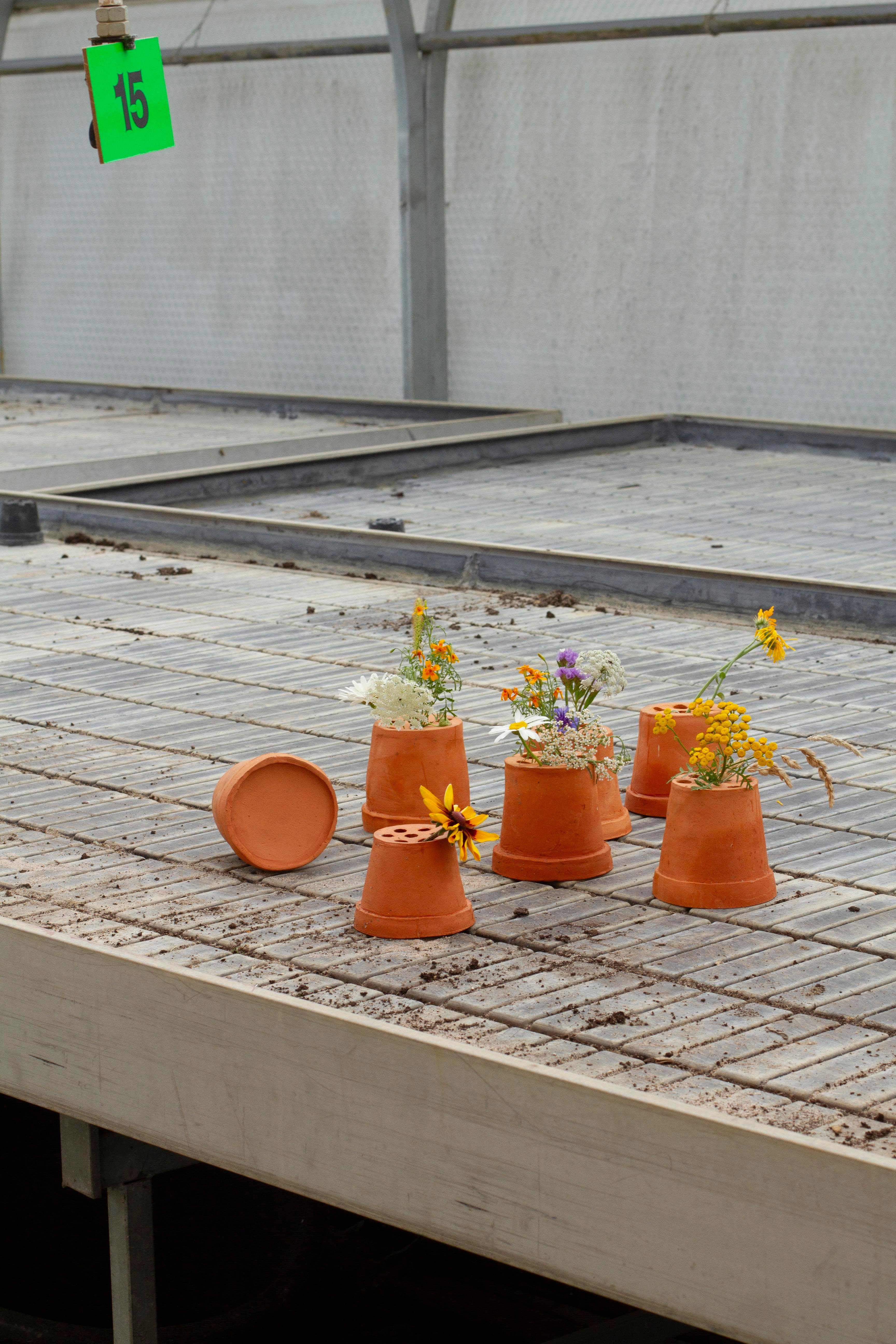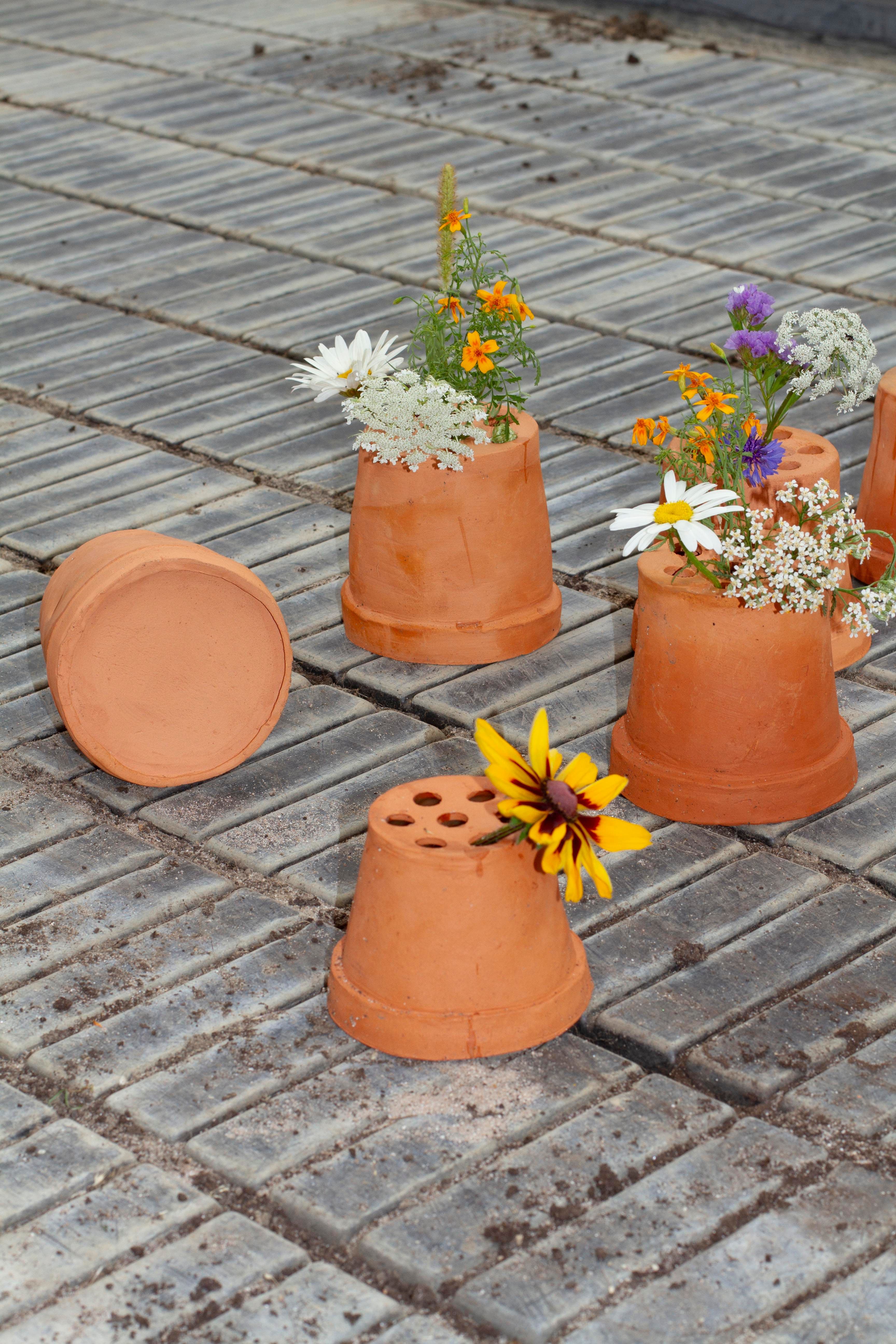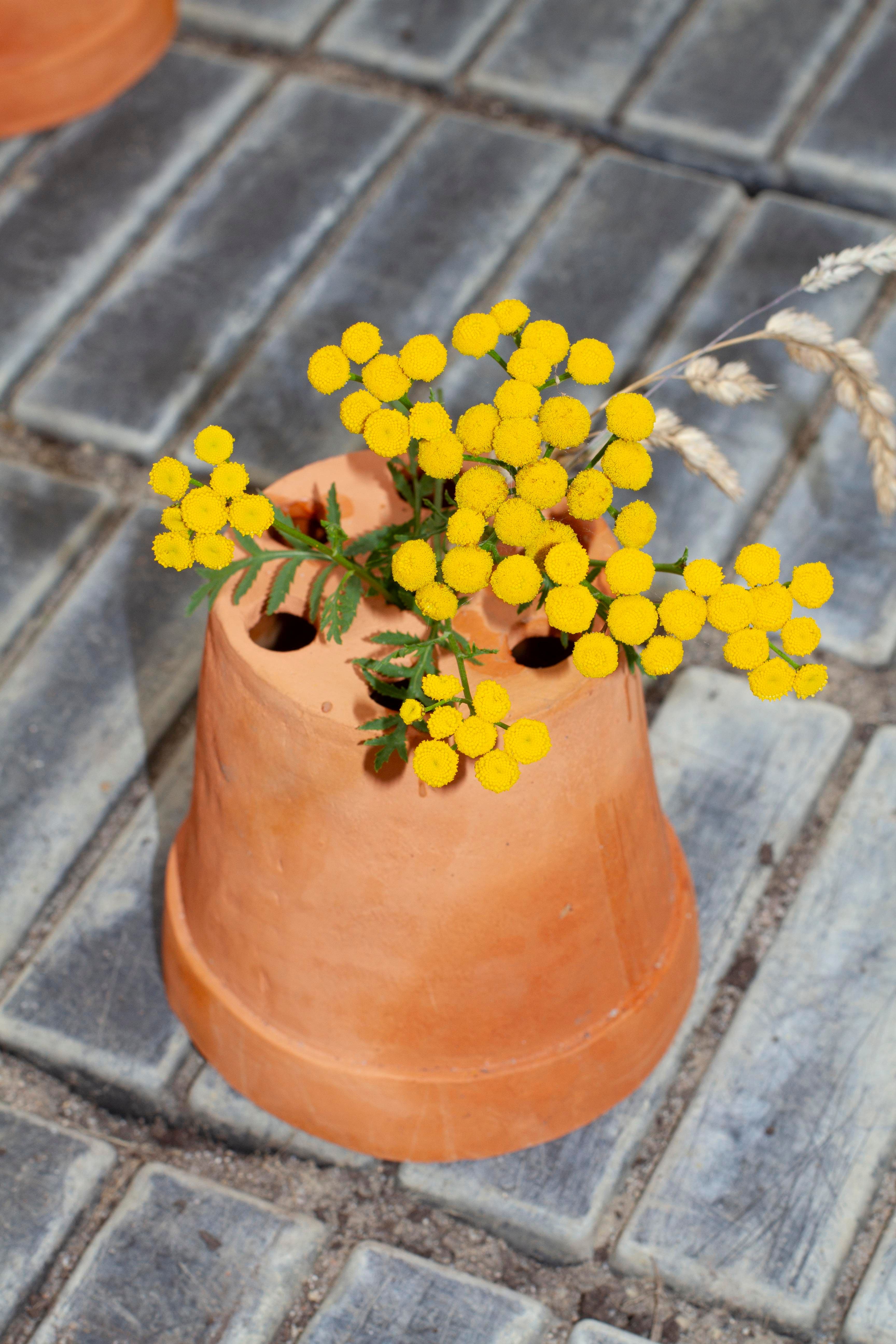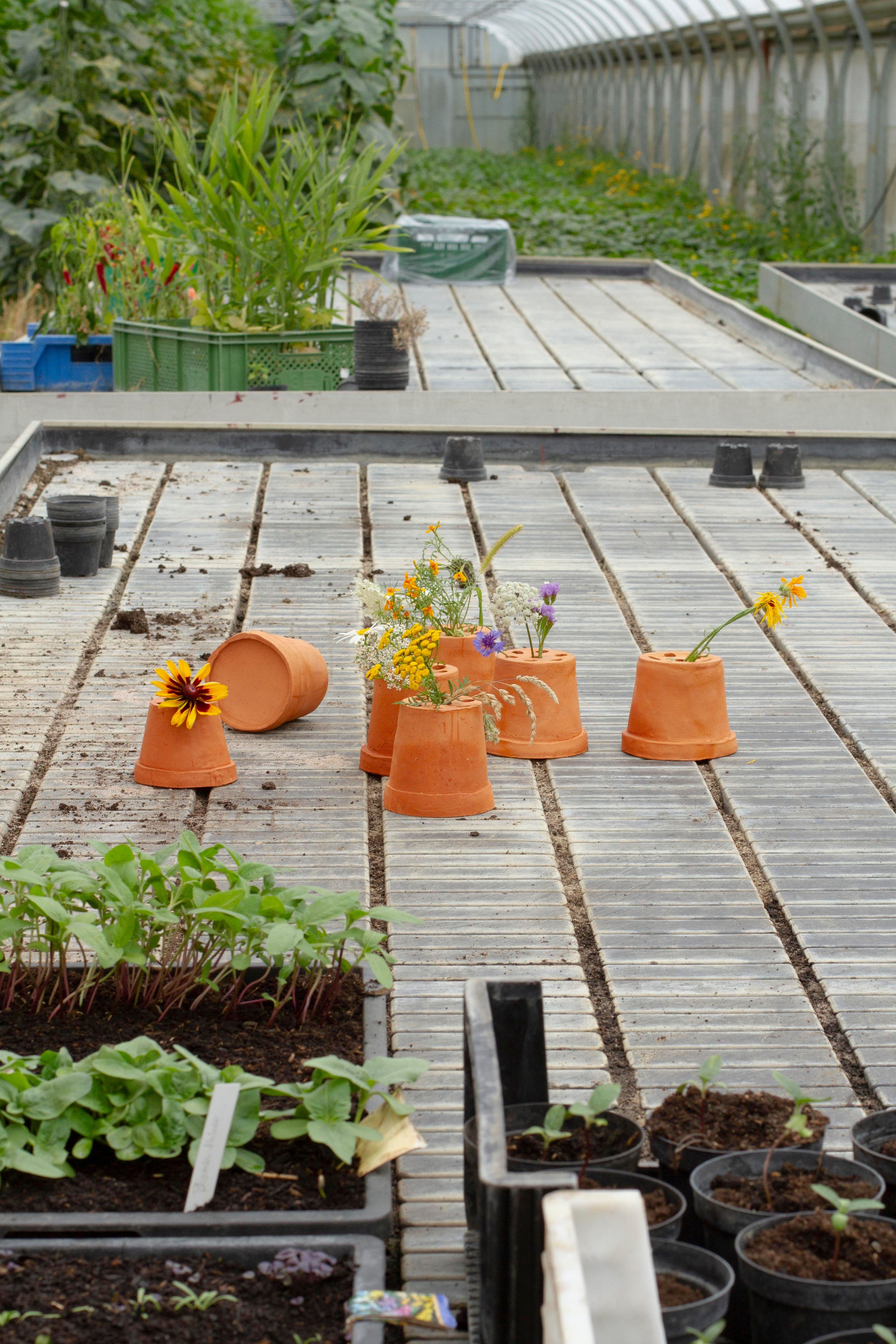 More coming soon…
Photography: ©Nils Körner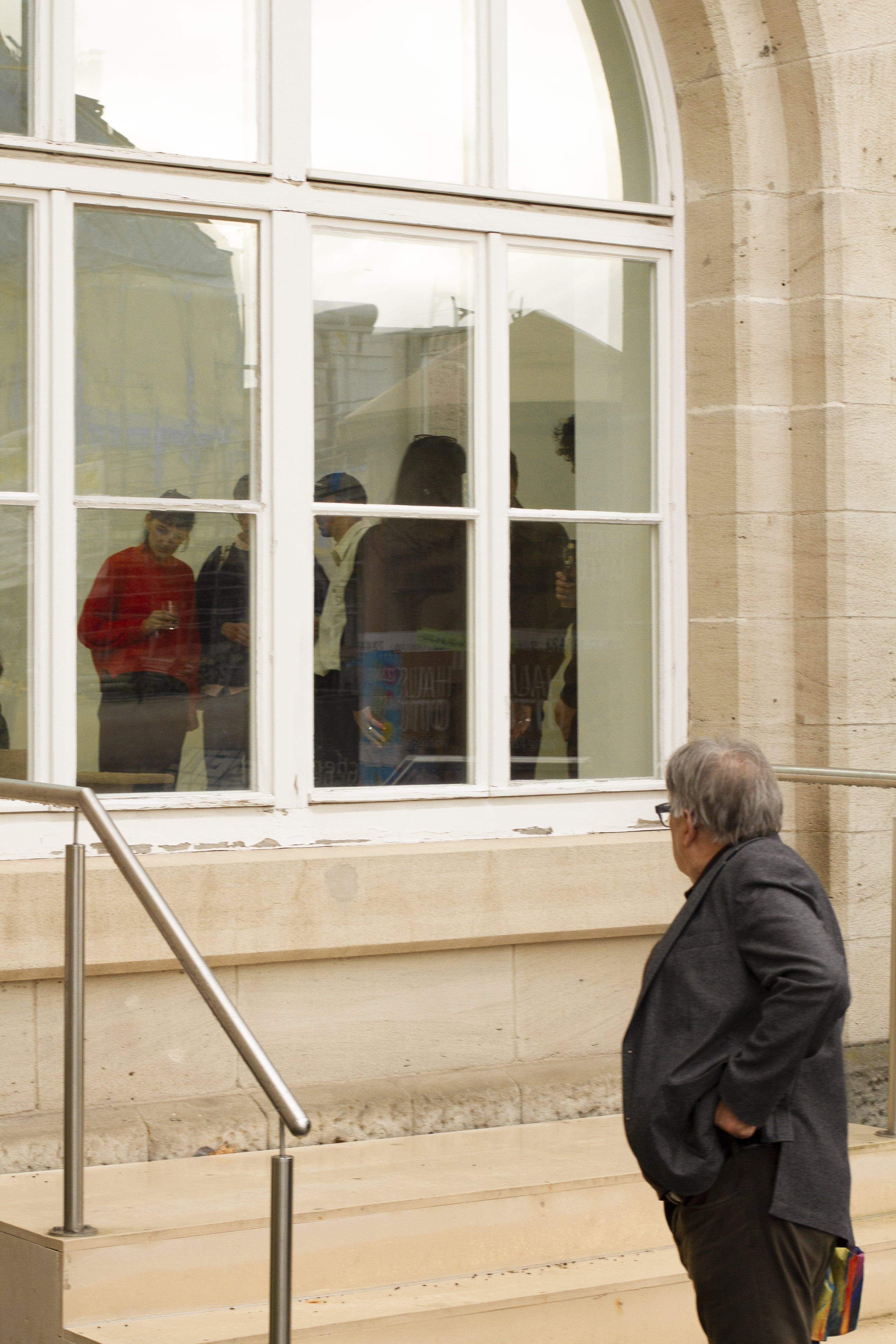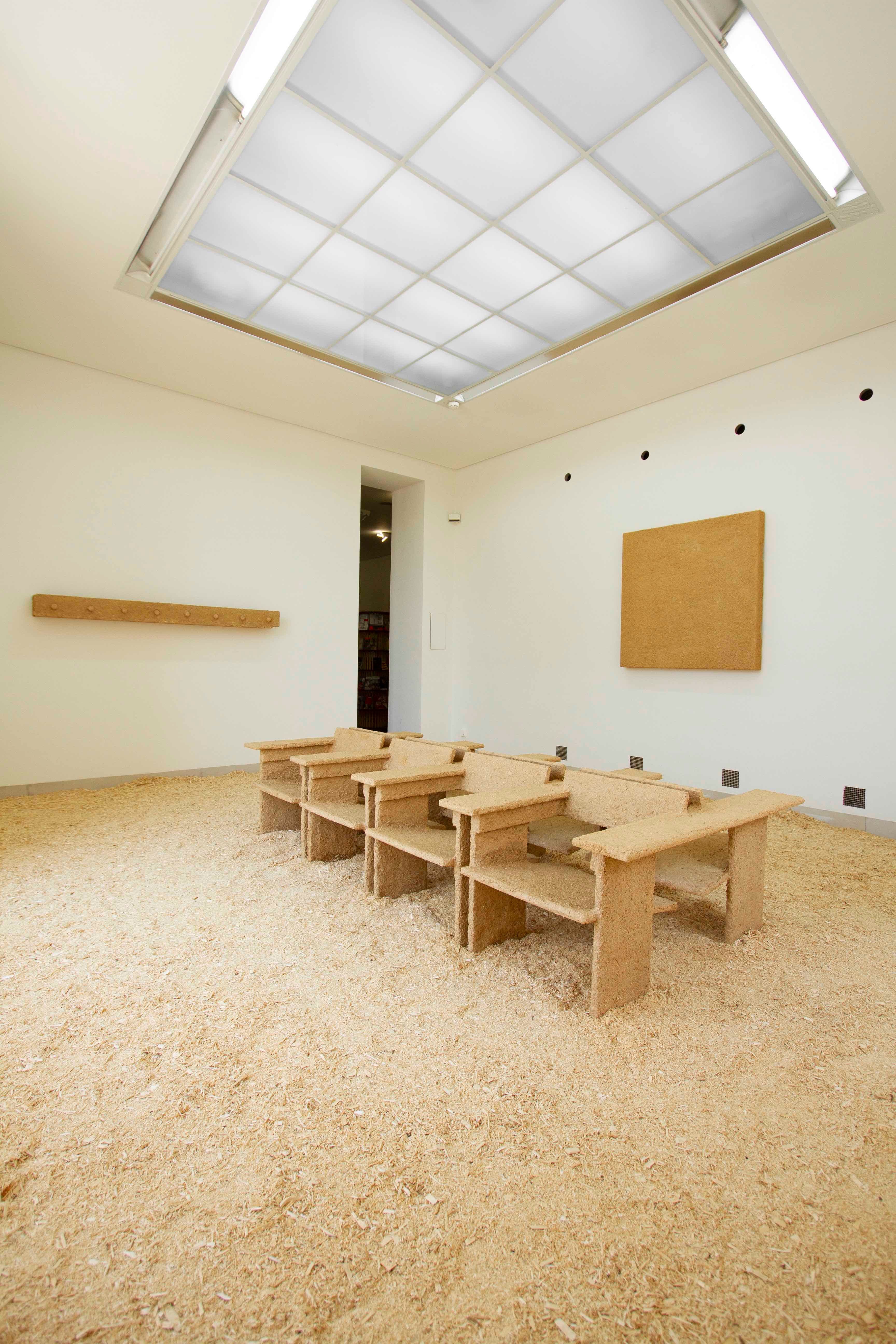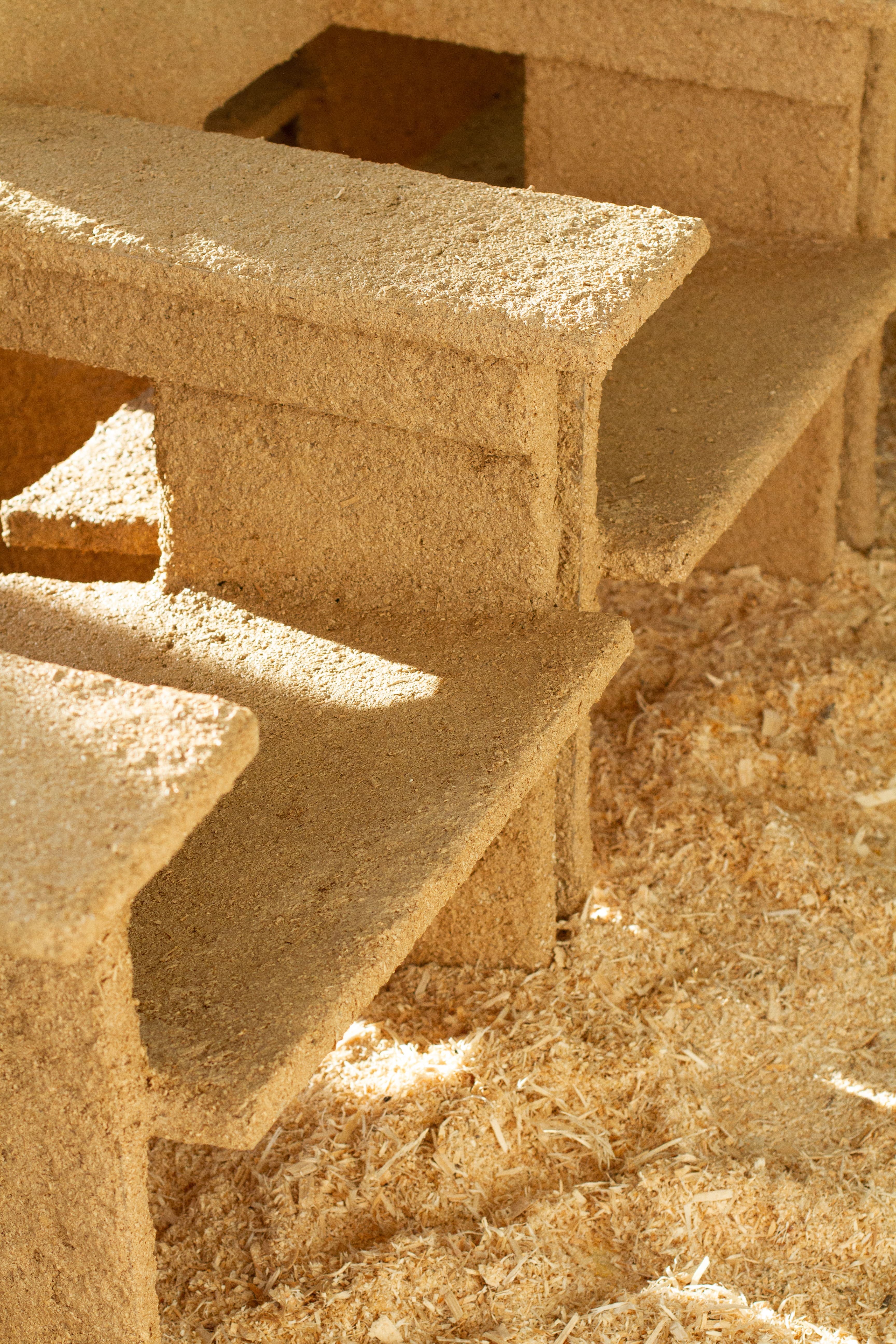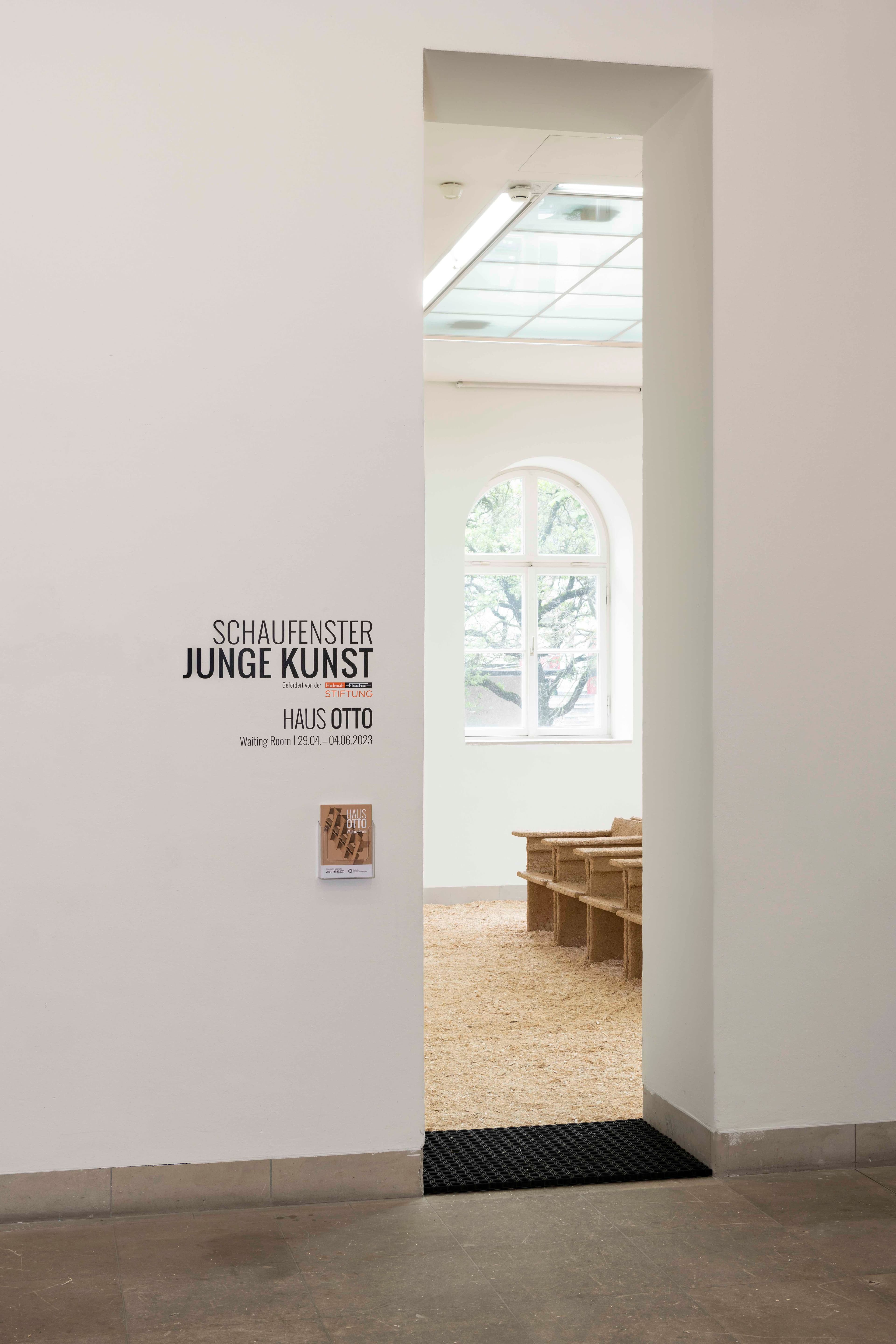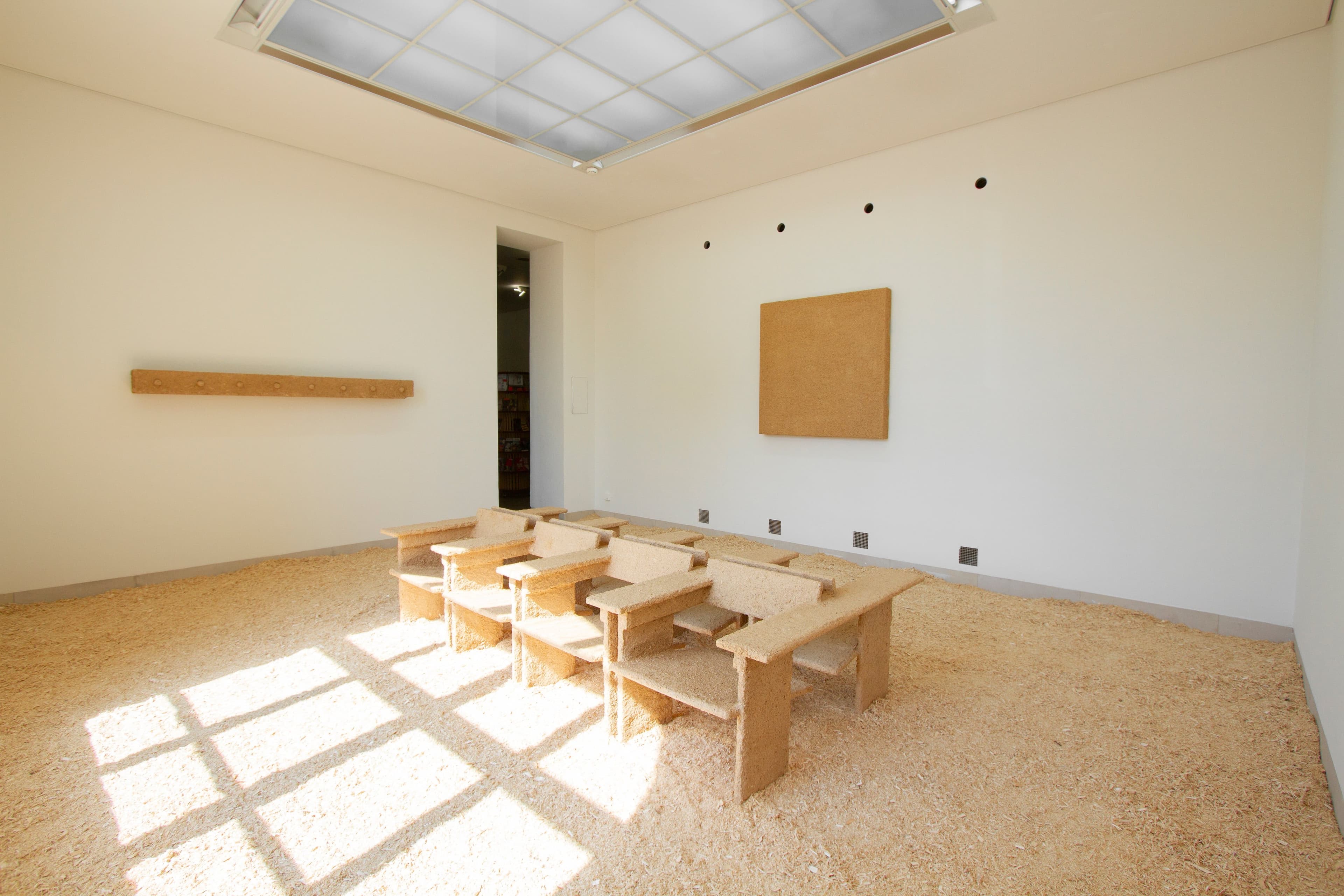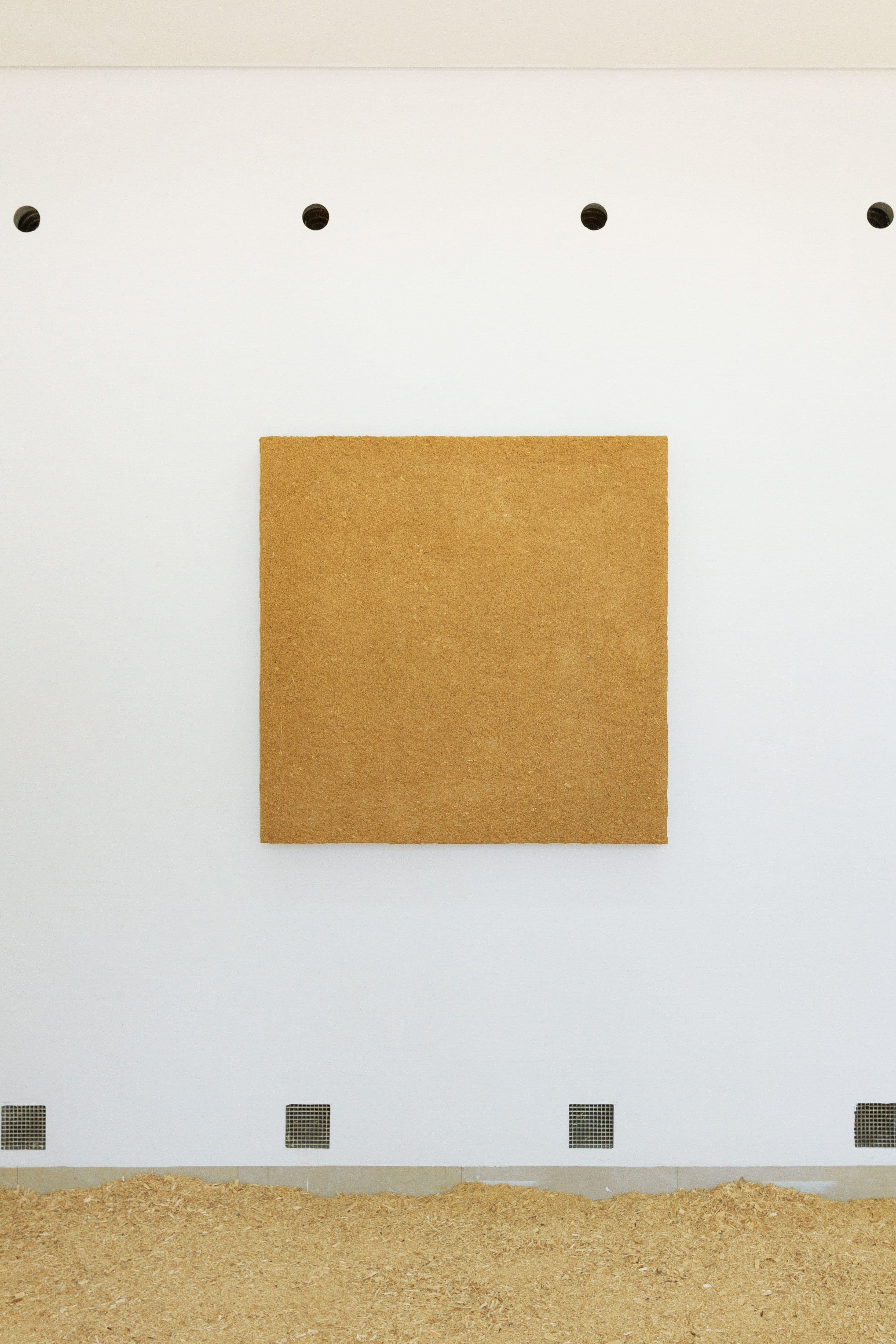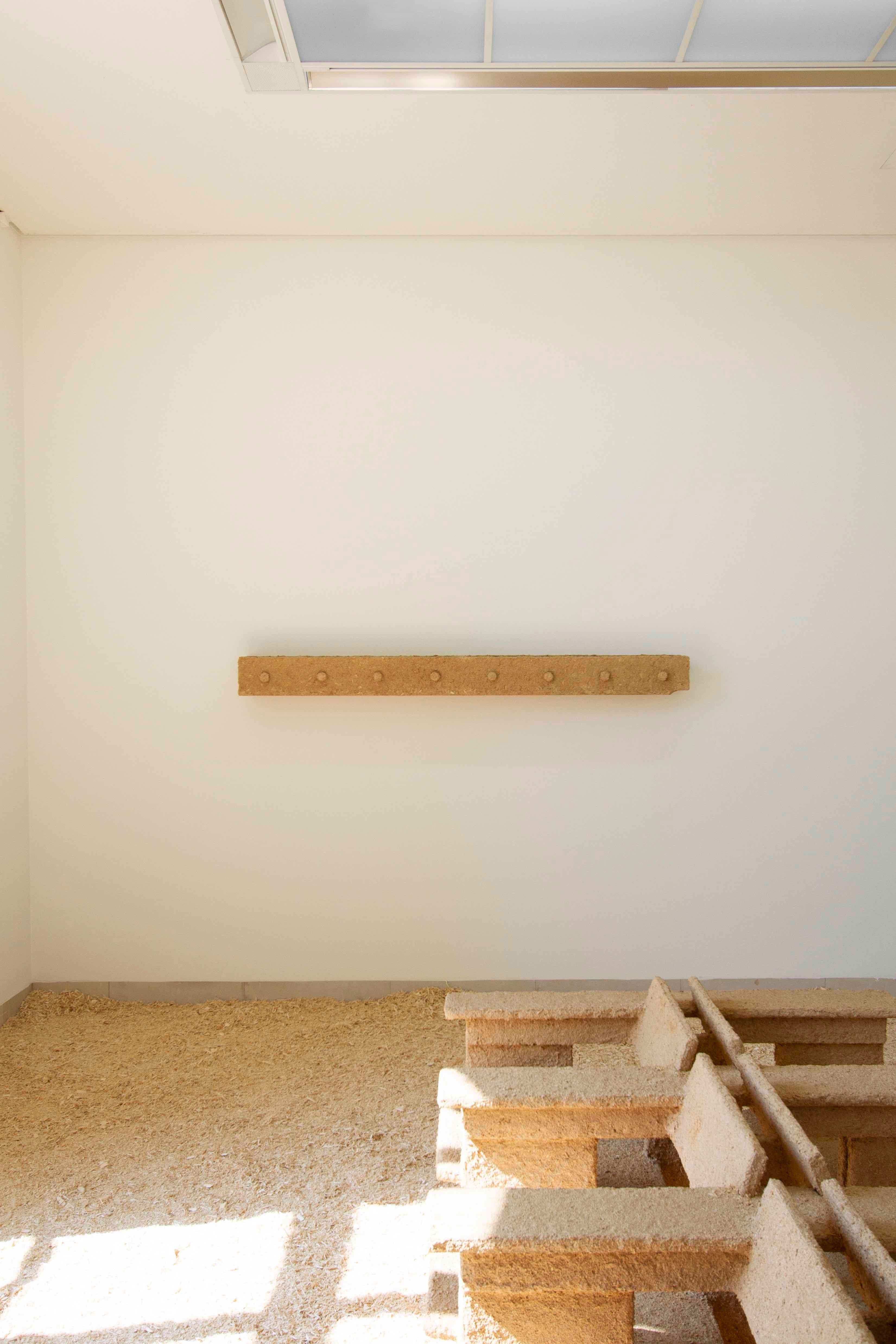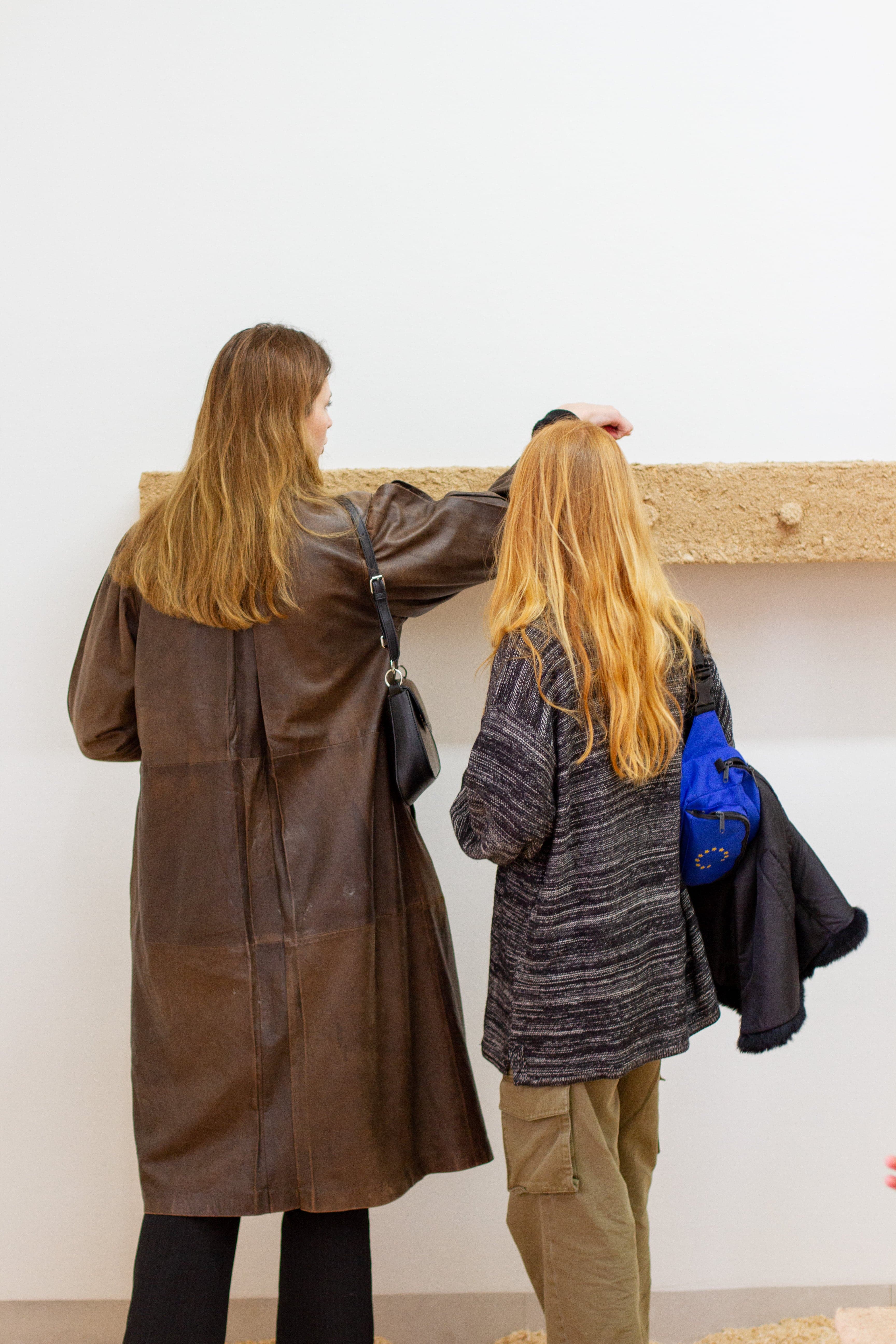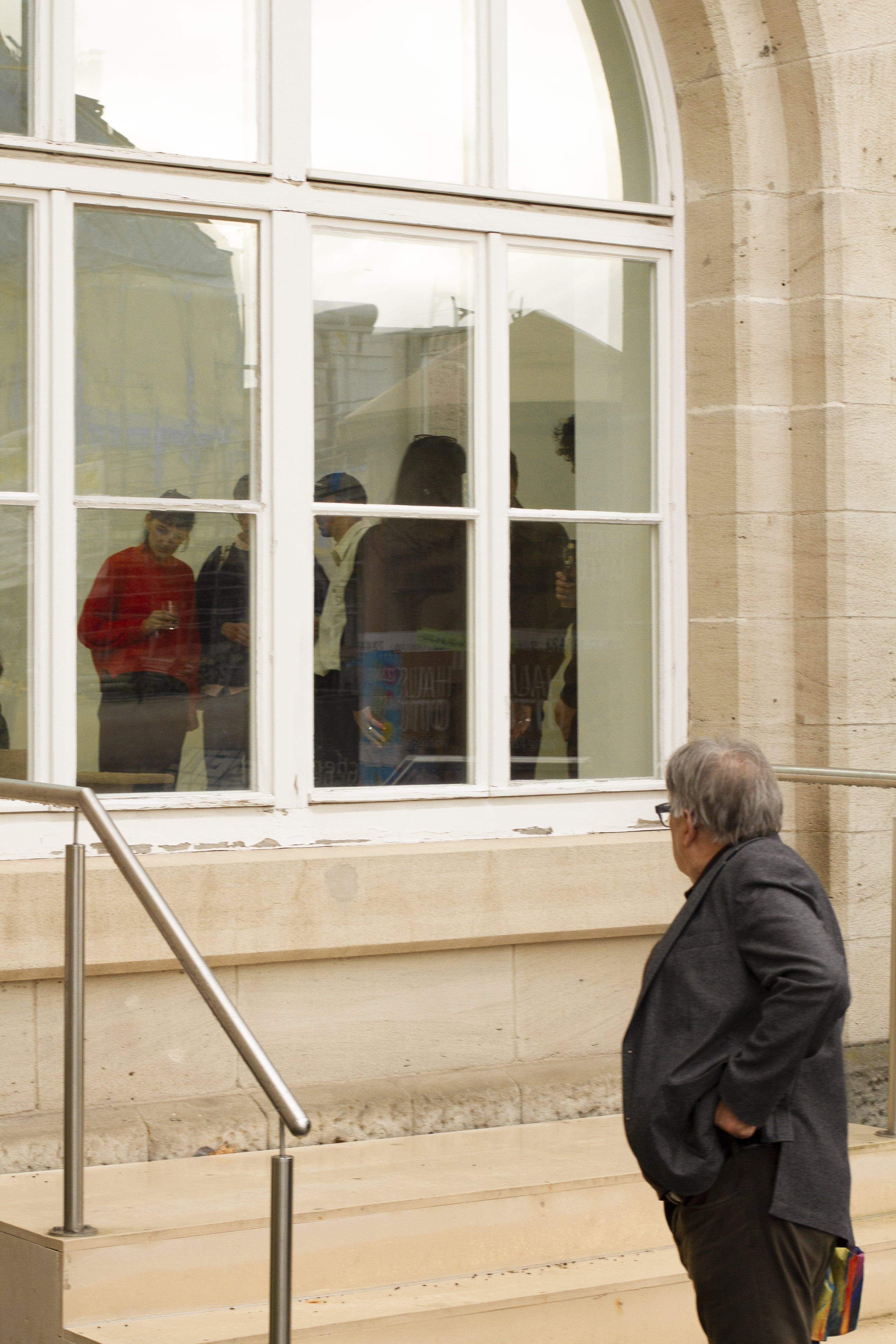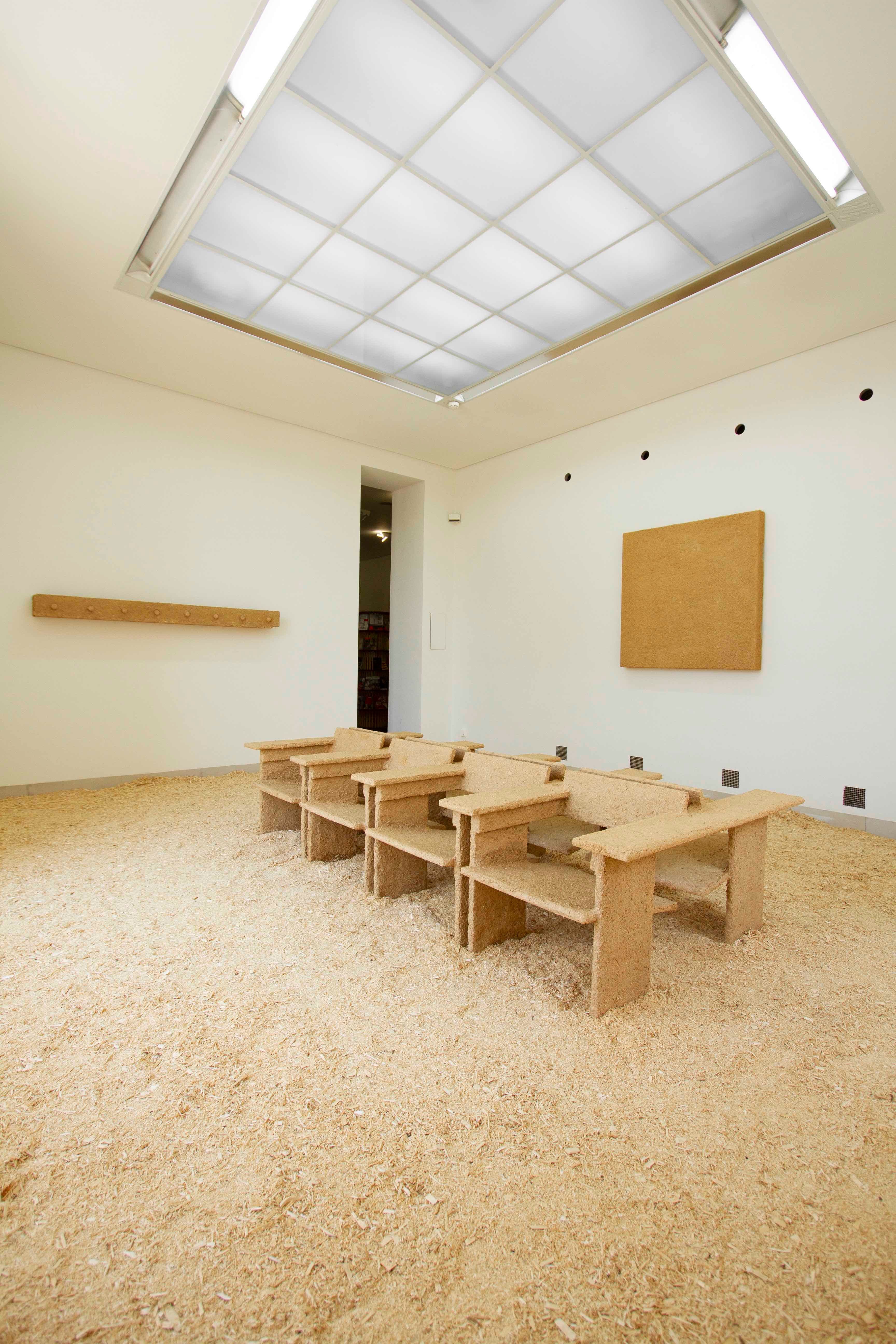 As an installation, the object composition is reminiscent of a waiting room reduced to its basic elements: a seating object as the center point of the room which consists of uniform, endlessly extendible modules, a wardrobe and a square wall object.

Pieced-together scraps of wood and fragments of seemingly worthless pieces of furniture discovered in bulky waste form the basis of the work. The individual pieces are joined together by a self developed process that uses sawdust to create new objects and give waste material a new life. The resulting uniform surface creates a self-contained whole while still exposing traces of the original components.

When waiting, one is in a state of uncertainty about something new. This may be an appointment, the next train, a medical diagnosis or even a verdict. The installation is an experimental arrangement that sharpens the view of visitors and raises questions. In addition to individual and personal questions, those with social and ecological relevance are raised, for example in relation to the fast pace of industries such as the furniture industry or in relation to political circumstances.

Curated by: Paul Ambros
Client: Galerie Stadt Sindelfingen
Photography: ©Jonathan Körner, ©Nils Körner
Presskit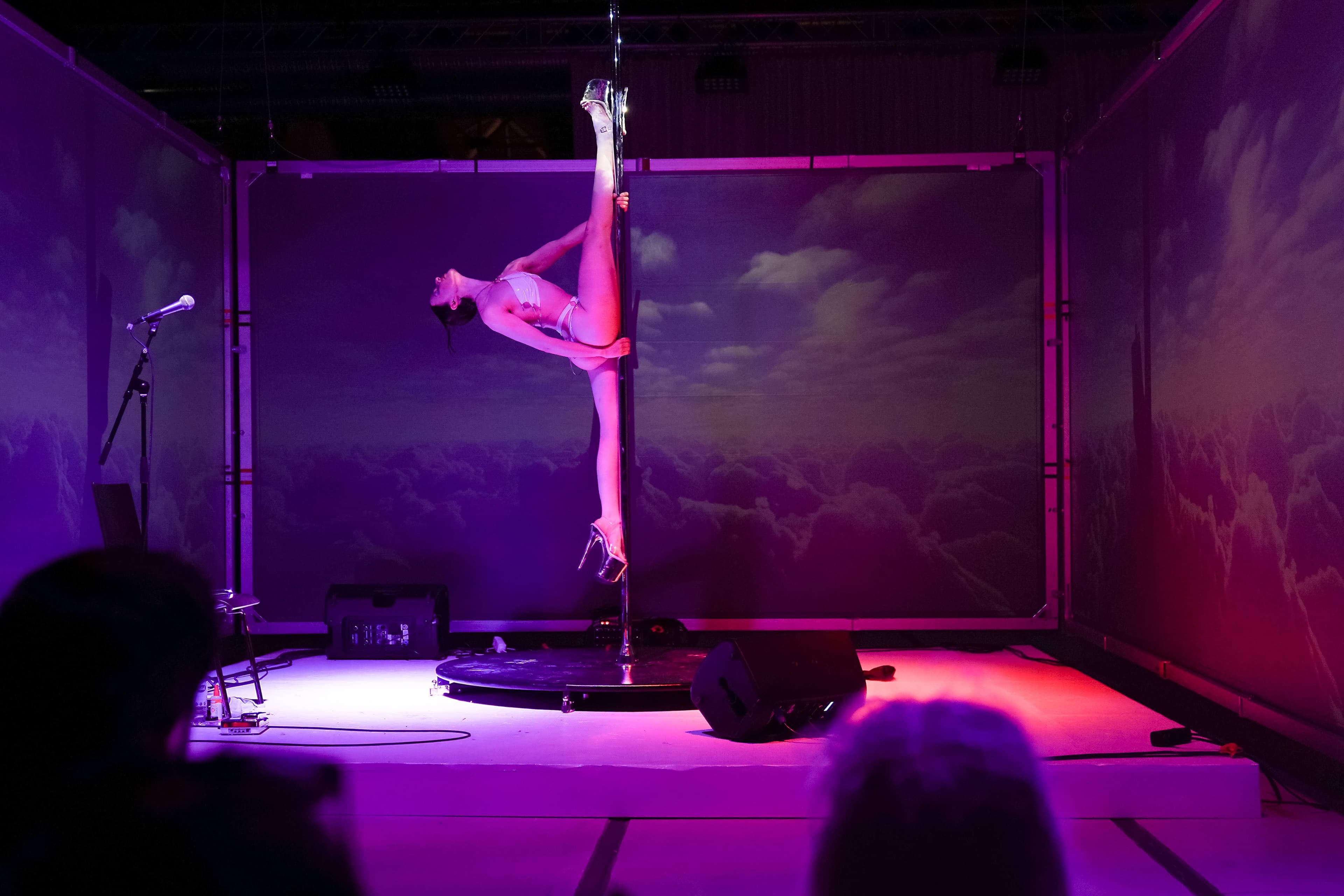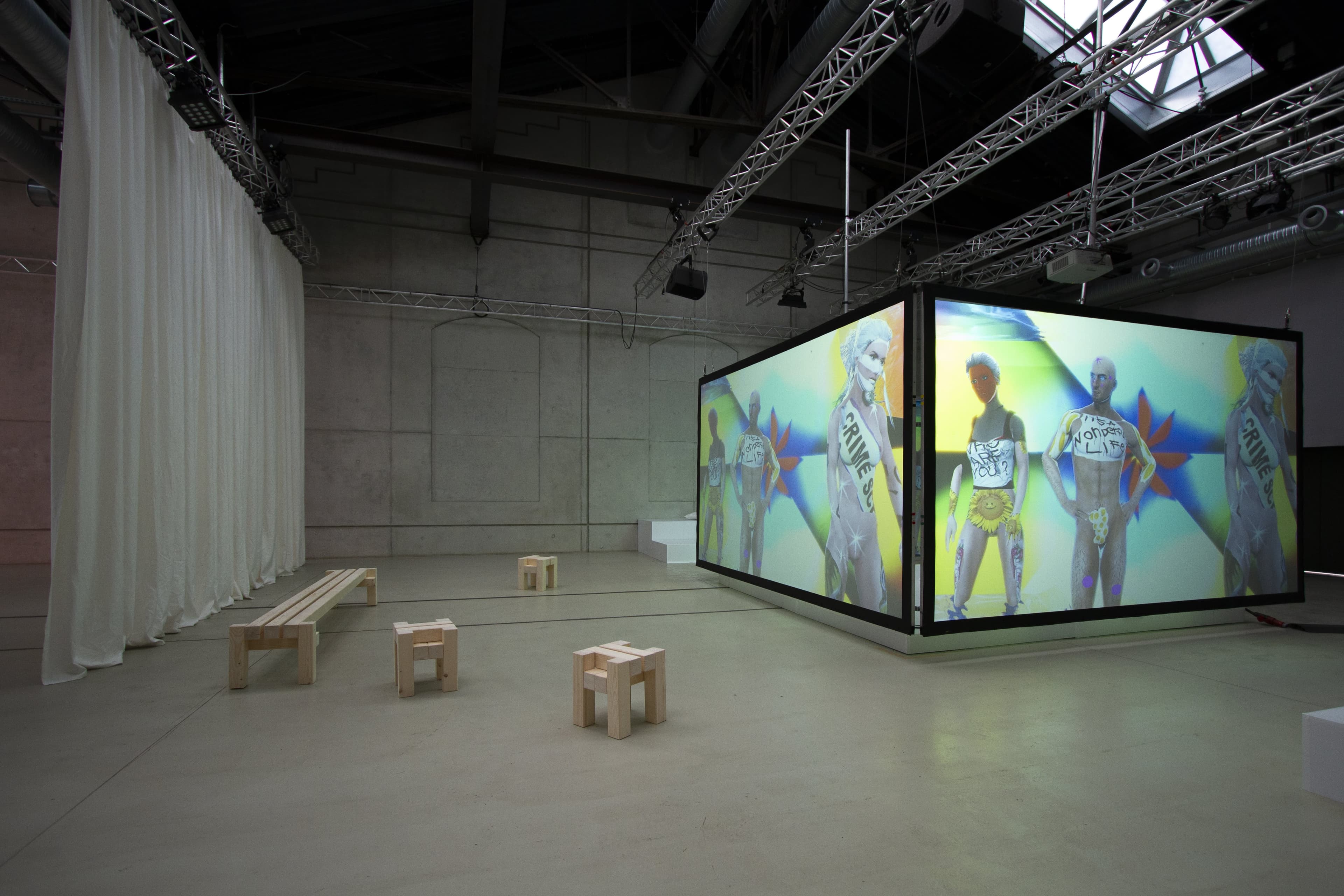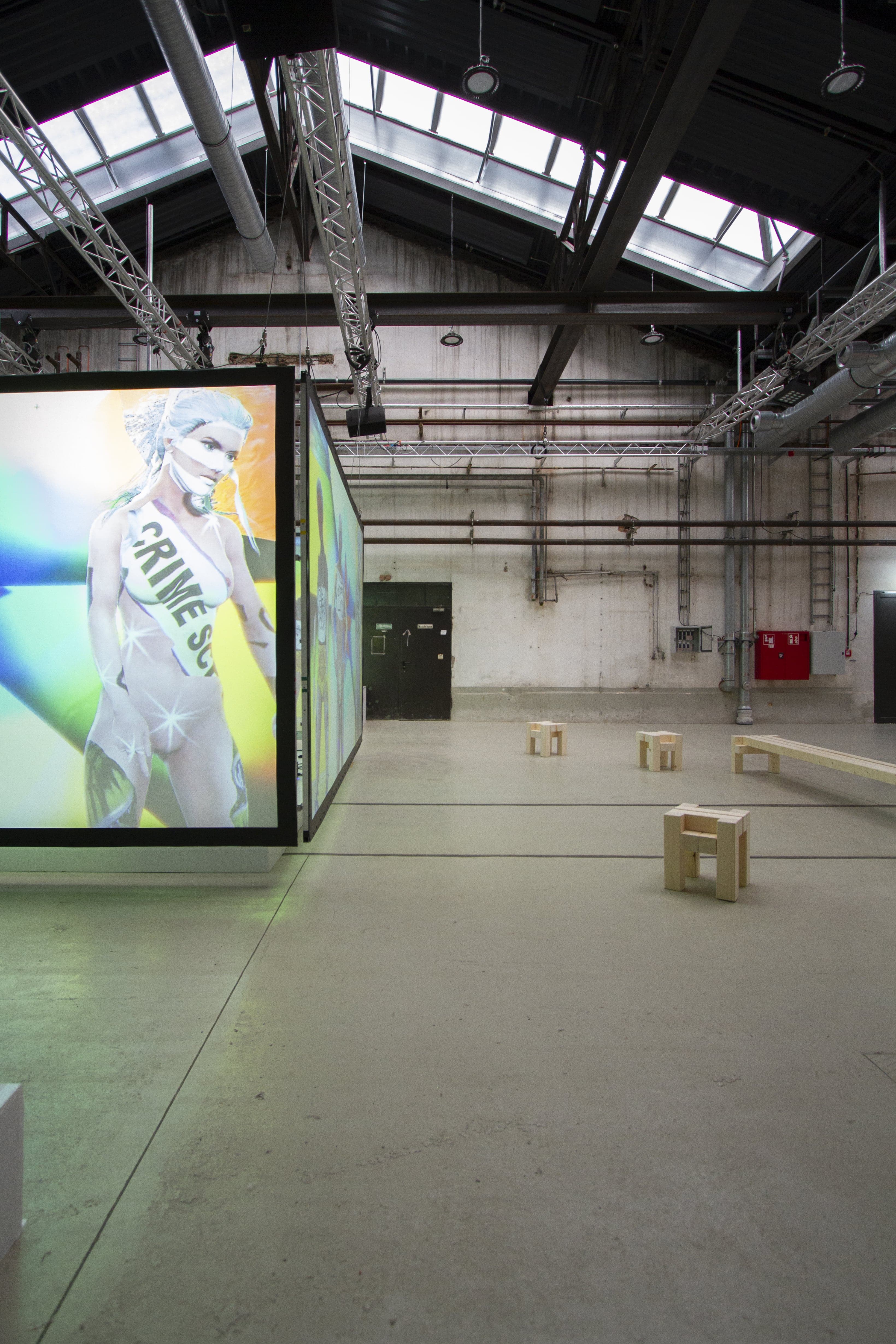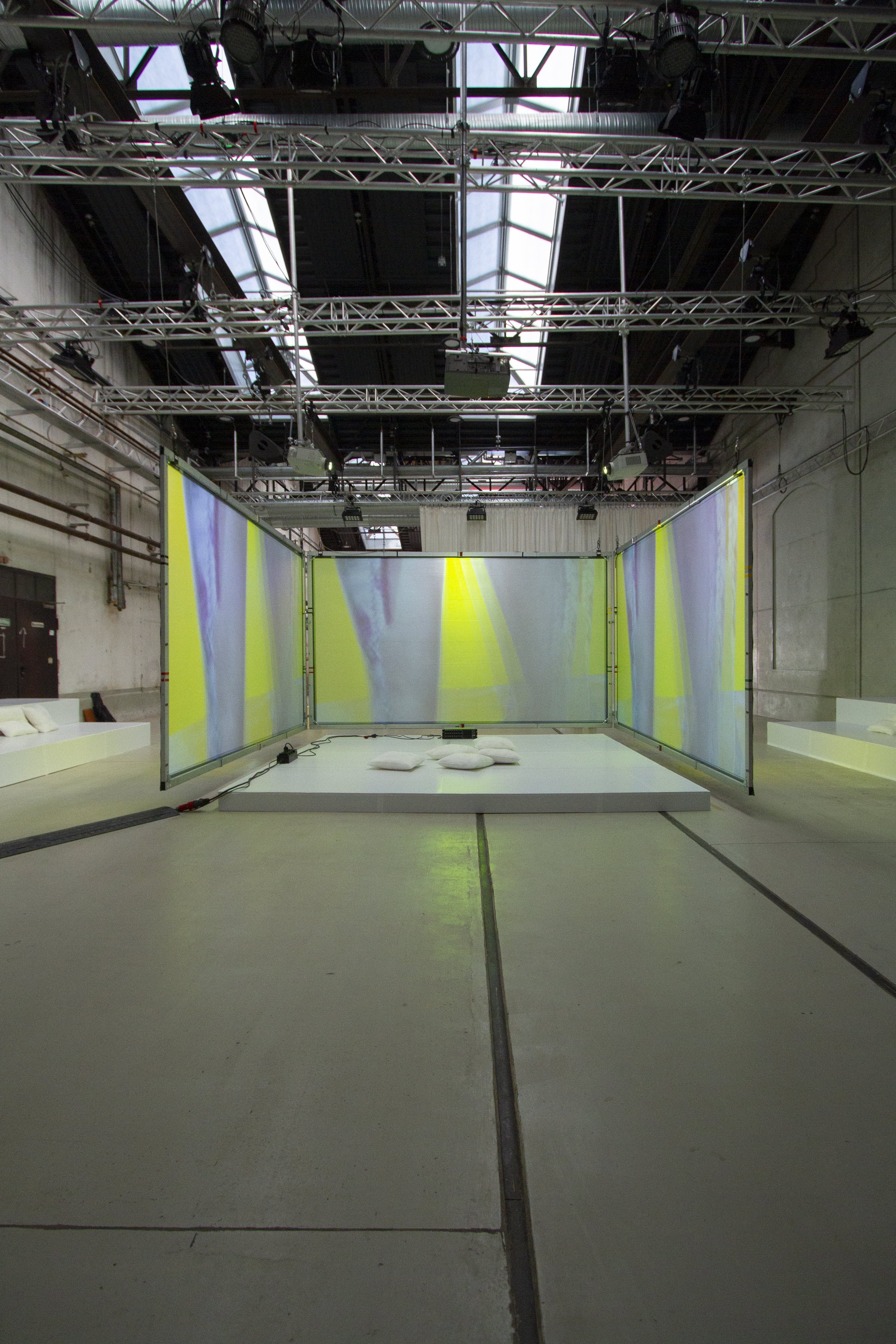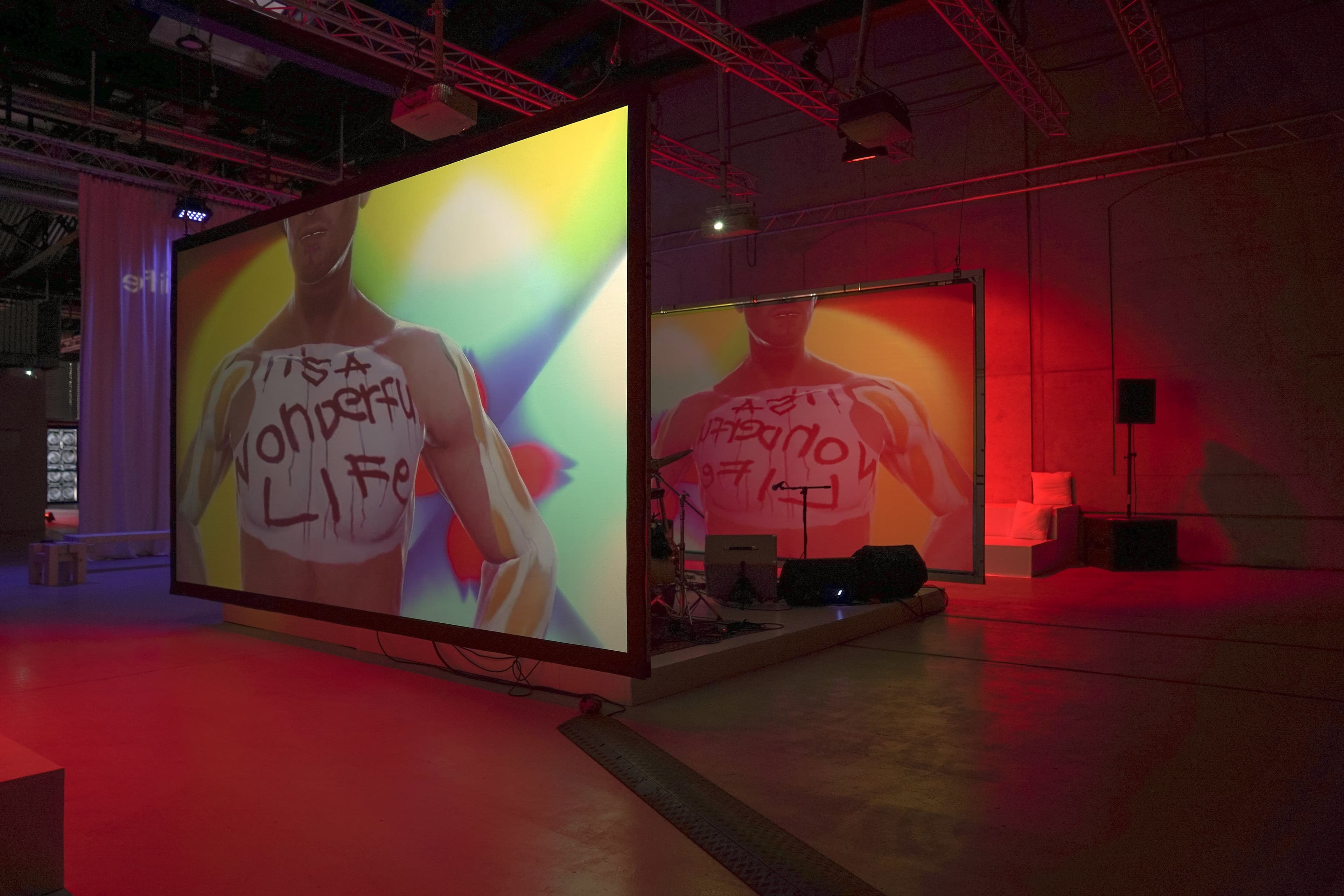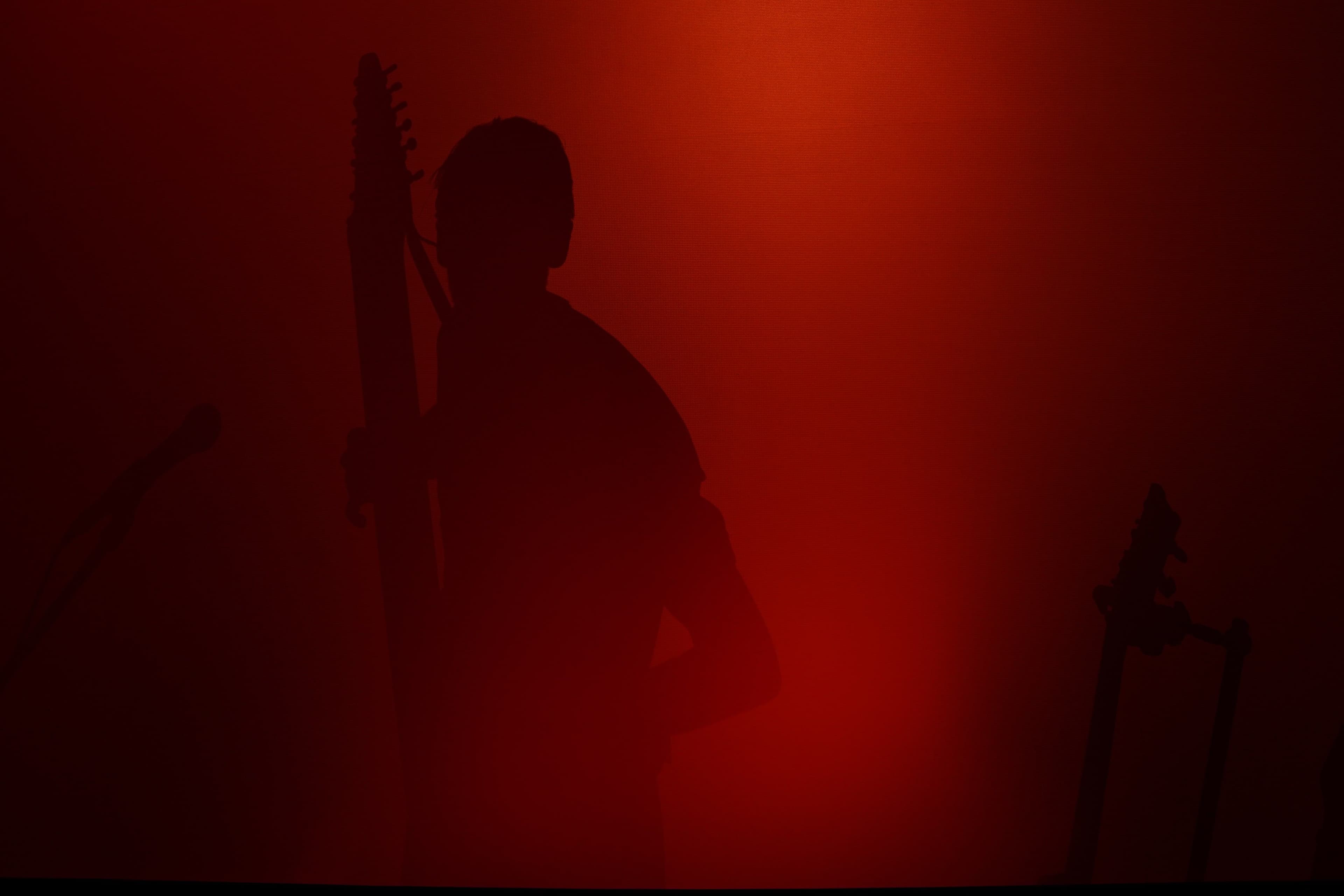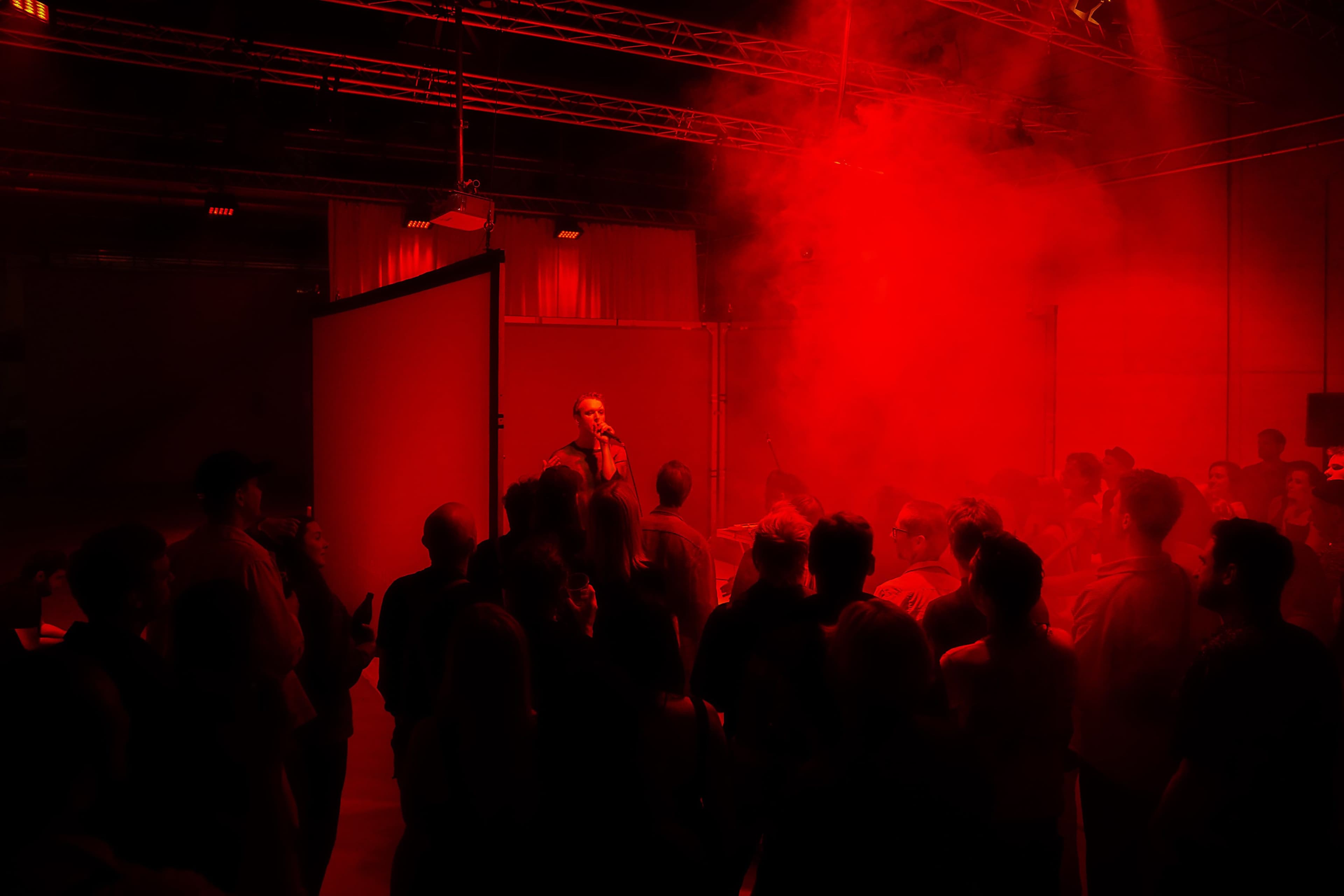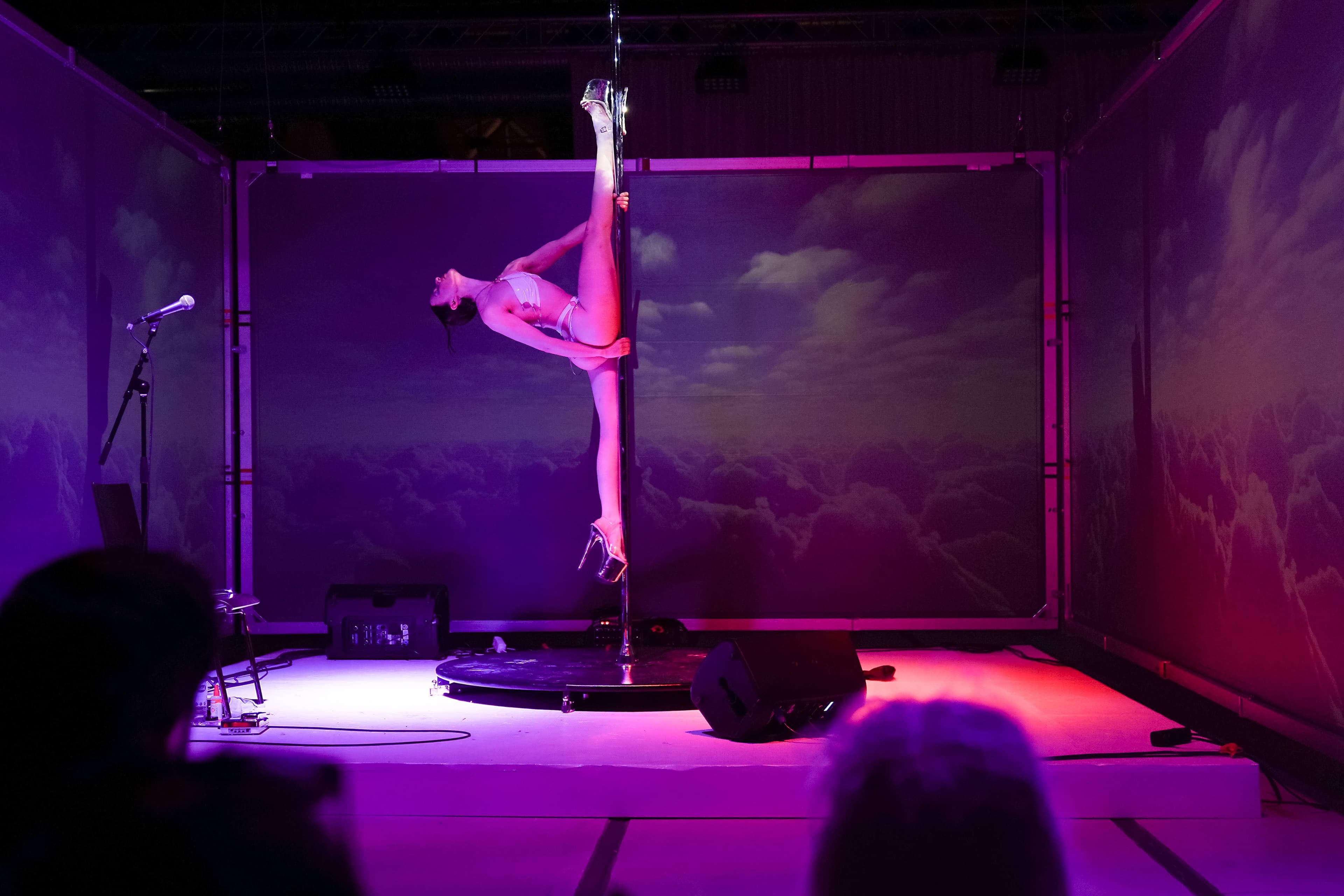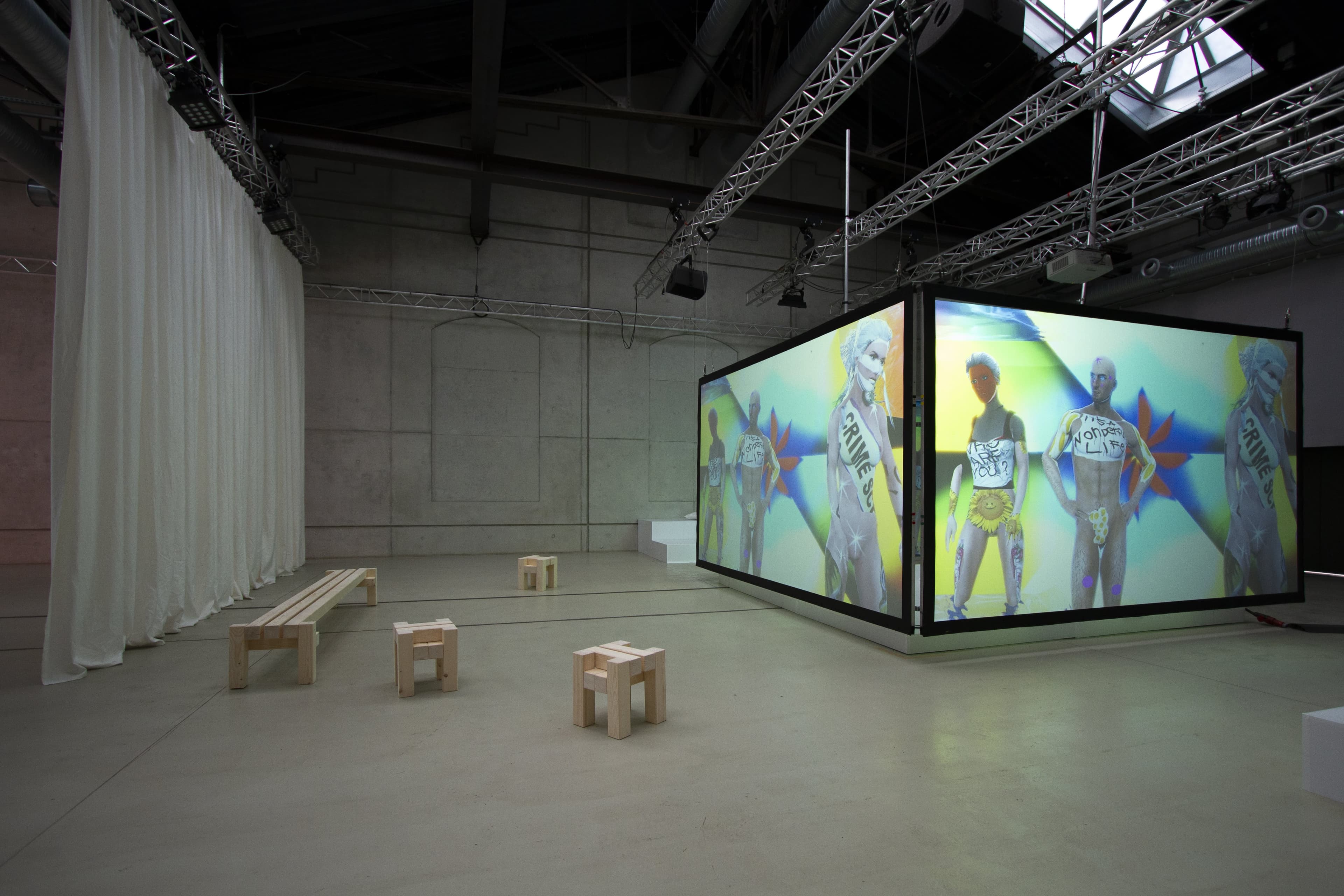 The project consists of two parts and is an exhibition centered around the theme of the night, featuring video installations, performances, talks and concerts.
What can the night offer other than darkness, rest and sleep? During the pandemic, when there was no nightlife, we dealt with this void and the meaning of the night. Nighttime has potential as a time when other communities emerge. Things happen that have no place in everyday life. Night can exist as a utopia detached from the laws of reality. Similarly, work takes place in these hours that much of society does not see. In performances, concerts, videos, and a ritual, we seek new meanings and places for the night.
The scenographic Installation creates a space within a space which allows a flexible use and offers an inside-outside point of view. During the day, it is used as a projection screen for video installations while from the inside it forms a protected club-space for performances, concerts, music and dance during the night. Various seating objects arranged around the cubicle complementing the installation.
The project is an collaboration with The Real Office with cortibutions by: Mark Sampson, Angela Falk, Gaisma, Larry Achiampong, Nika Autor, Bogomir Doringer, Douna Lim & Théo Pesso, DeLorea Pontiac, Rowan Moonlion, Nicoleta Mureş, Gabriela Oberkofler, Perigon, Angelique Ustymenko, and numerous others.
Photography: ©Daniela Wolf, ©Nils Körner
Presskit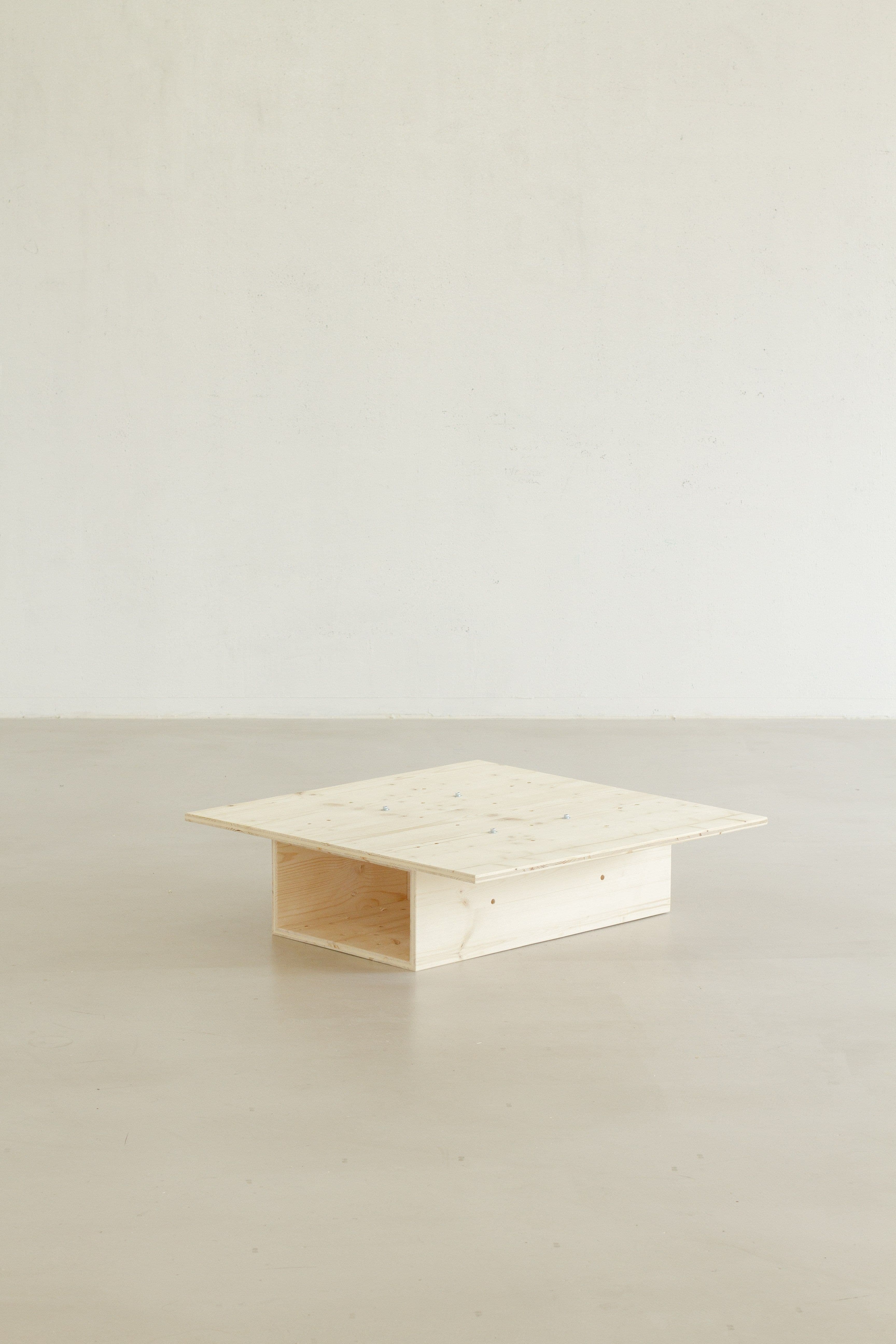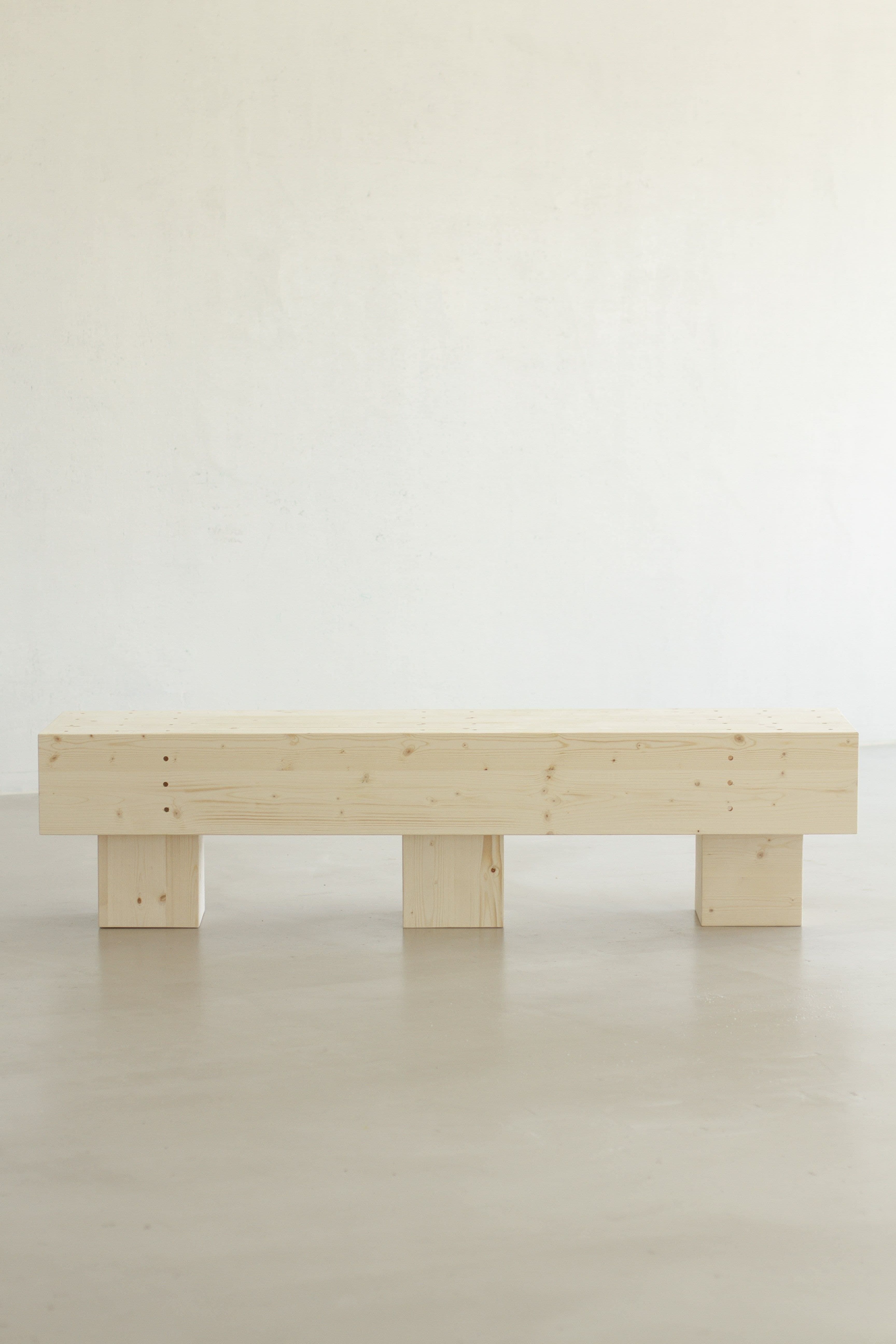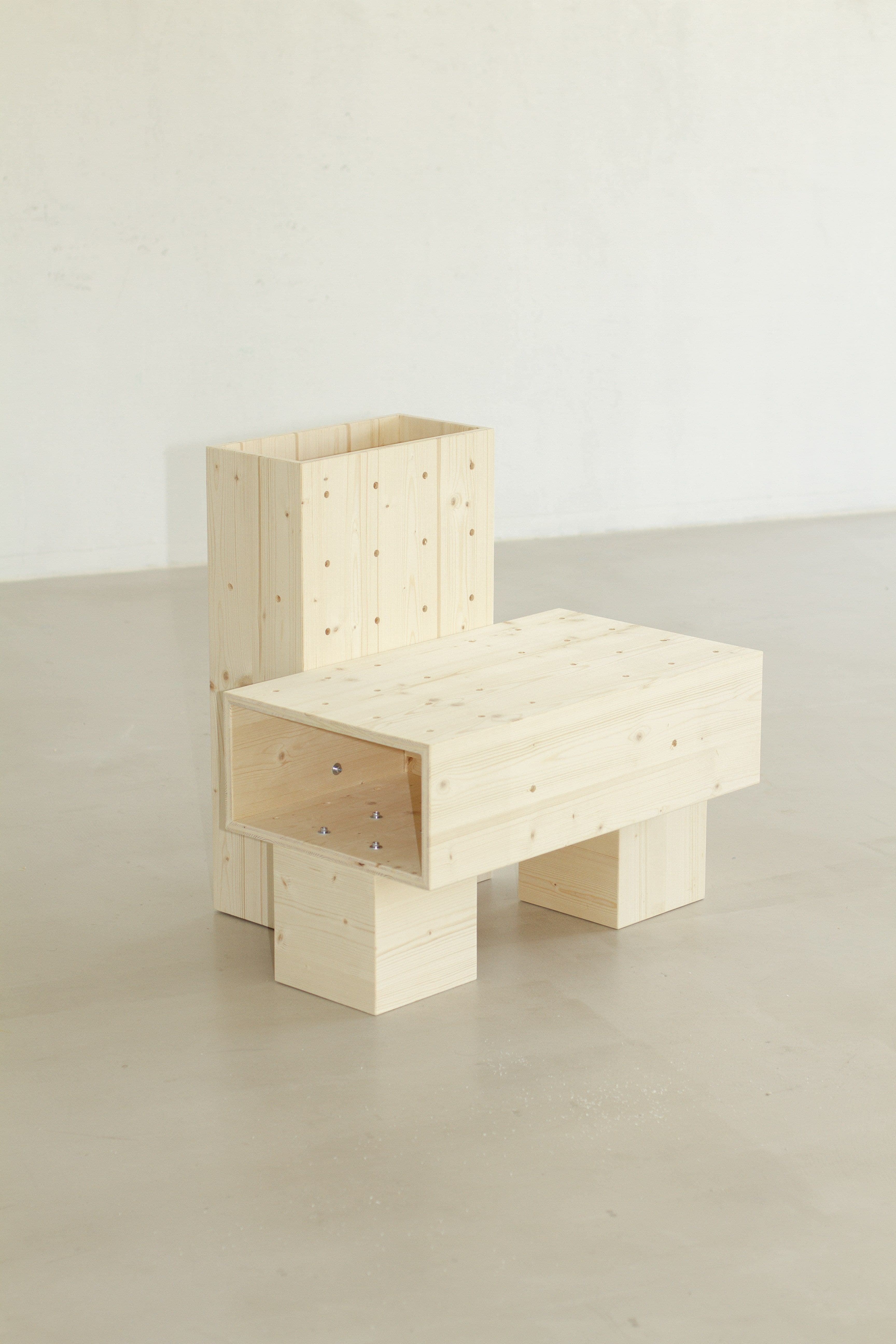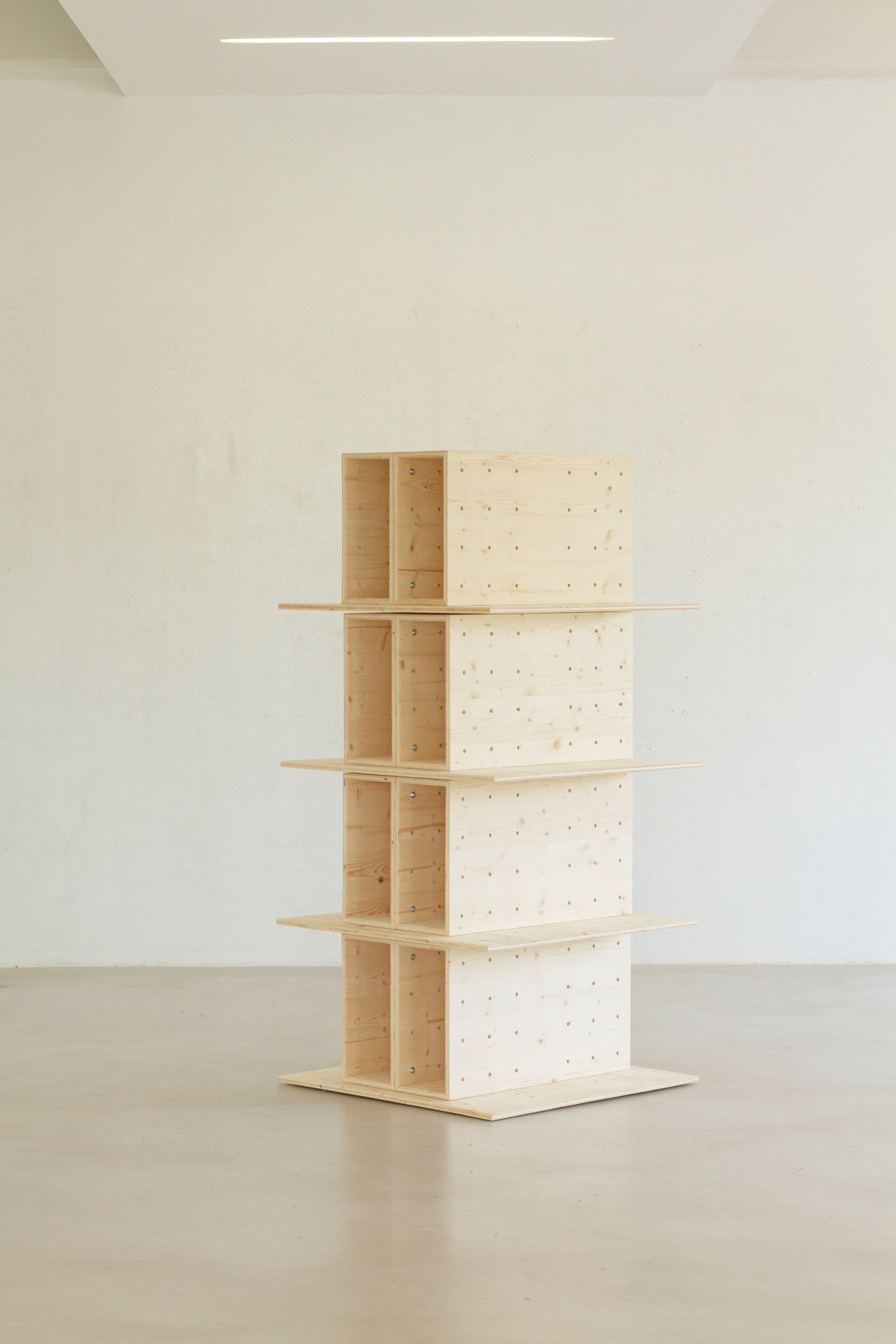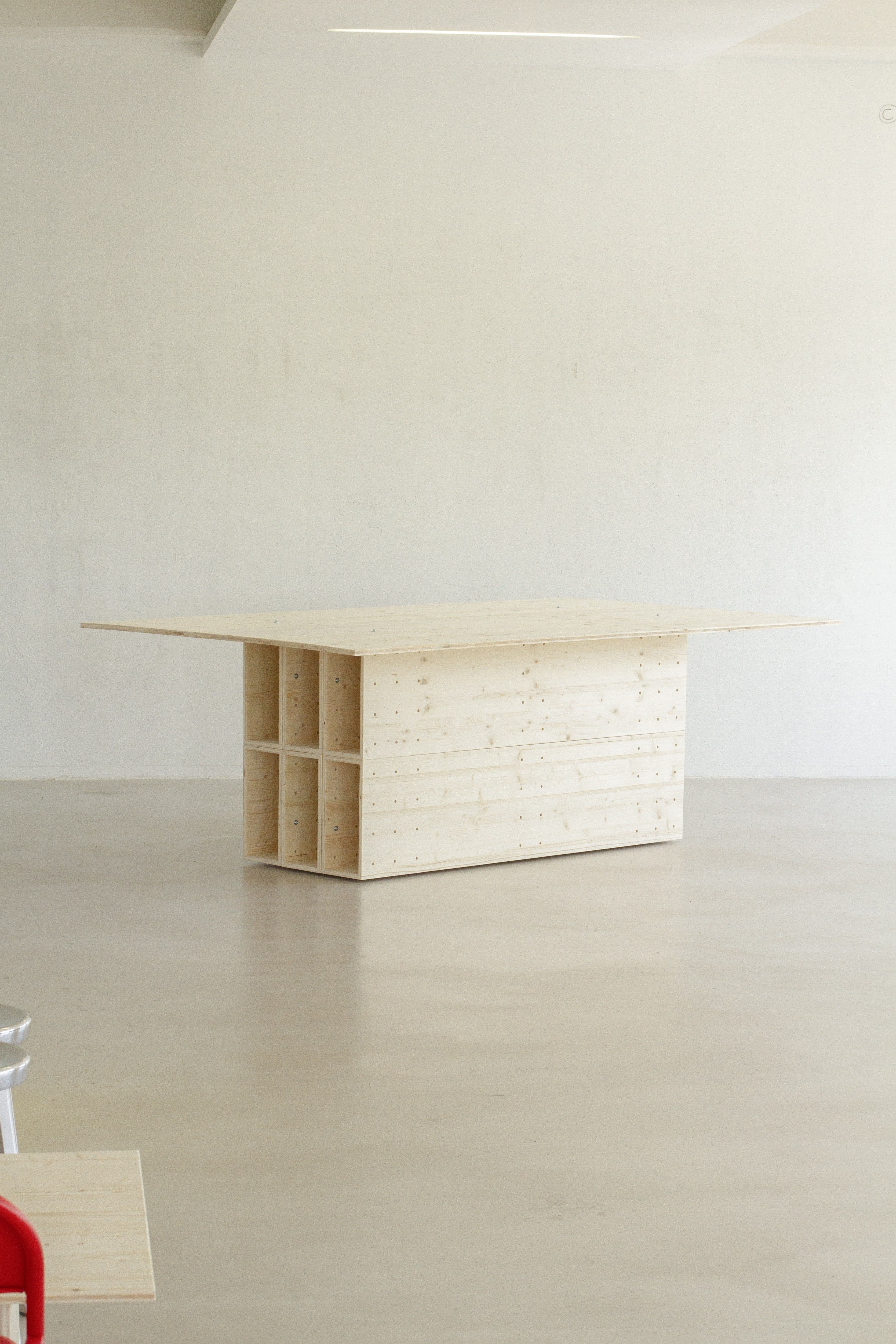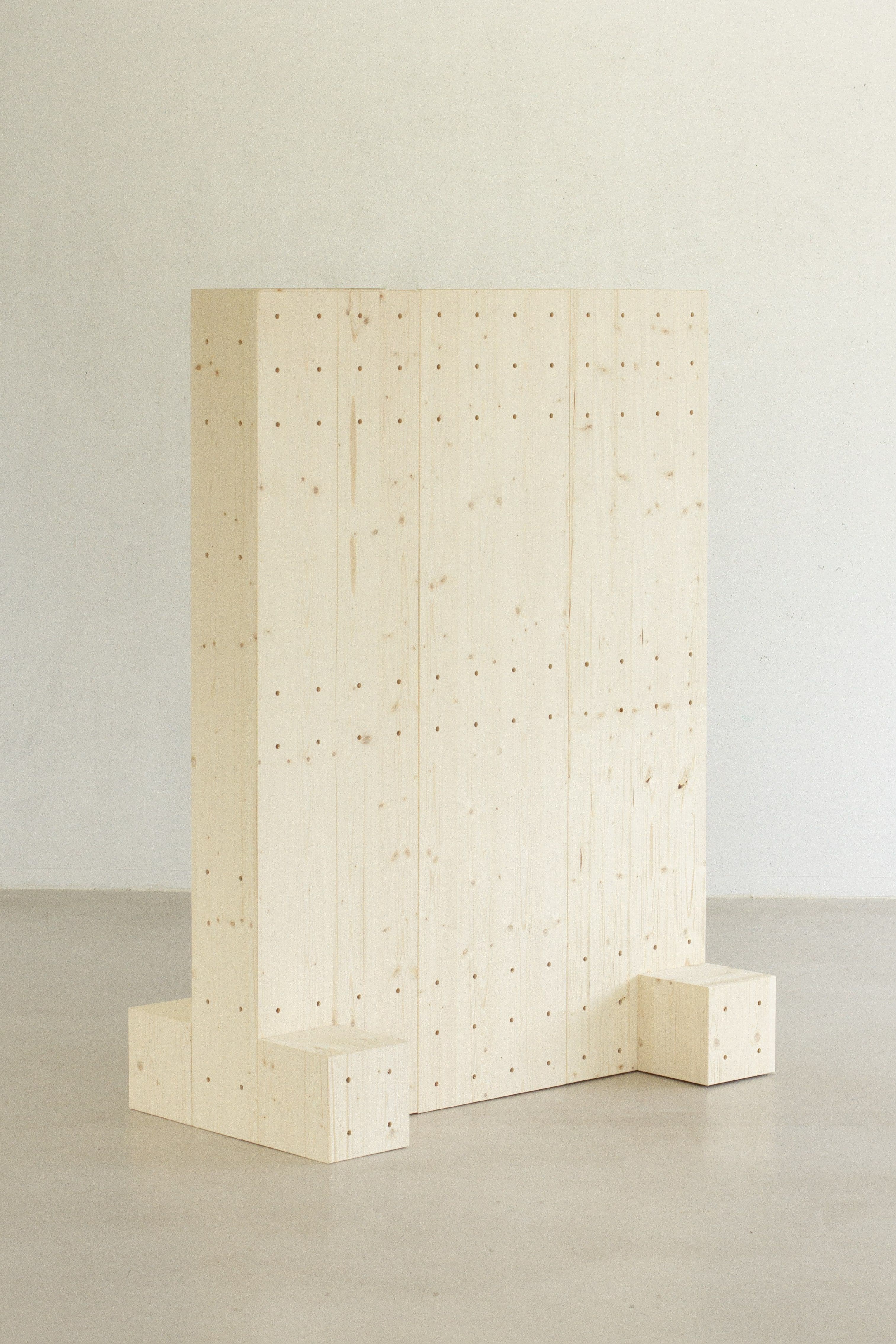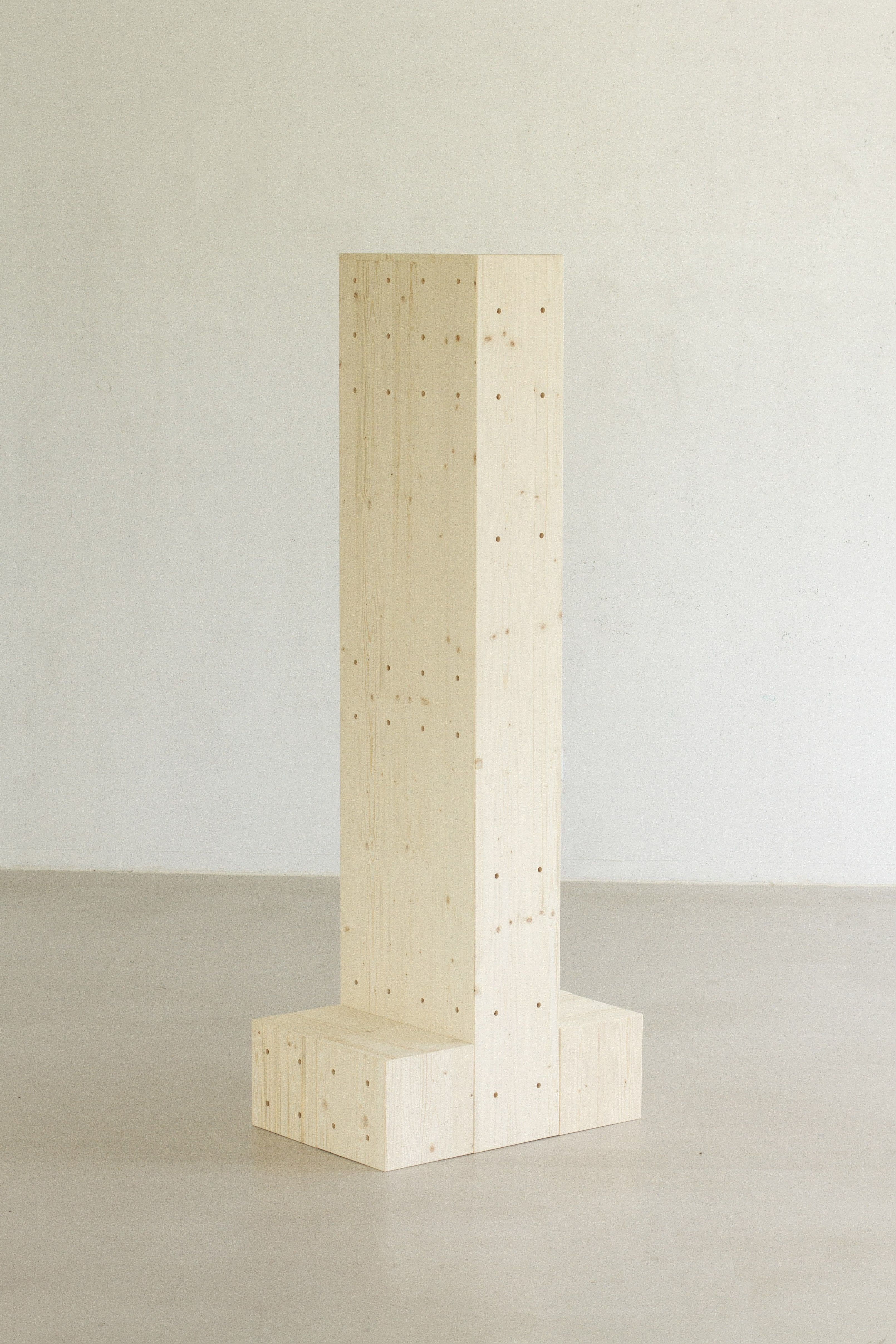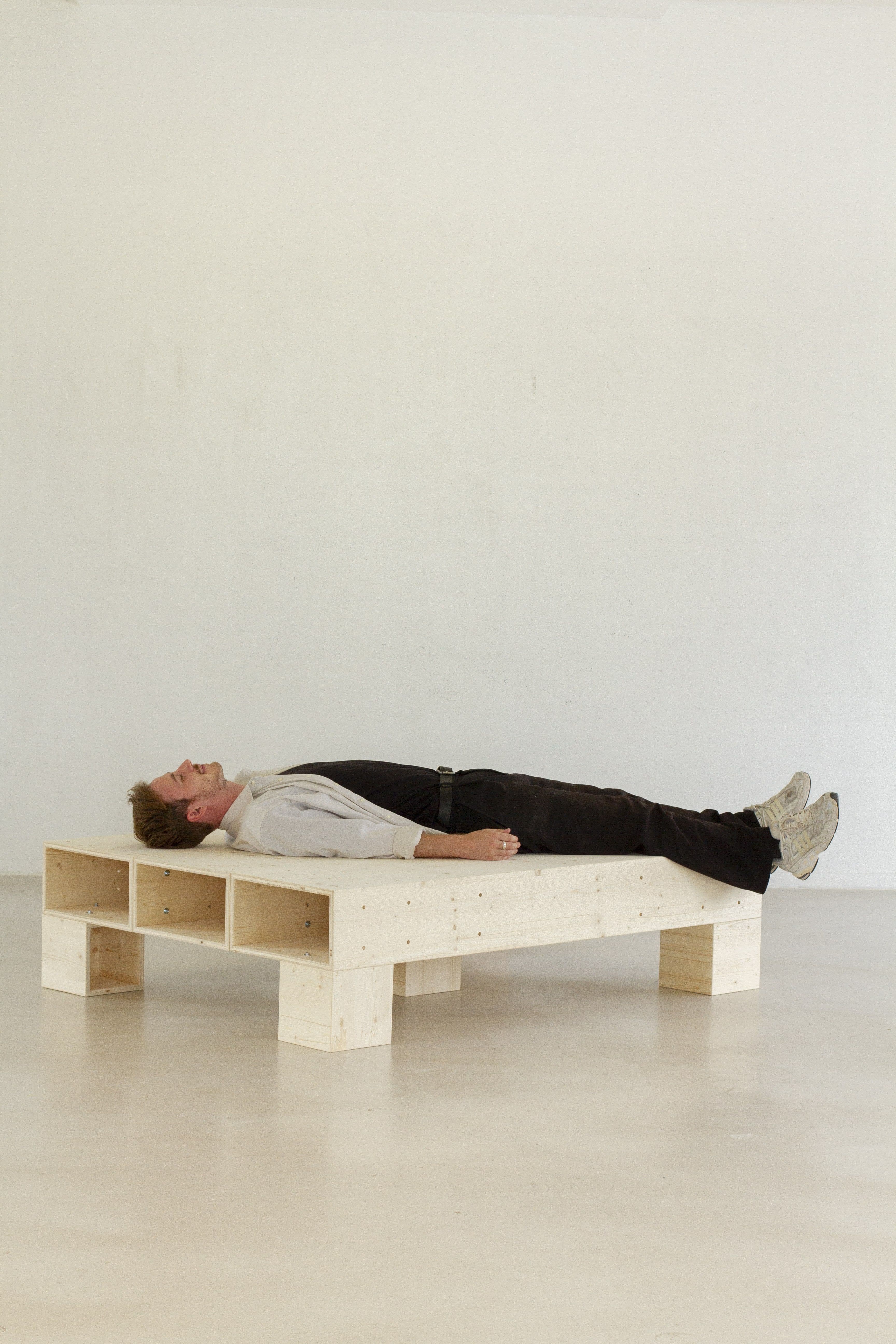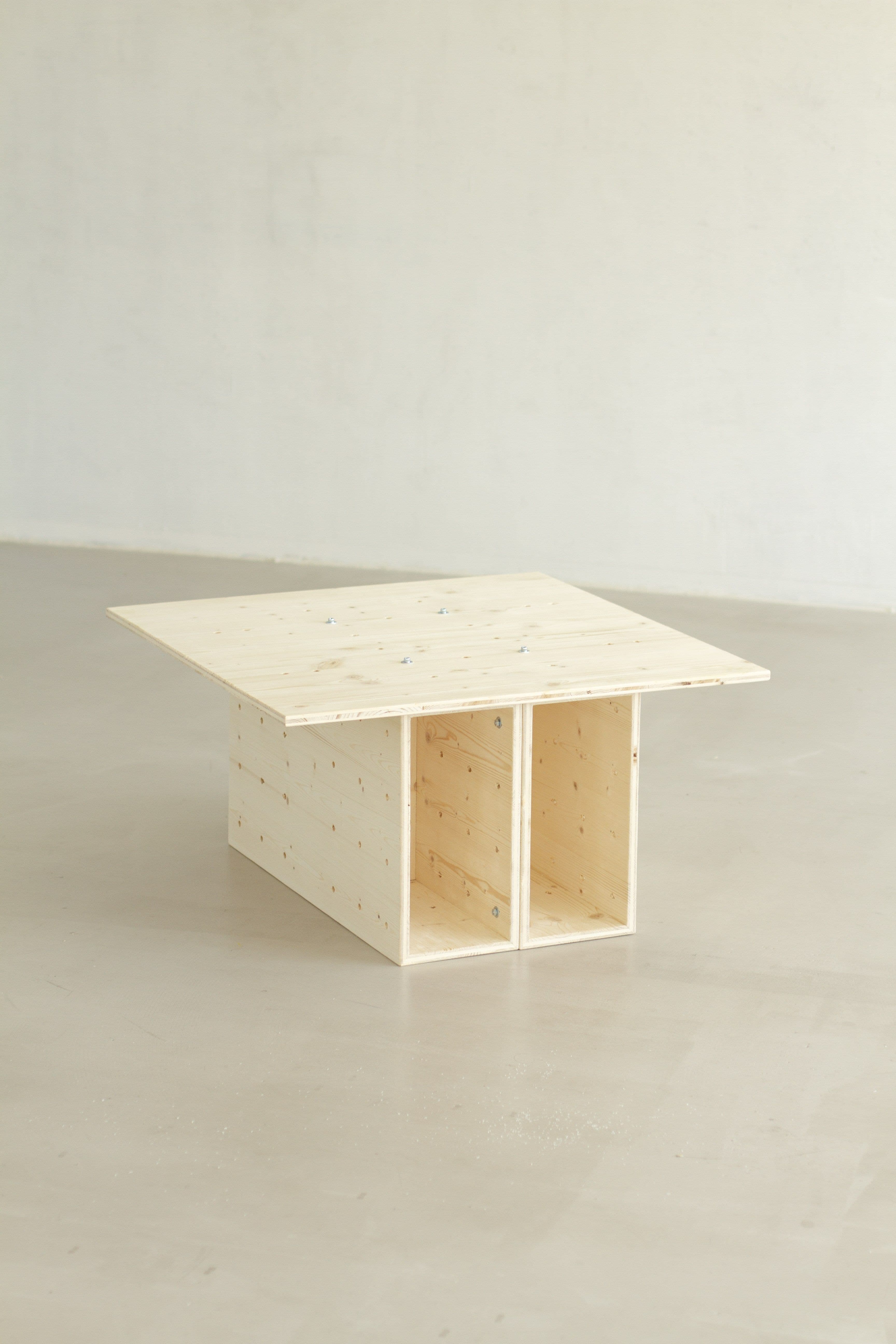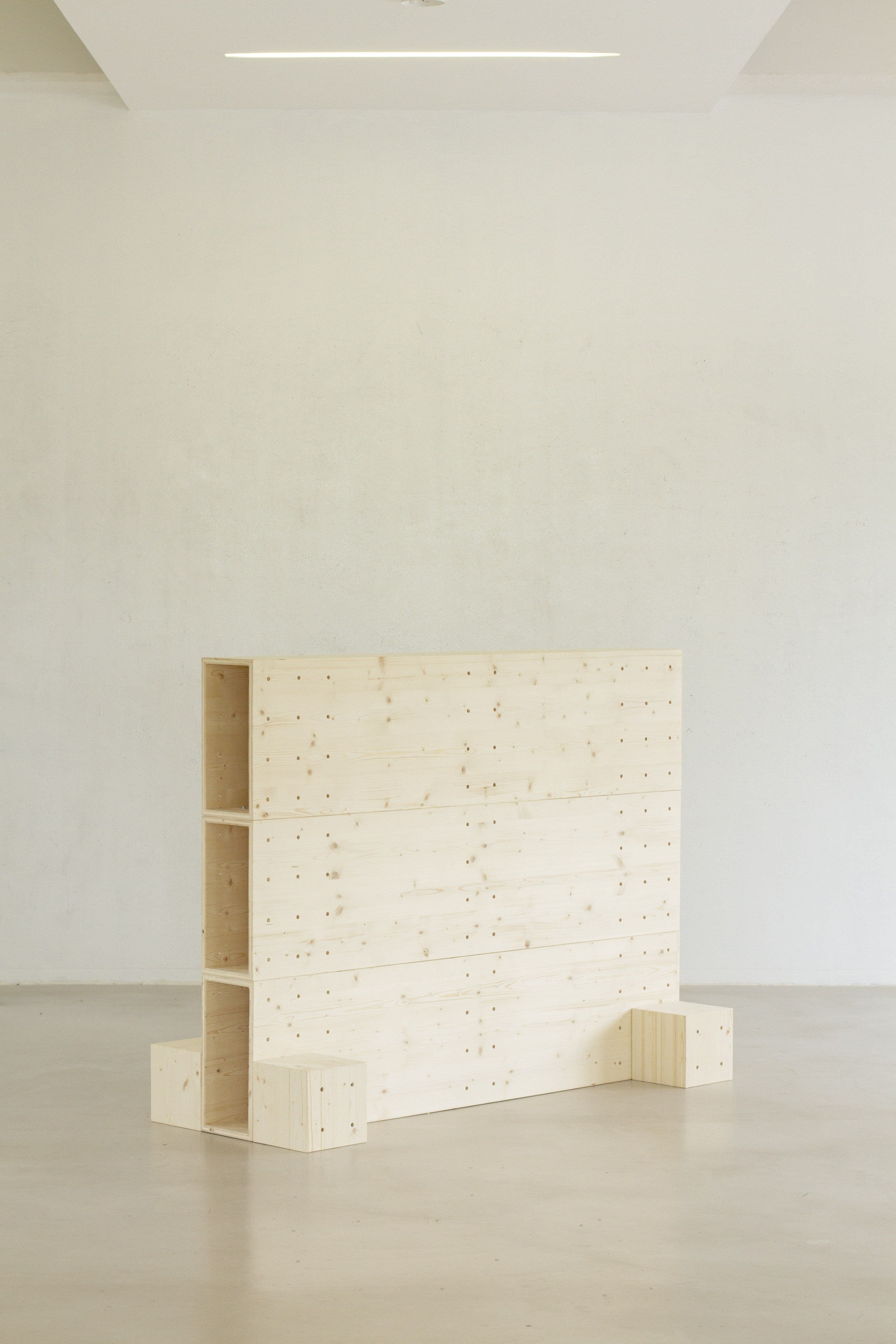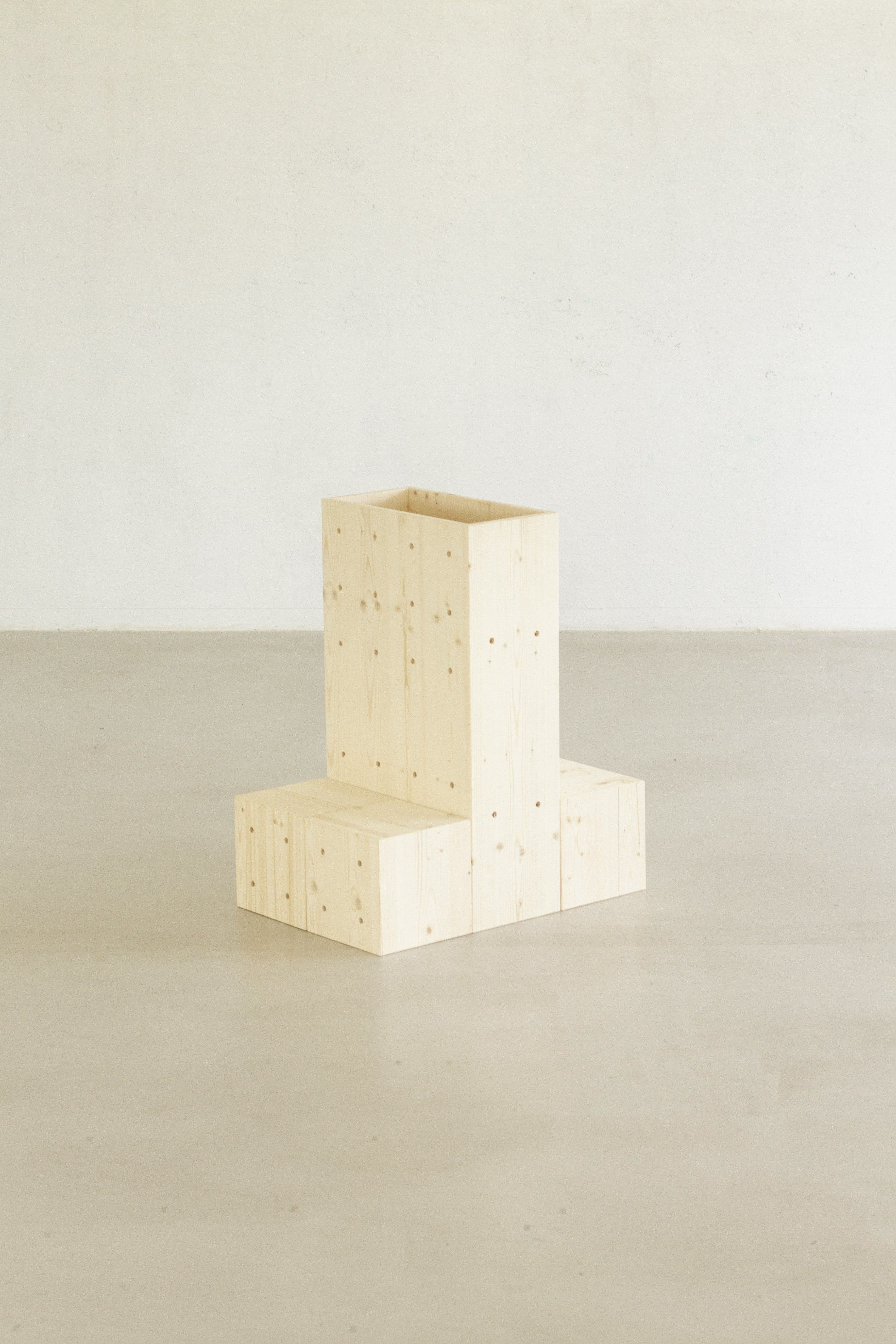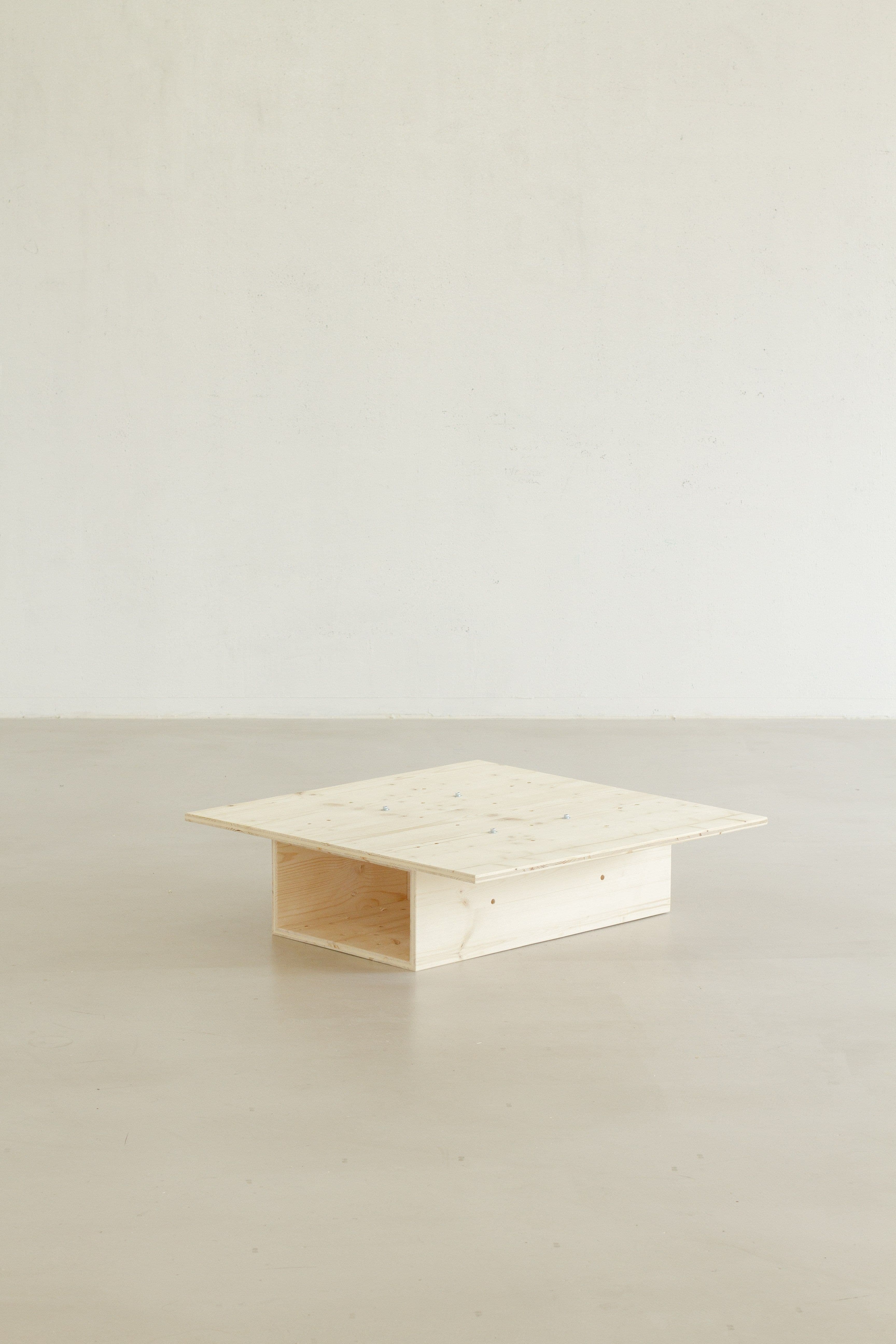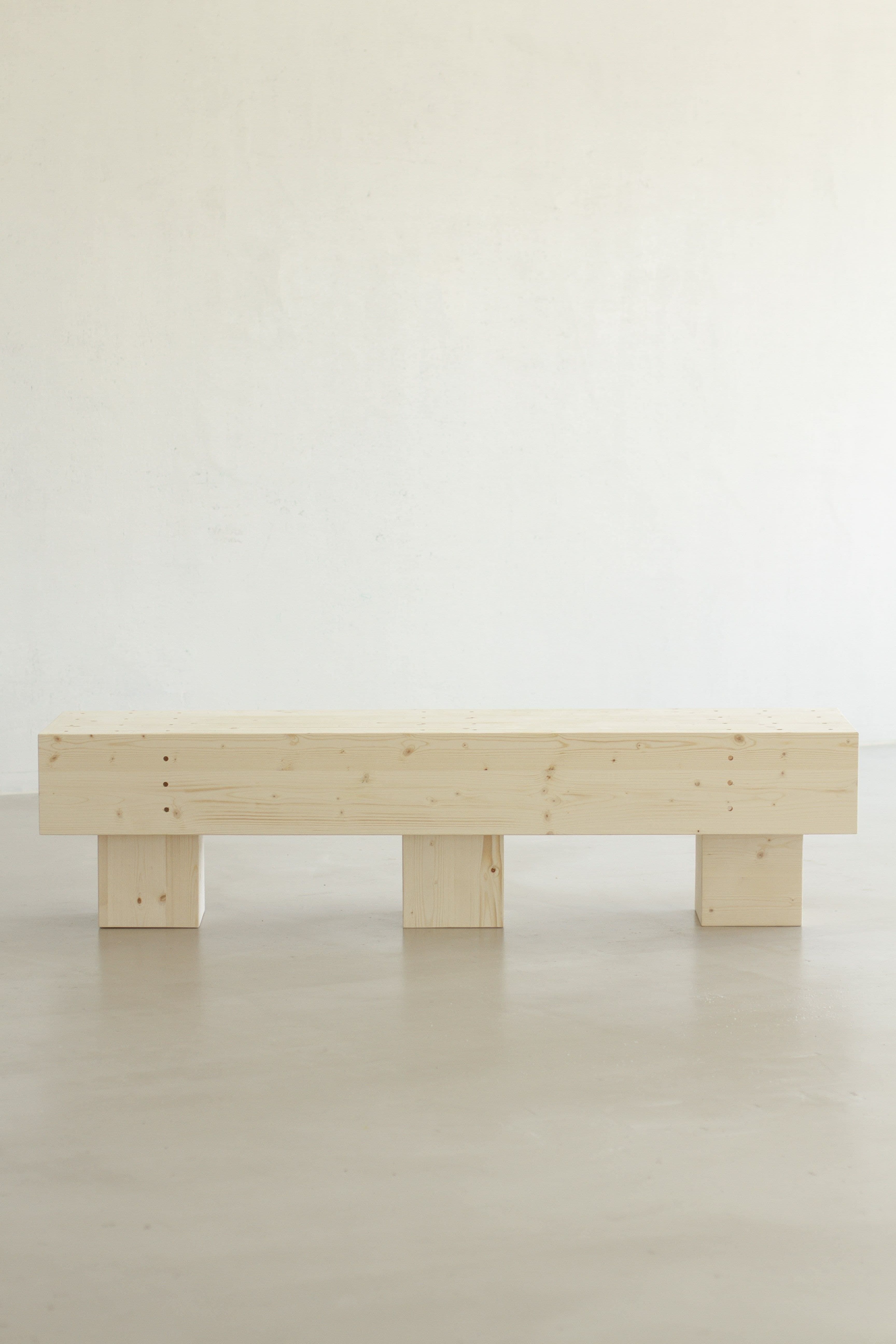 The collection is a modular and adaptable furniture and signage system developed for the Werkstatthaus, a transdisciplinary platform for art production and art education. It supports a flexible and sustainable use of space and aims to transport the diversity of the house.
The collection consists of five modules in total in various sizes, three boxes and two boards. Based on the small series of wooden modules and a hole grid system- multiple, interchangeable objects can be built, rebuilt and adapted to different purposes. While using a simple manufacturing process the modules can be produced and repaired in In-house workshops for a sustainable production as well as educational offering.
Client: Werkstatthaus
Photography: ©Nils Körner
Presskit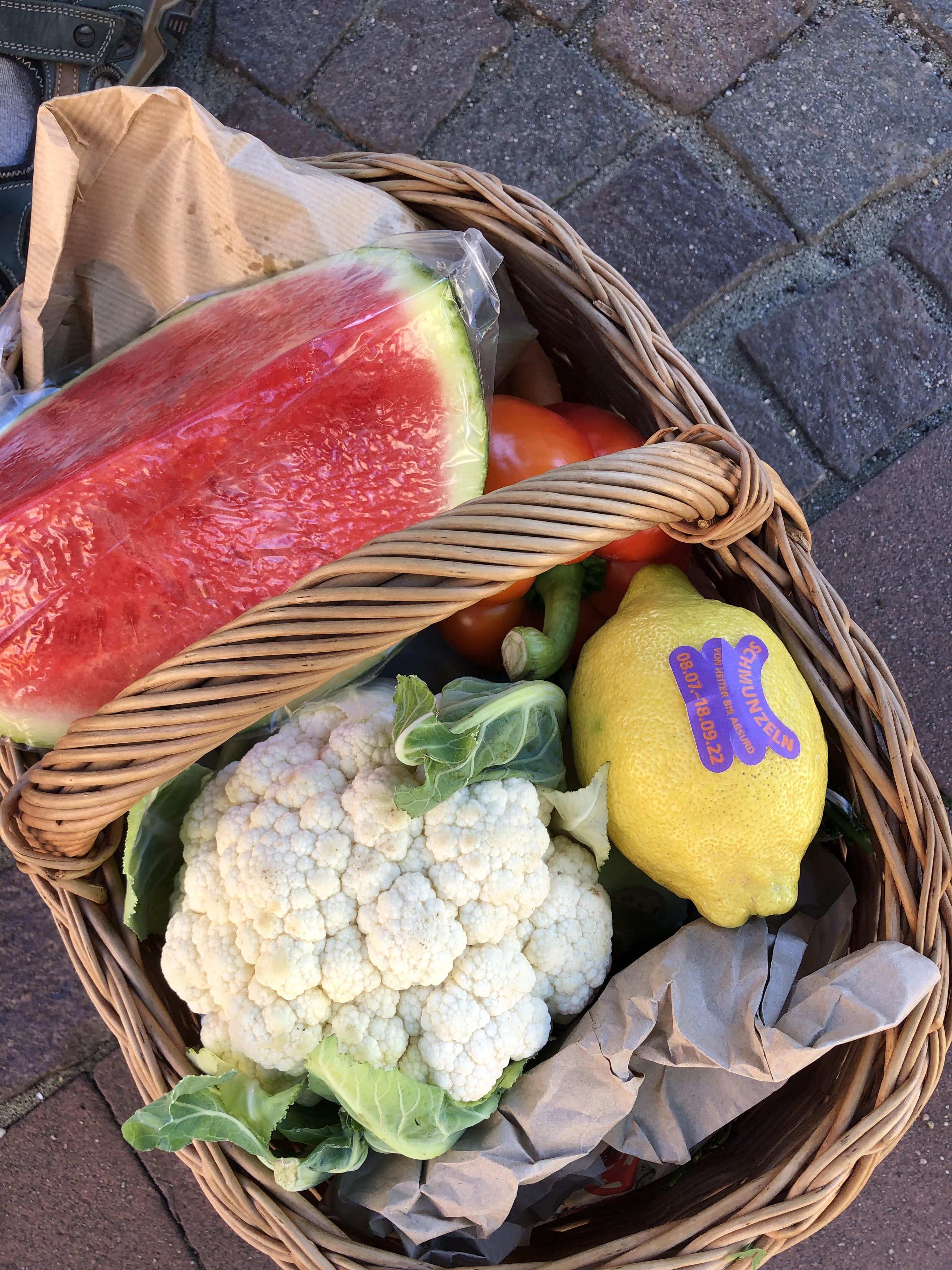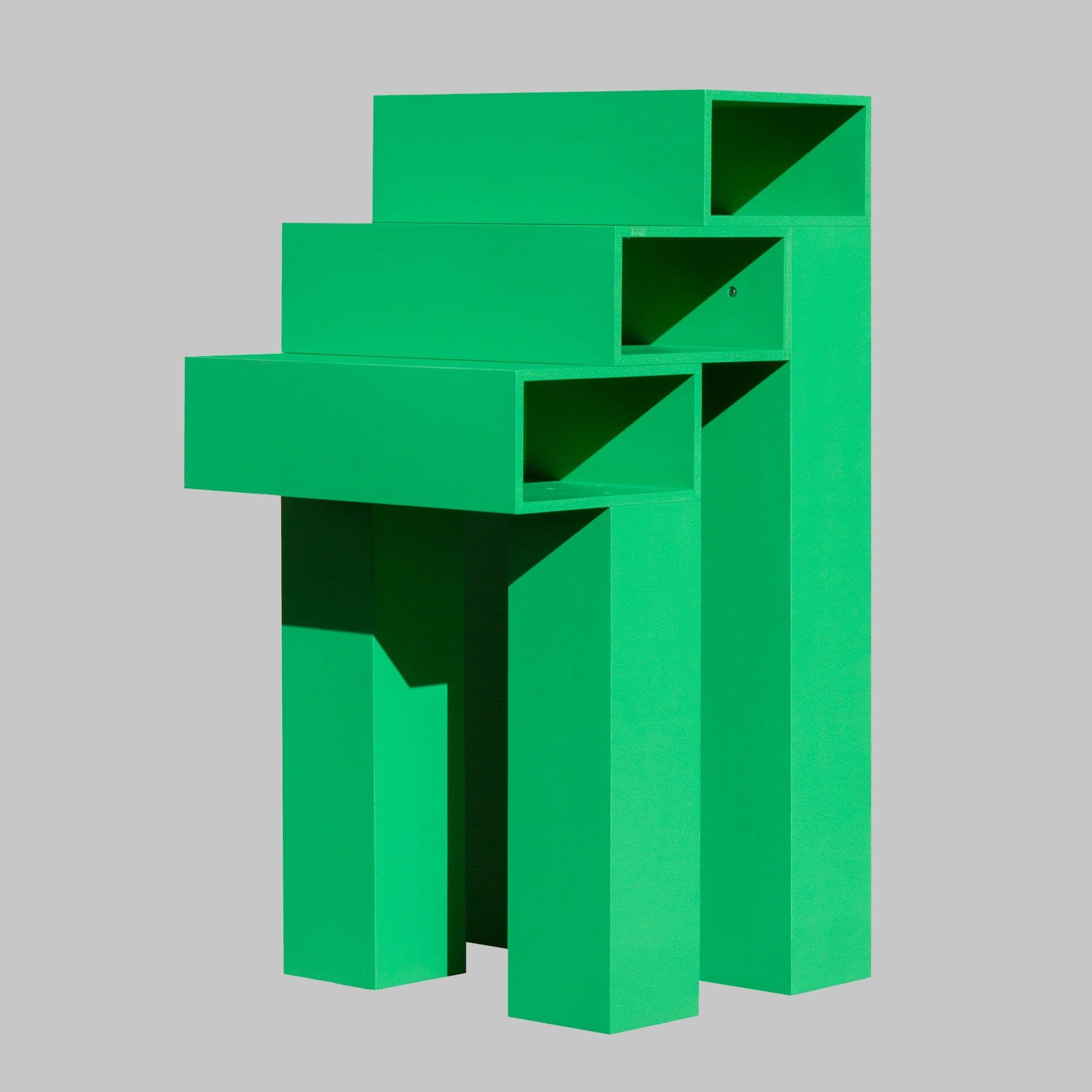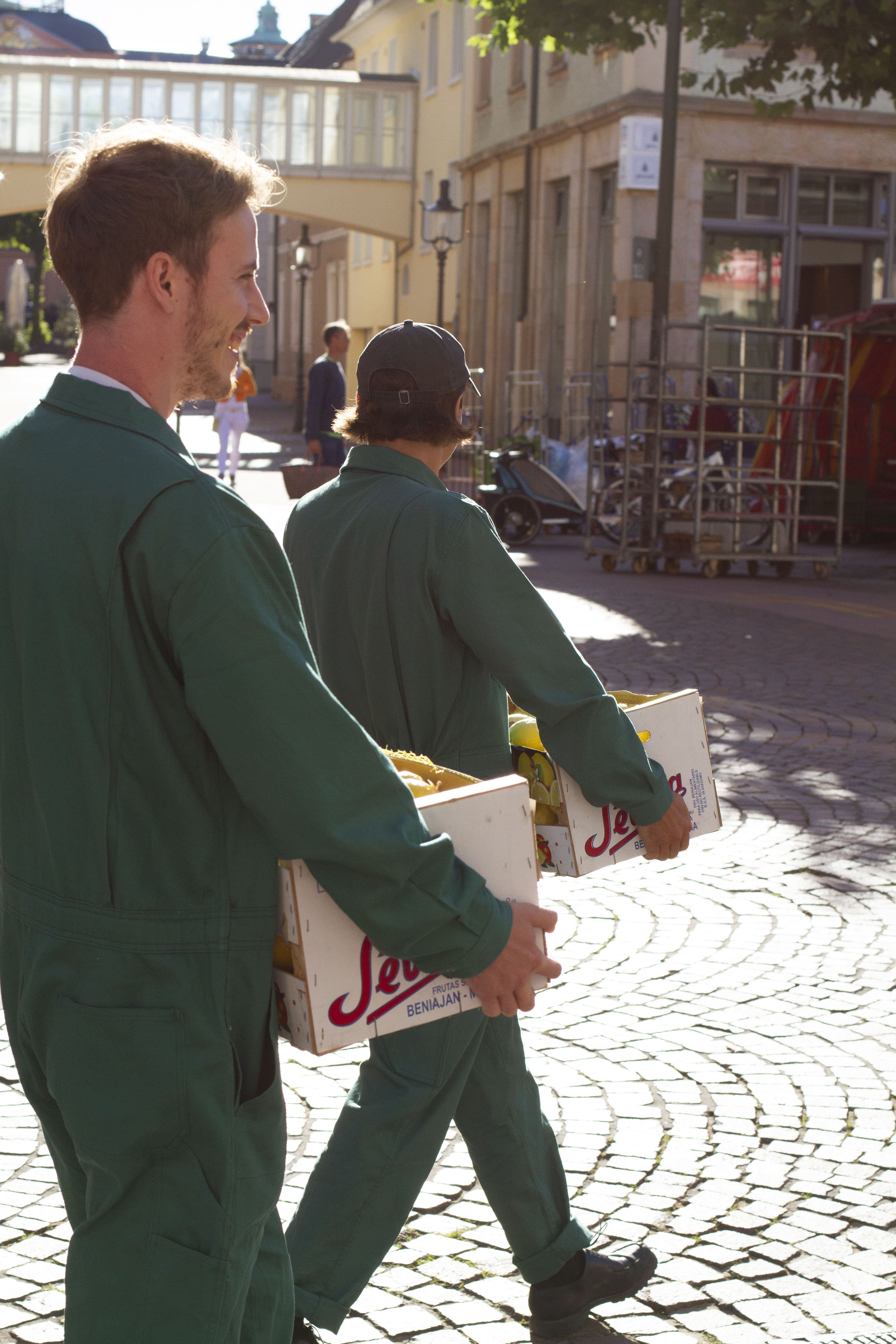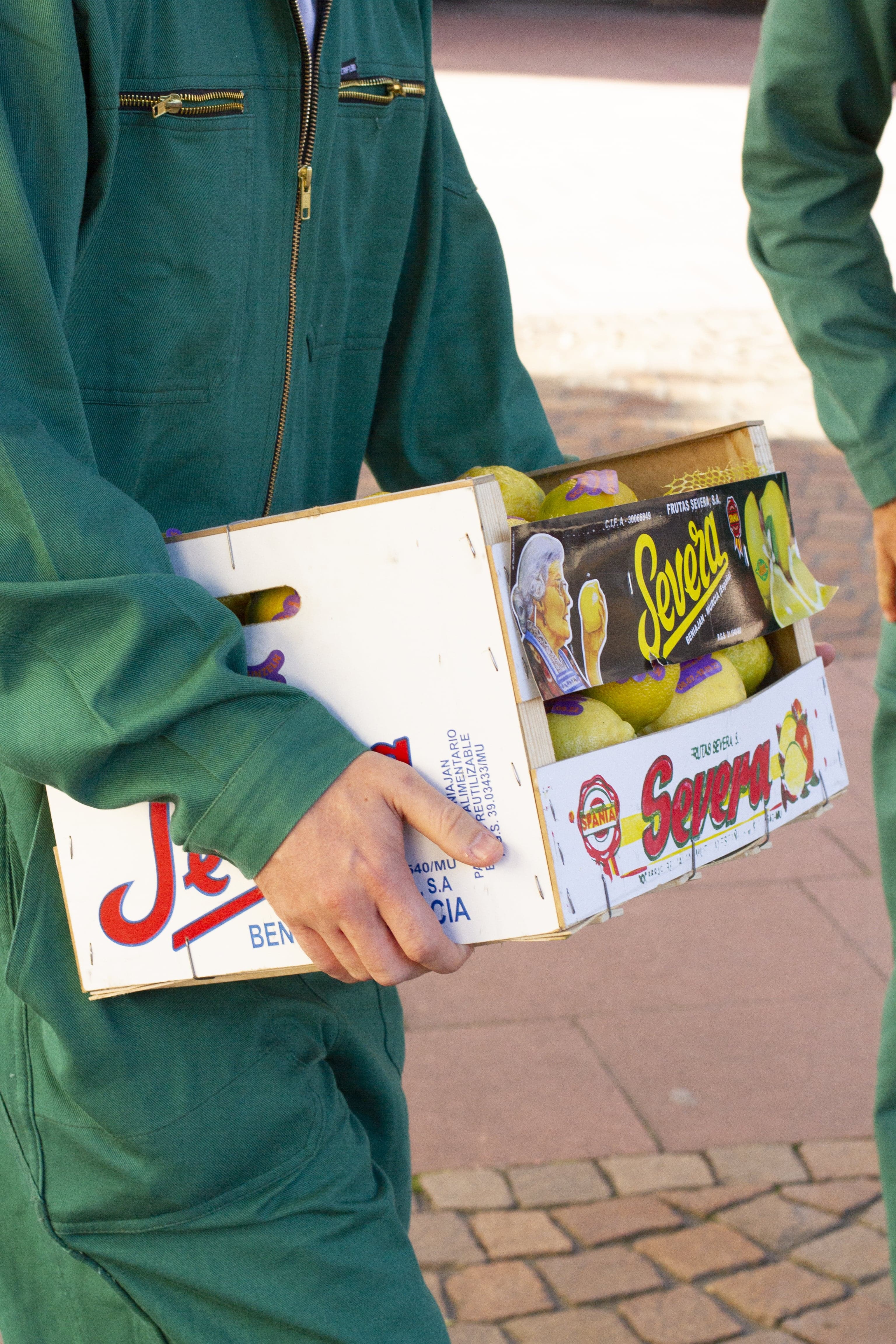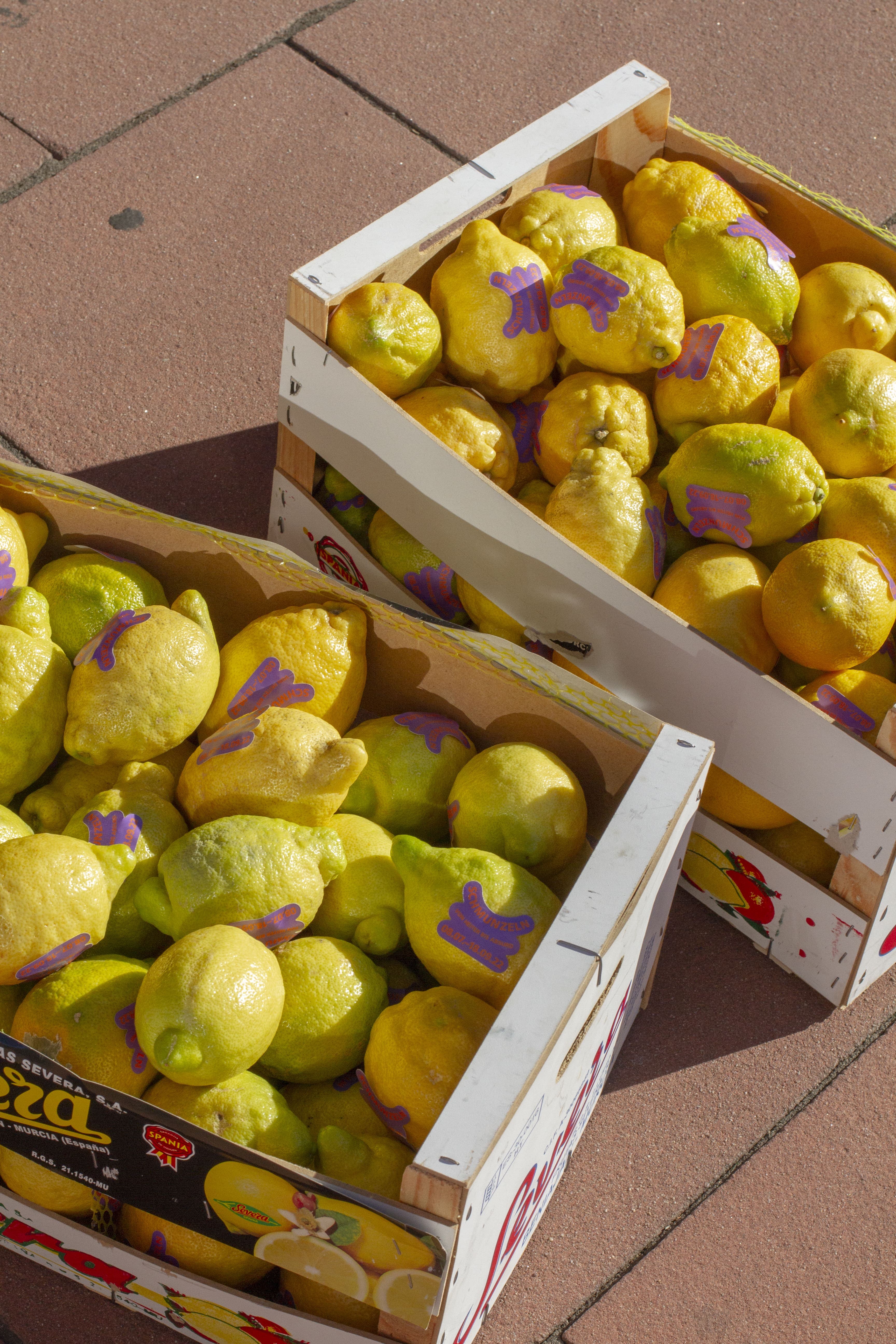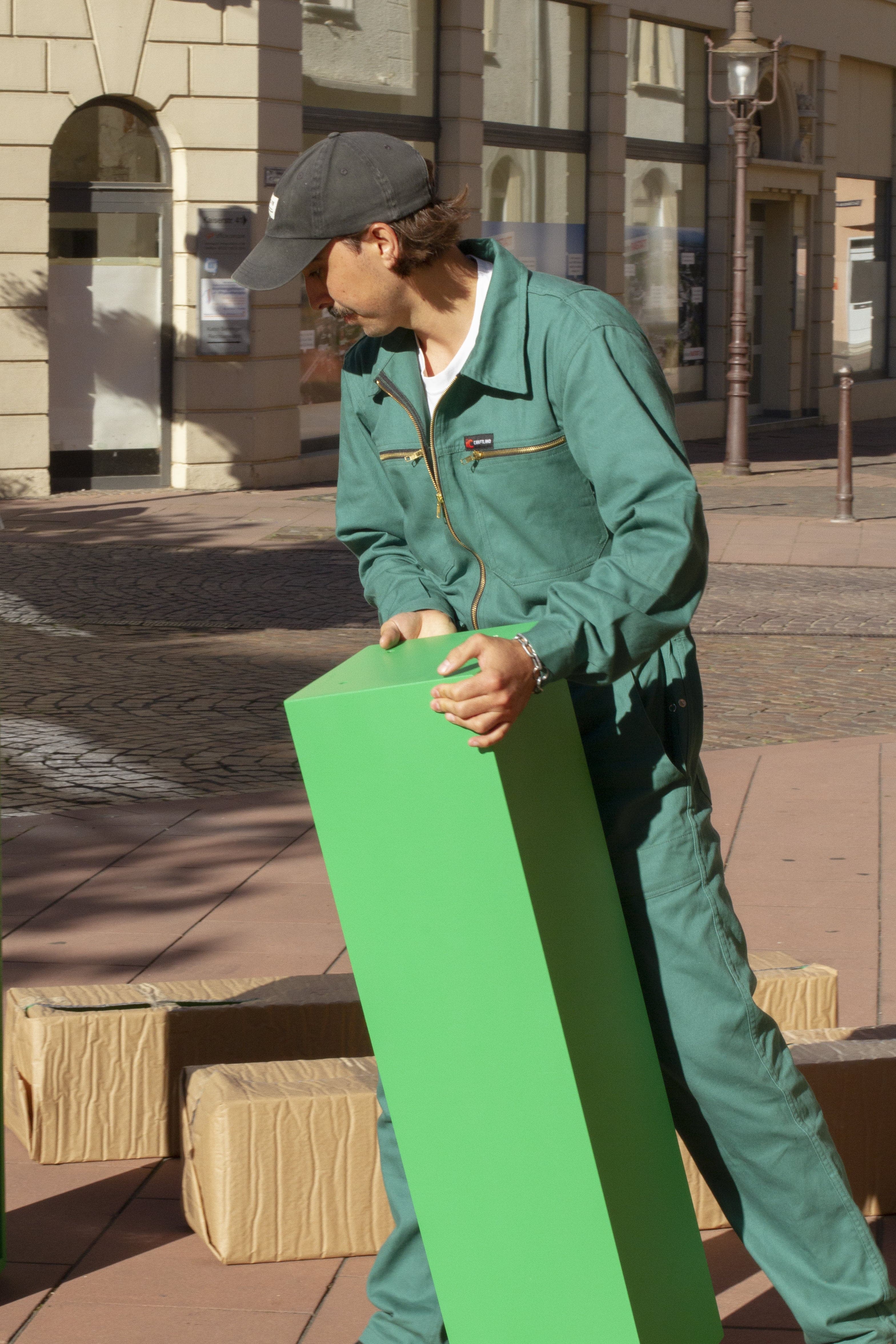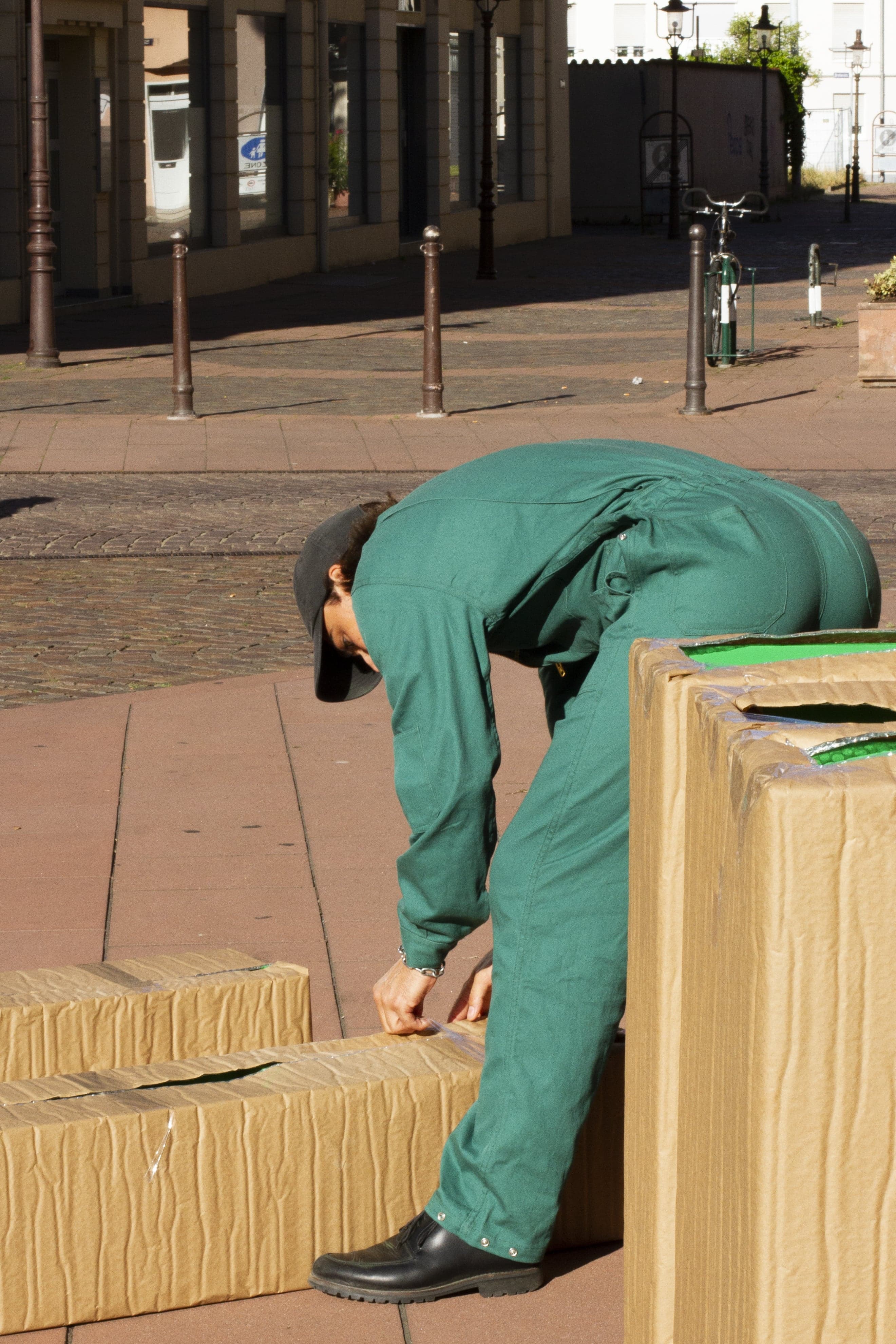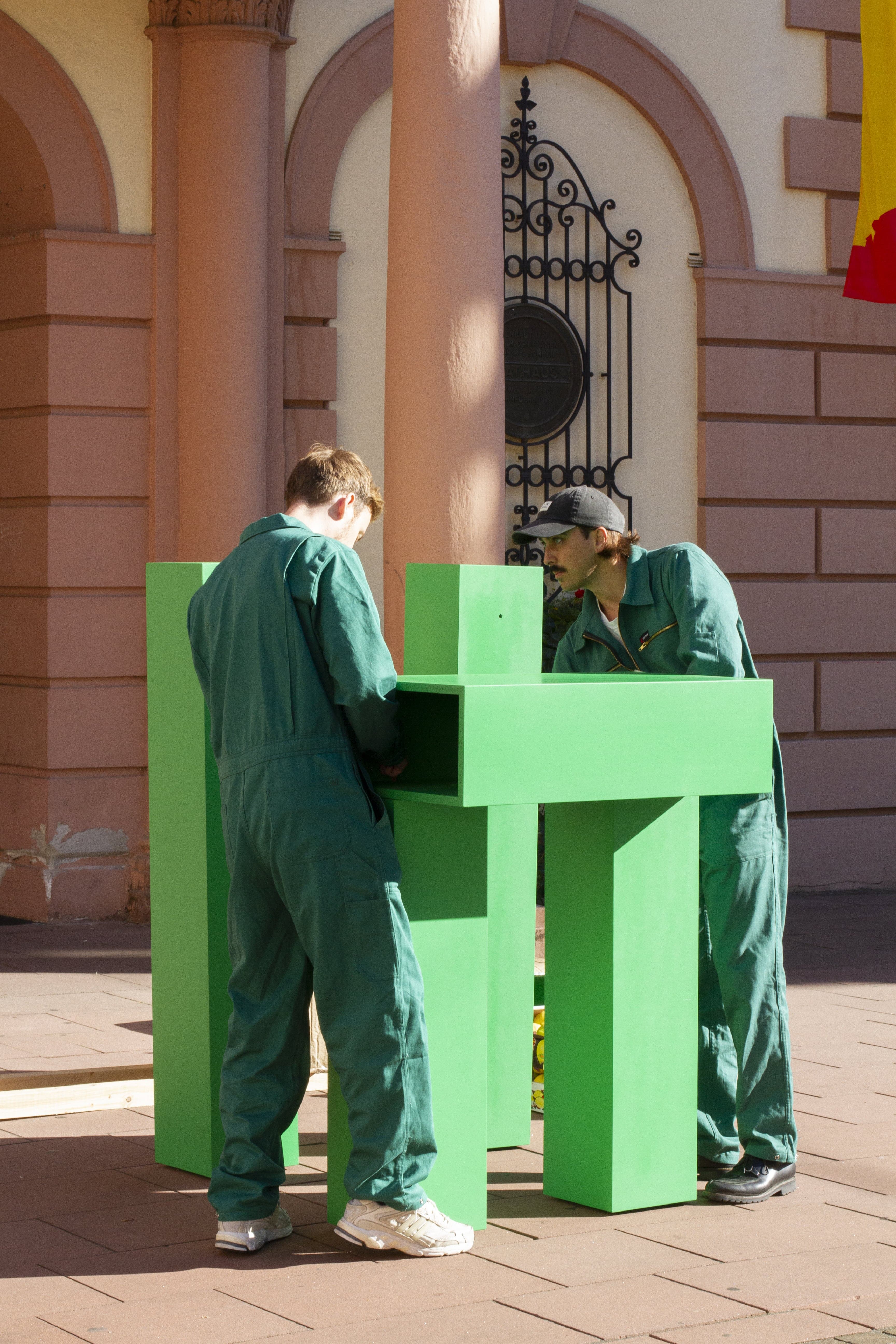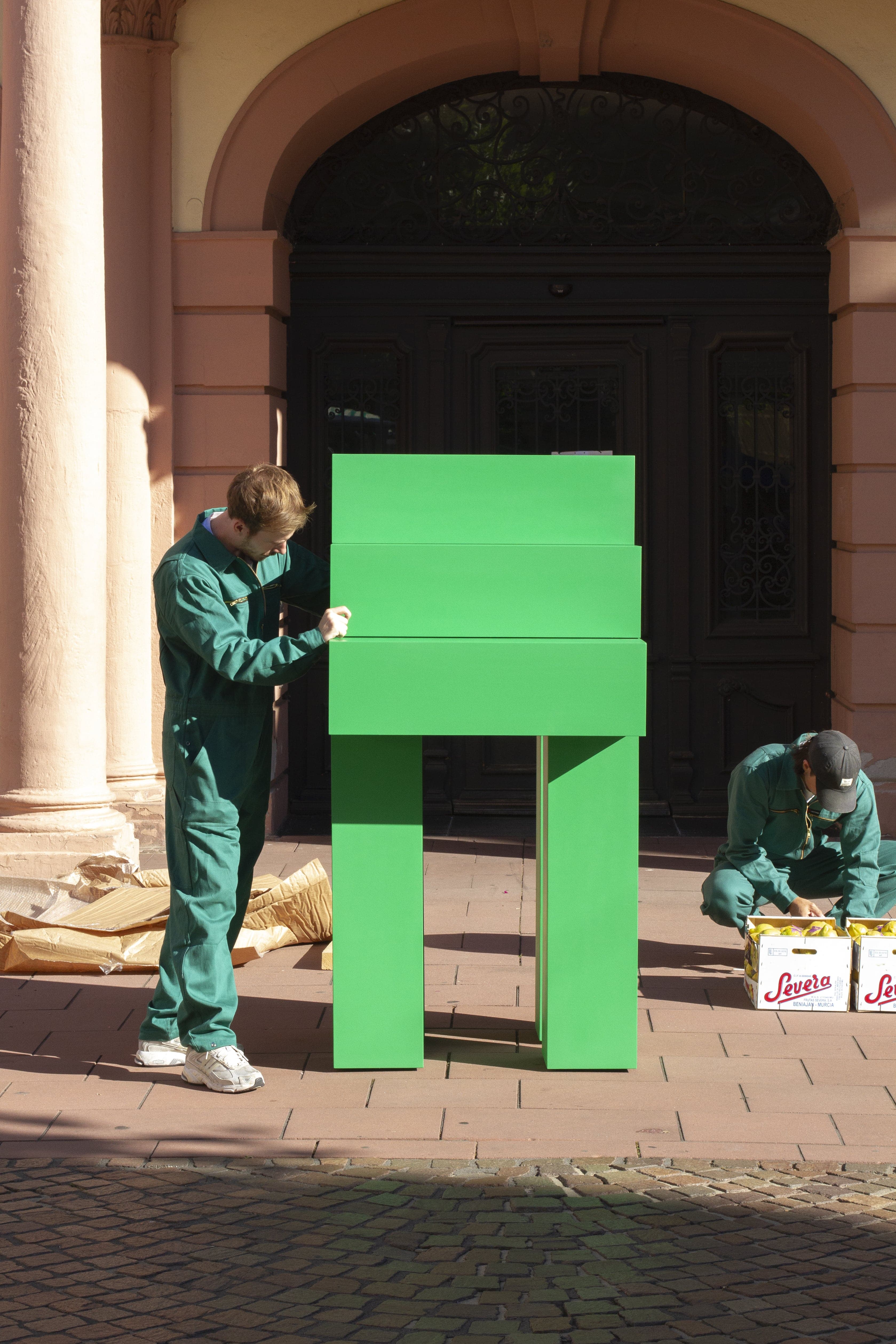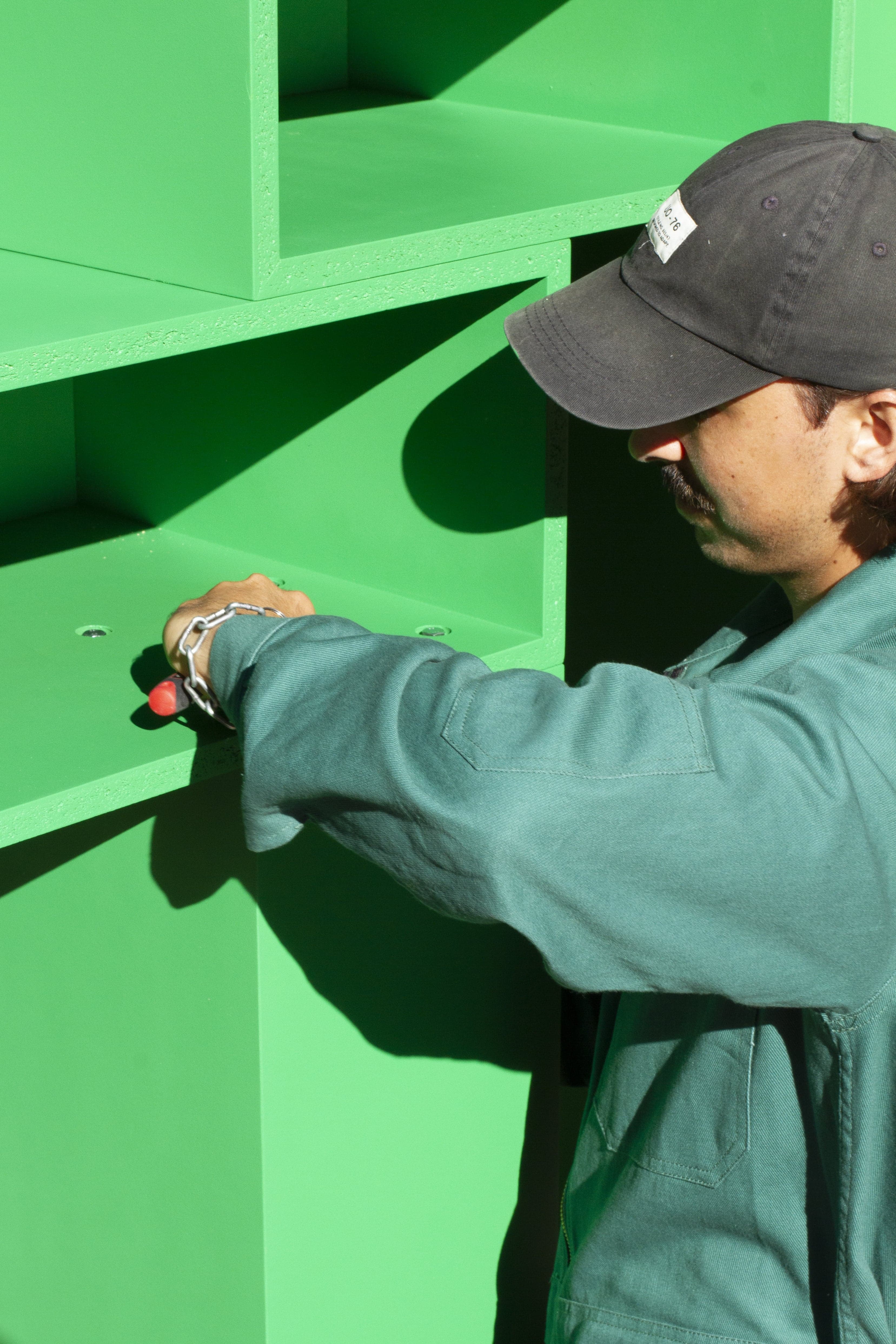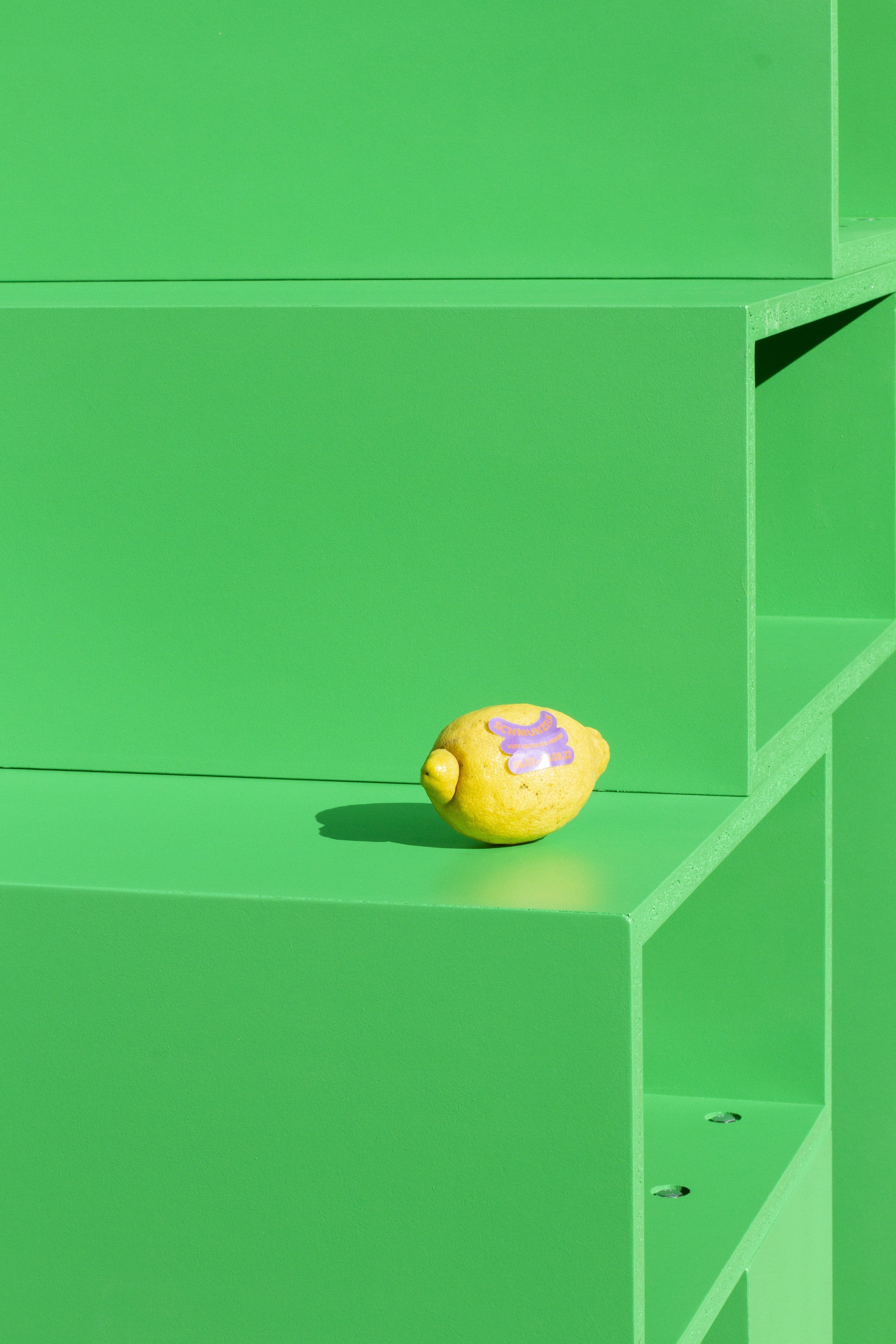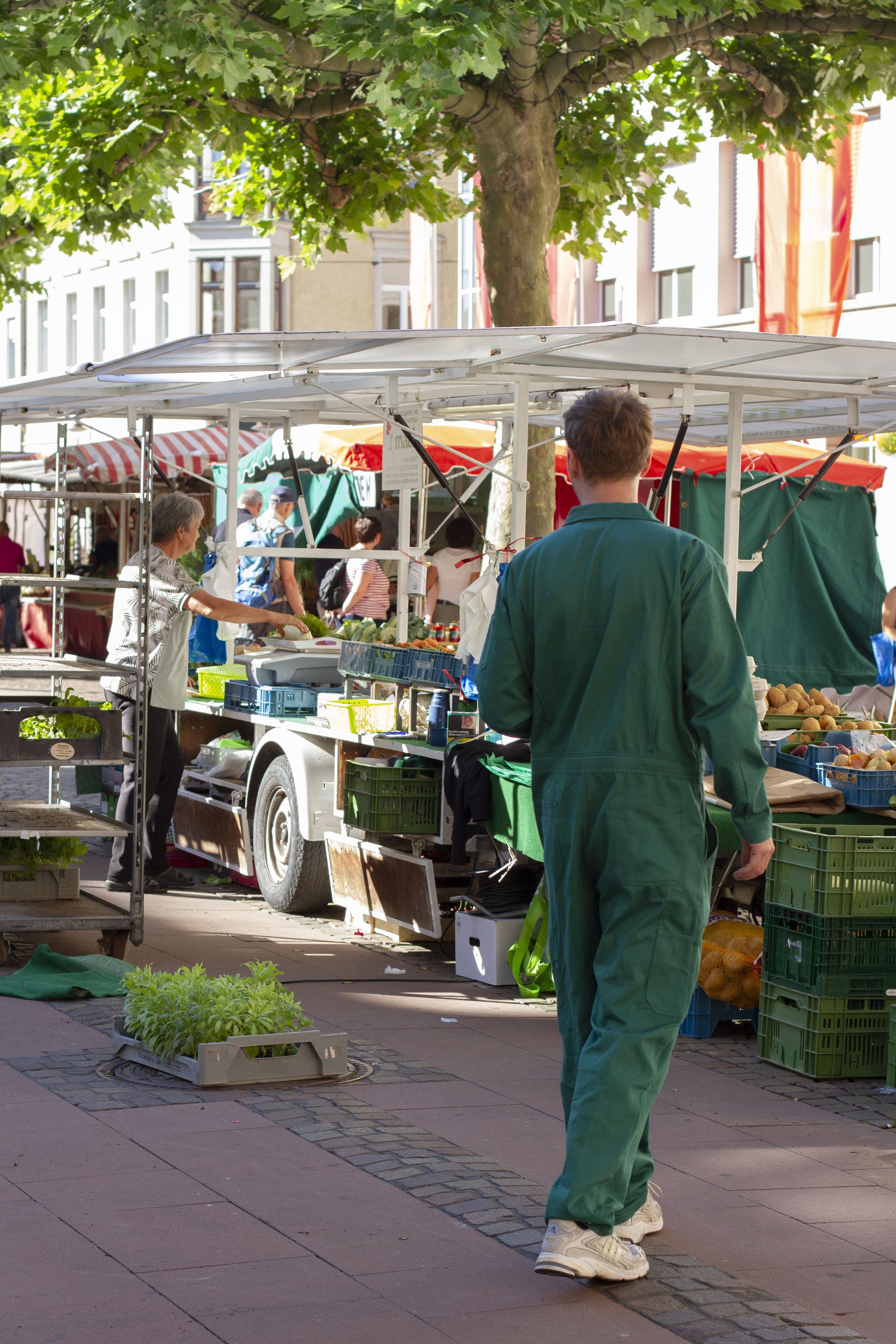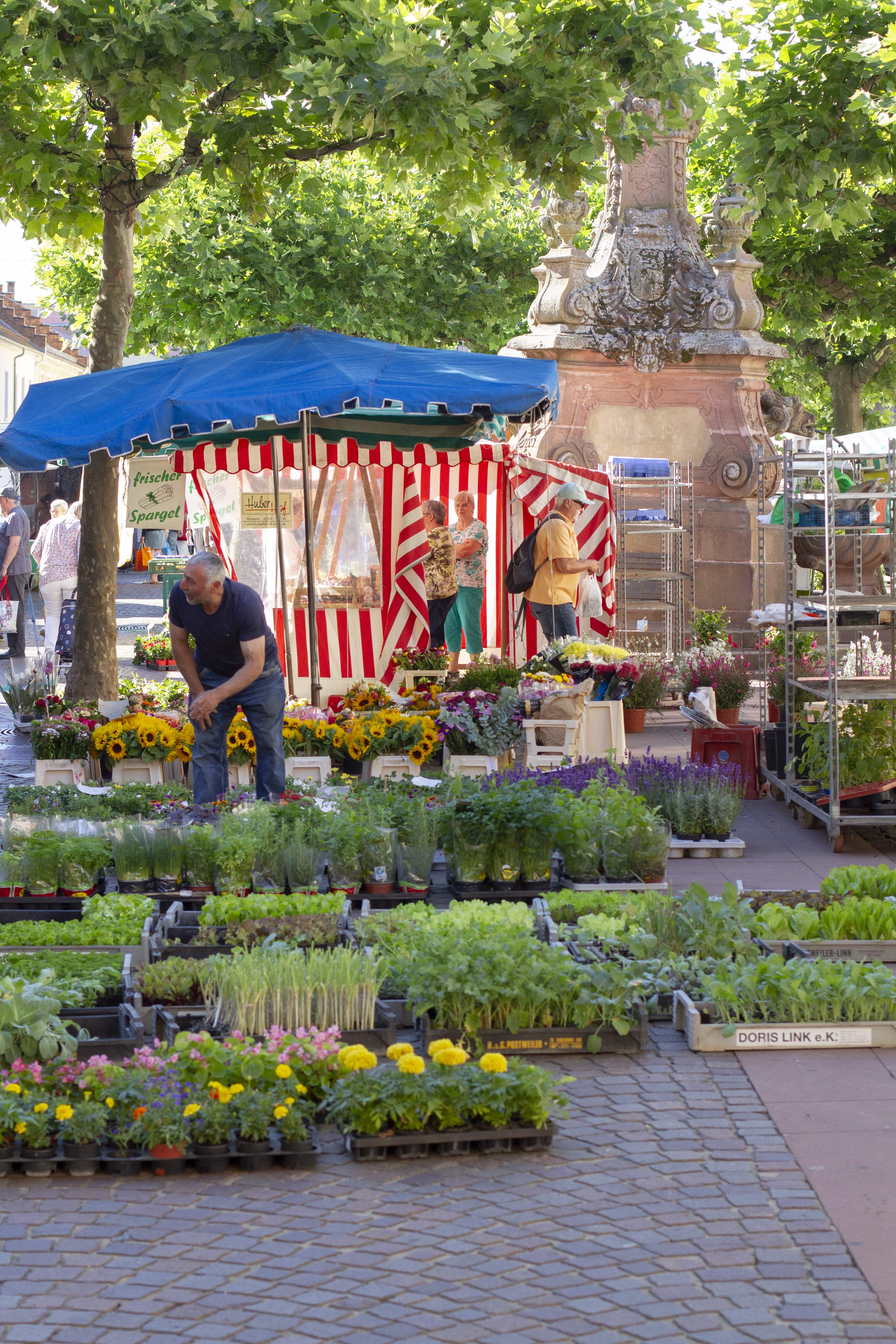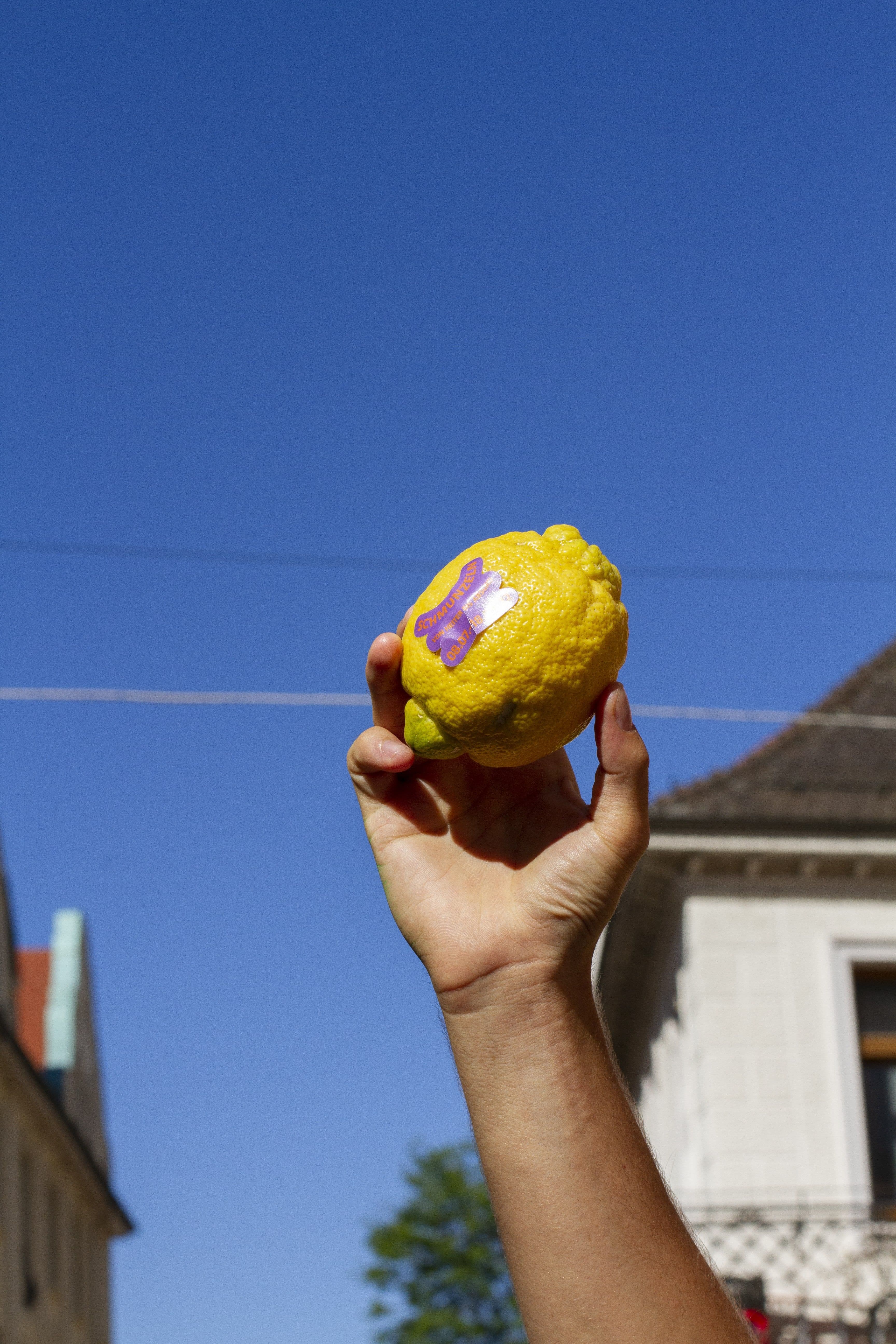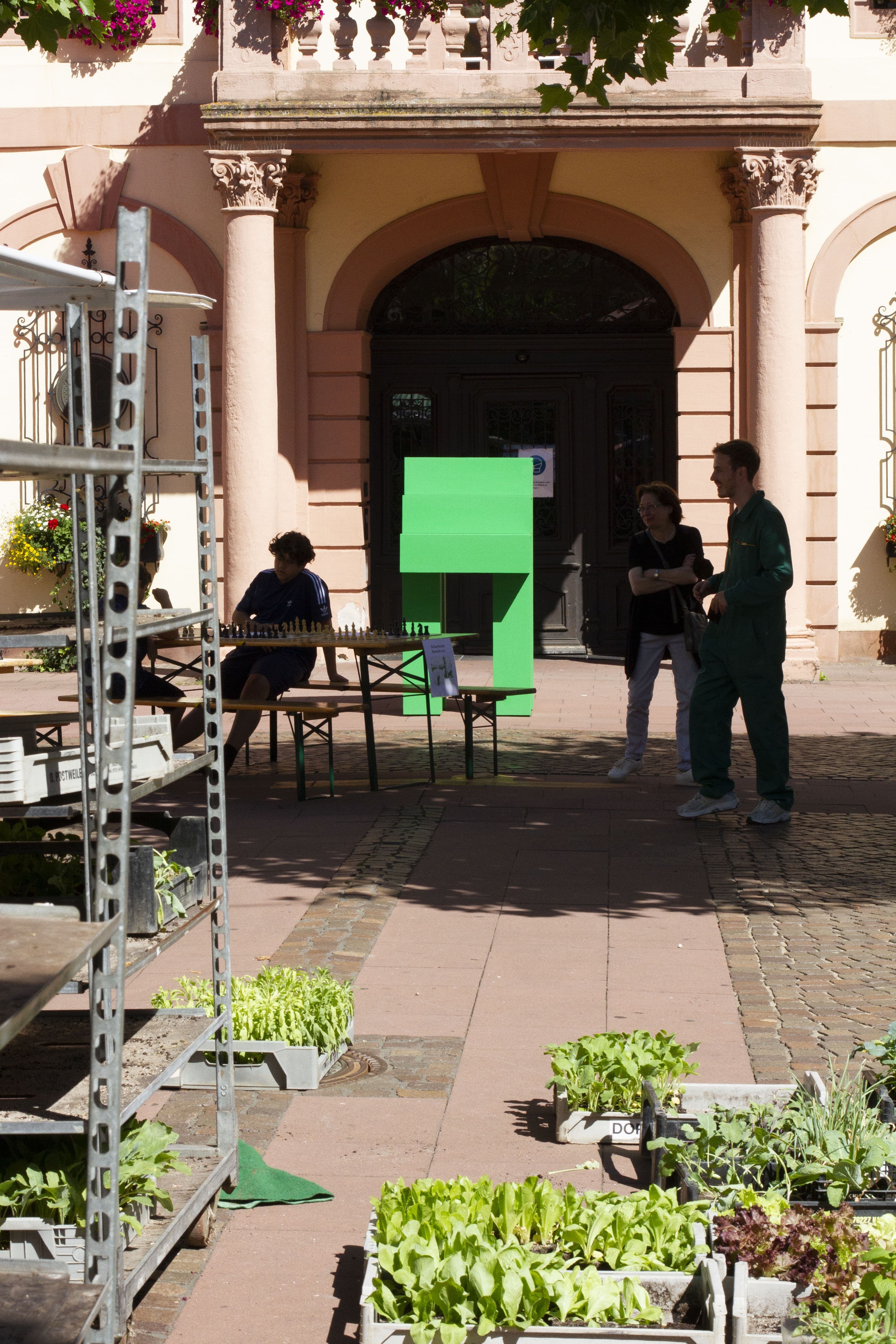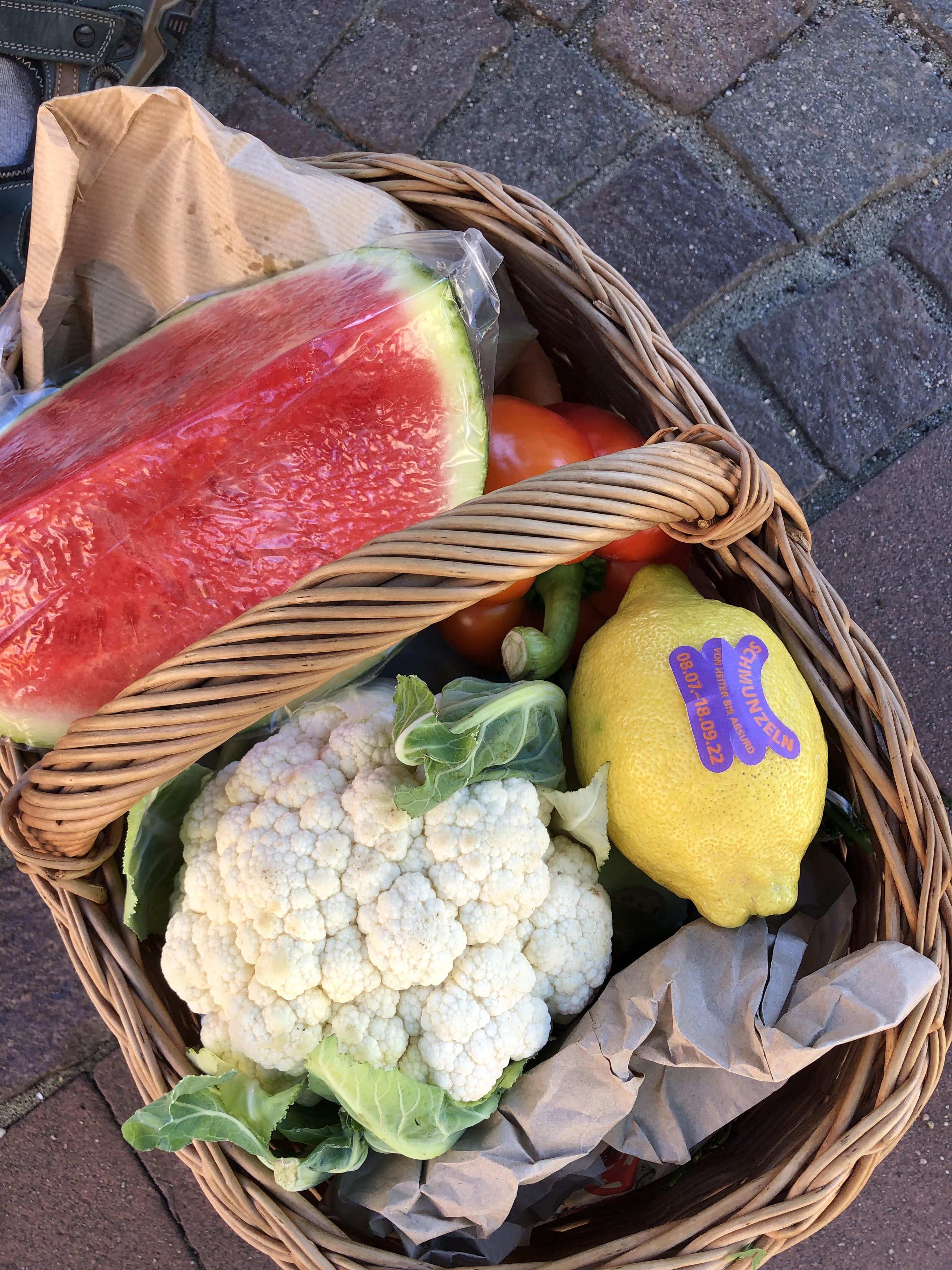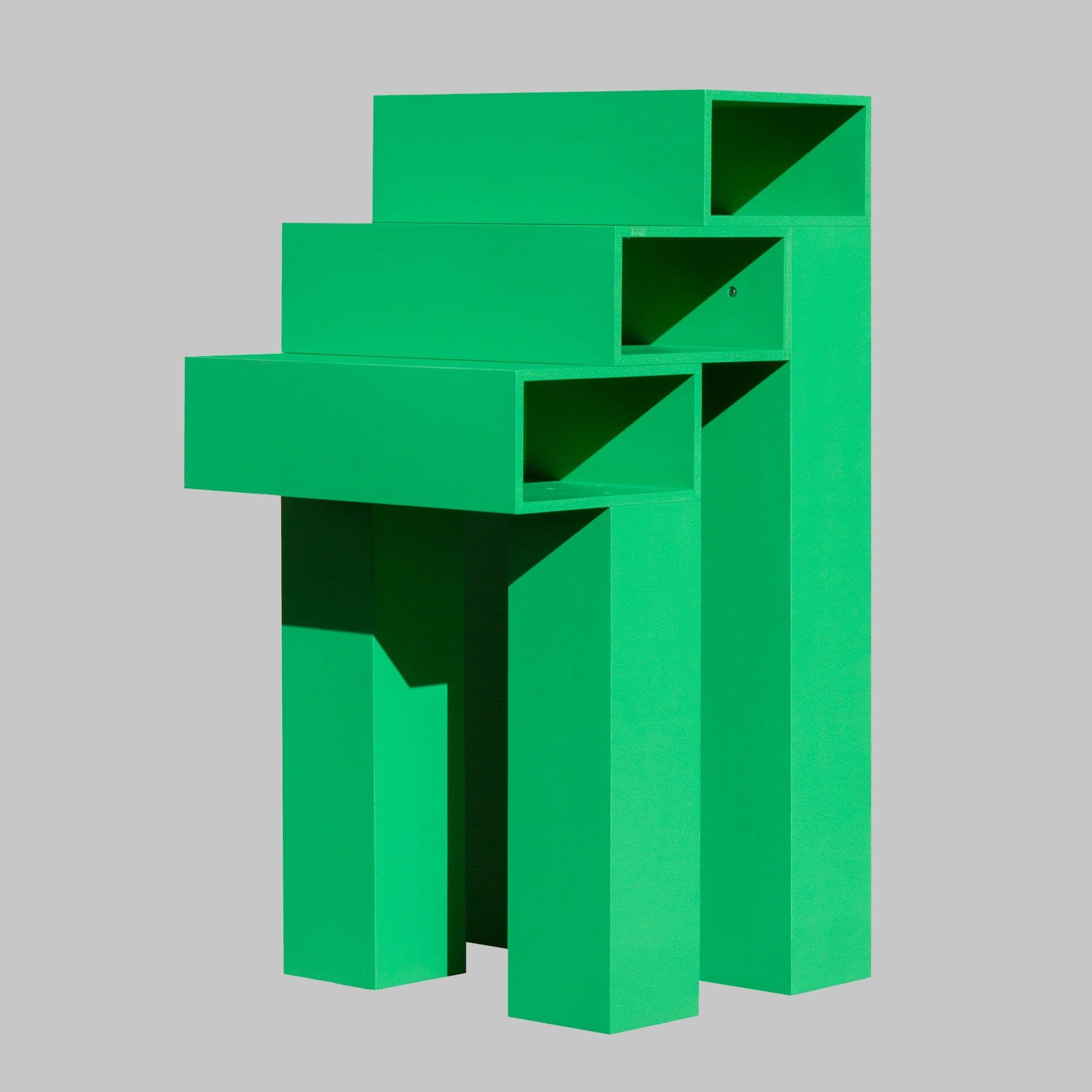 The project is a collaboration with the Galerie Fruchthalle in the south of Germany. The museum of contemporary art is housed in the rooms of the former fruit and flour hall of the Federal Fortress of Rastatt. As a reference to the origin, the modular object was placed at the local market next to the museum. In a performative act labeled lemon where given away as an invitation for the schmunzeln exhibition (01.07-07.09.2022). Instead of throwing away a flyer the lemon could be used afterwards as a useable grocery.
The Functional object is now permanent part of the museum and used as exhibitory plateaus for artists books and publications of the museum.
Client: Fruchthalle Rastatt
Photography: Jonathan Körner
Presskit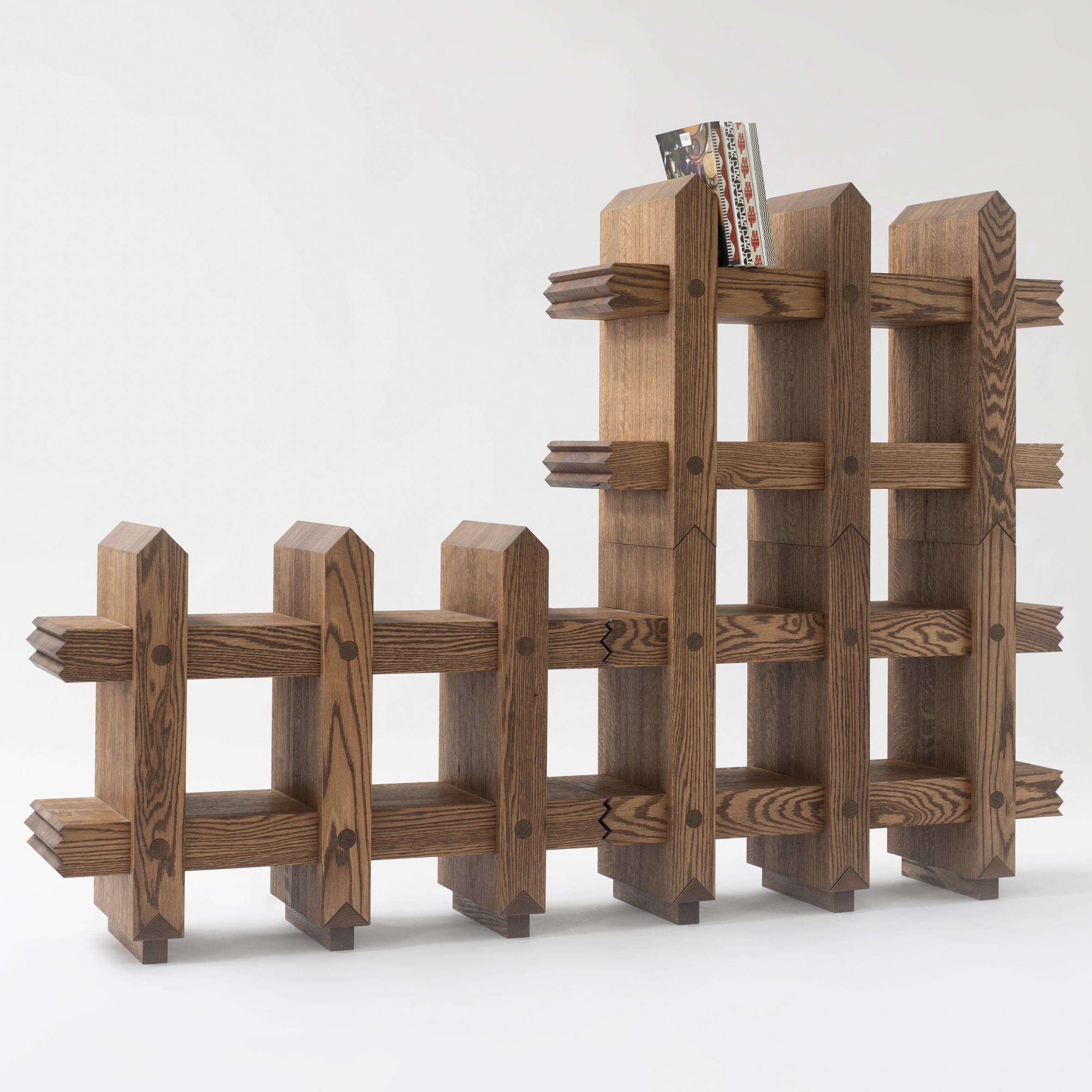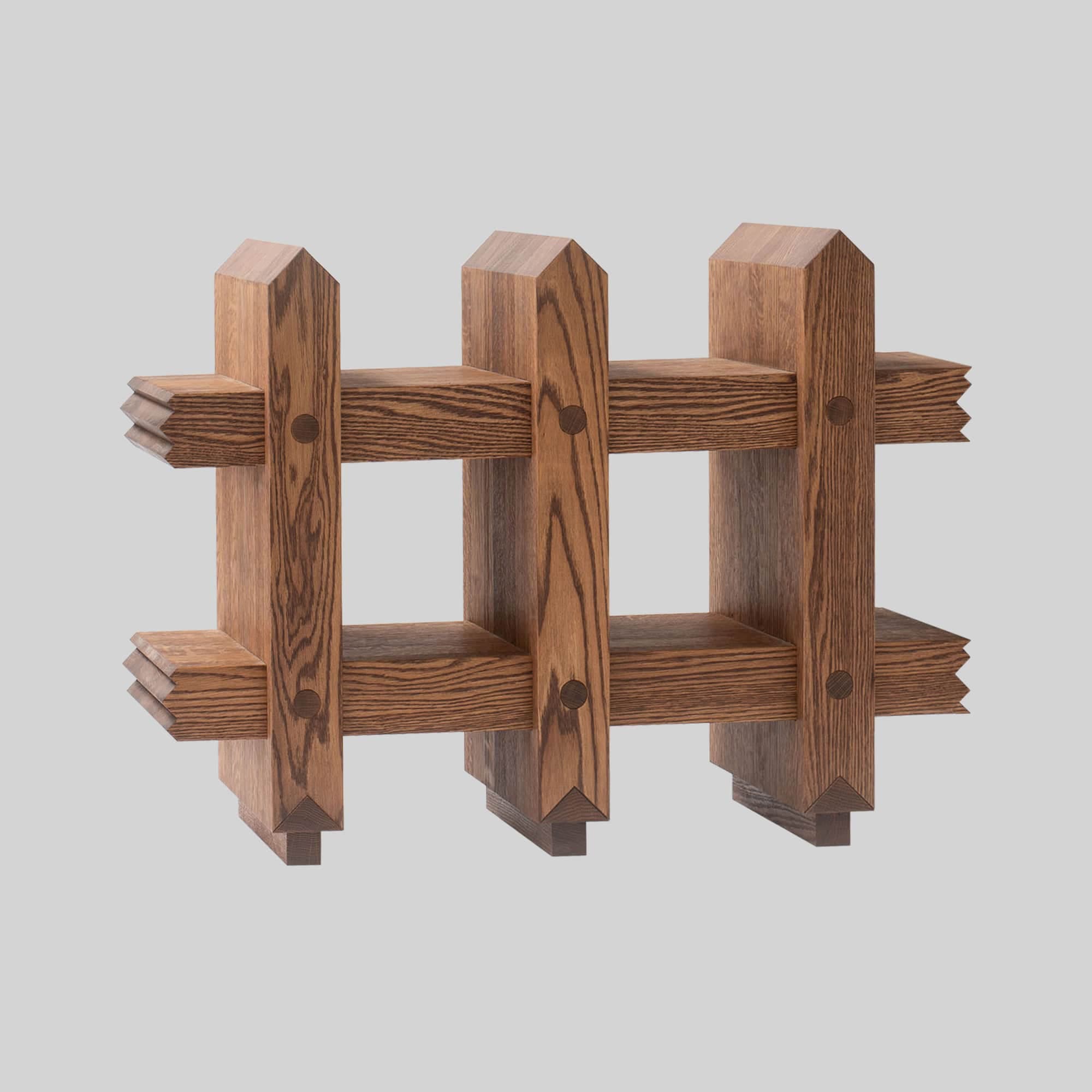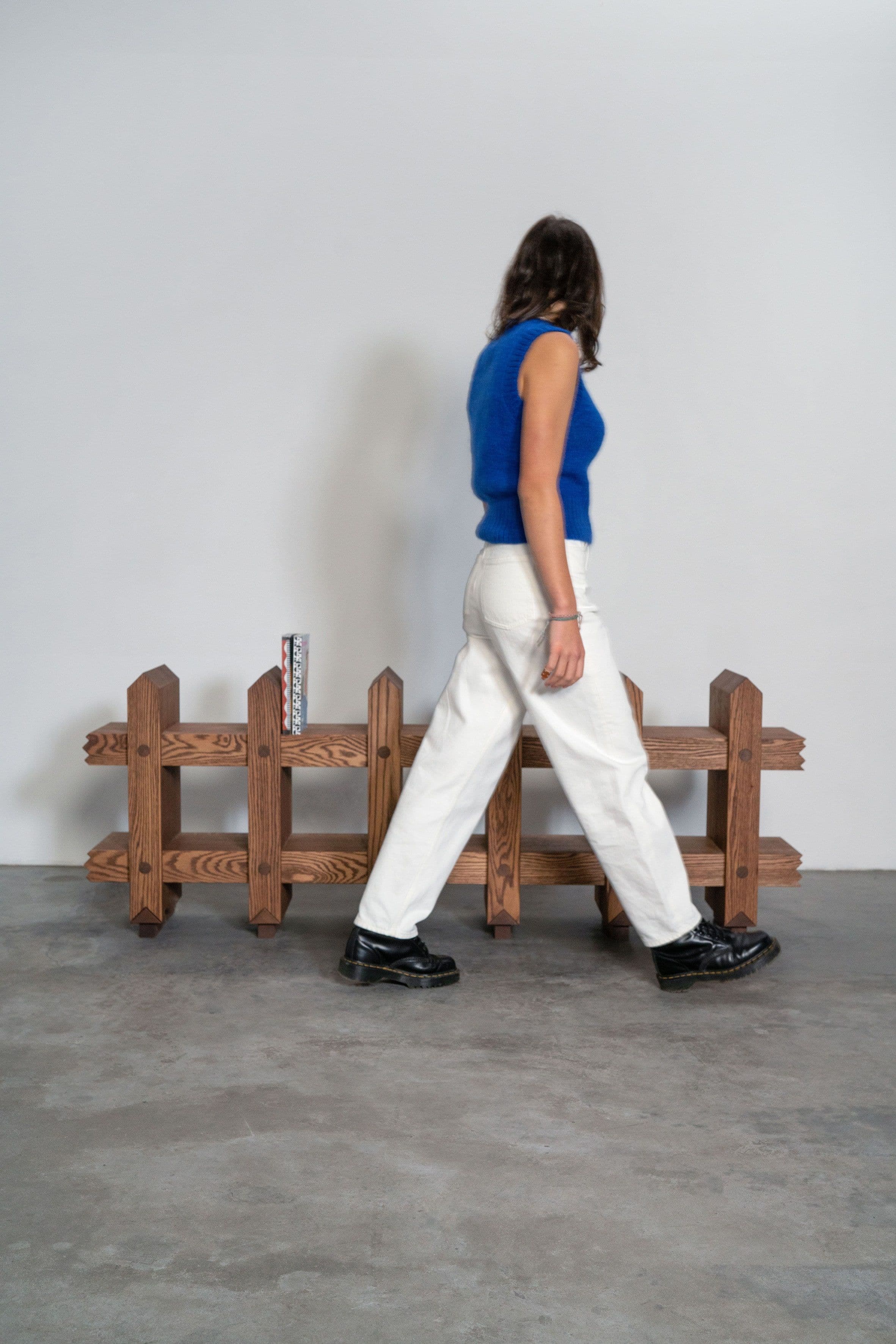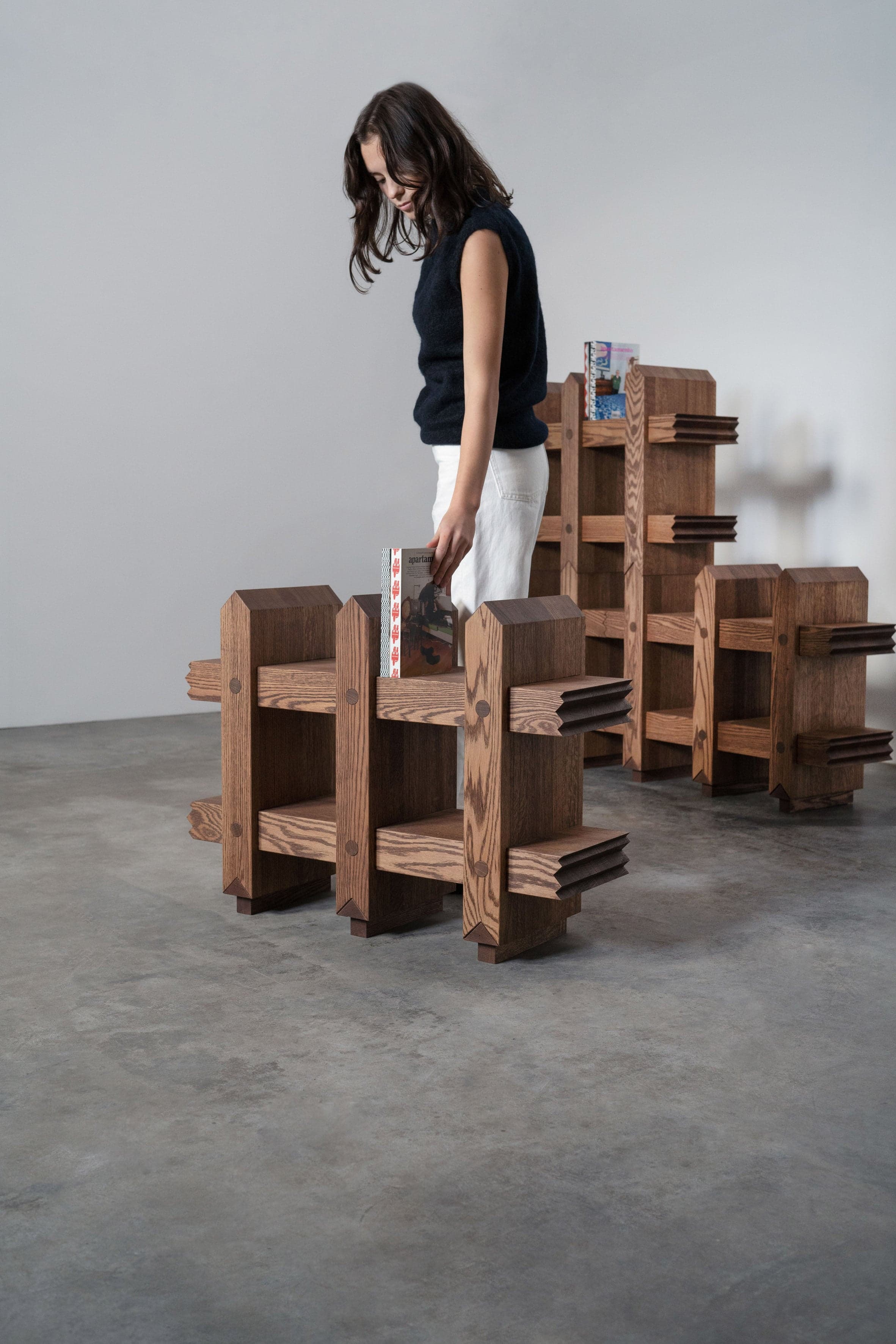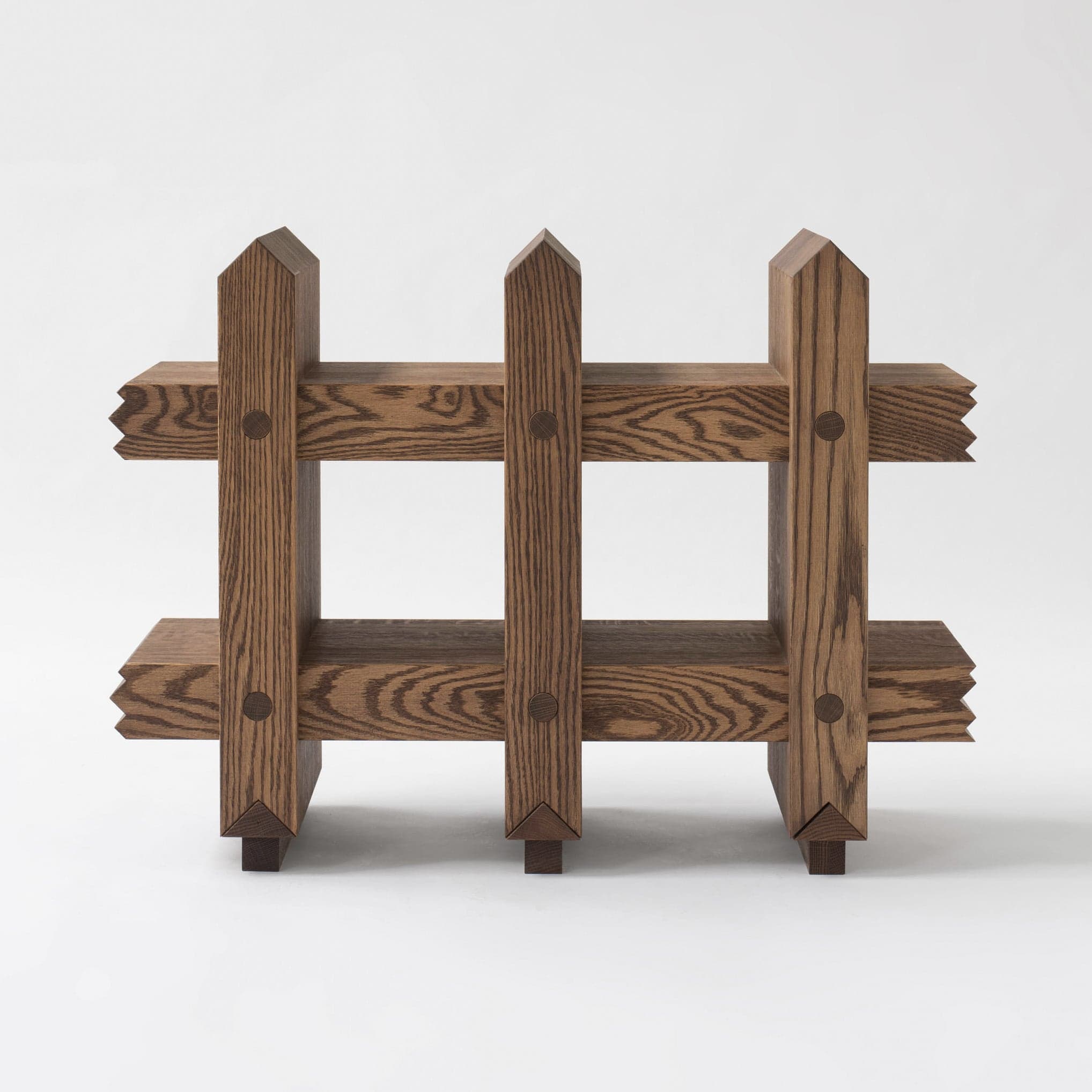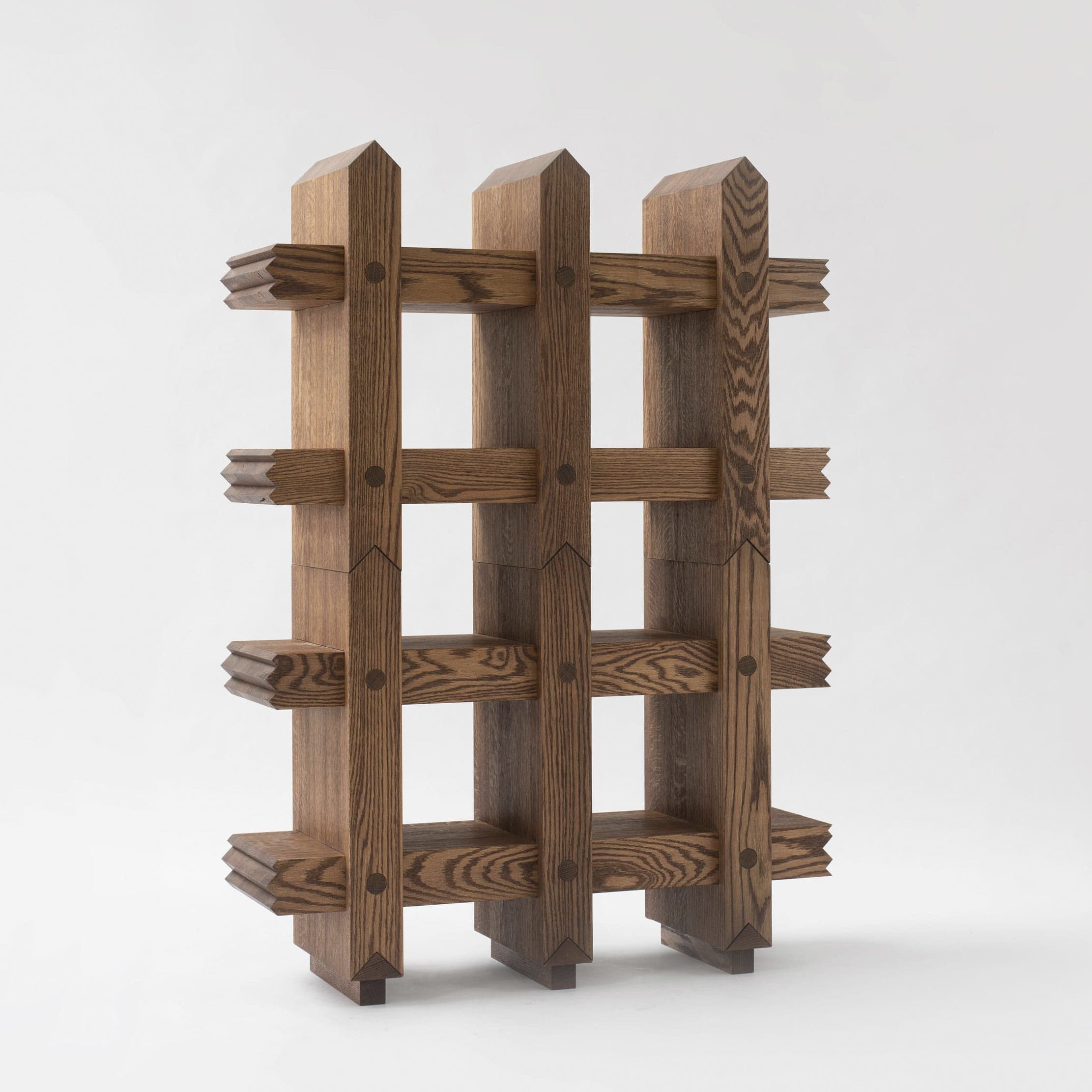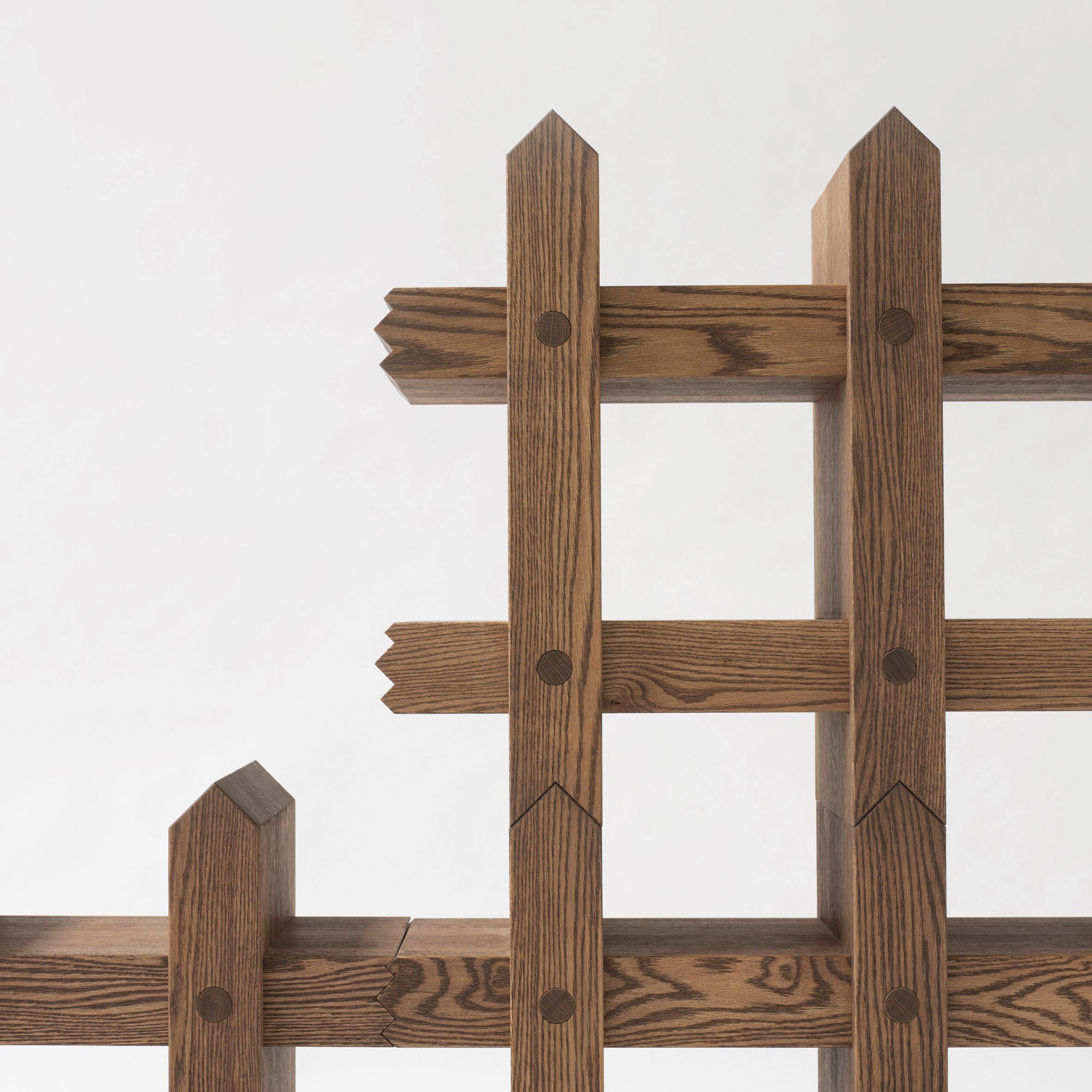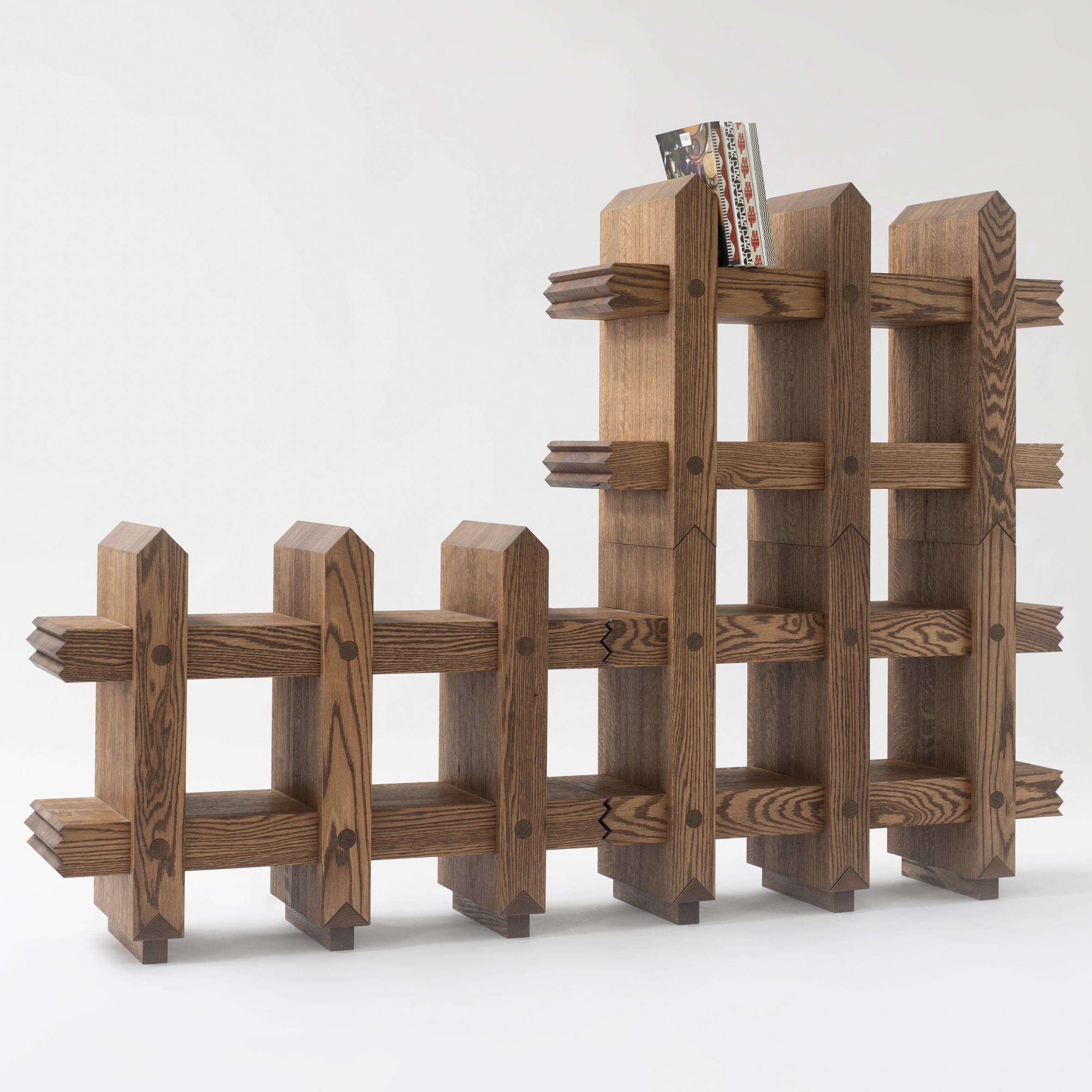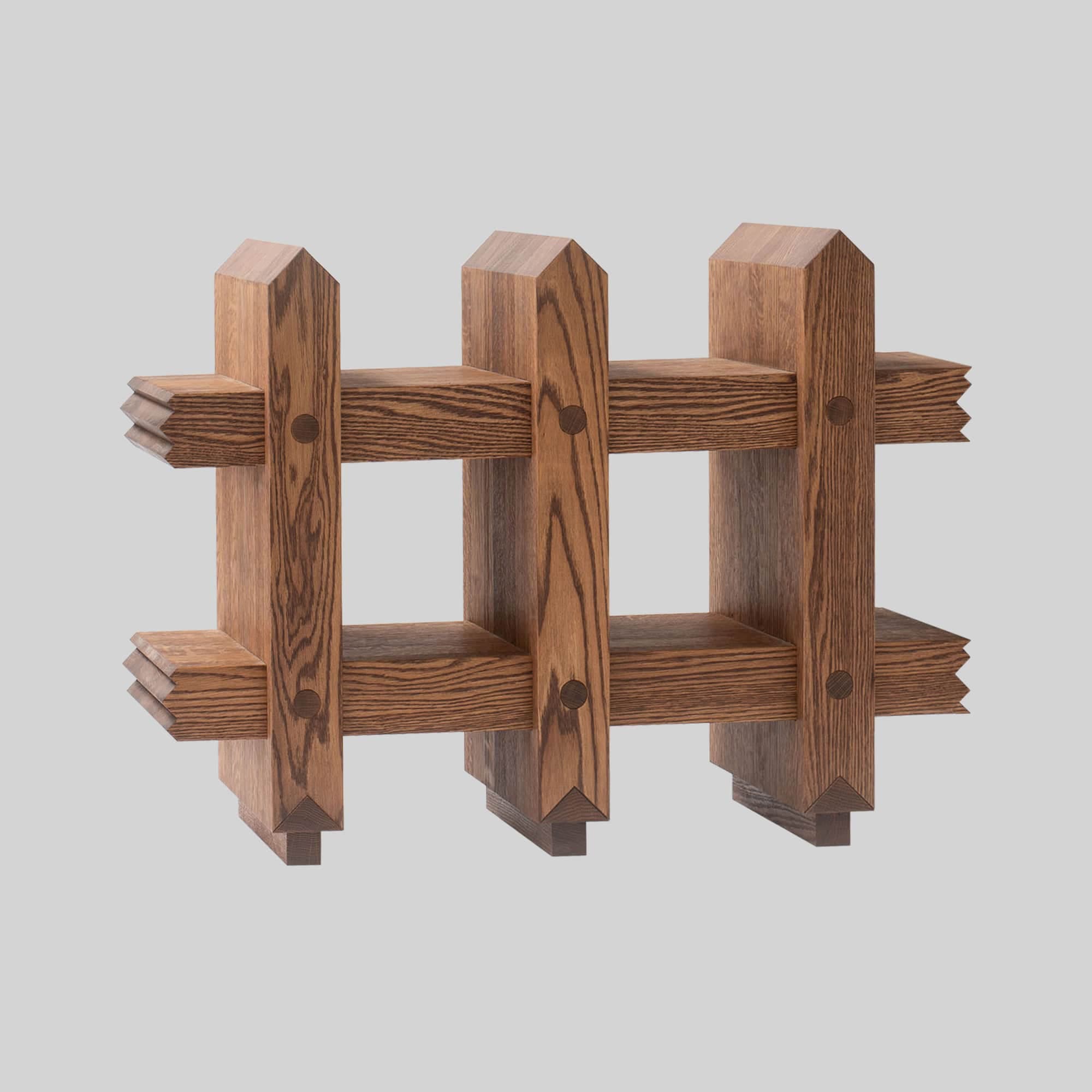 Endless Garden is a modular shelving system which conceptually addresses the meaning of the word "Slow" in an ever faster changing world and deals with aspects of longevity, sustainability and deceleration.
In contrast to today's big cities, which are characterized by industry and speed, rural regions can evoke an image of deceleration and tradition. The associative and playful approach to the motif of the fence as a symbol of a romanticizing idyll of home ownership creates new scope for interpretation, drawing on original and simple woodworking techniques. The fence as a symbol of our sedentariness thereby creates new spatial structures, demarcates, unites and redefines our human living spaces again and again.
Endless Garden is based on a fragment of the fence that can be expanded through both vertical and horizontal multiplication to grow with and adapt to our spatial changes. The emphasis on the horizontal structure, through the interlocking connecting elements, thereby creates the impression of infinity.
Client: American Hardwood Export Council
Photography: ©Ingmar Kurth
Presskit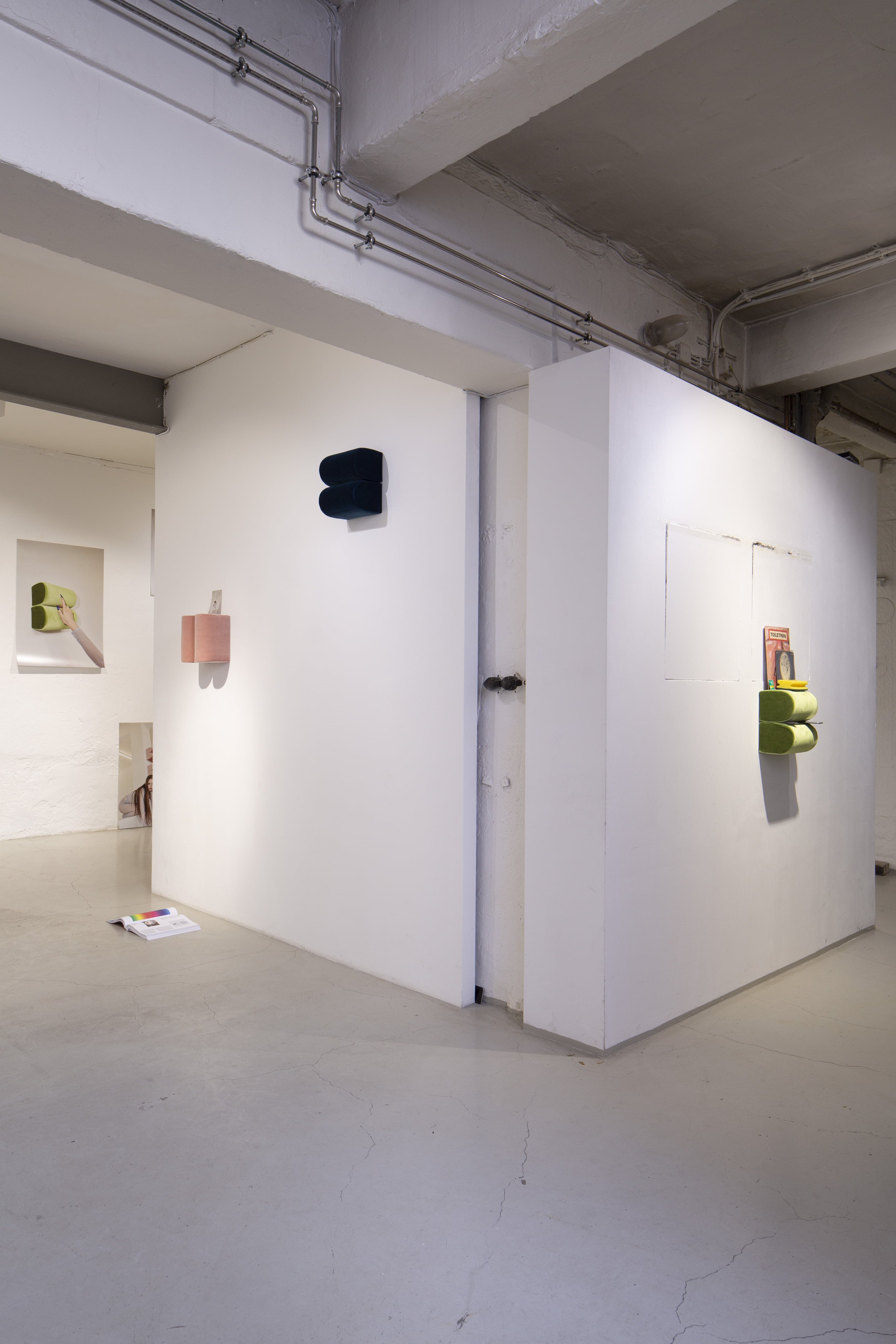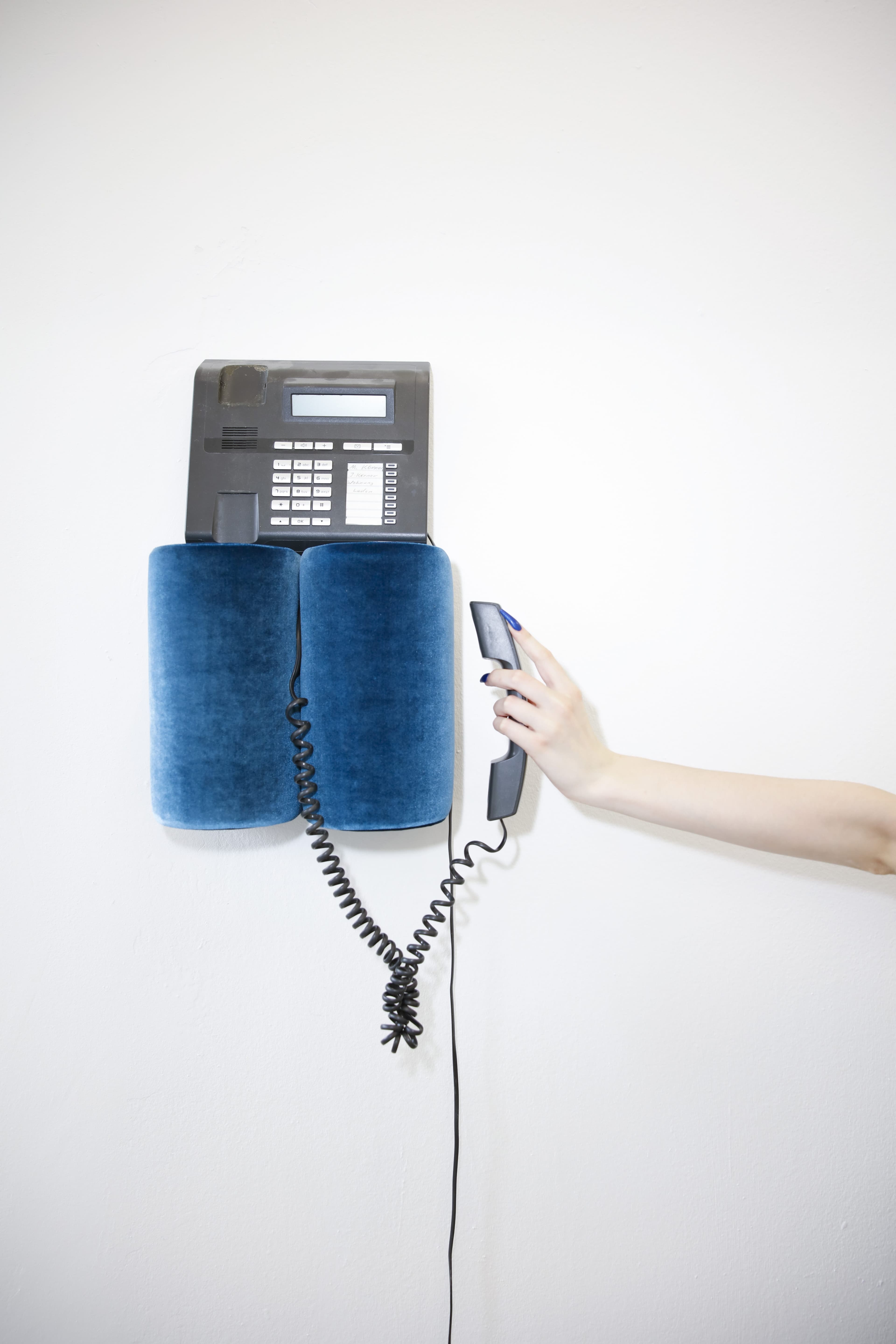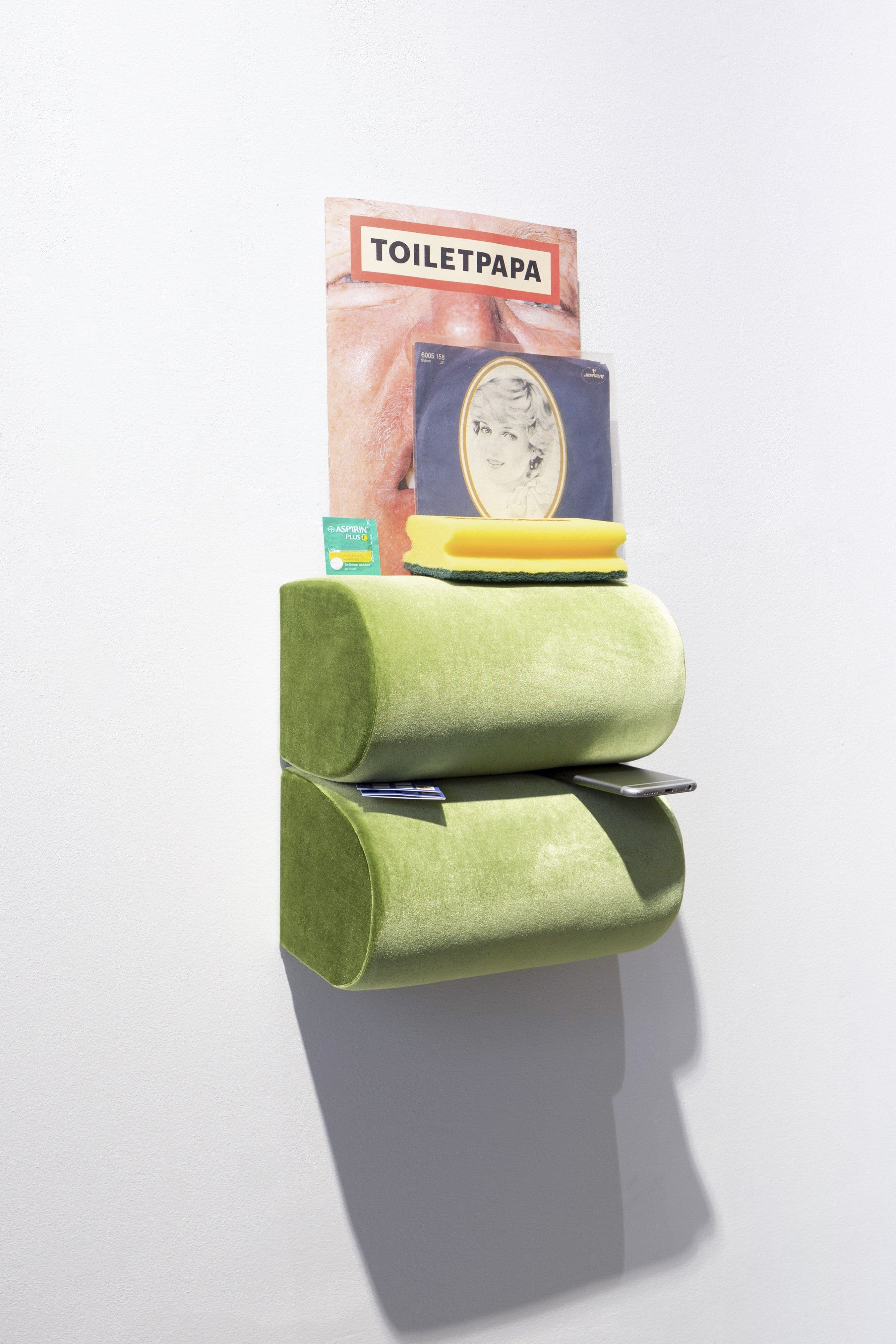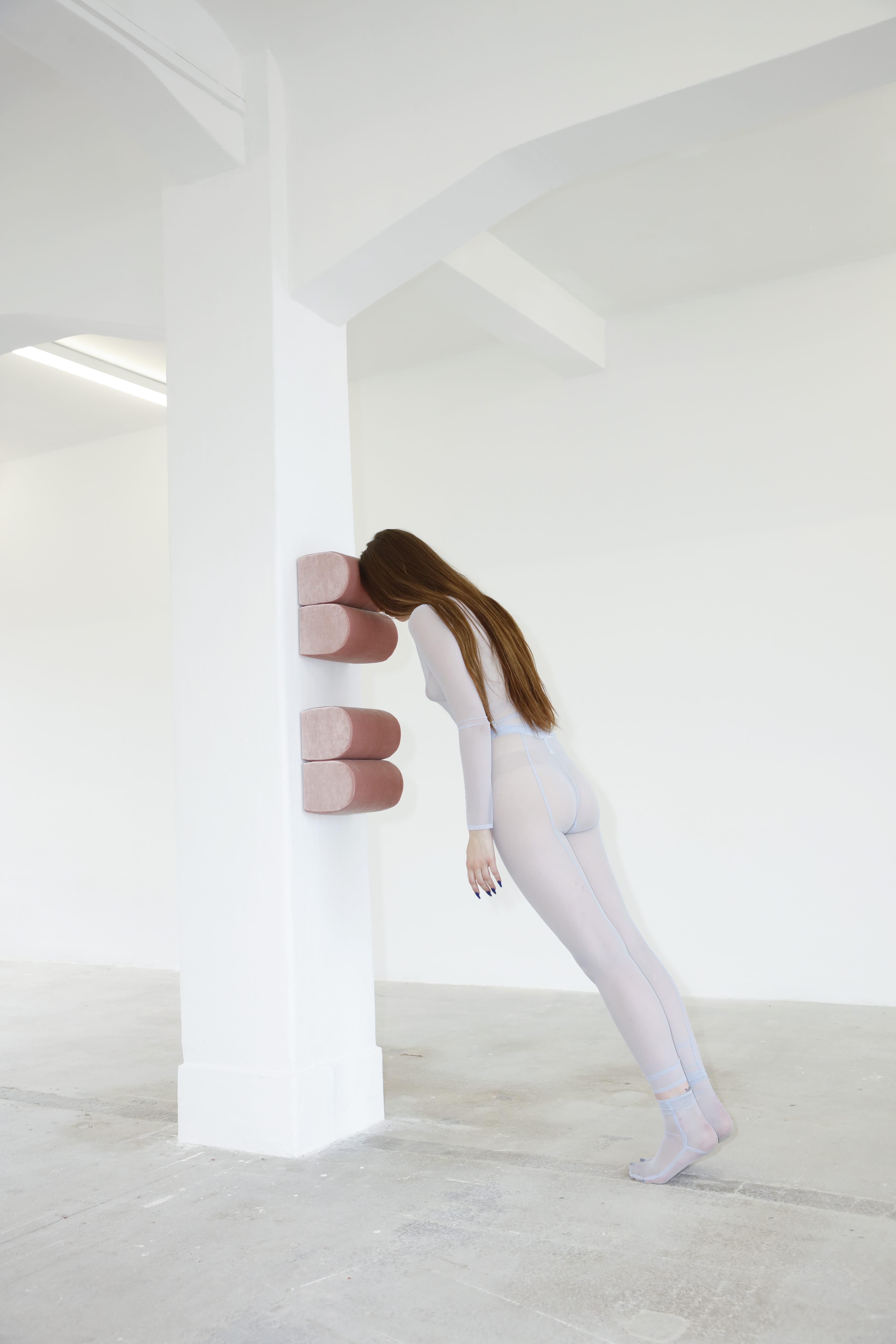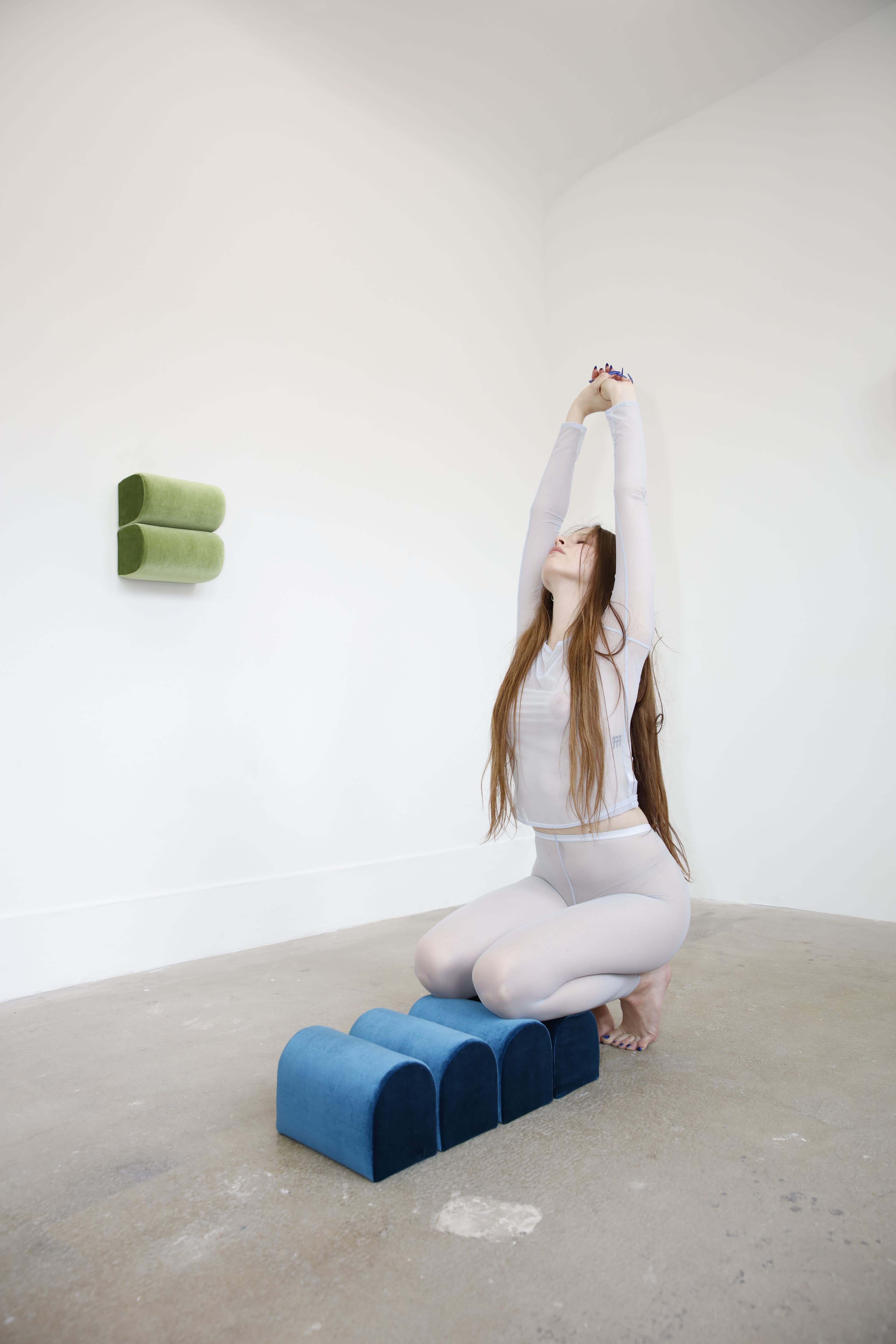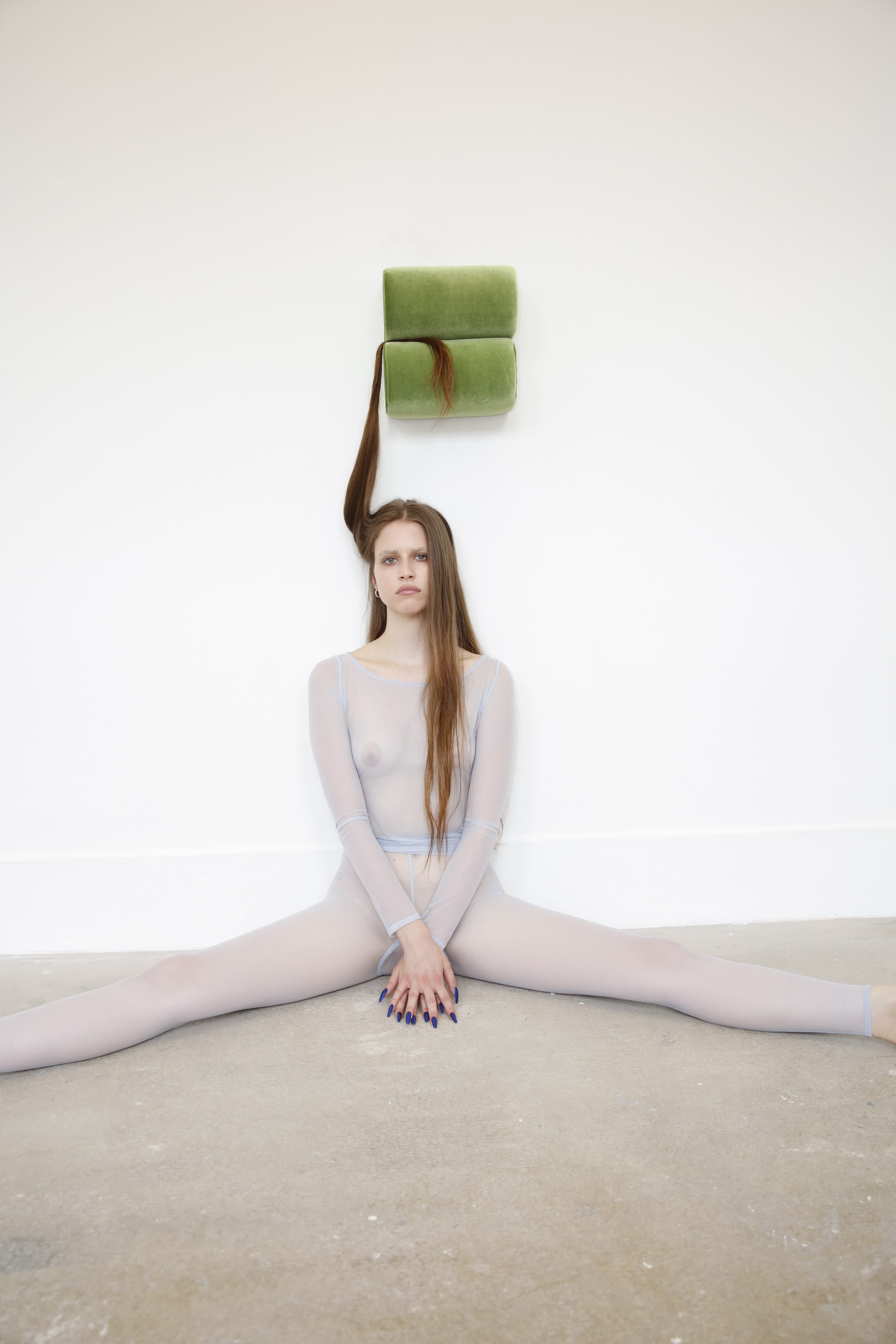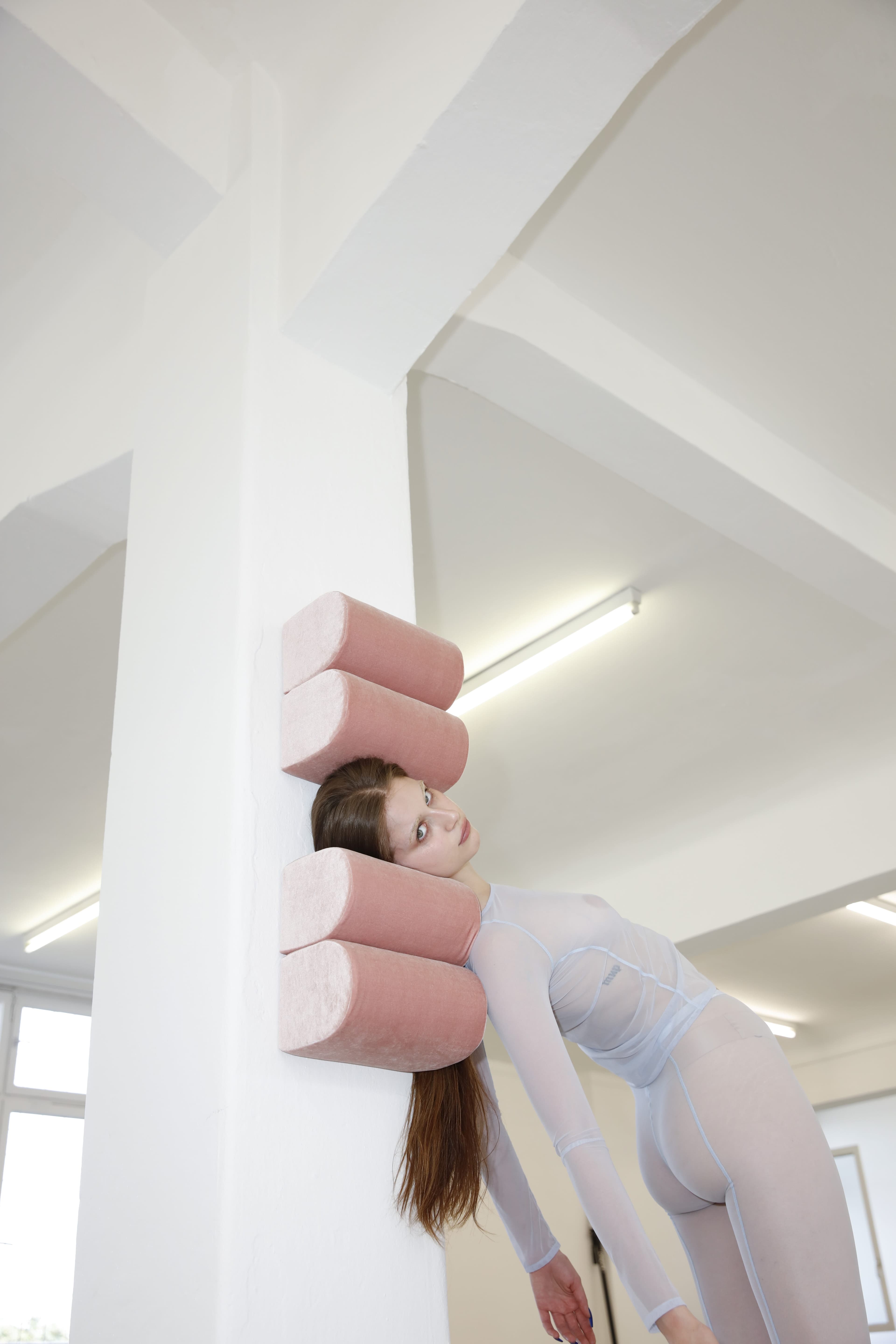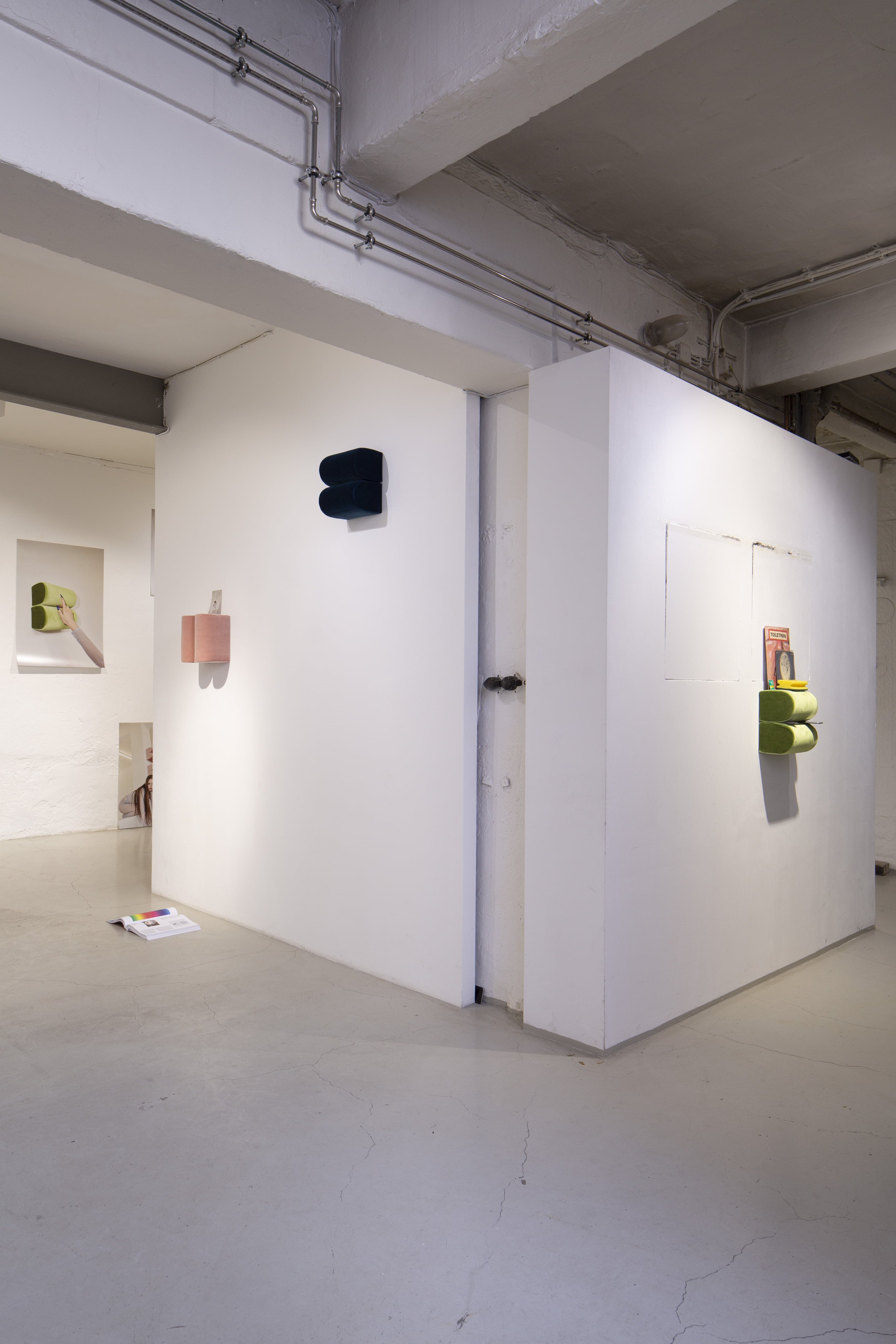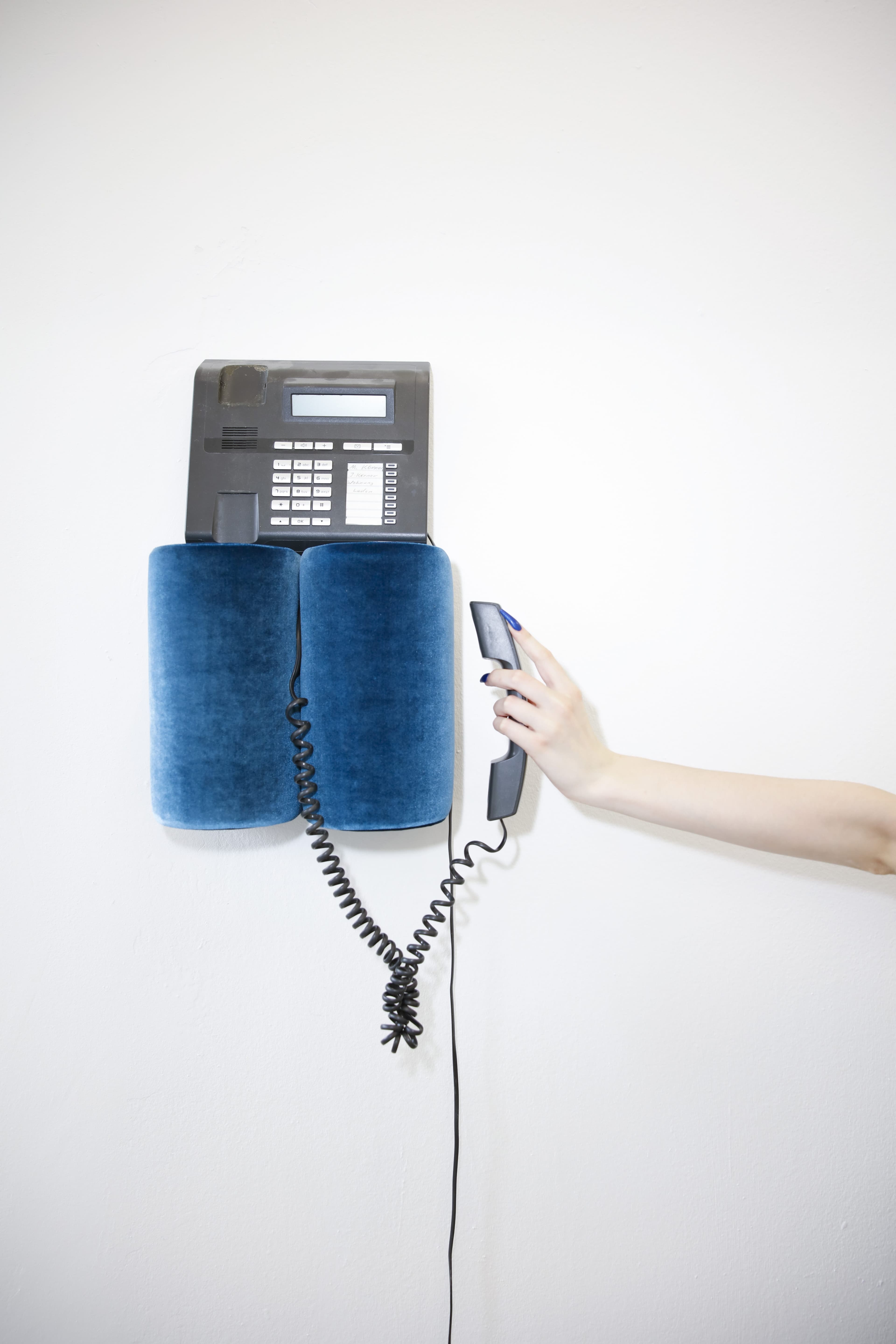 The upholstered wall hook creates a reduced, horizontal storage platform and offers the possibility to attach objects to a wall using a quick, charming gesture.
Starting point for the project is the idea of up-cycling and reusing materials in a cross-disciplinary manner. Geometric cut out shapes that arise in the production process and would usually not find valuable application in the industry are used as base to create the minimalist object. Haus Otto's ready-made core form is combined with the strong colour palette and signature textiles by Simone Wild. Valuing sustainable and fair production methods, the velvet cover is manufactured in Germany by a social business, working with refugee women.
Photography: ©David Spaeth
Presskit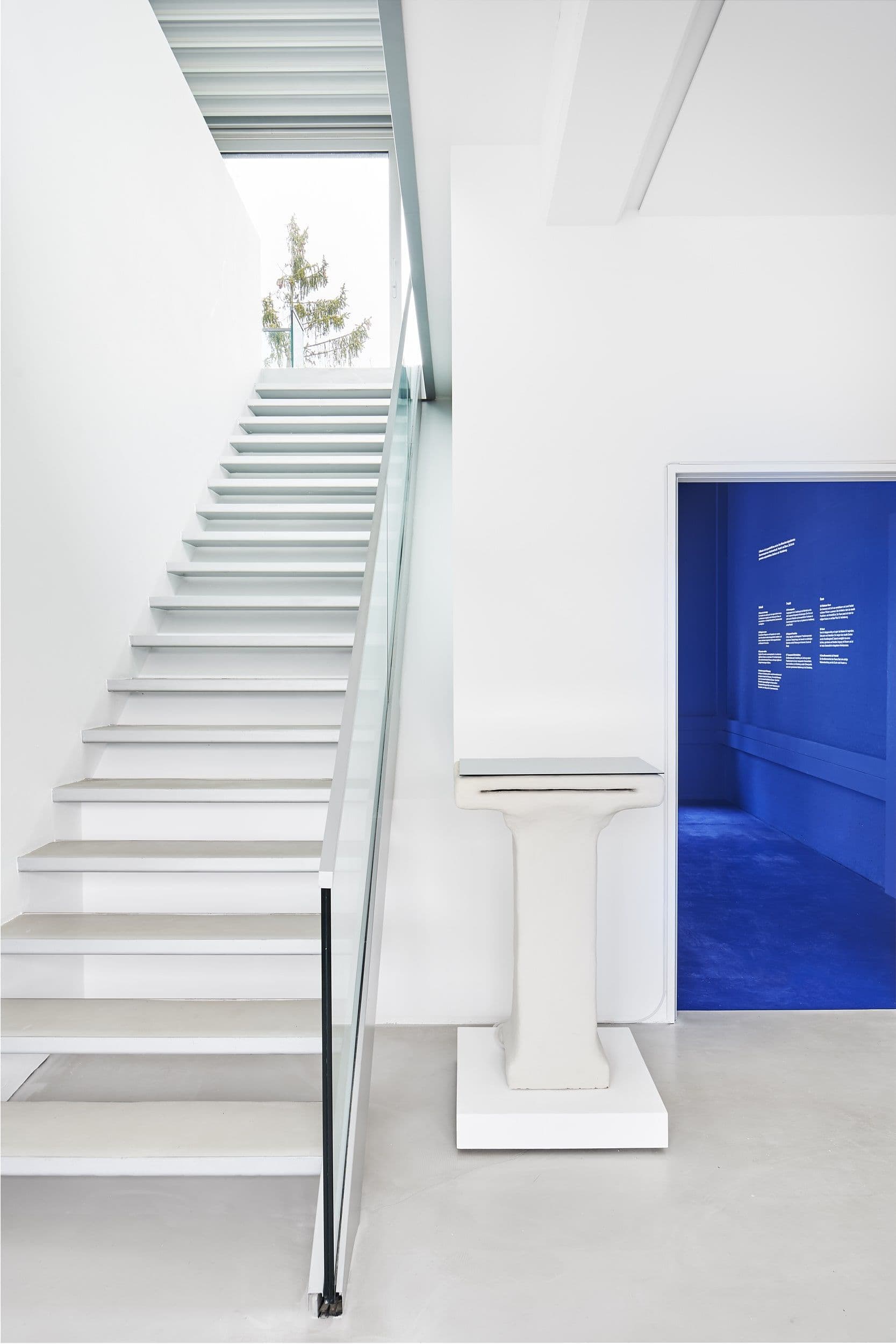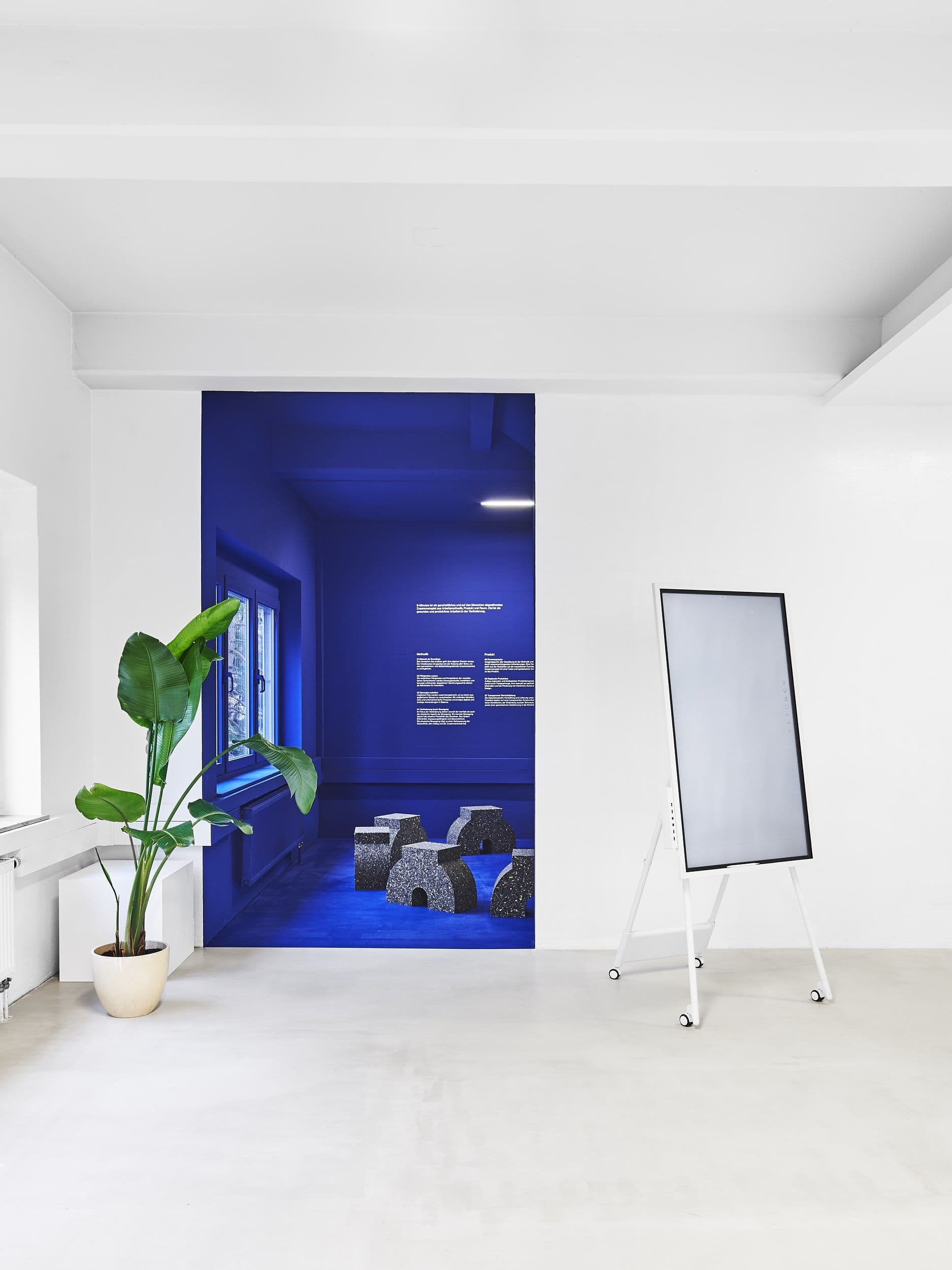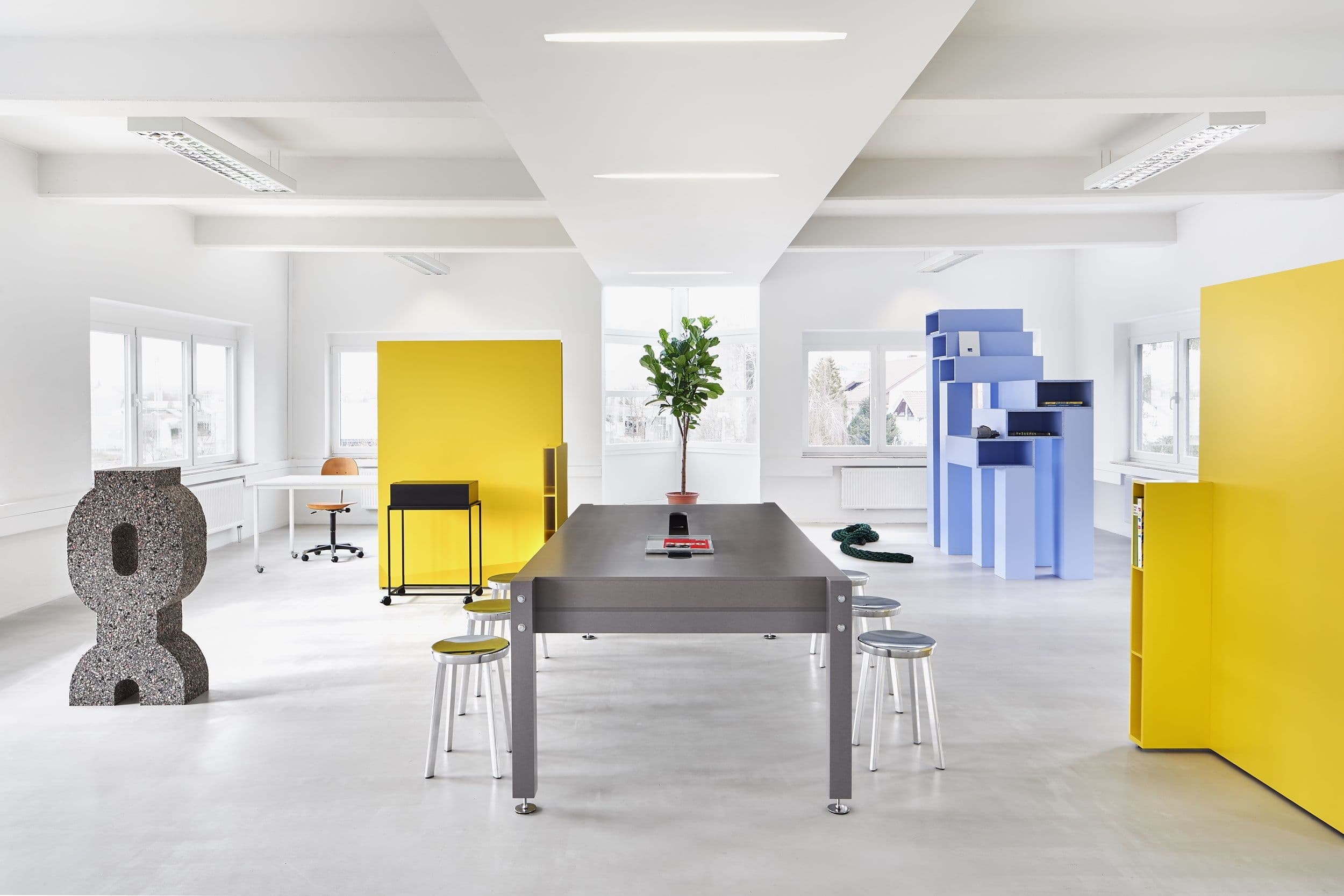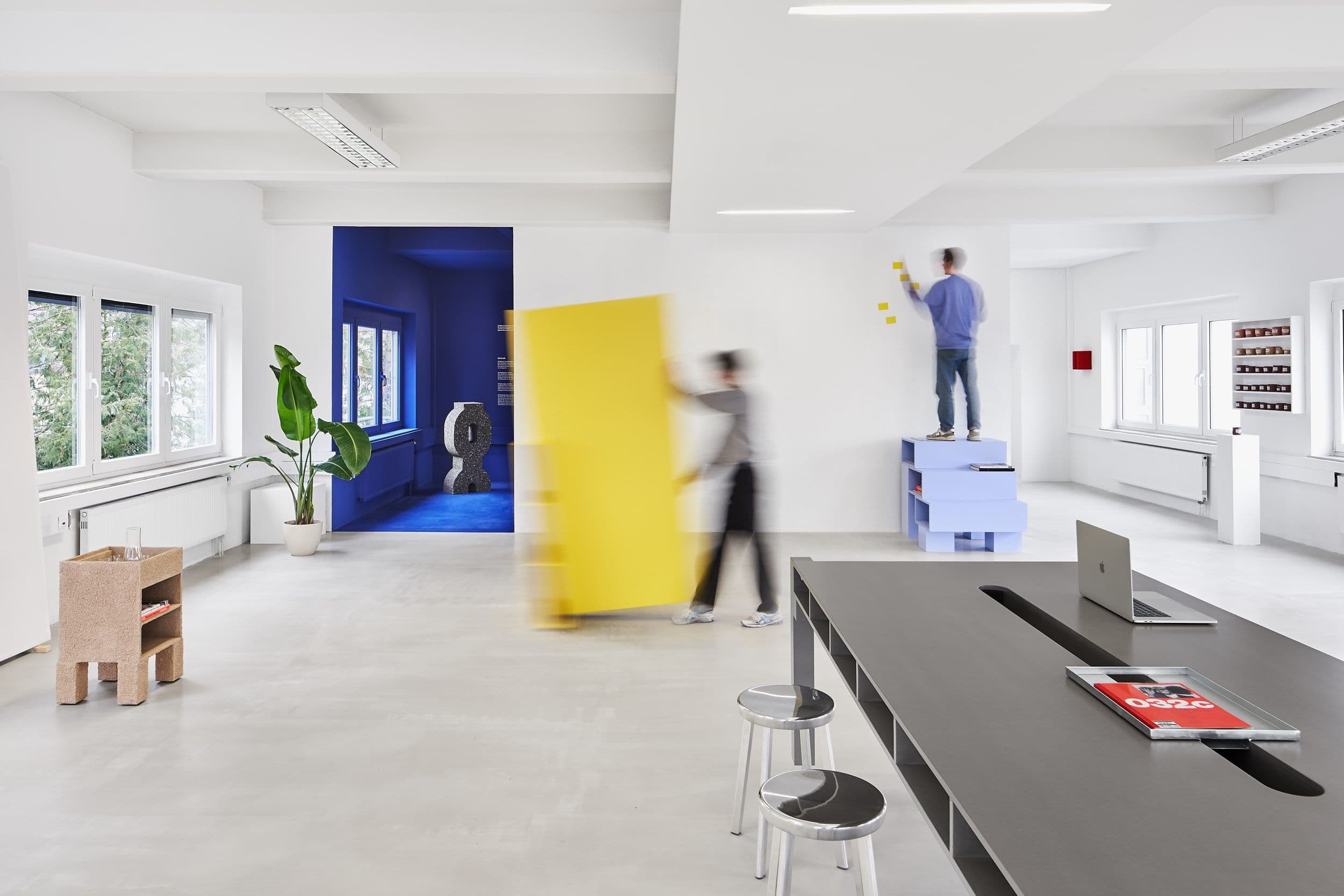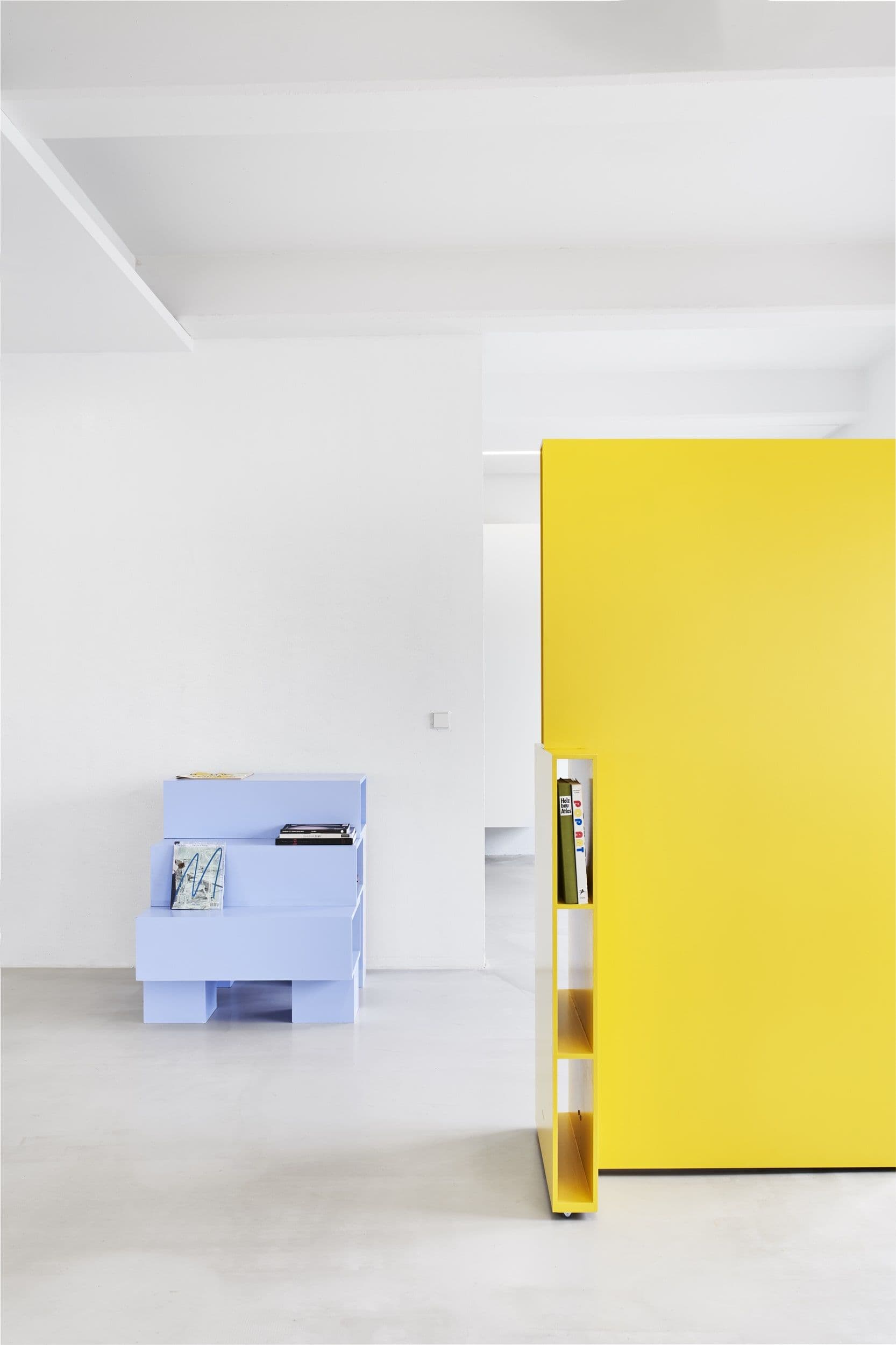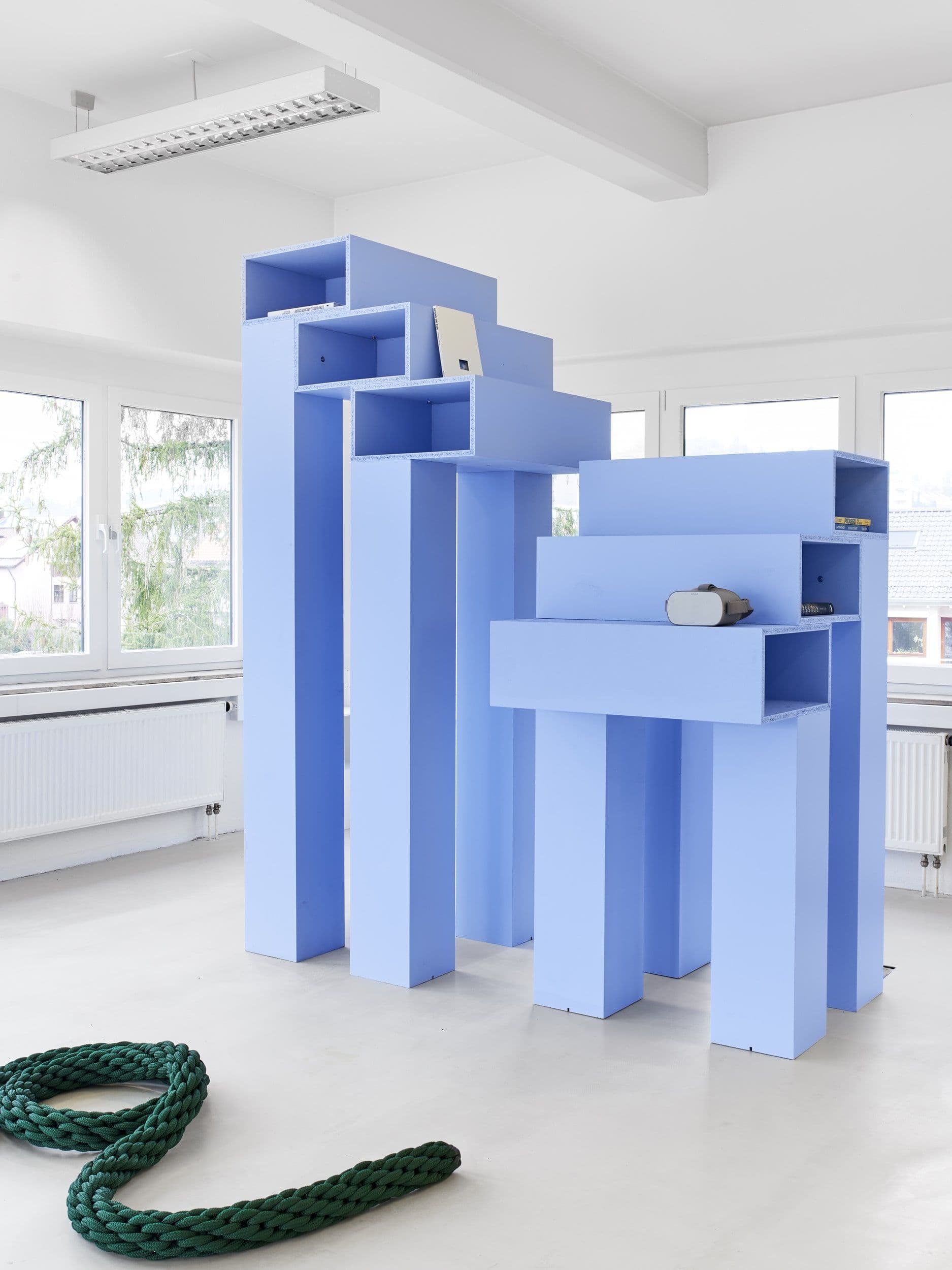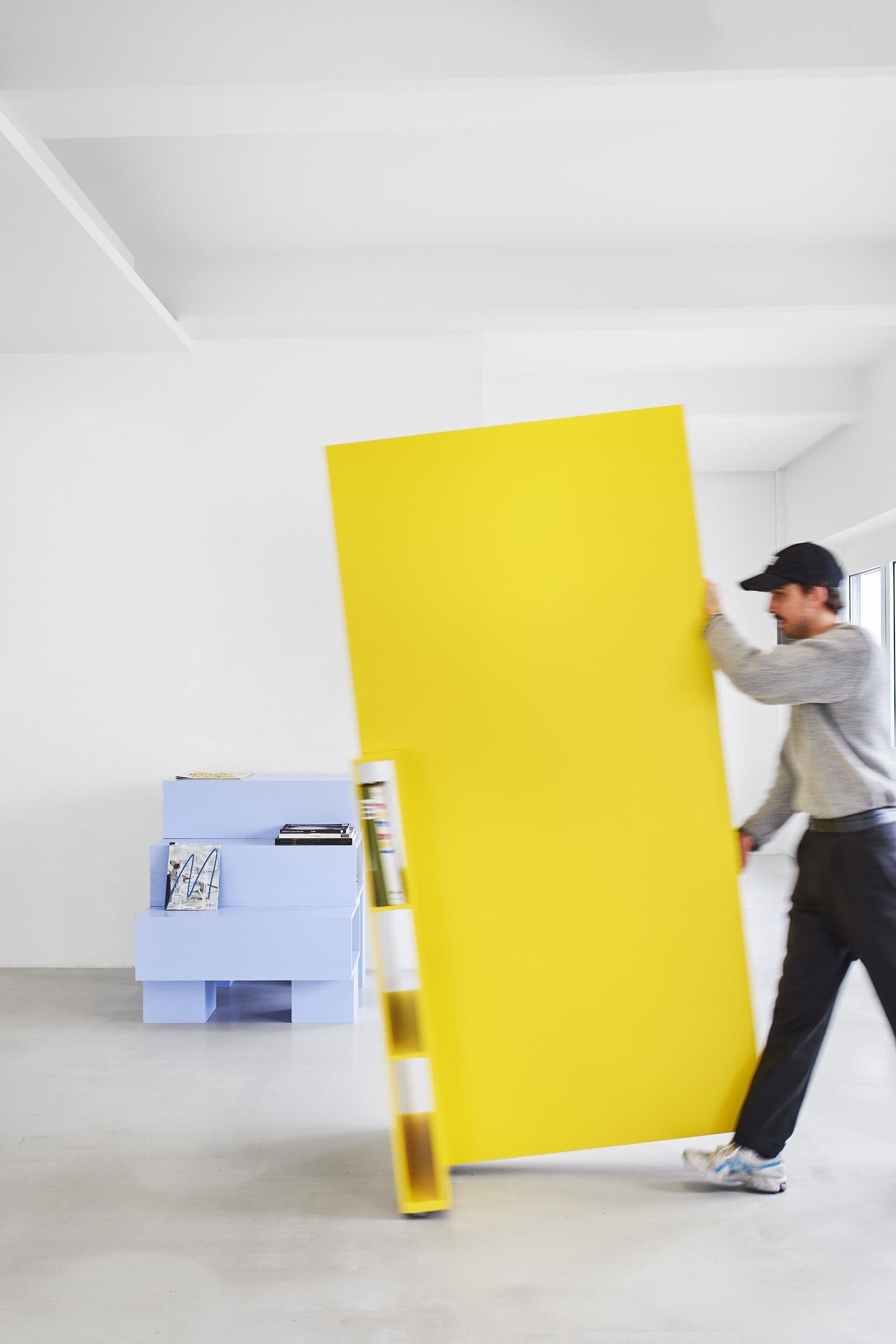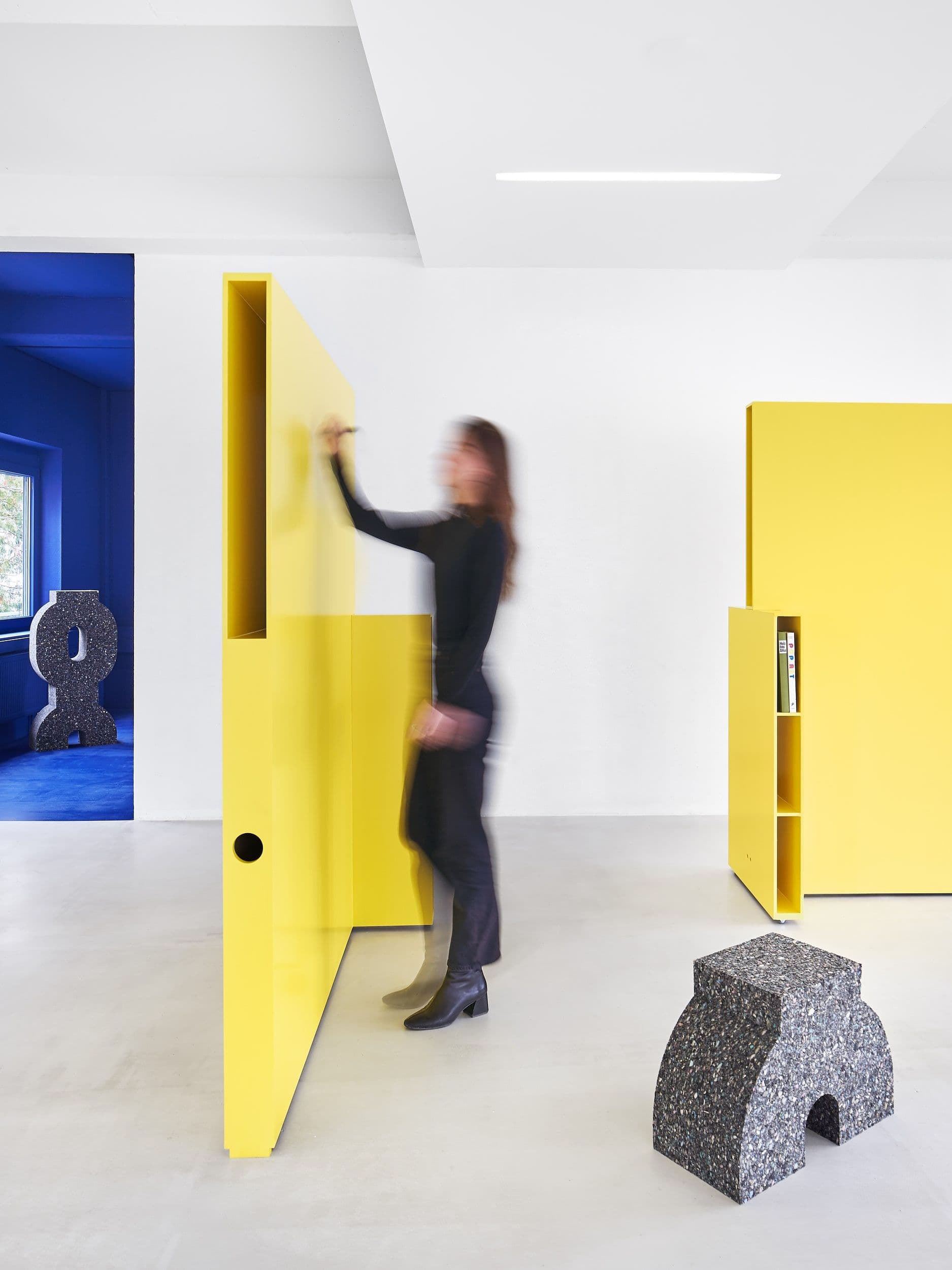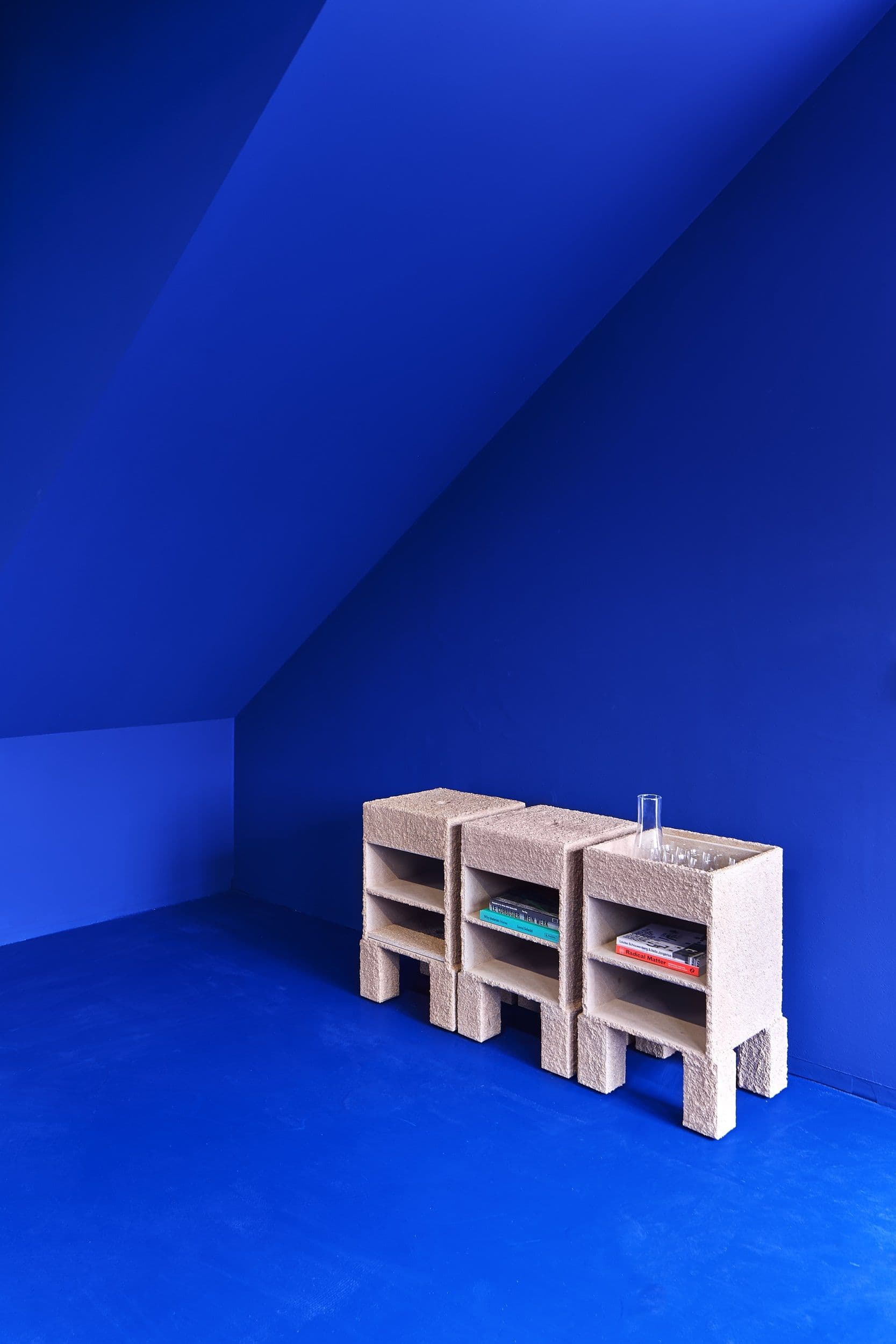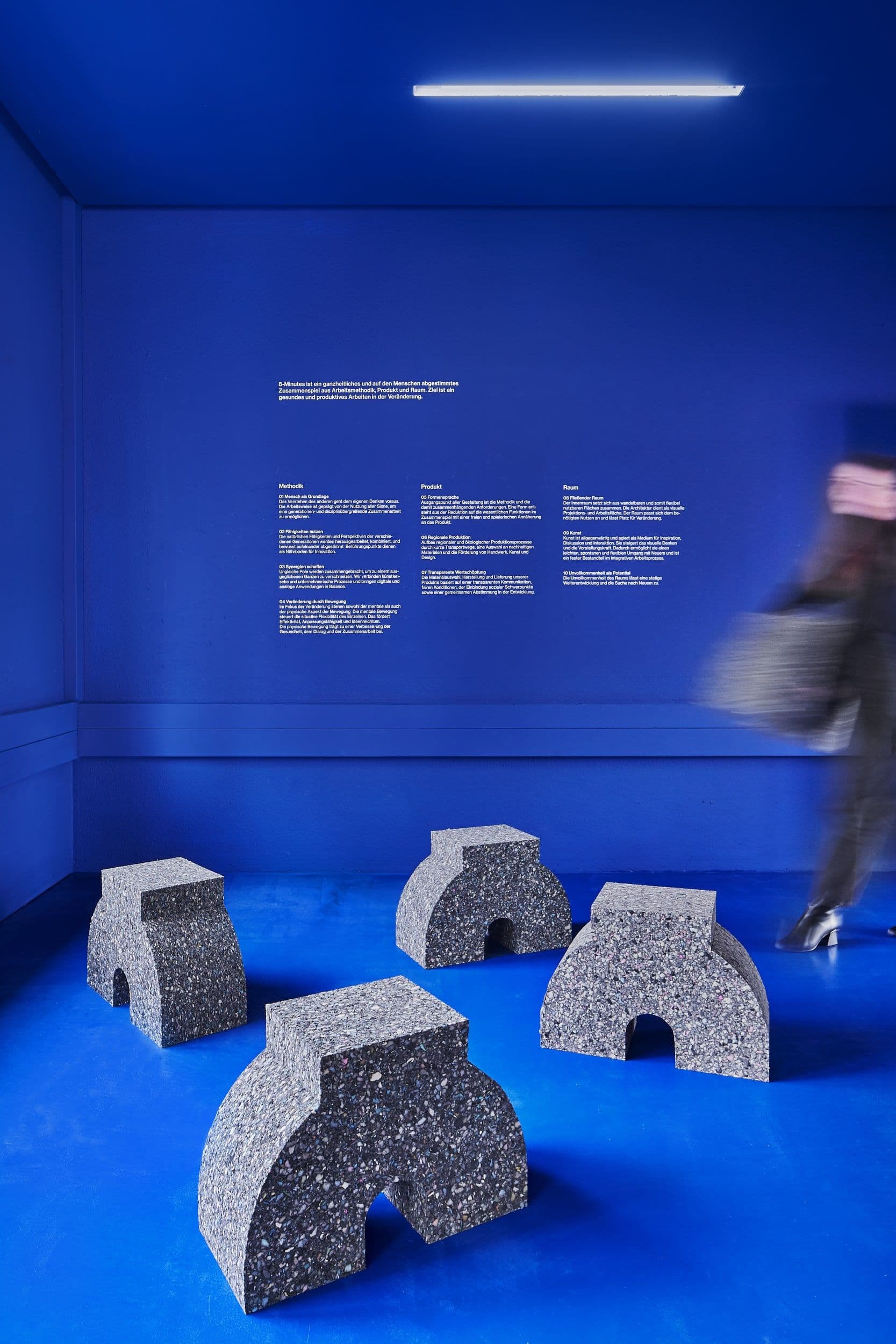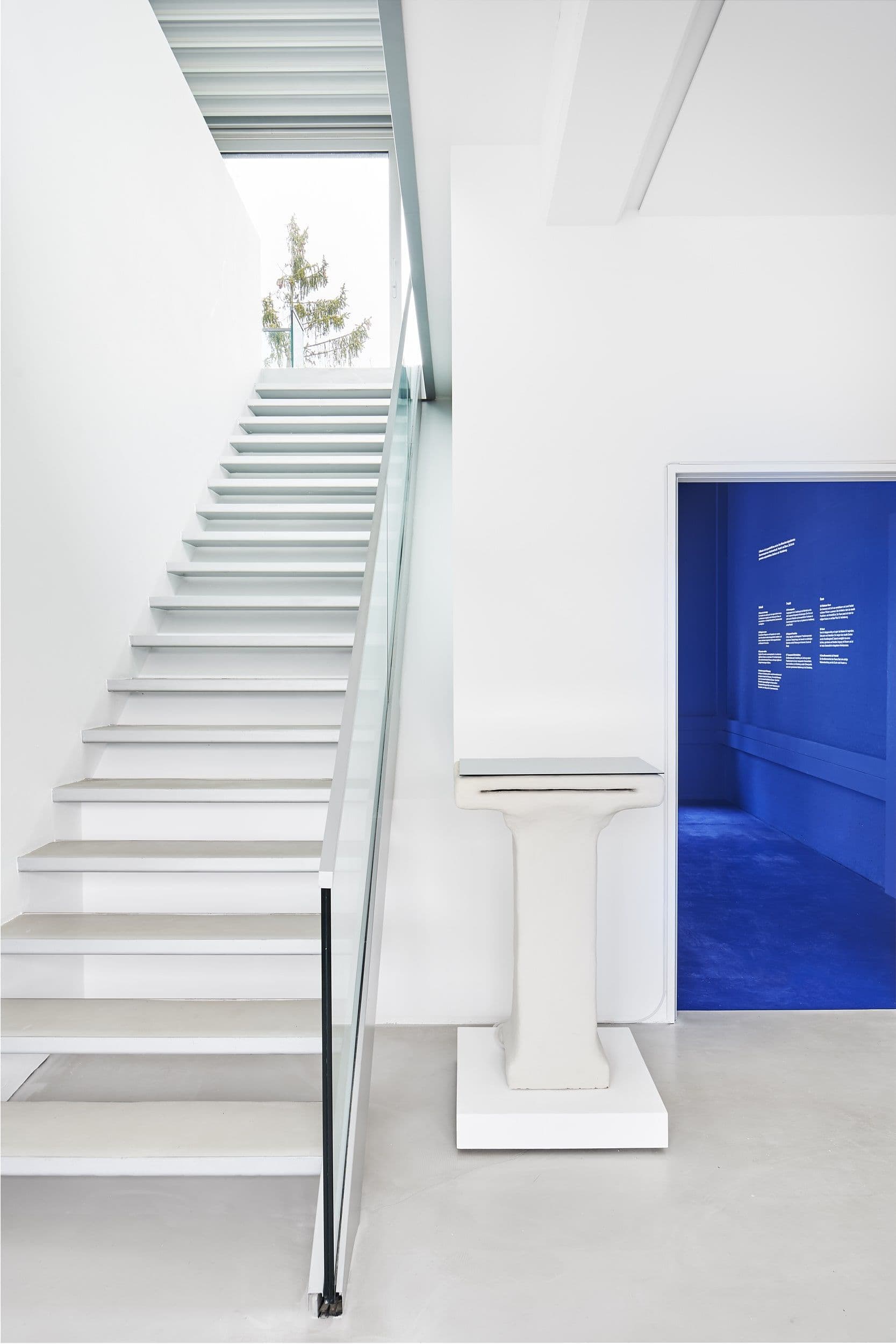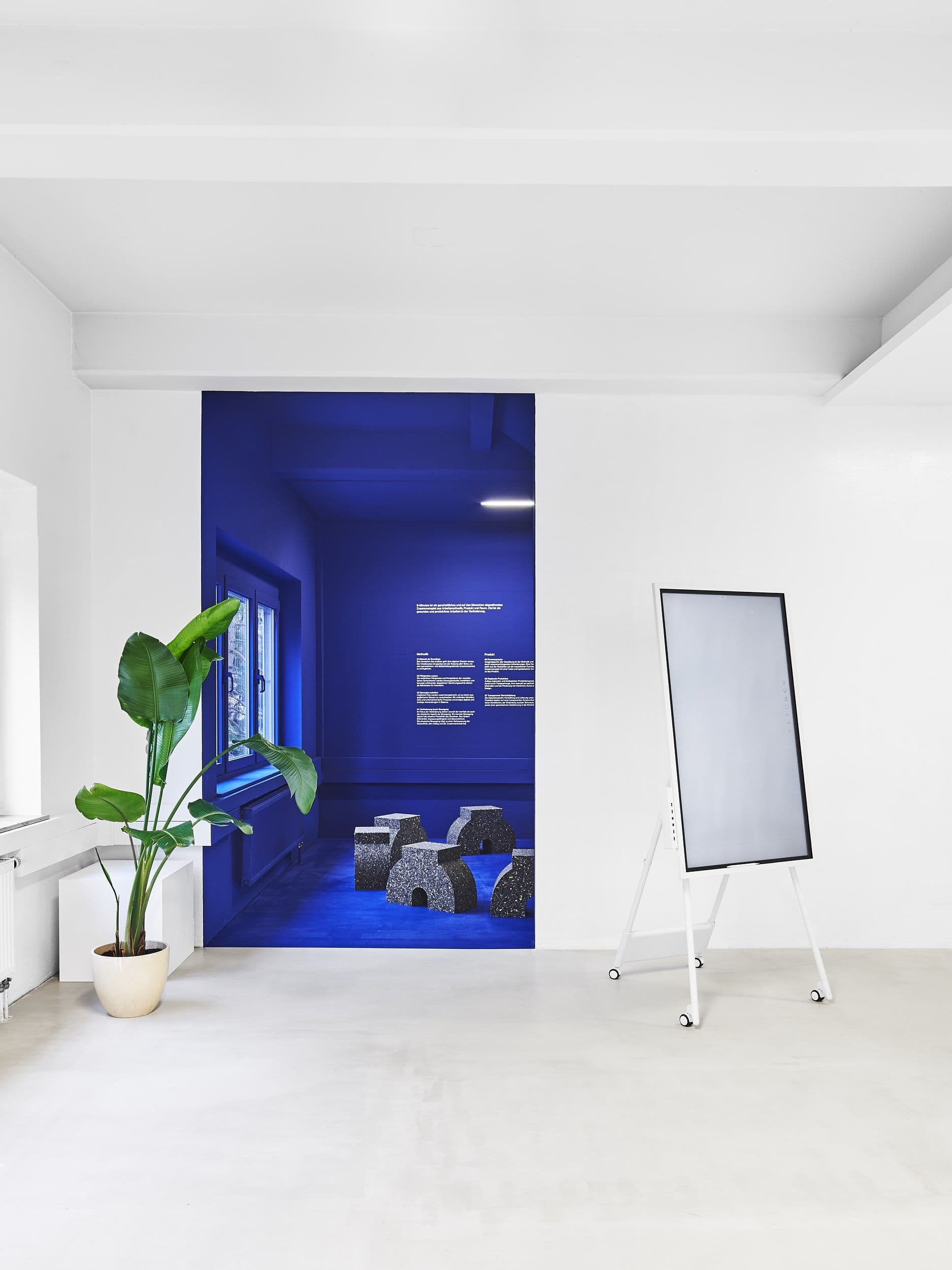 The business world is changing and with it the places we work in. Increasingly decentral working and more complex working structures pose new challenges for the design of modern office spaces and require contemporary concepts that rethink not only the spaces we work in but also the way in which we work together.
Rooms are set in motion and walls are activated as visuell surfaces for collective thought processes. Mobile and freely combinable Objects enable an alternative usage of space and maximum flexibility. Through diverse spatial constellations and a productive combination of analogue and digital workflows, a transformation of both the working methods and the resulting productivity is made possible.
Moreover, by increasing situational awareness spaces can be used more effectively: During the day a place for innovative ideas, workshops, meetings or creative processes and in the evening a place for events, galleries, exhibitions and the like. Vacant, unused spaces are thus a thing of the past.
Photography: ©Max Feldhoff
Presskit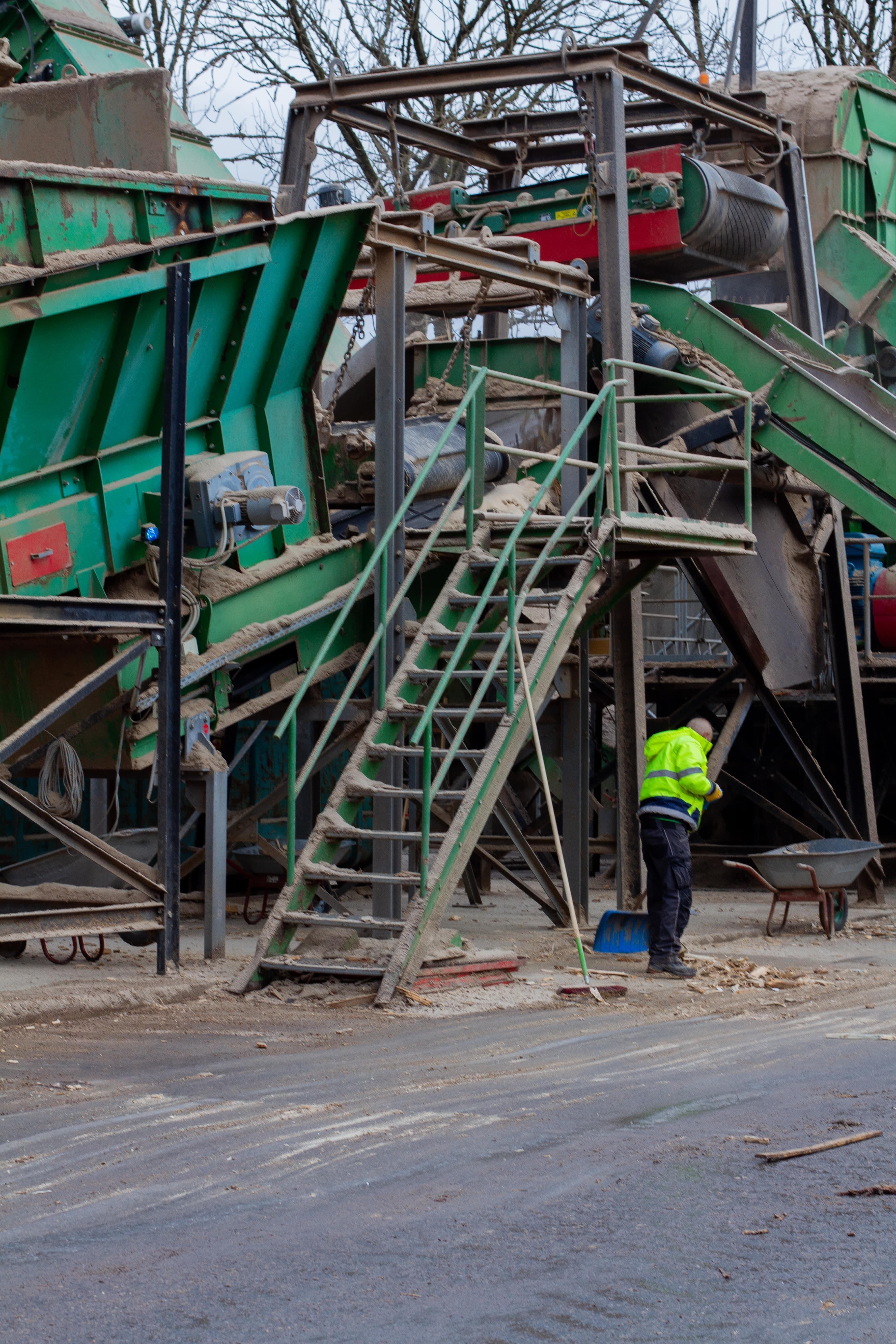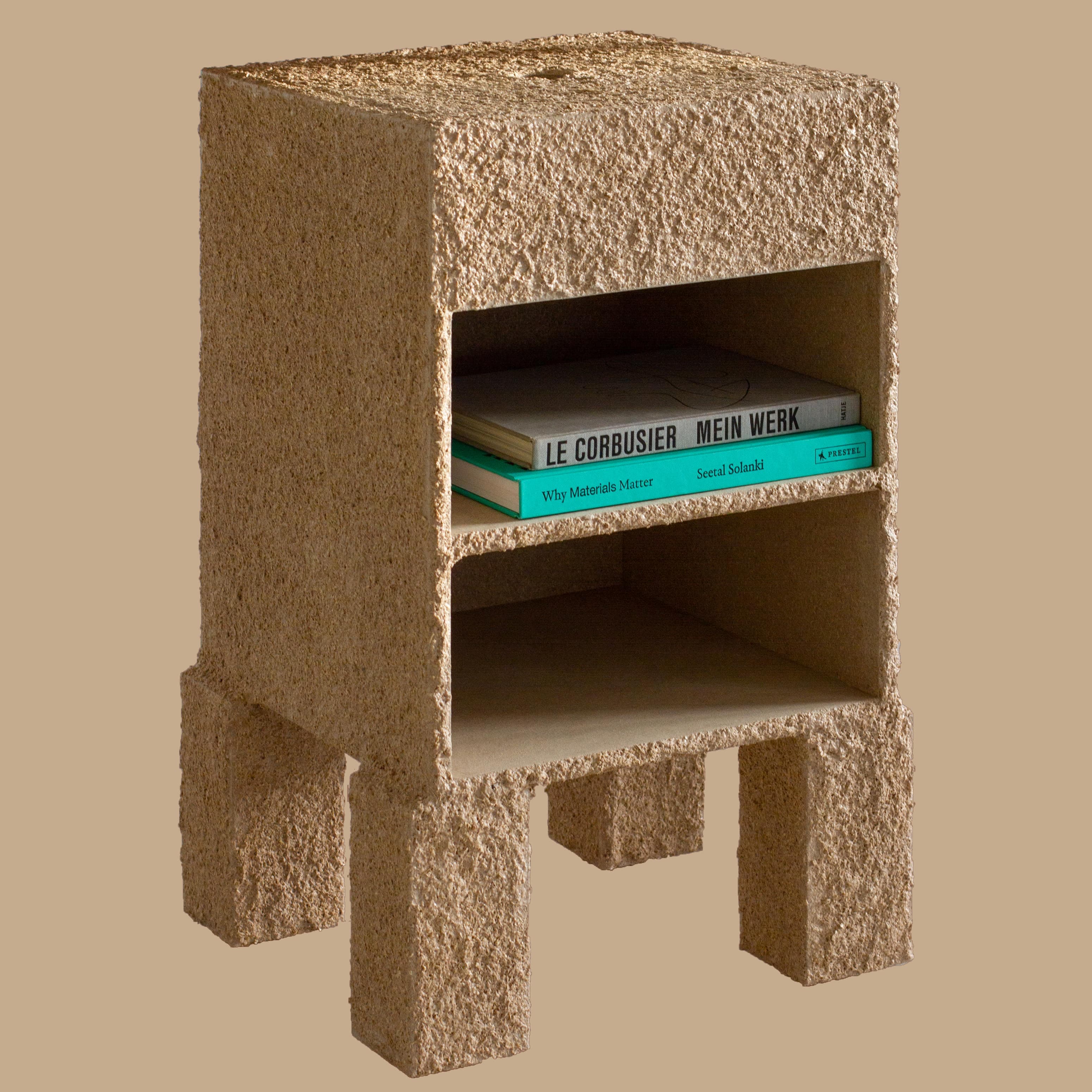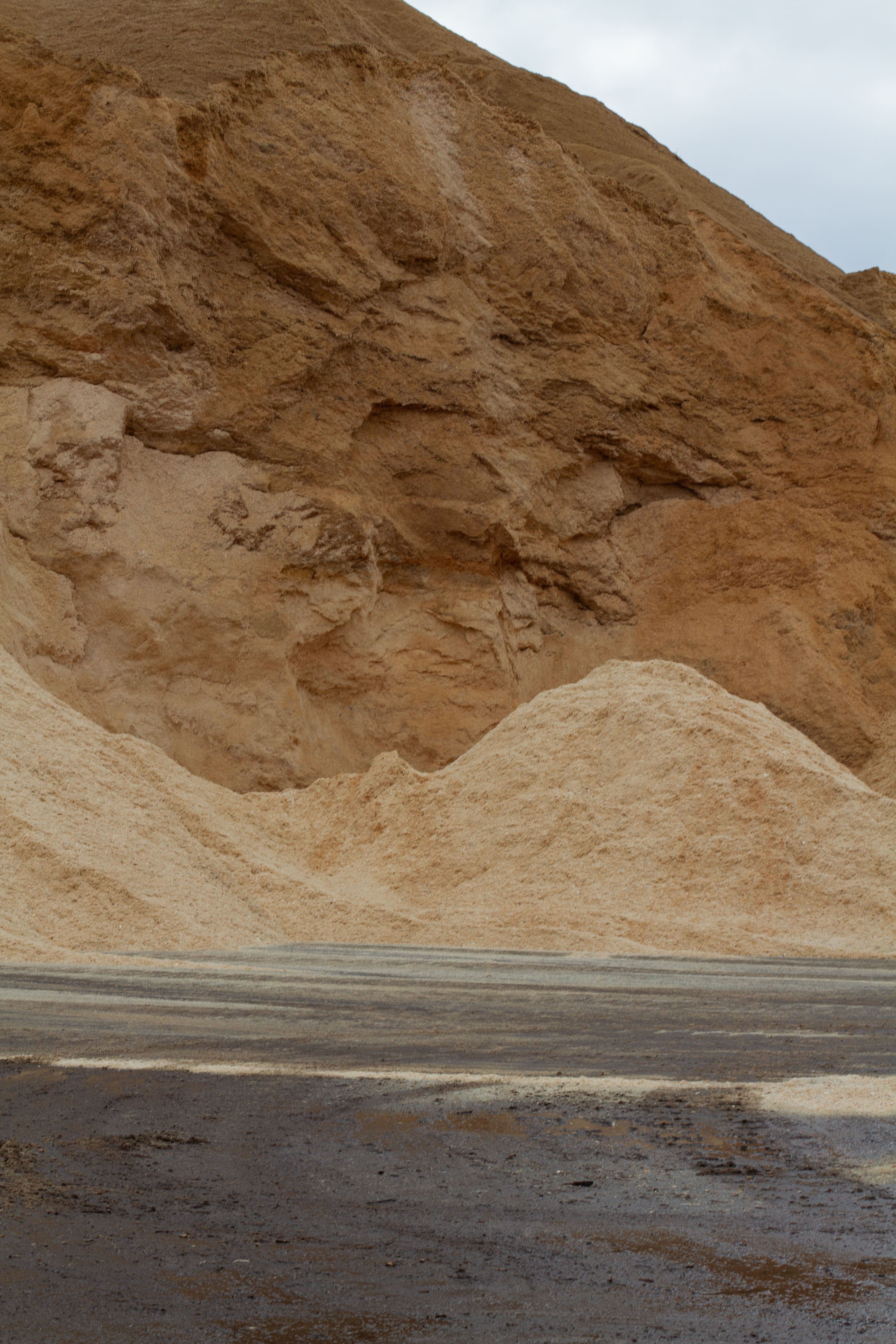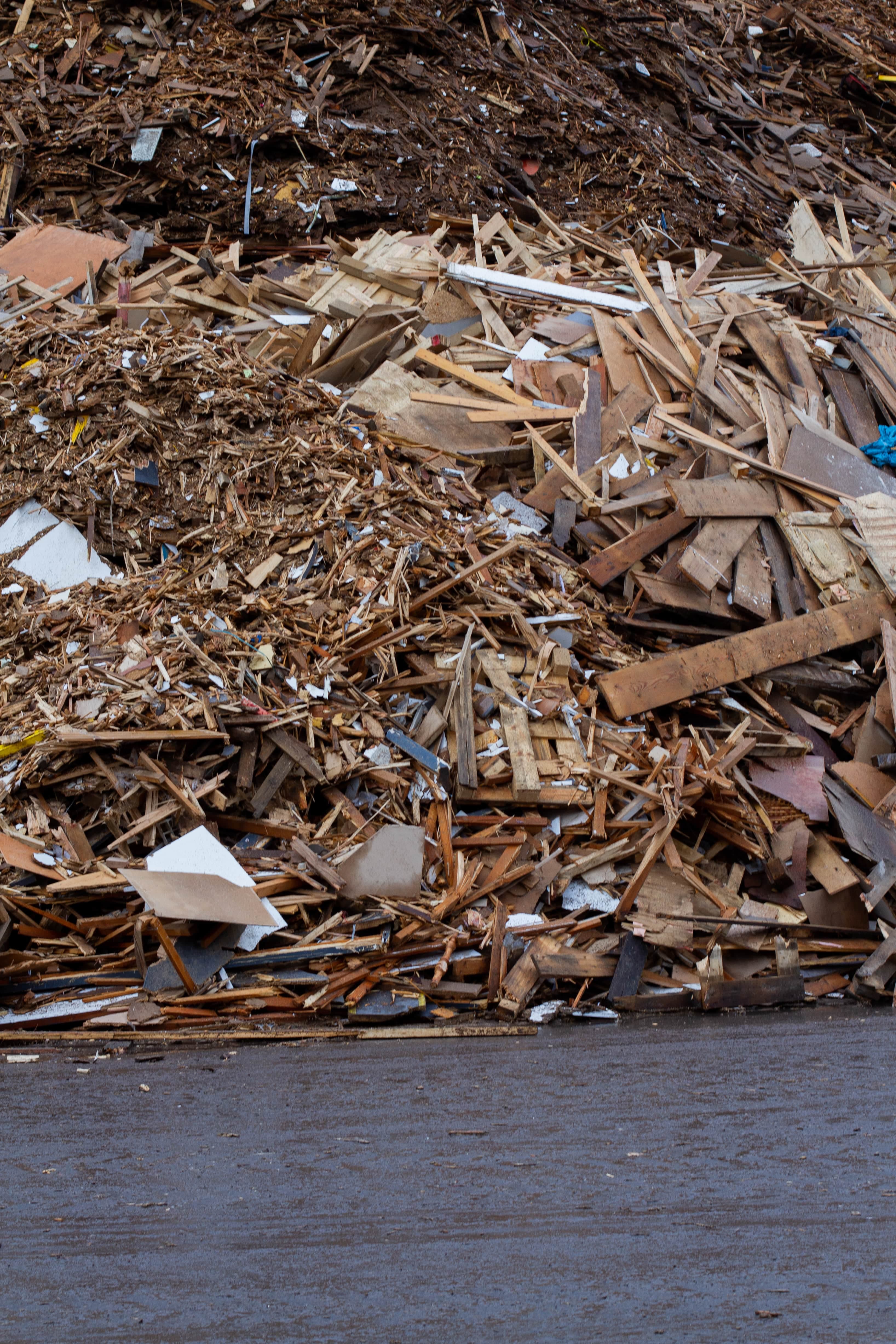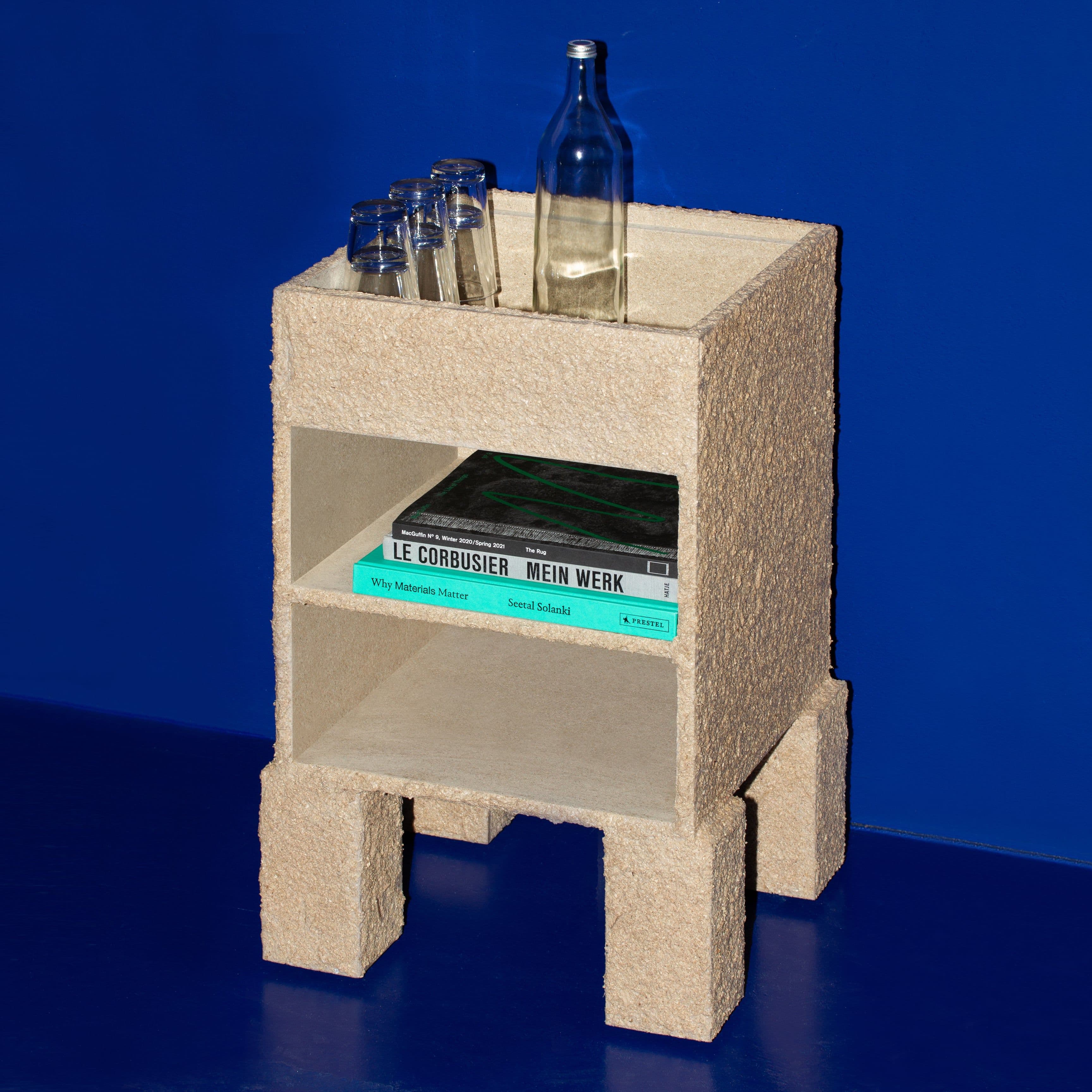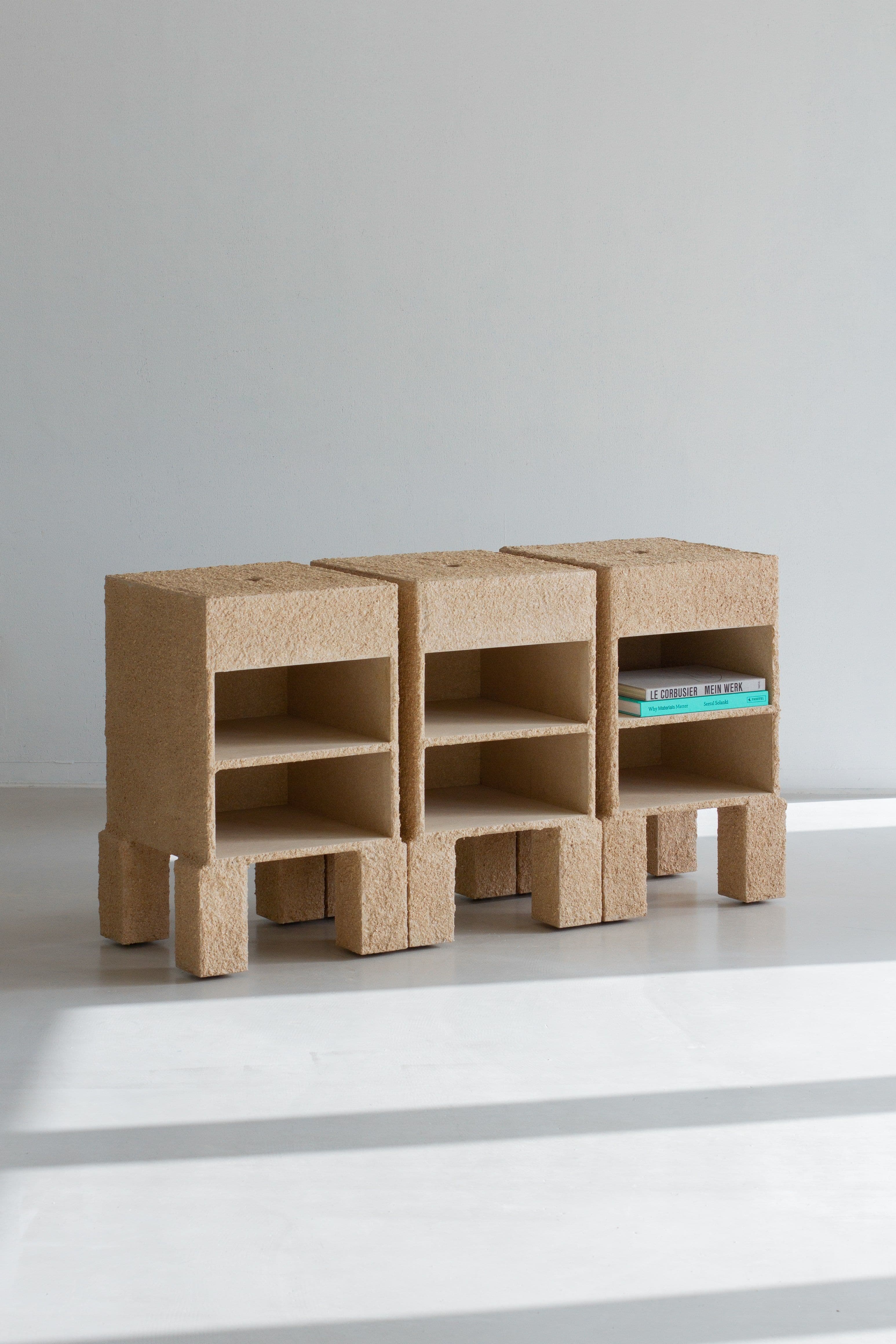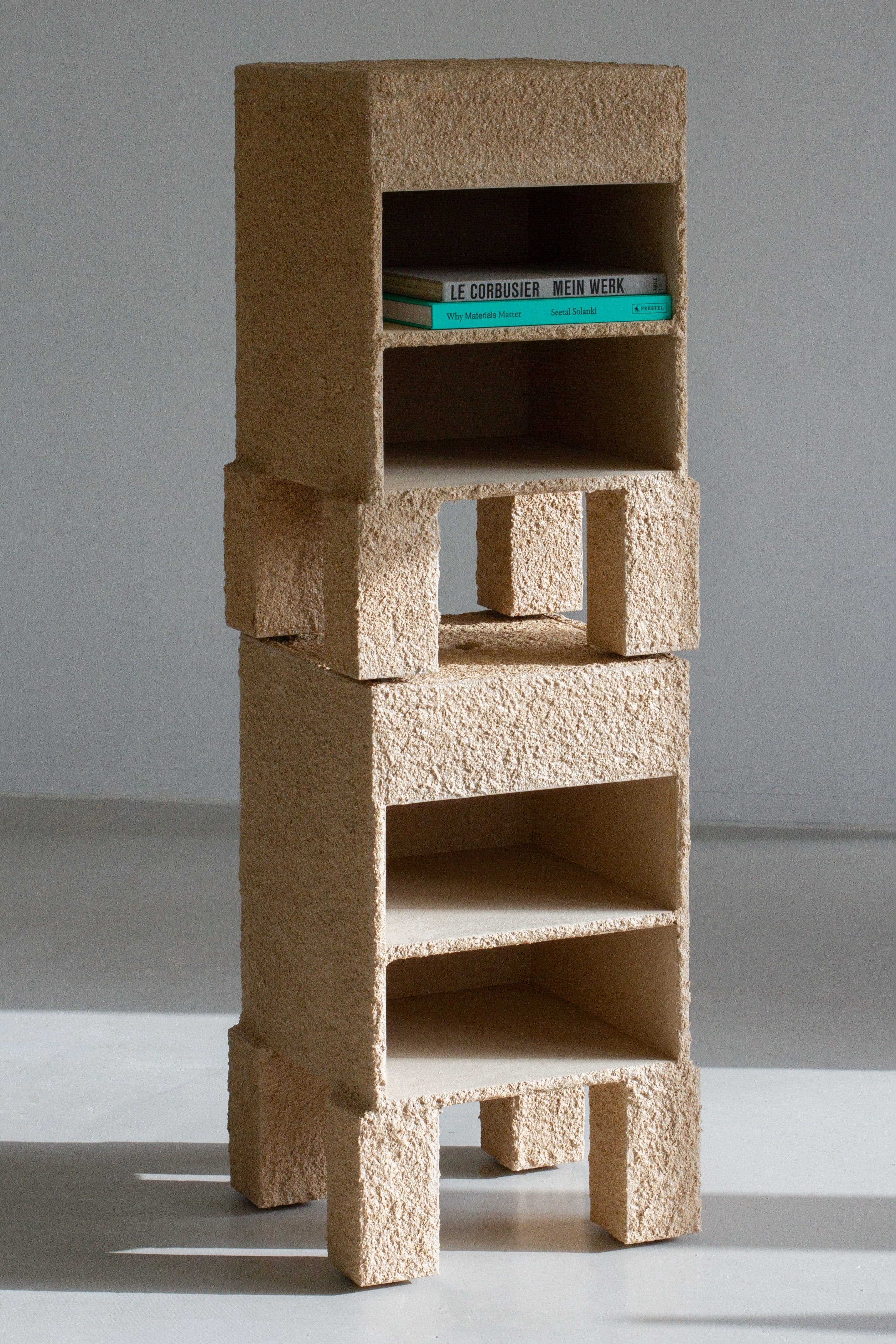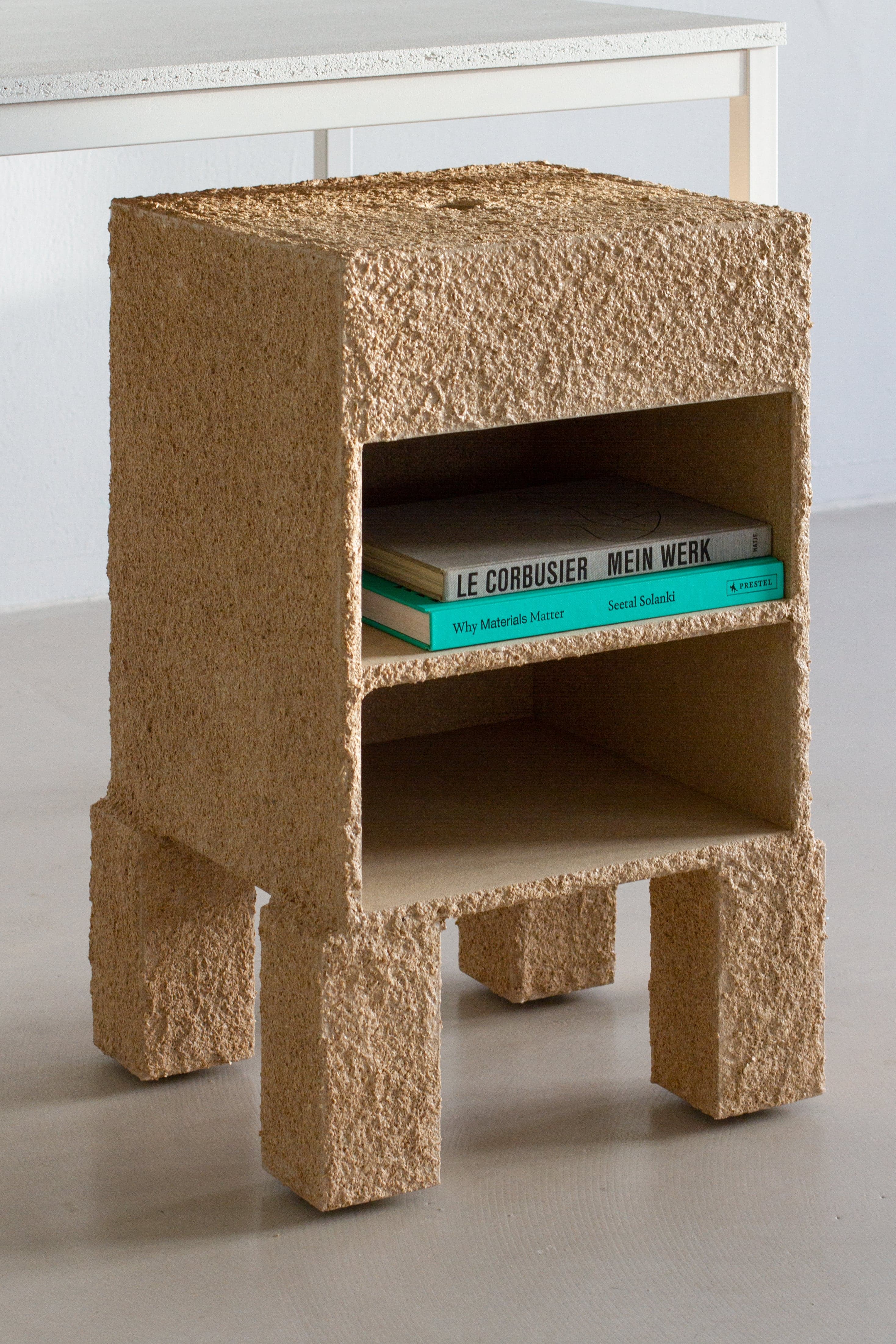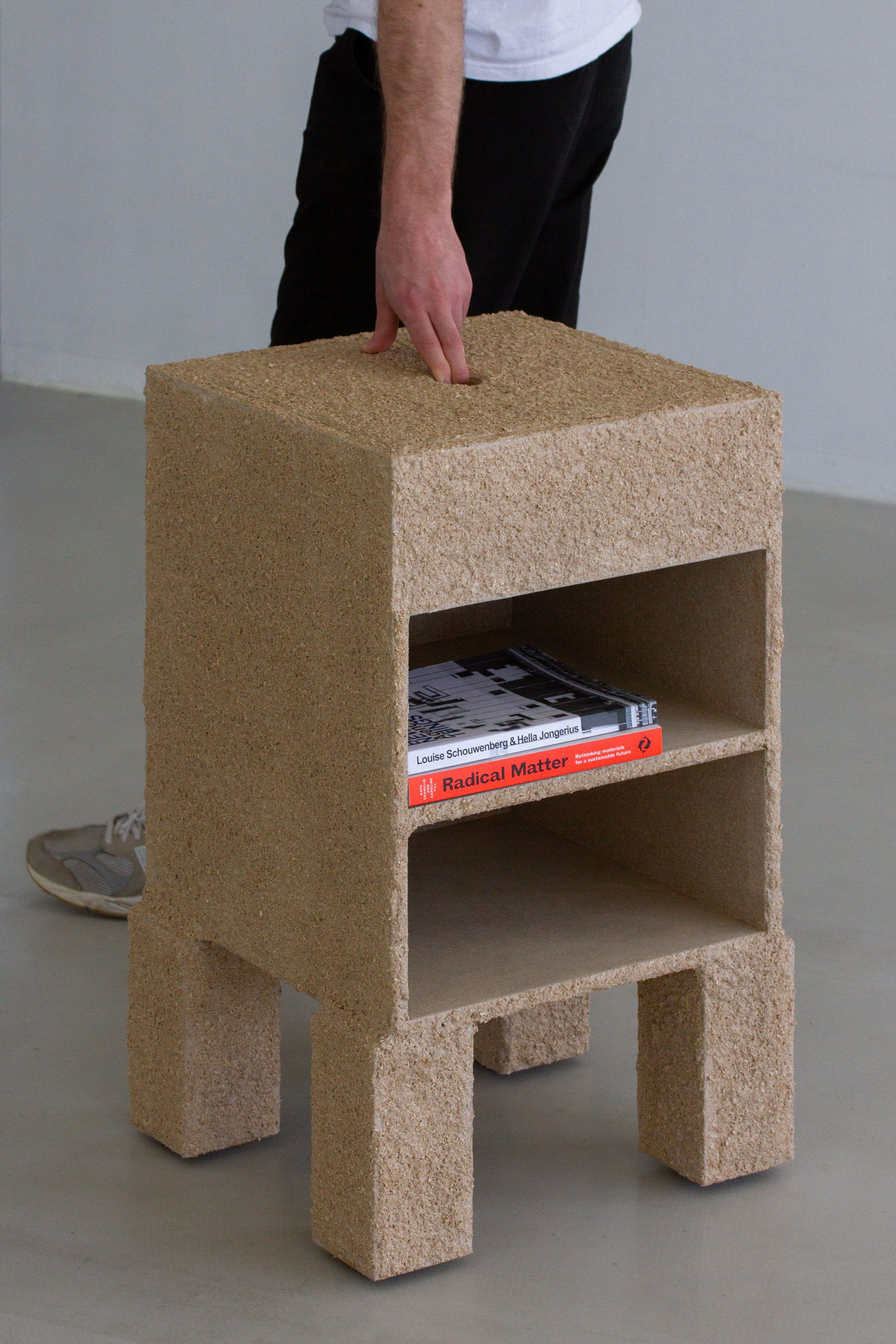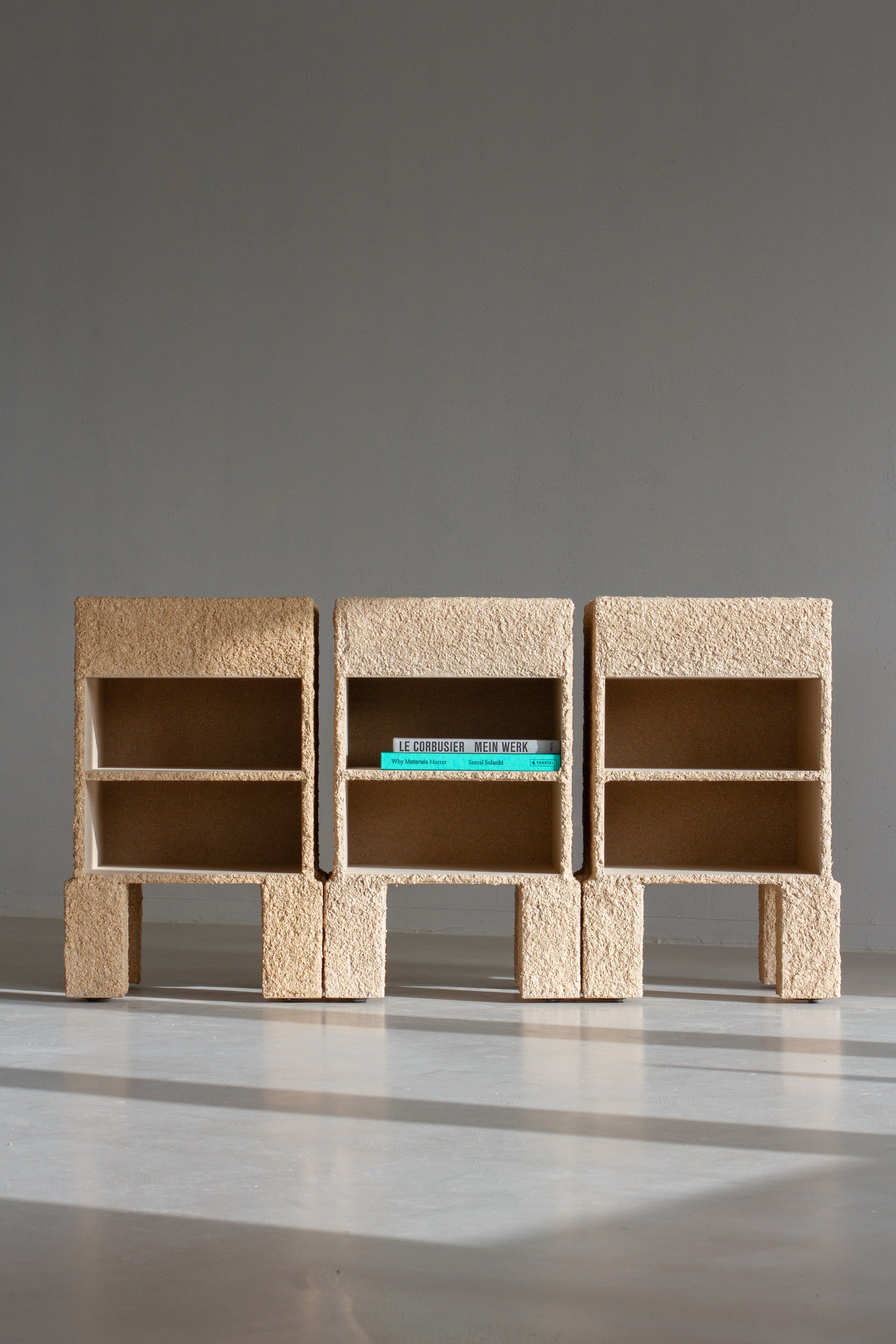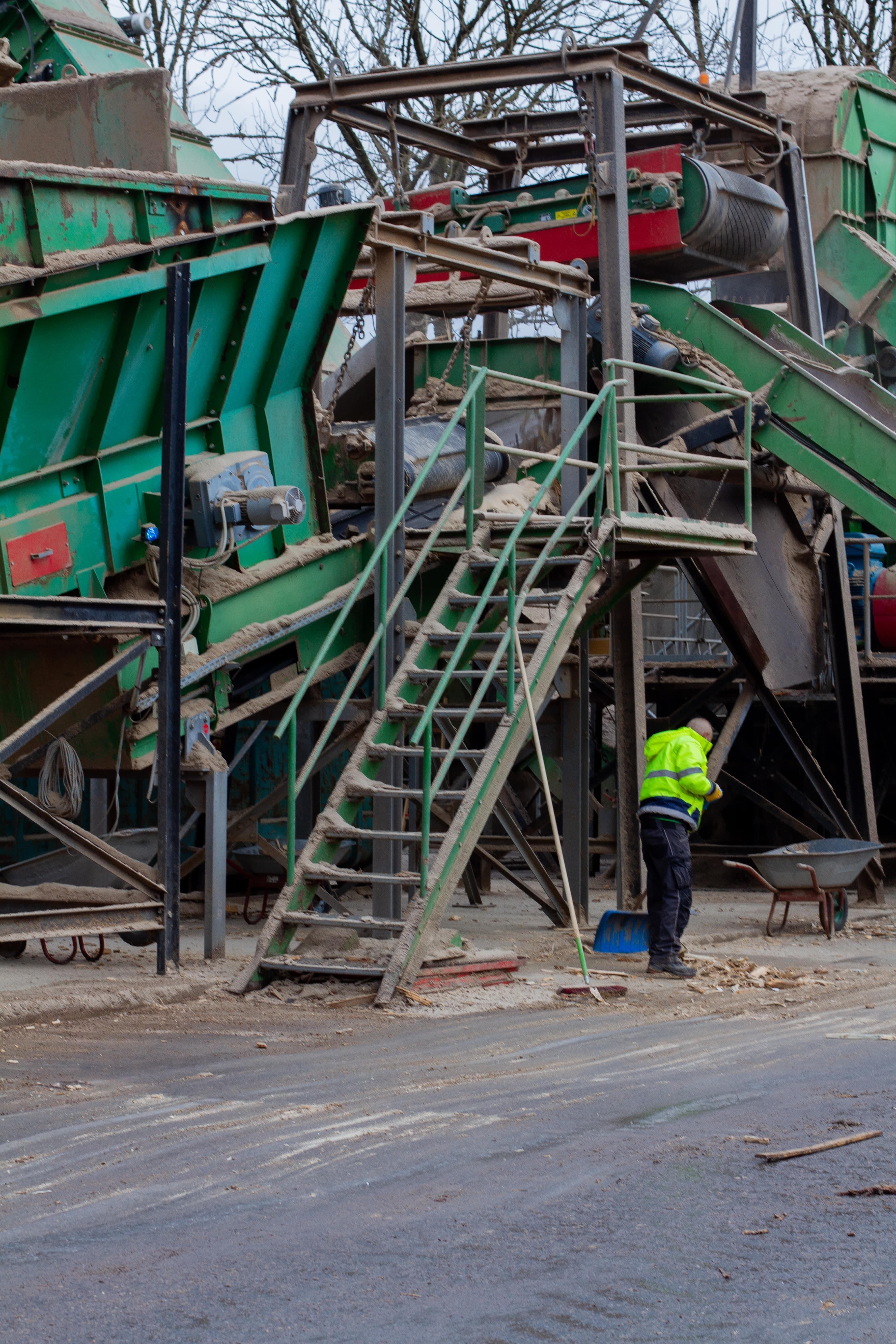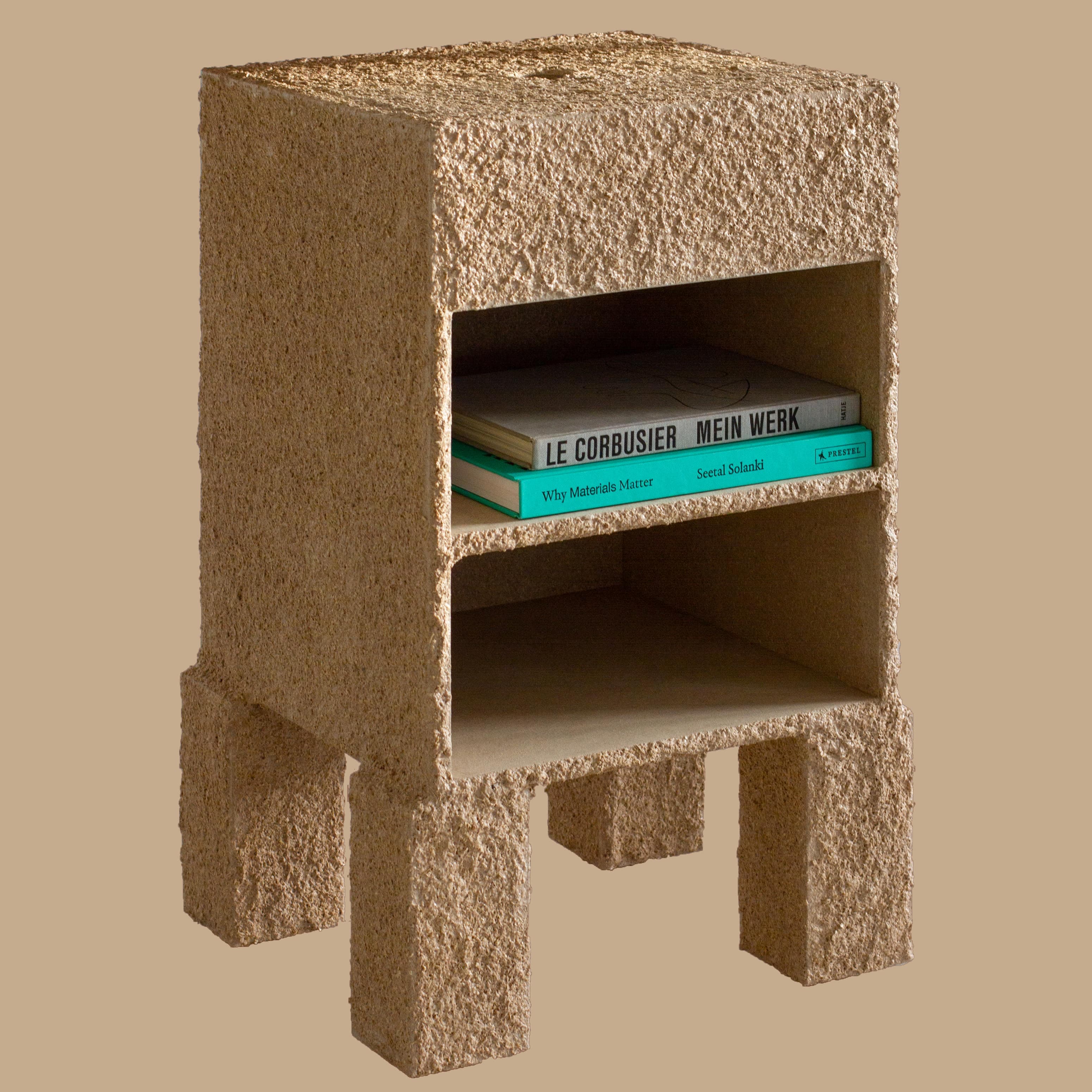 The material chipboard (DIN EN312) is one of the most widely used materials in the furniture industry, but mostly hidden under layers of synthetic or wooden veneer due to its visual appearance. Chipboard was invented in 1930 by Max Himmelheber in order to increase the utilization rate of trees. The process of reusing wooden waste and compressing it with sawdust has increased the utilization of a tree to 80 percent. By deliberately disclosuring and exaggeratedly highlighting the raw material an alternative interpretation and unconventonal use of recycled materials is showcased. Consisting of three movable parts the object EN312 can be individualy combined and arranged to support a more flexible way of storage and use of space.
Photography: ©Nils Körner
Presskit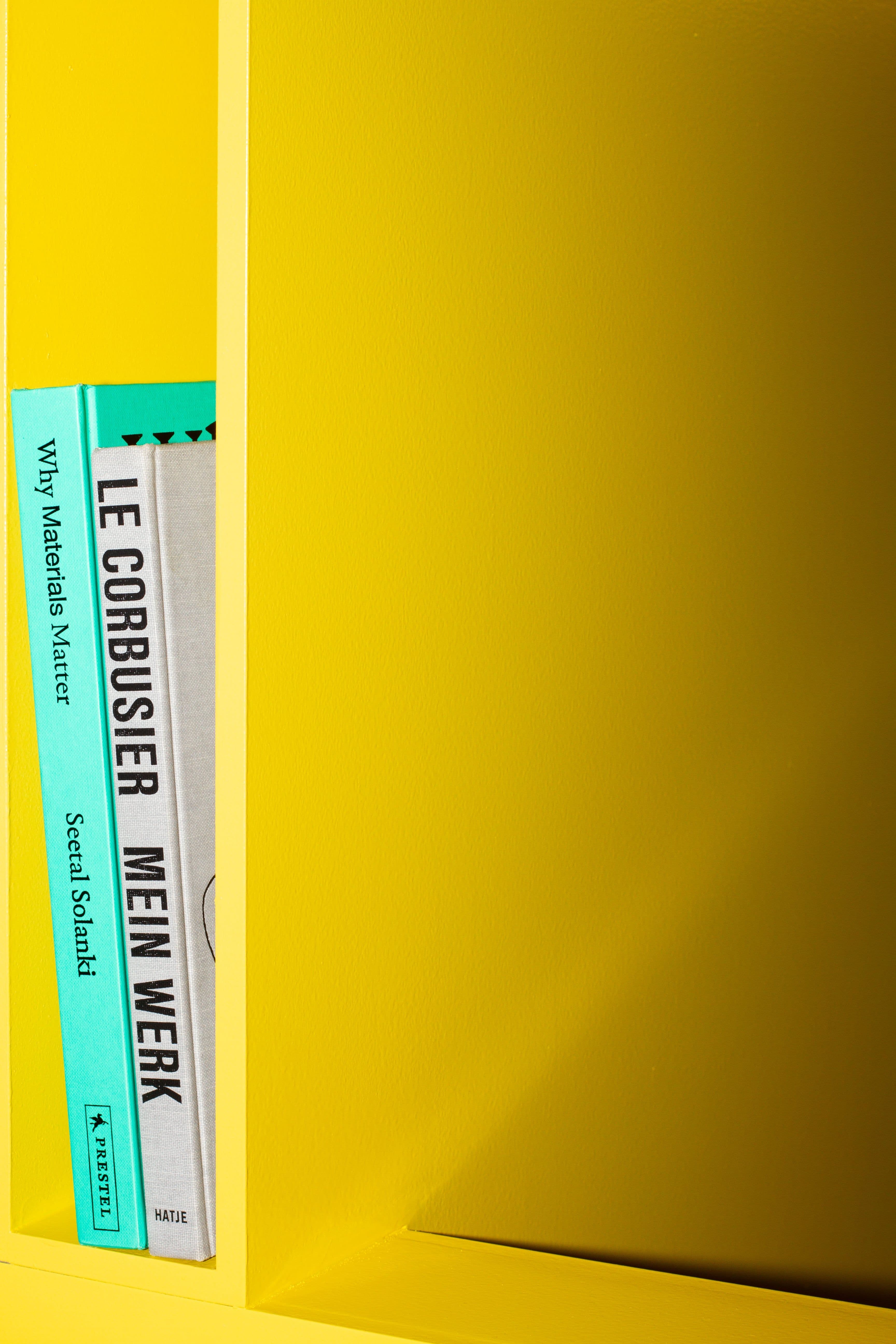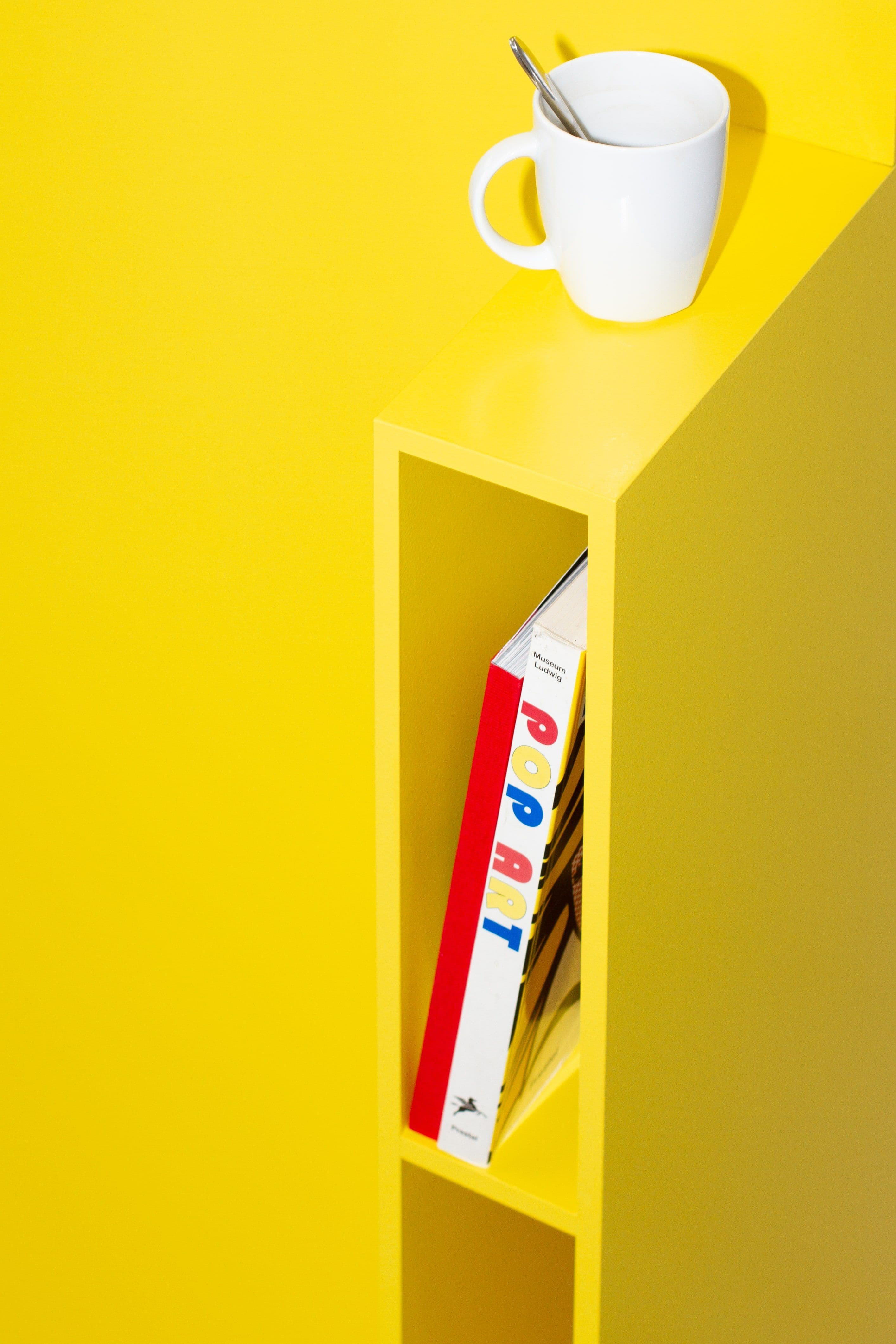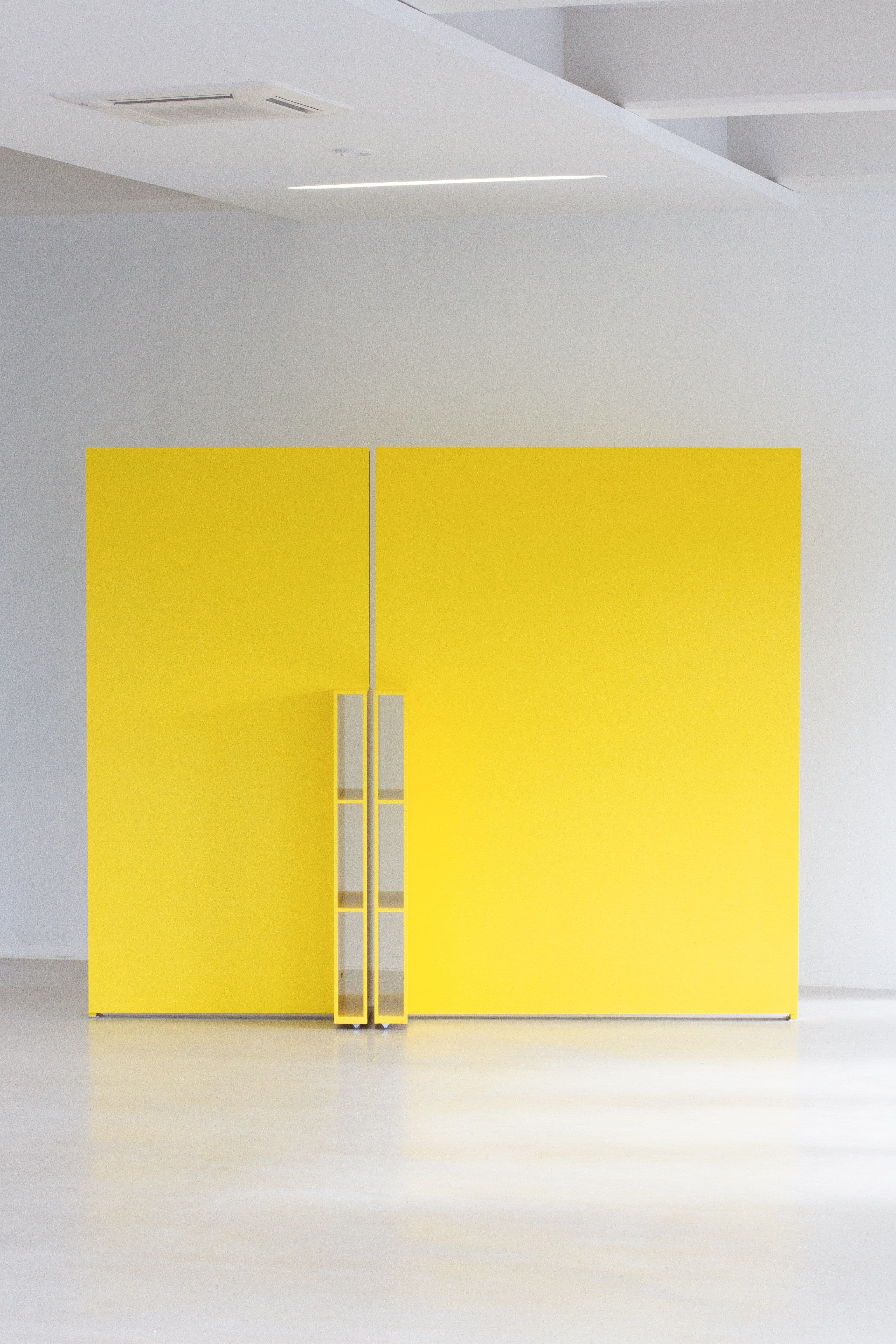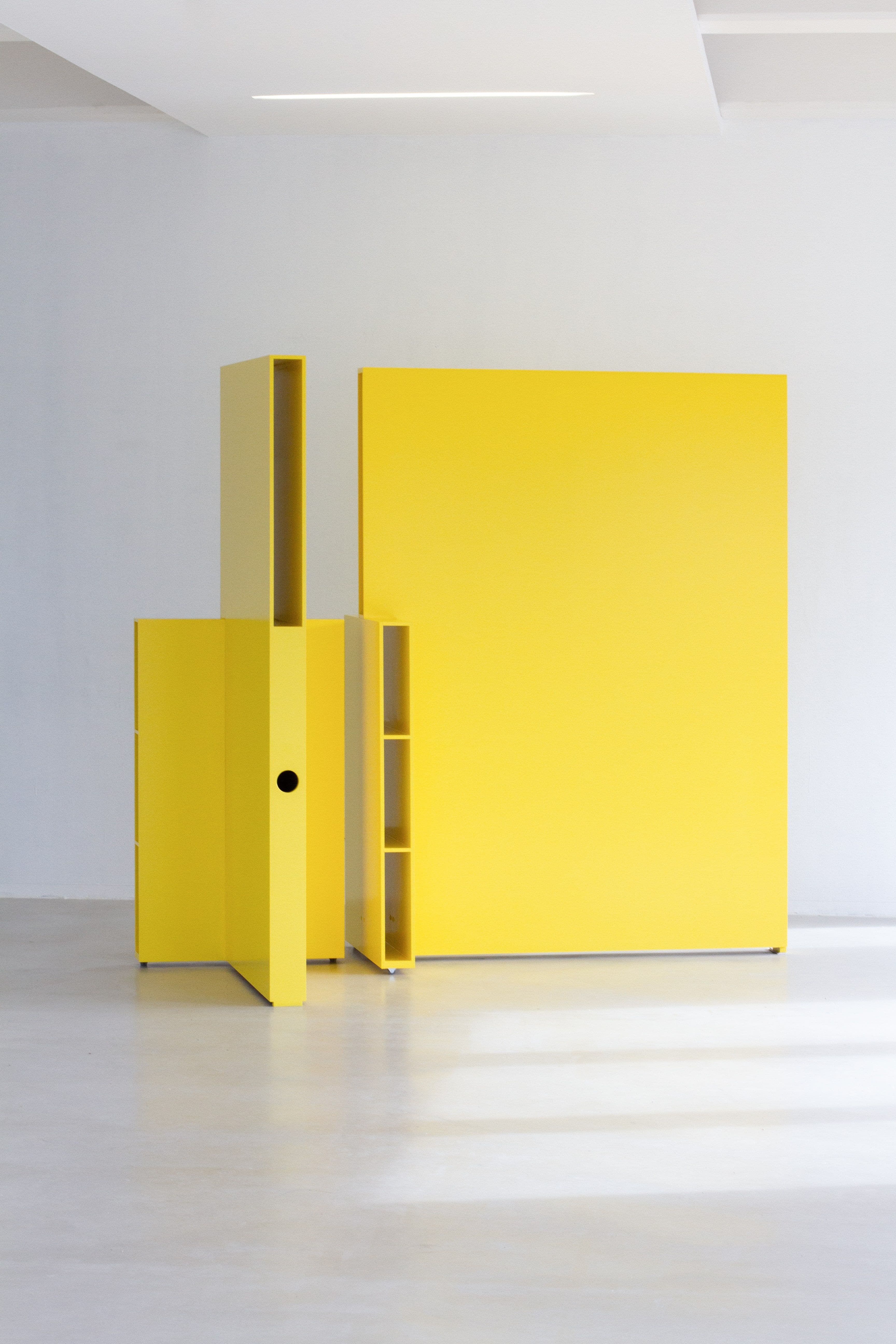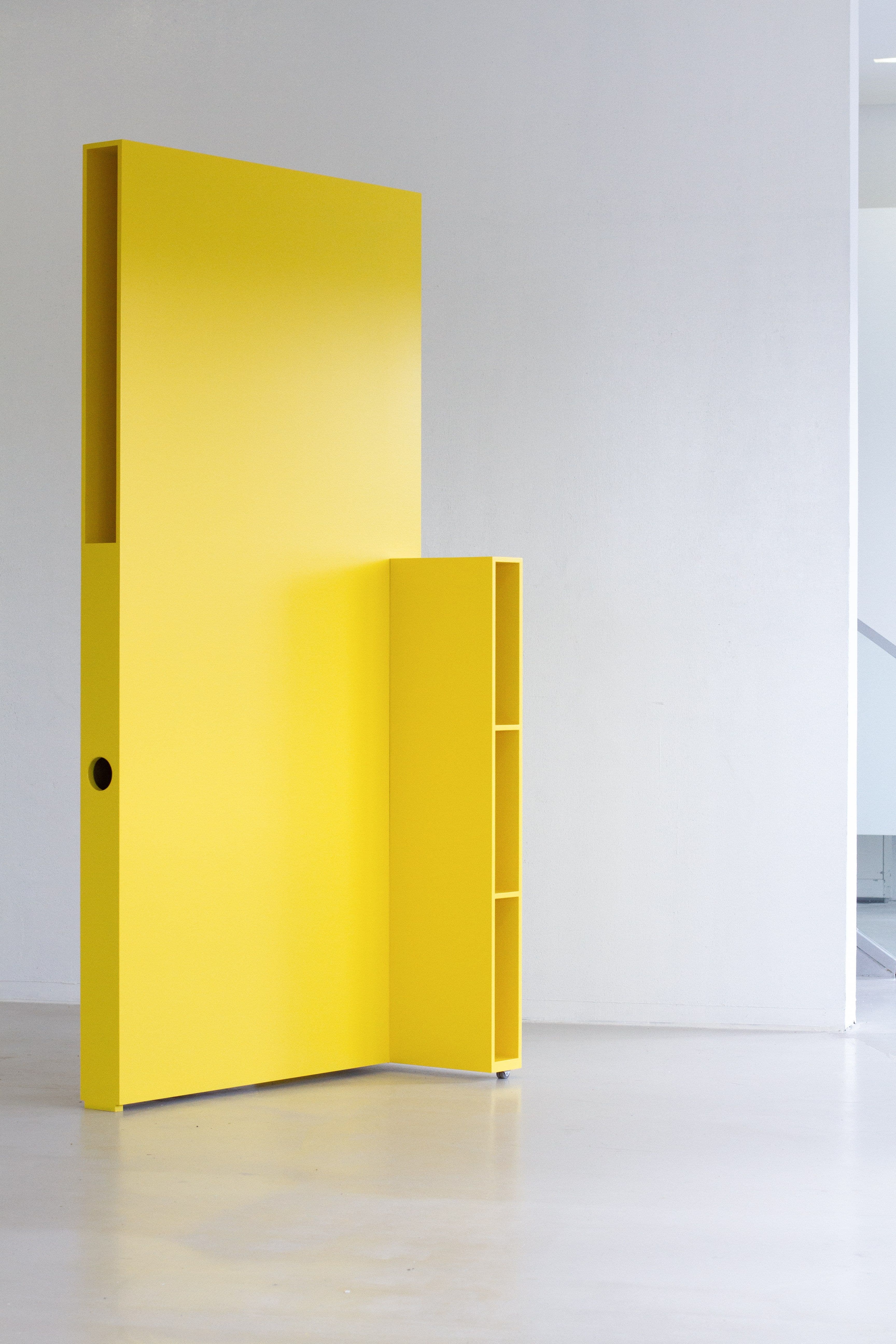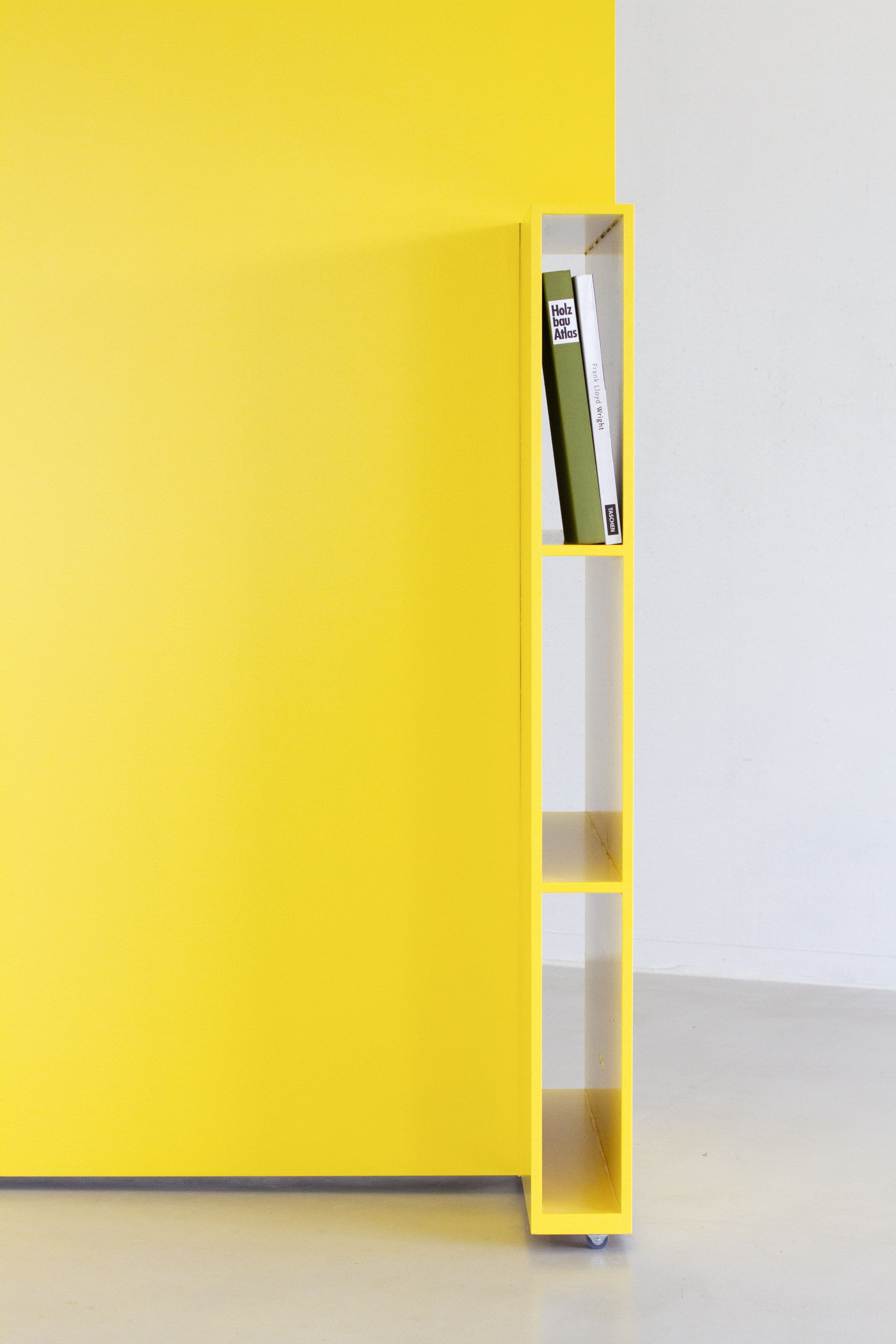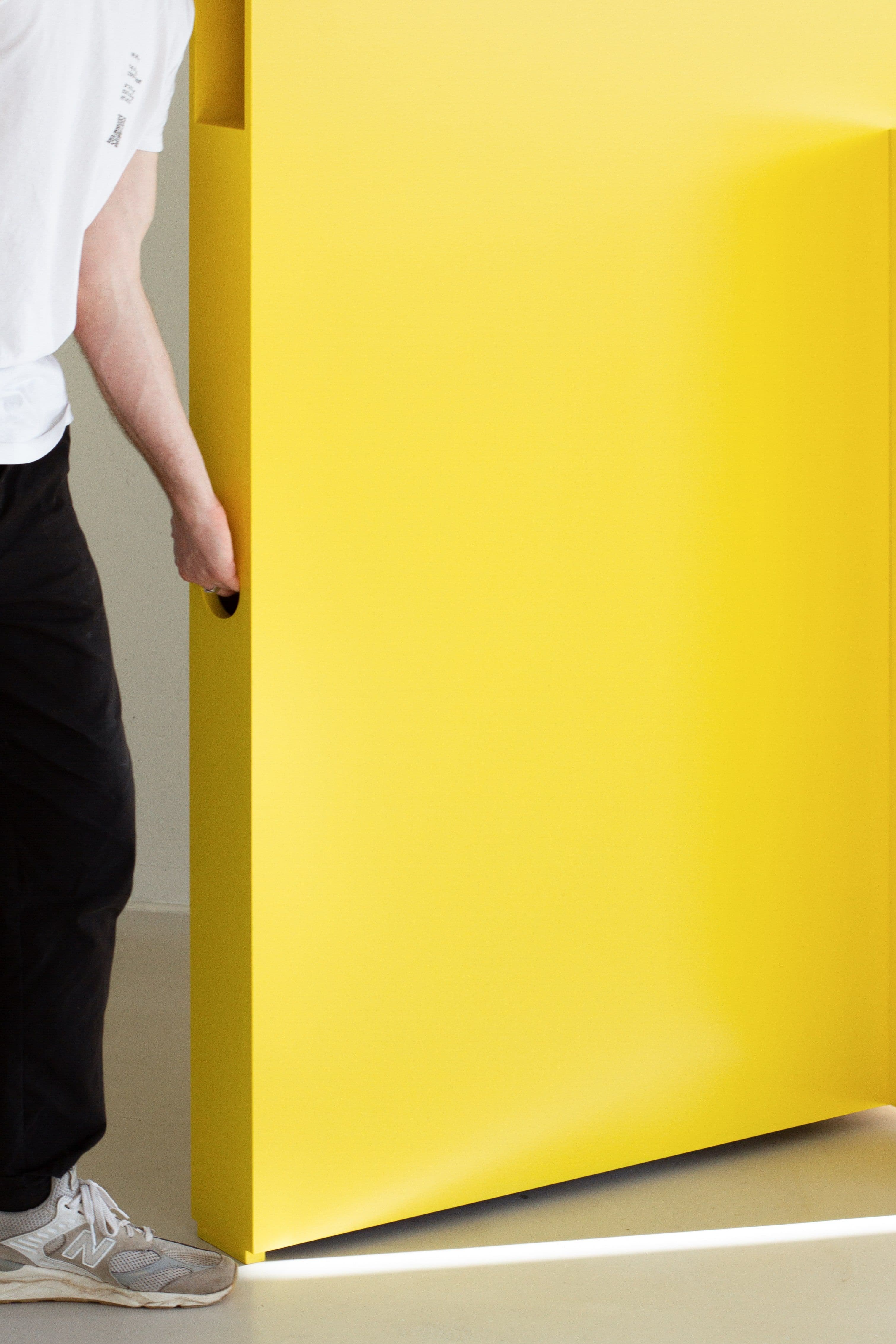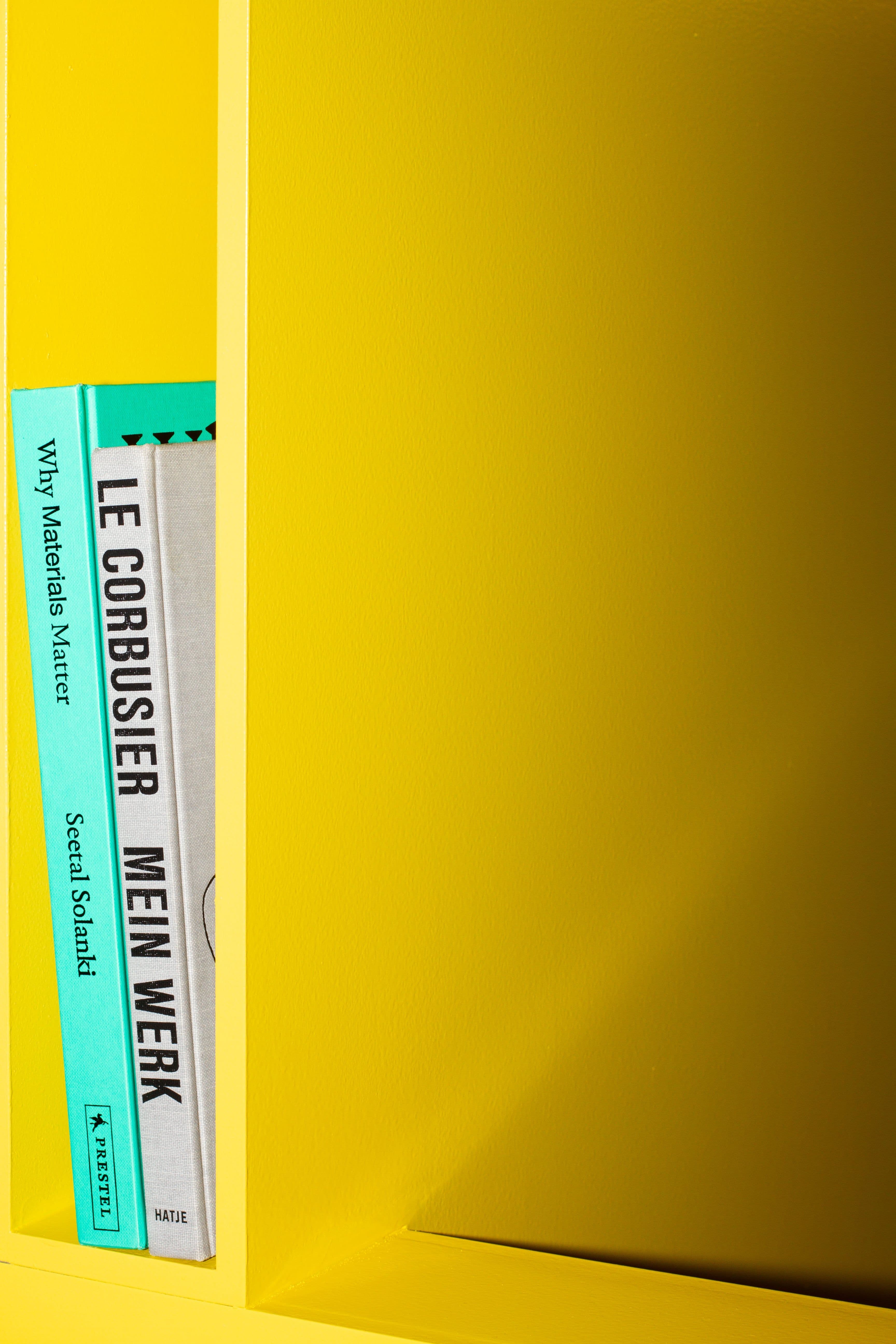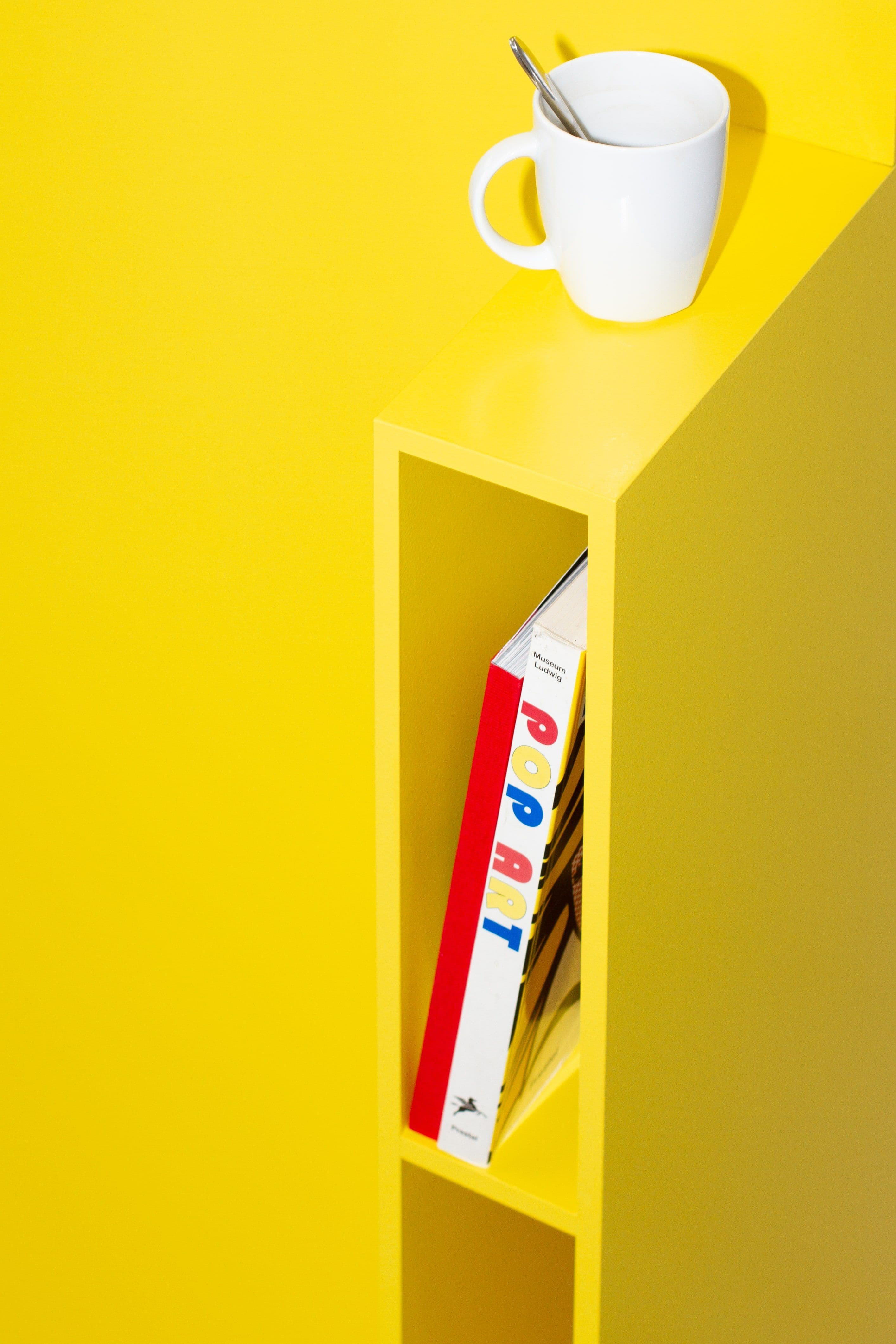 Walls define our living environments and provide short-term, unchangeable structures for our daily lives. The object "Yellow Wall" functions as movable partition wall consisting of two individual modules, allowing spatial structures to be reorganized. Similar to the principle of a wheelbarrow, the object can be lifted on one side and moved. Space can be used in a more diverse manner due to the possibilities of spontaneous division and opening. Each "Yellow Wall" is assembled by two modules anchored to each other. Through several breakouts in its volume, the object creates storage space, while simultaneously provide a solid construction. Moreover the writable, vertical surfaces supports working in a standing position.
Photography: ©Haus Otto
Presskit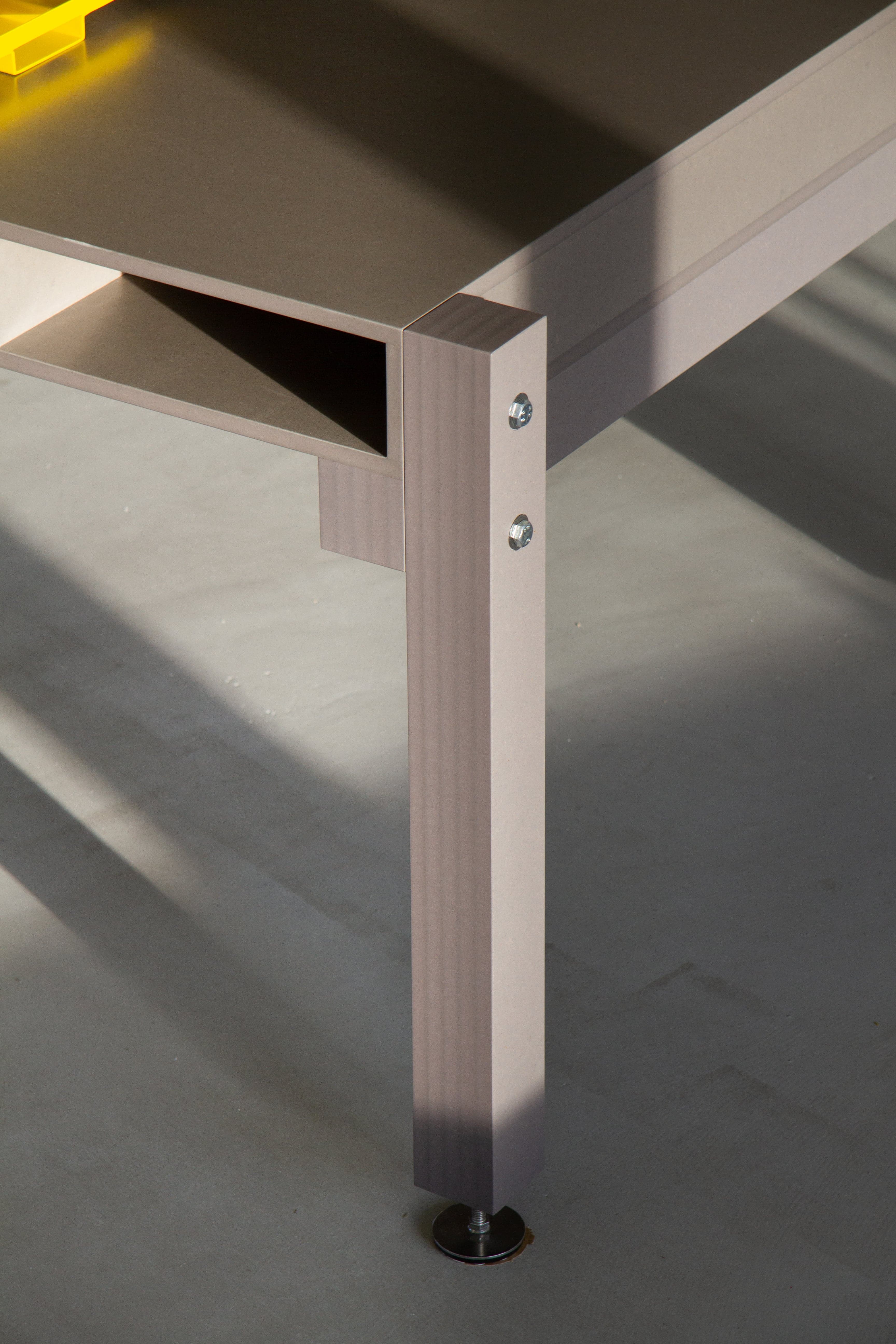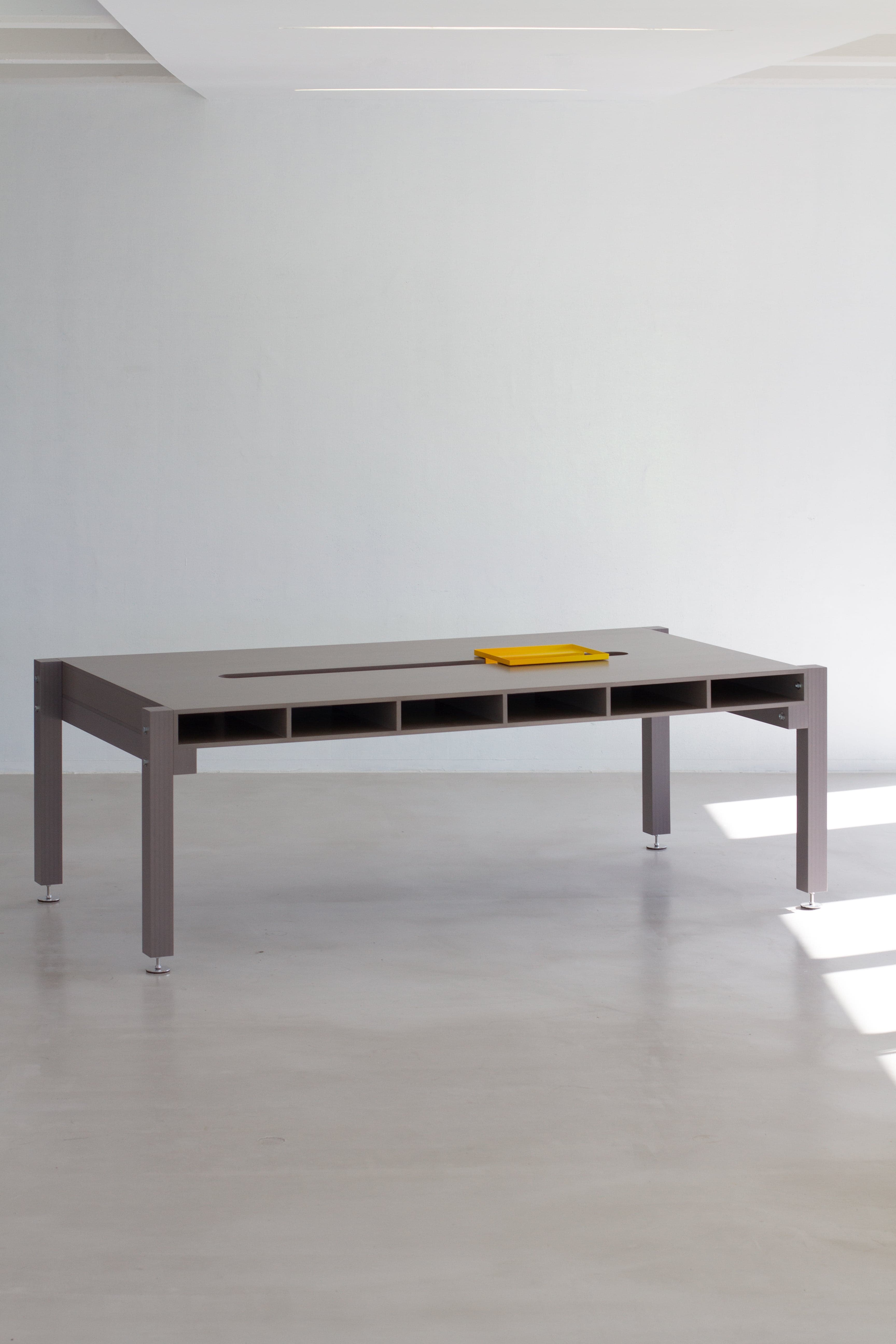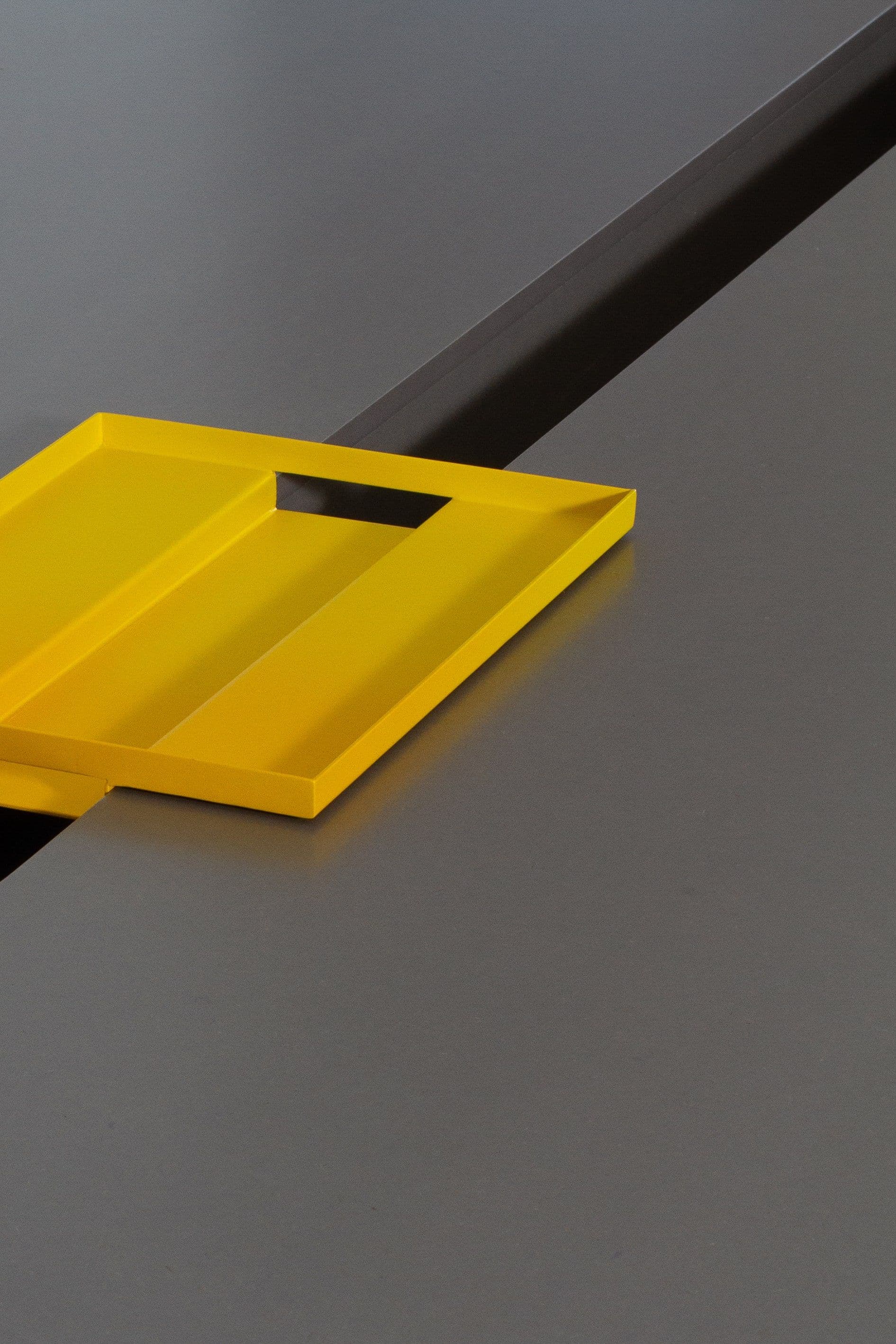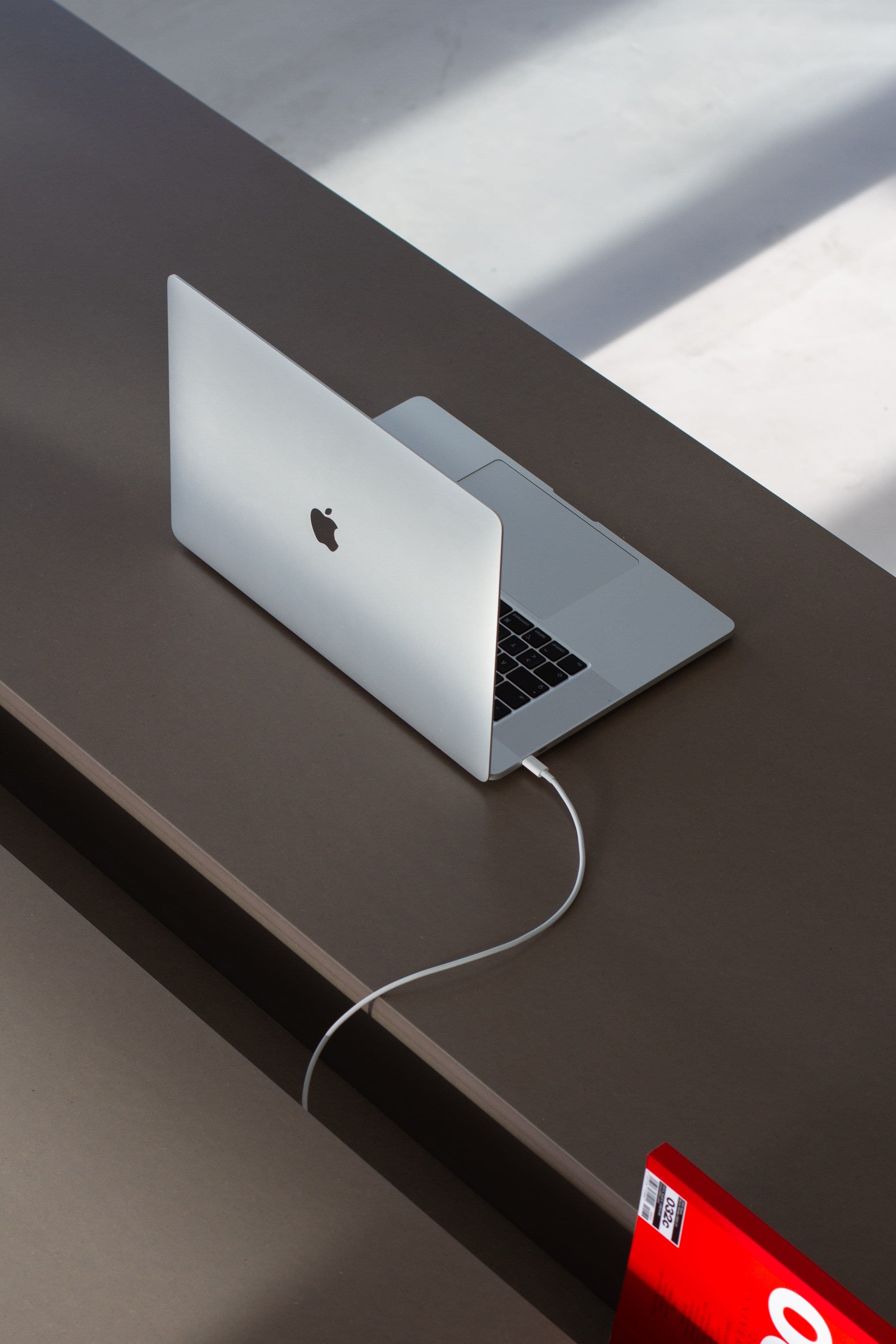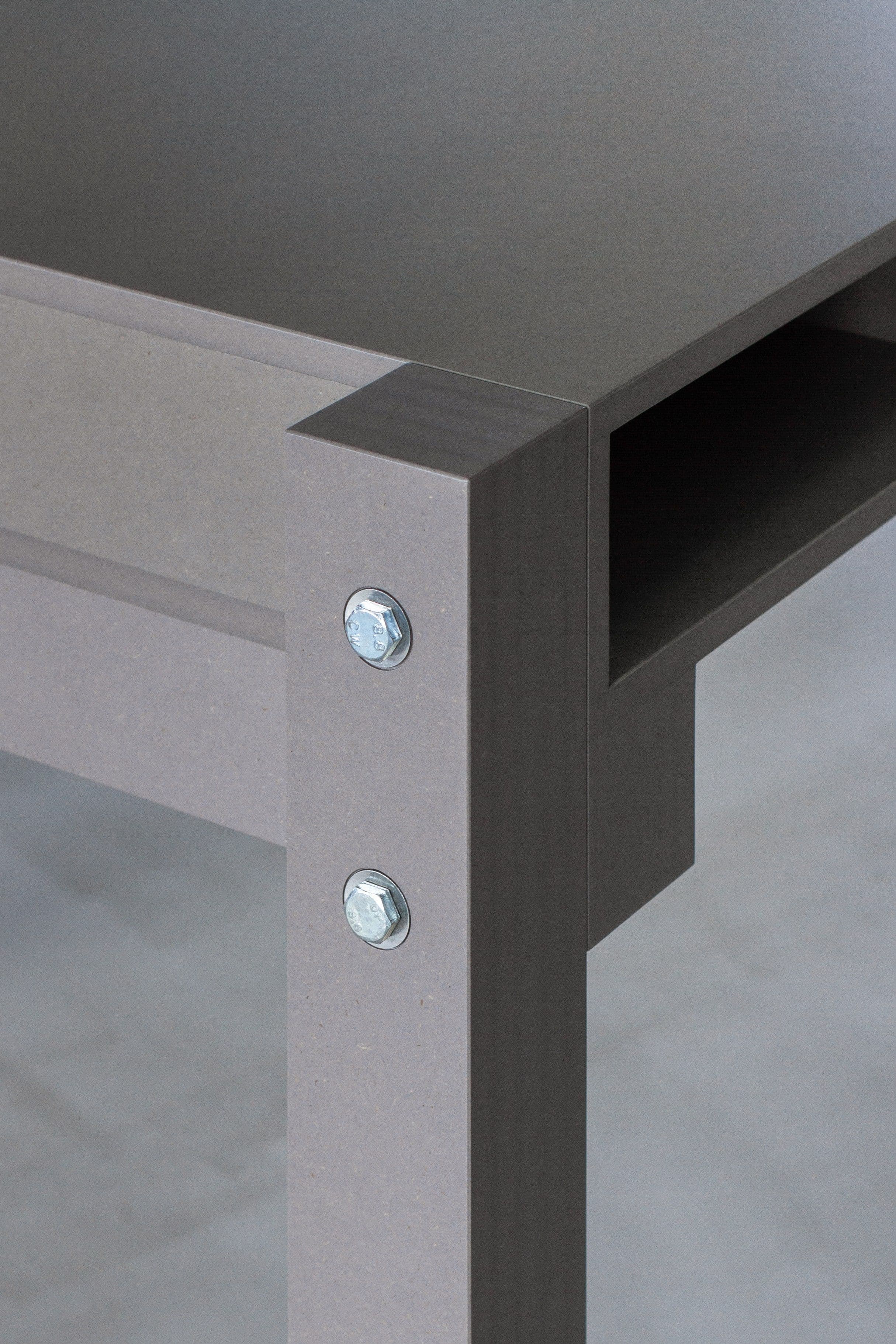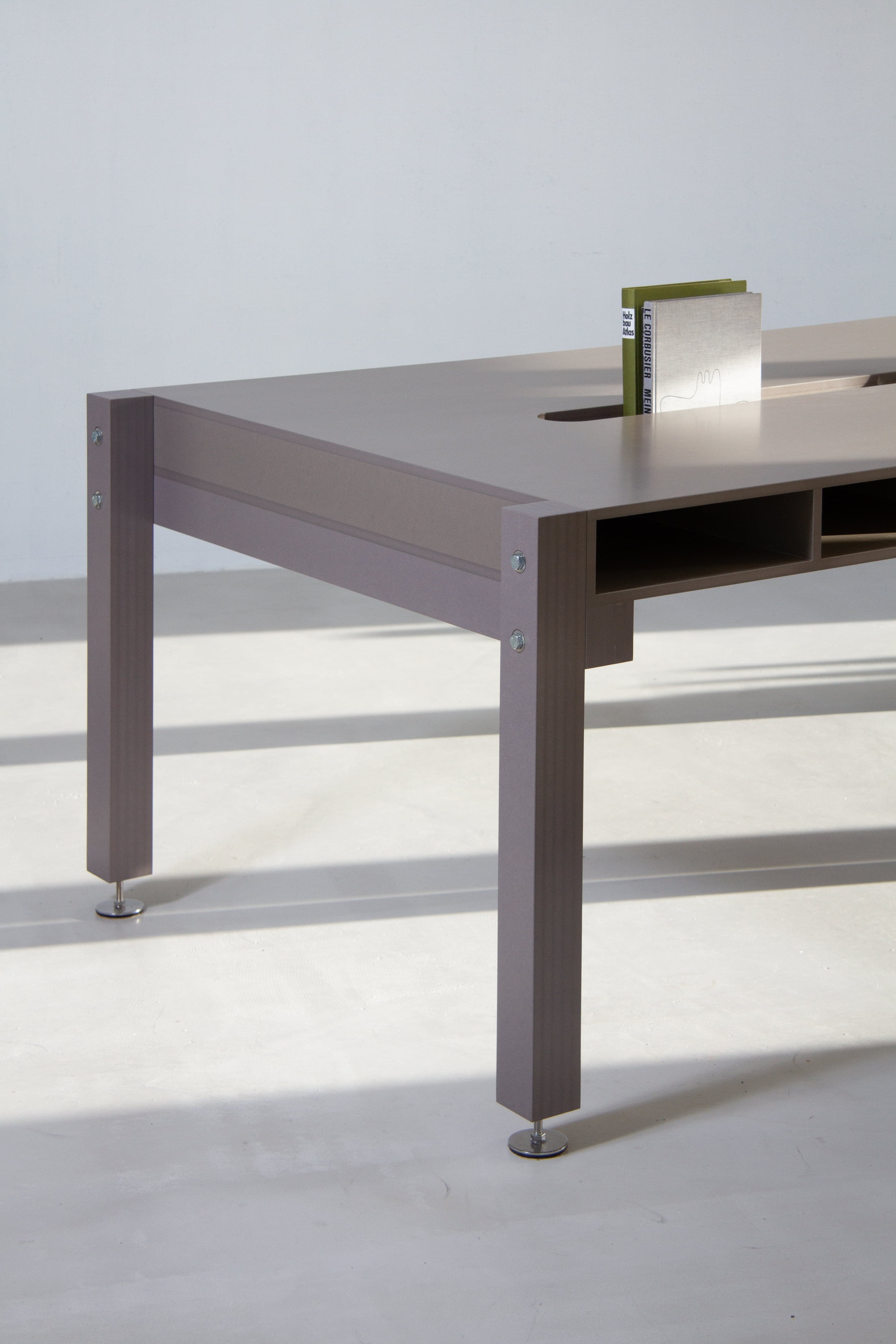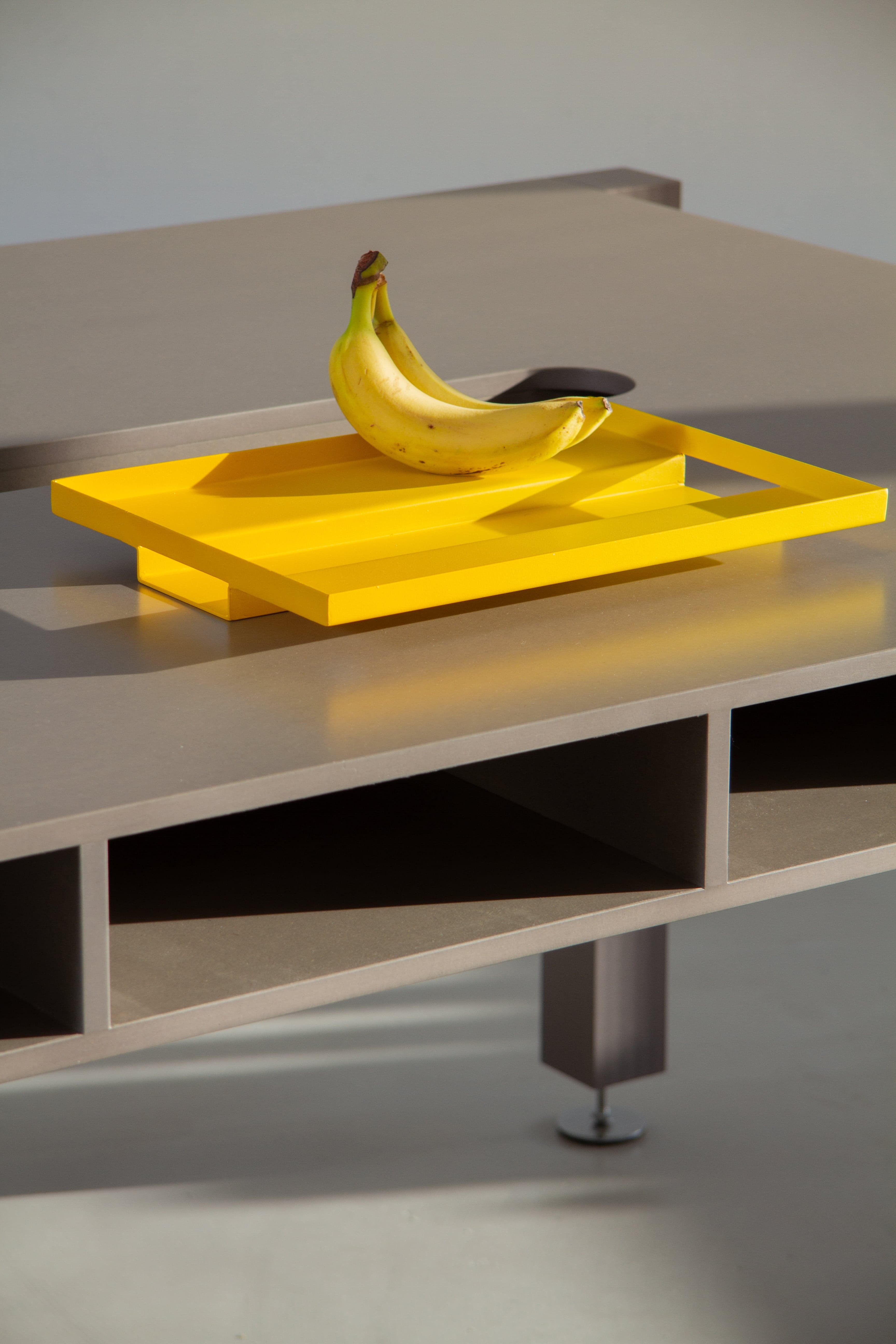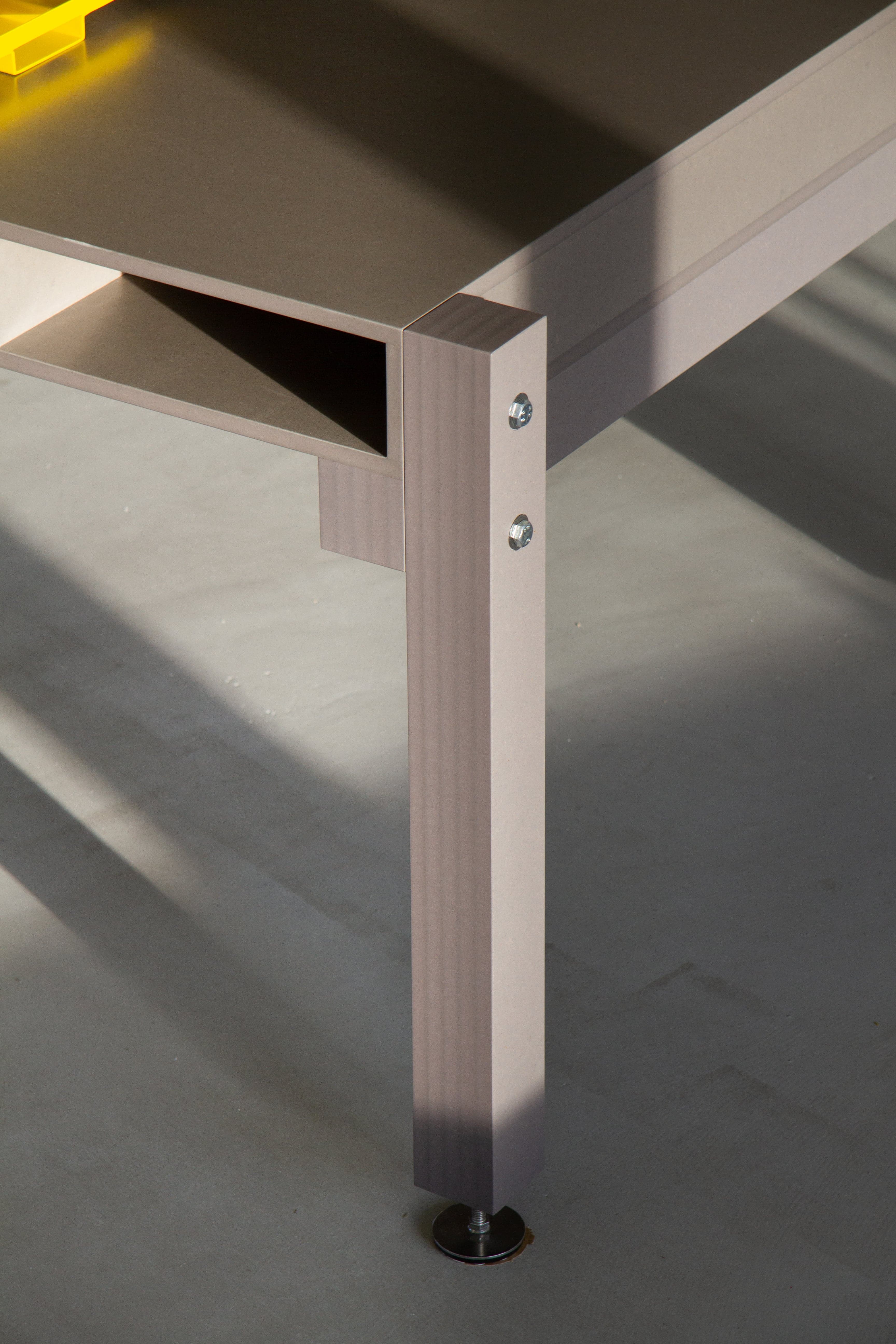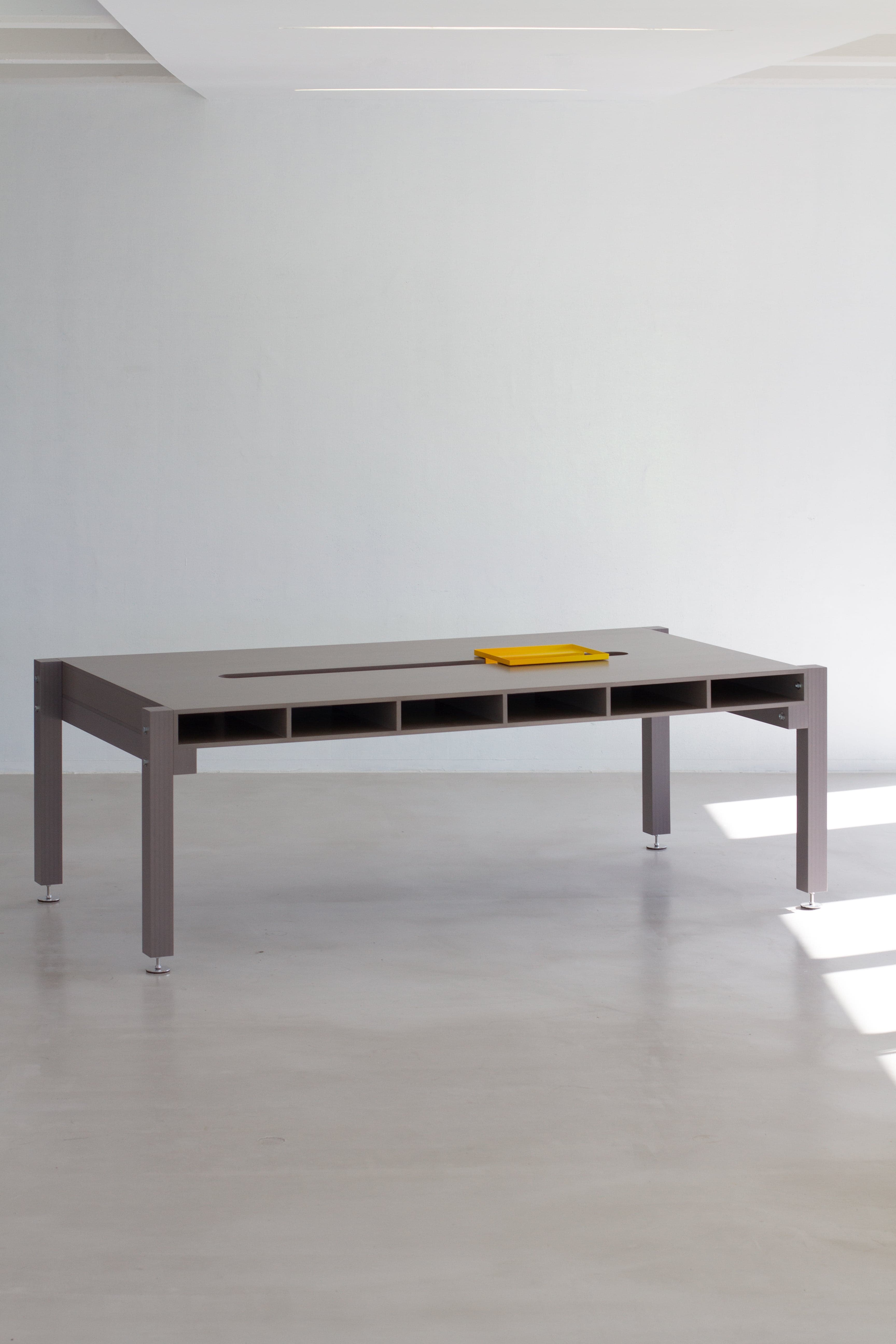 Especially in a work environment designed for flexibility and constant change, consistent structures play an important role in maintaining a fixed spatial frame of reference.The "Work Table" creates a constant in an office that can be adapted to different work situations and is constantly in motion. It embodies the moment of repetitive meetings and collective exchanges. Due to the division into two levels, it can easily adapt to different uses. At the same time, its structure and height are oriented towards a traditional workbench, allowing work in a standing position. "Work Table" is part of the SuperOffice series, a collection of objects and products for the brand Concept Office.
Photography: ©Haus Otto
Presskit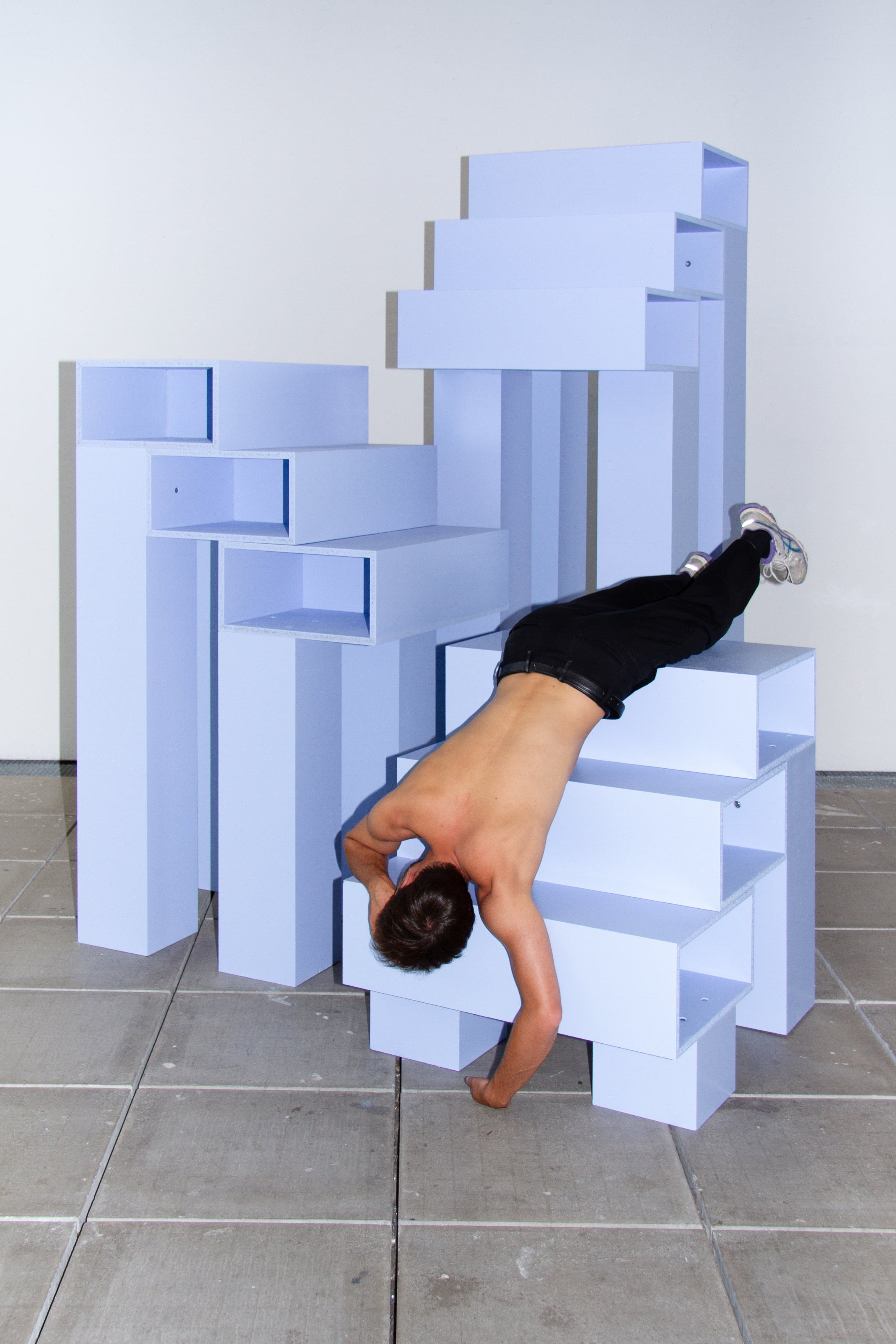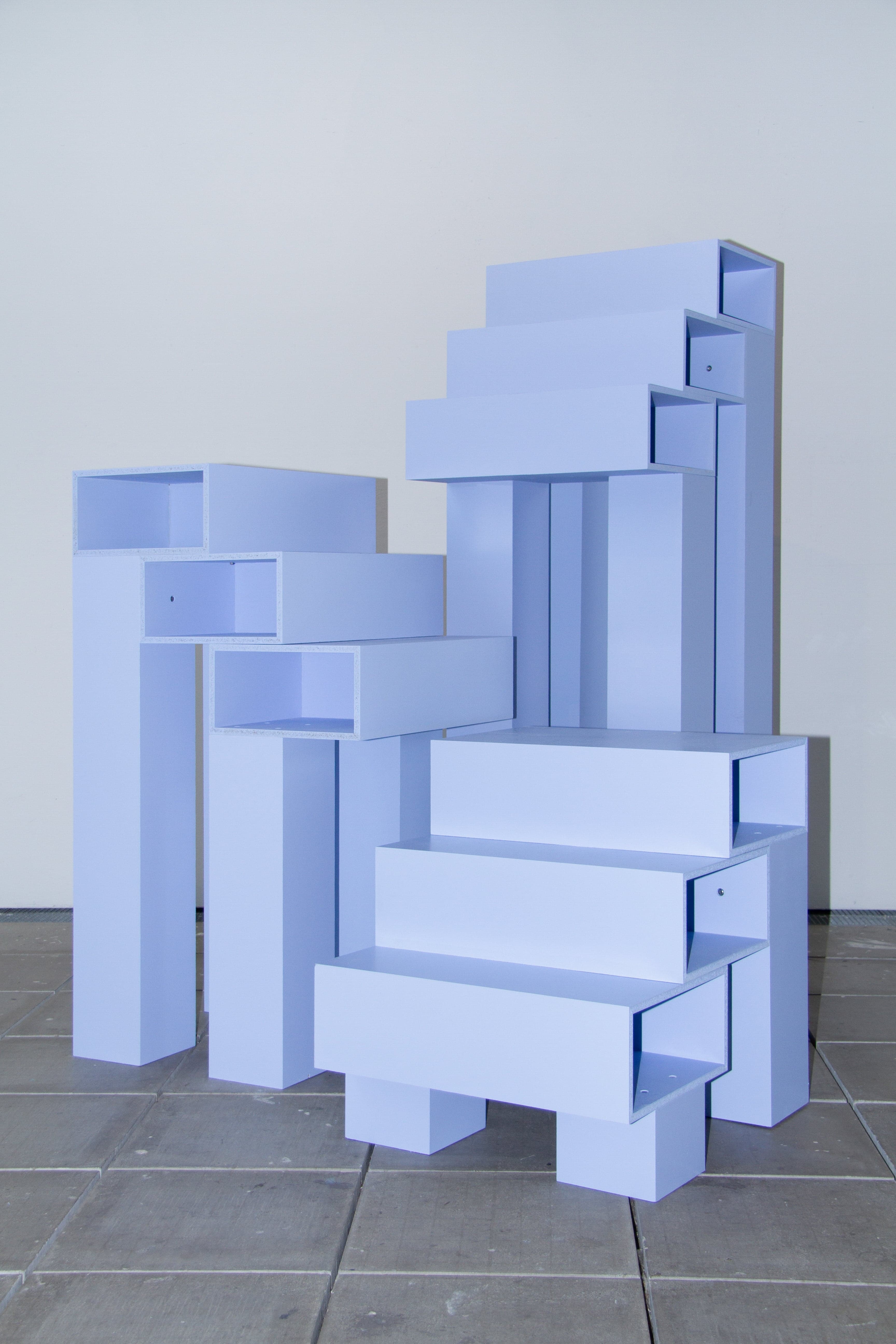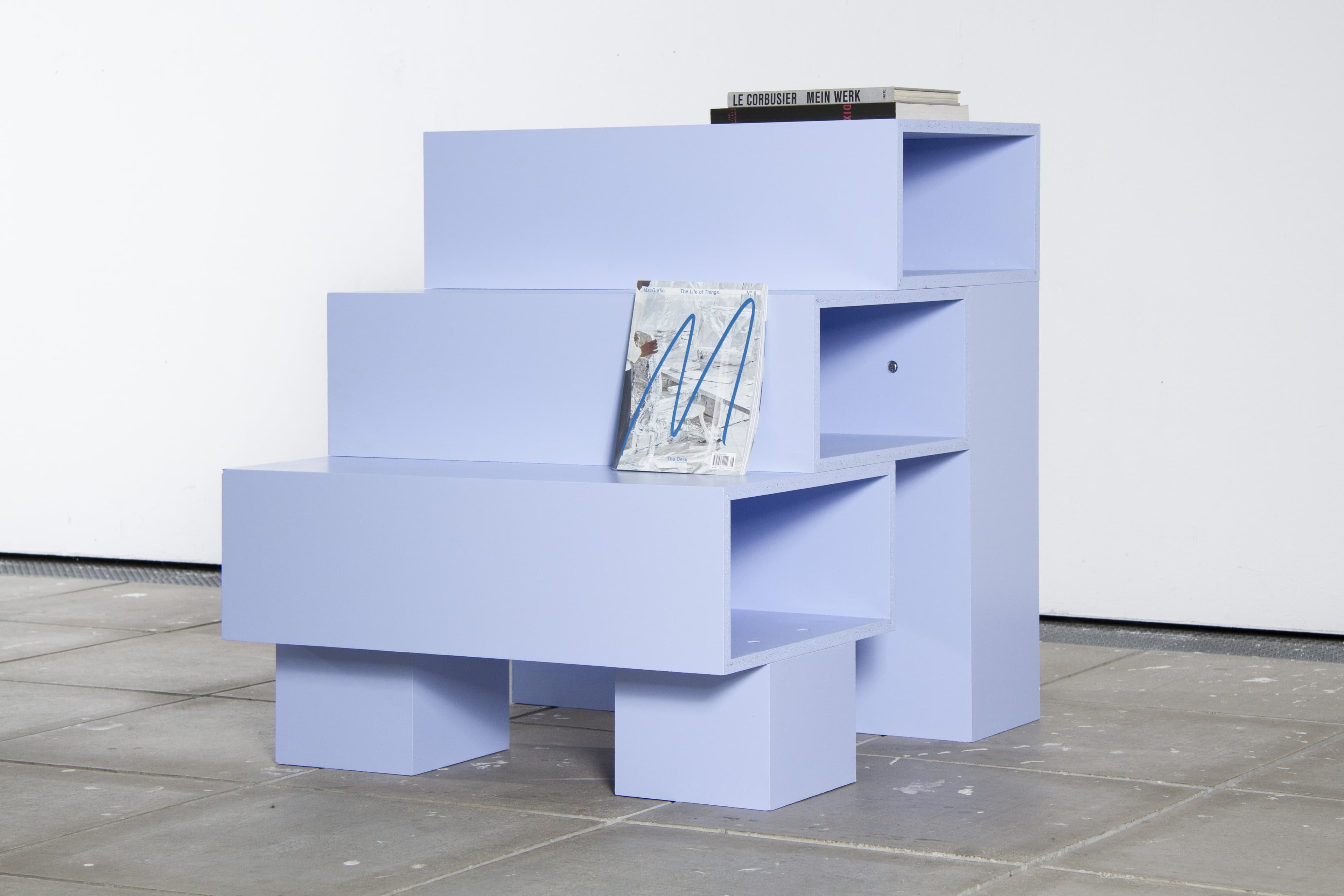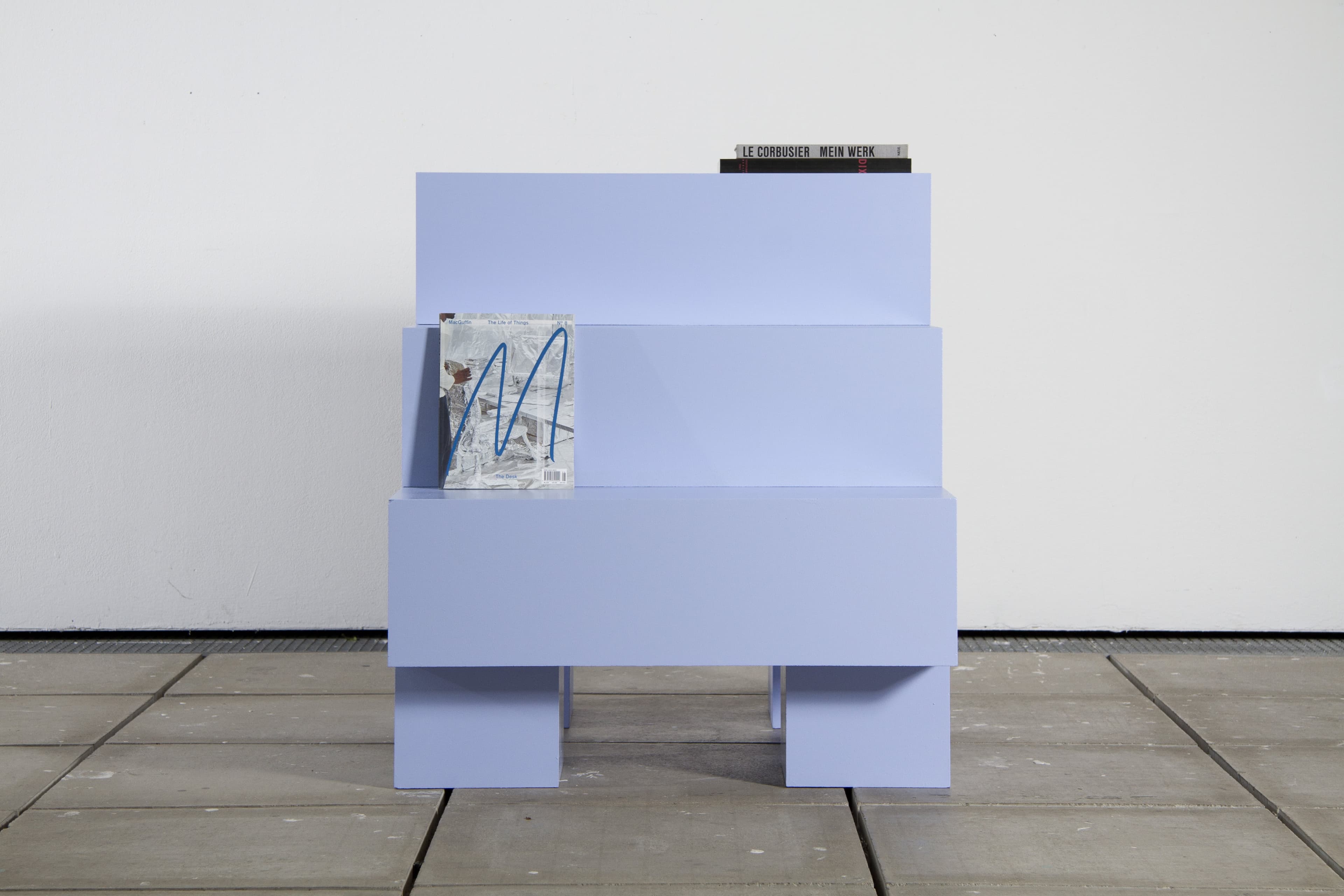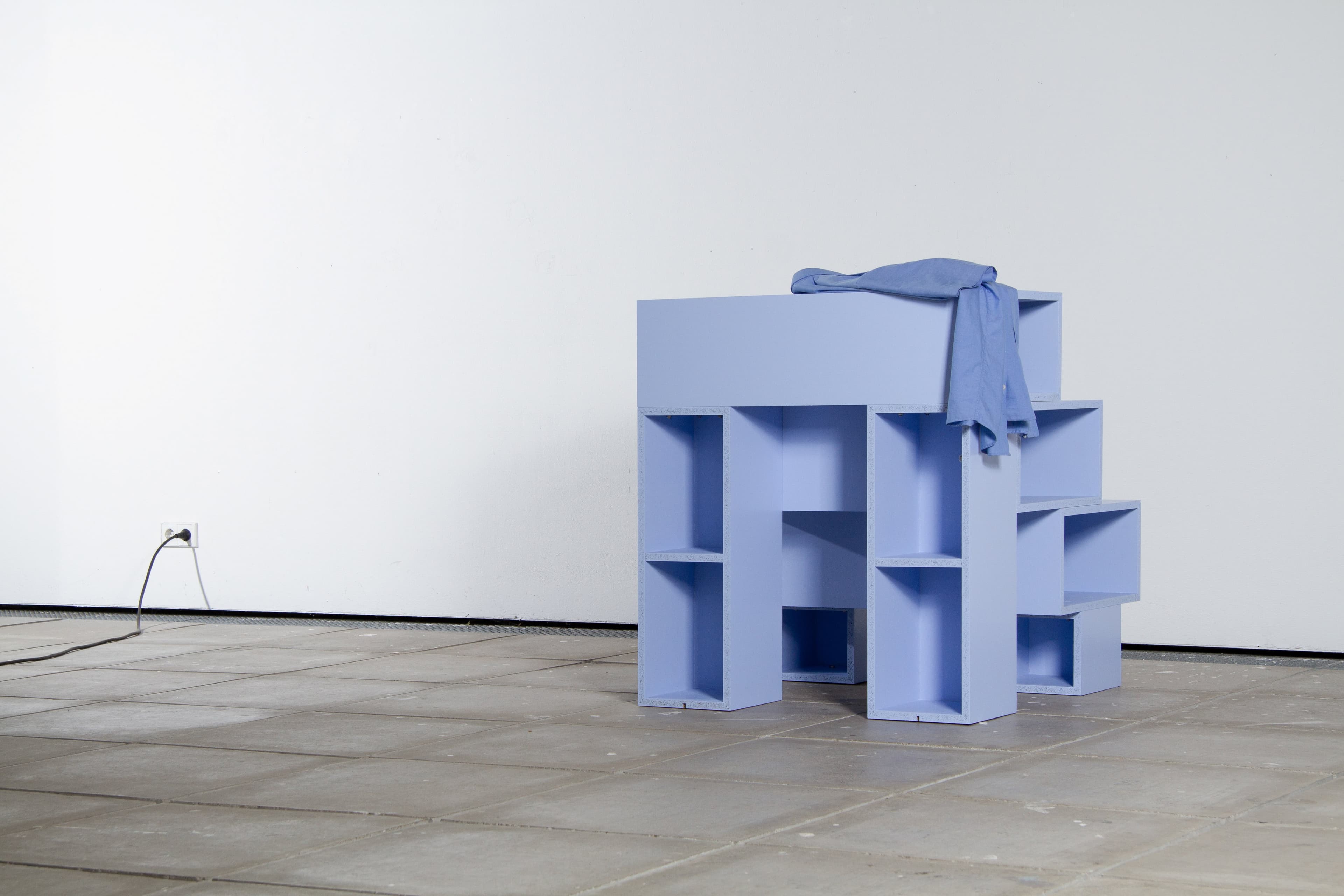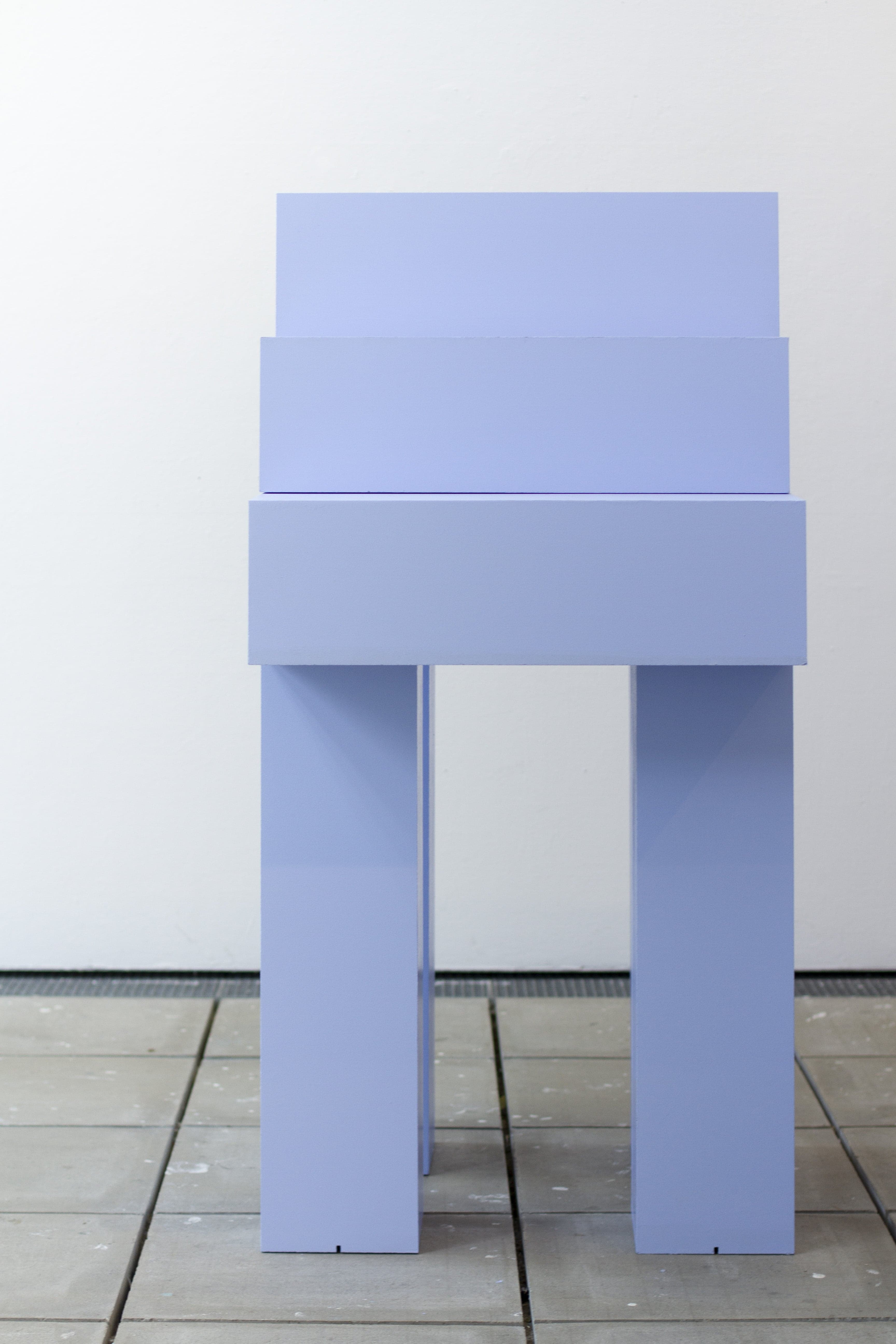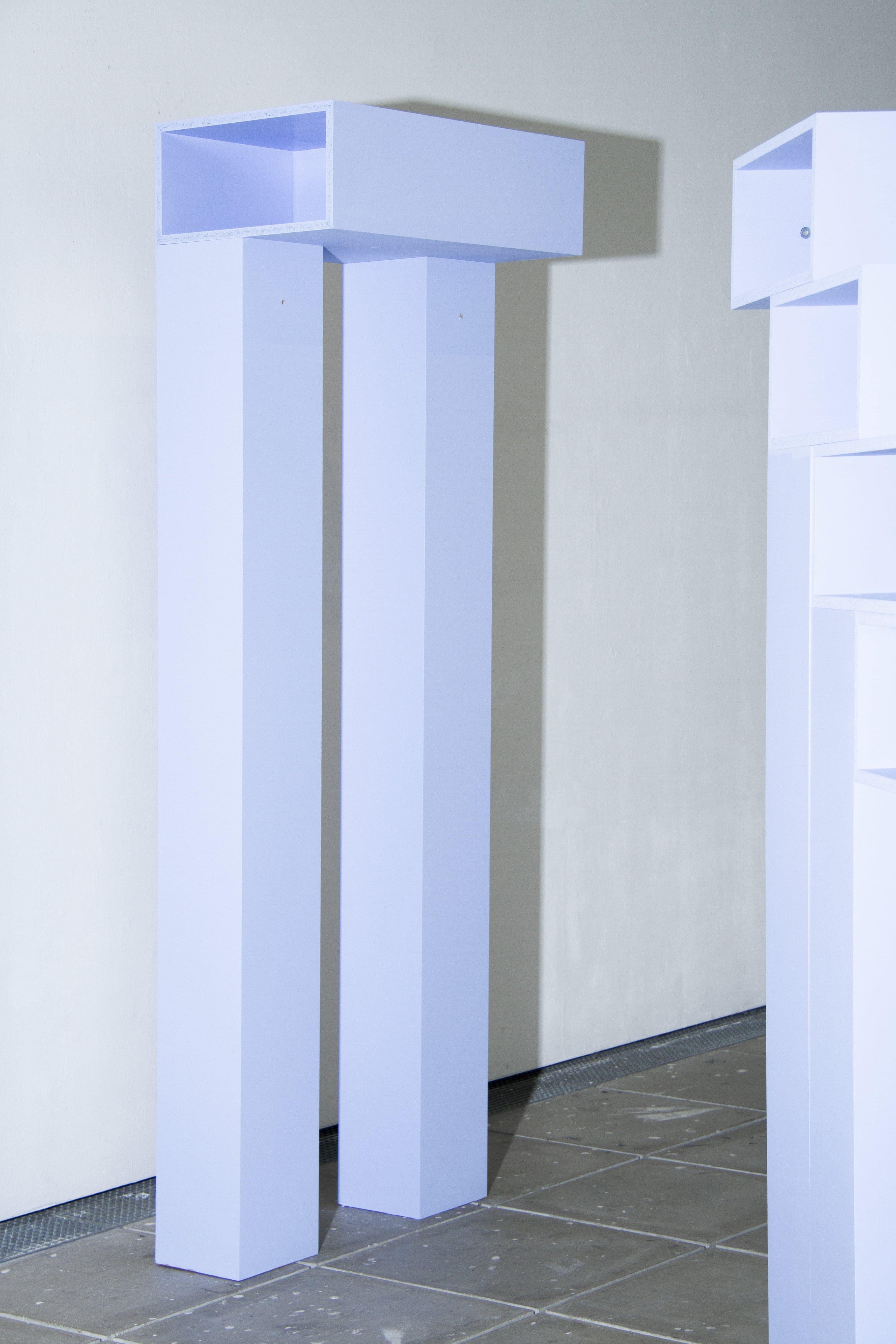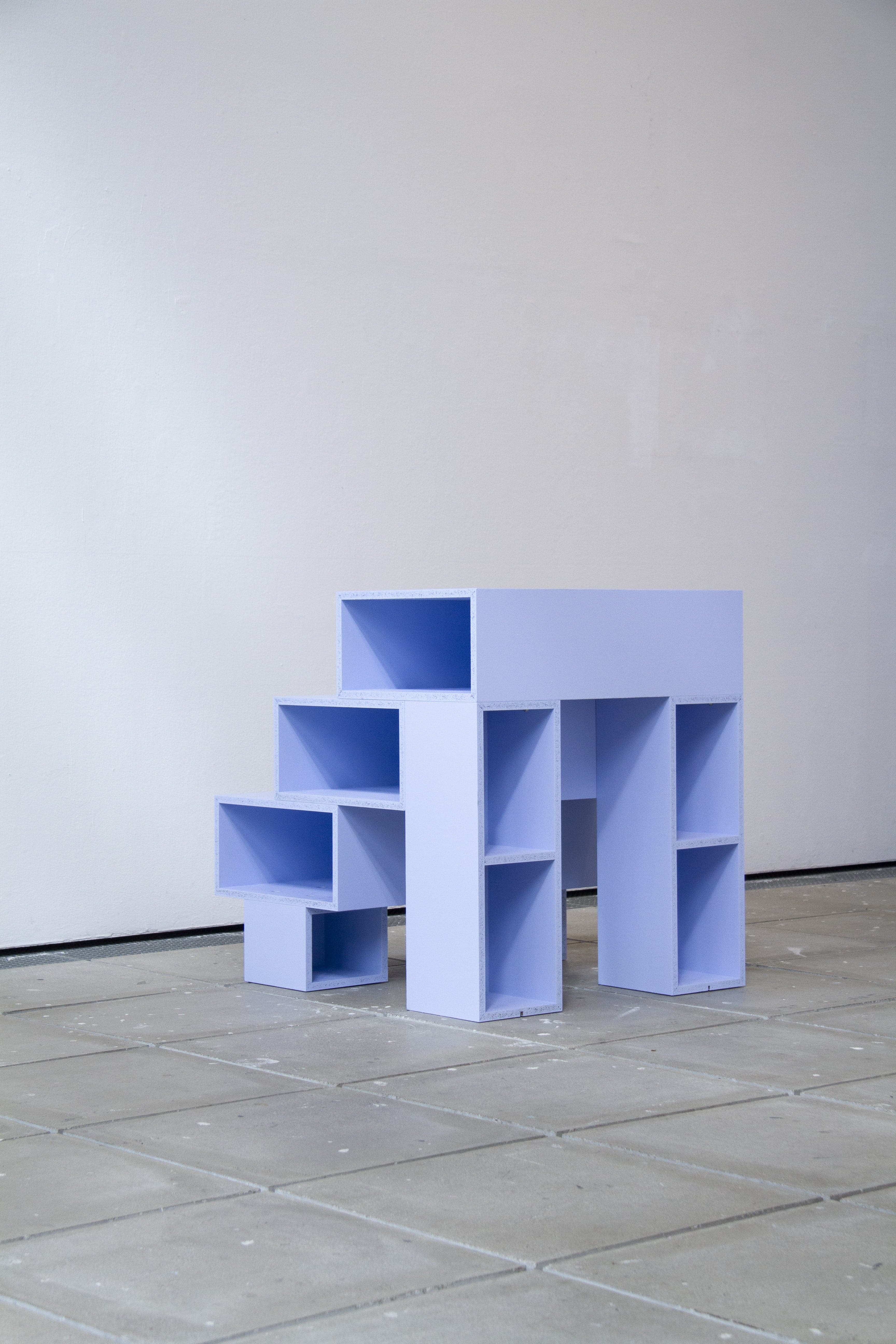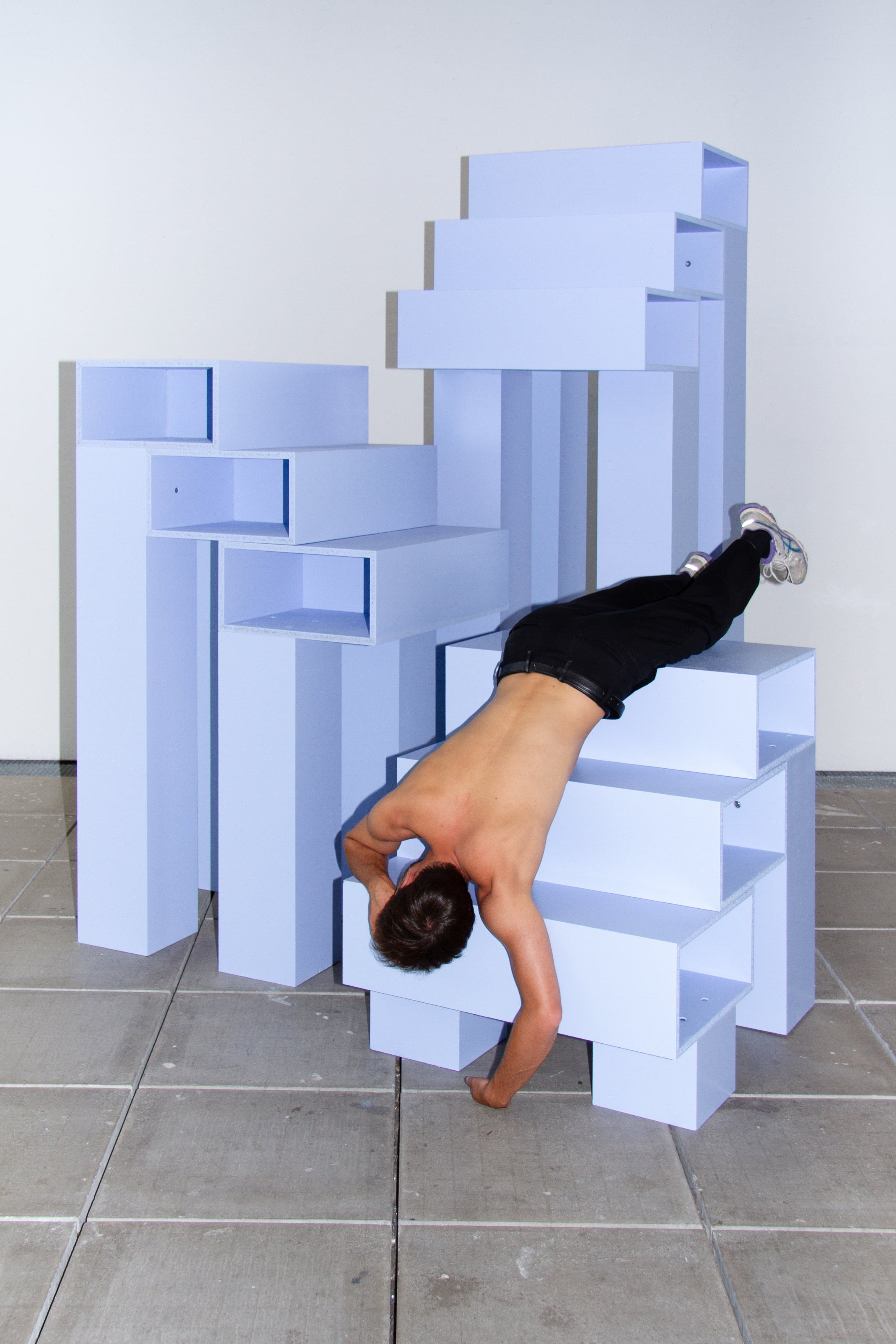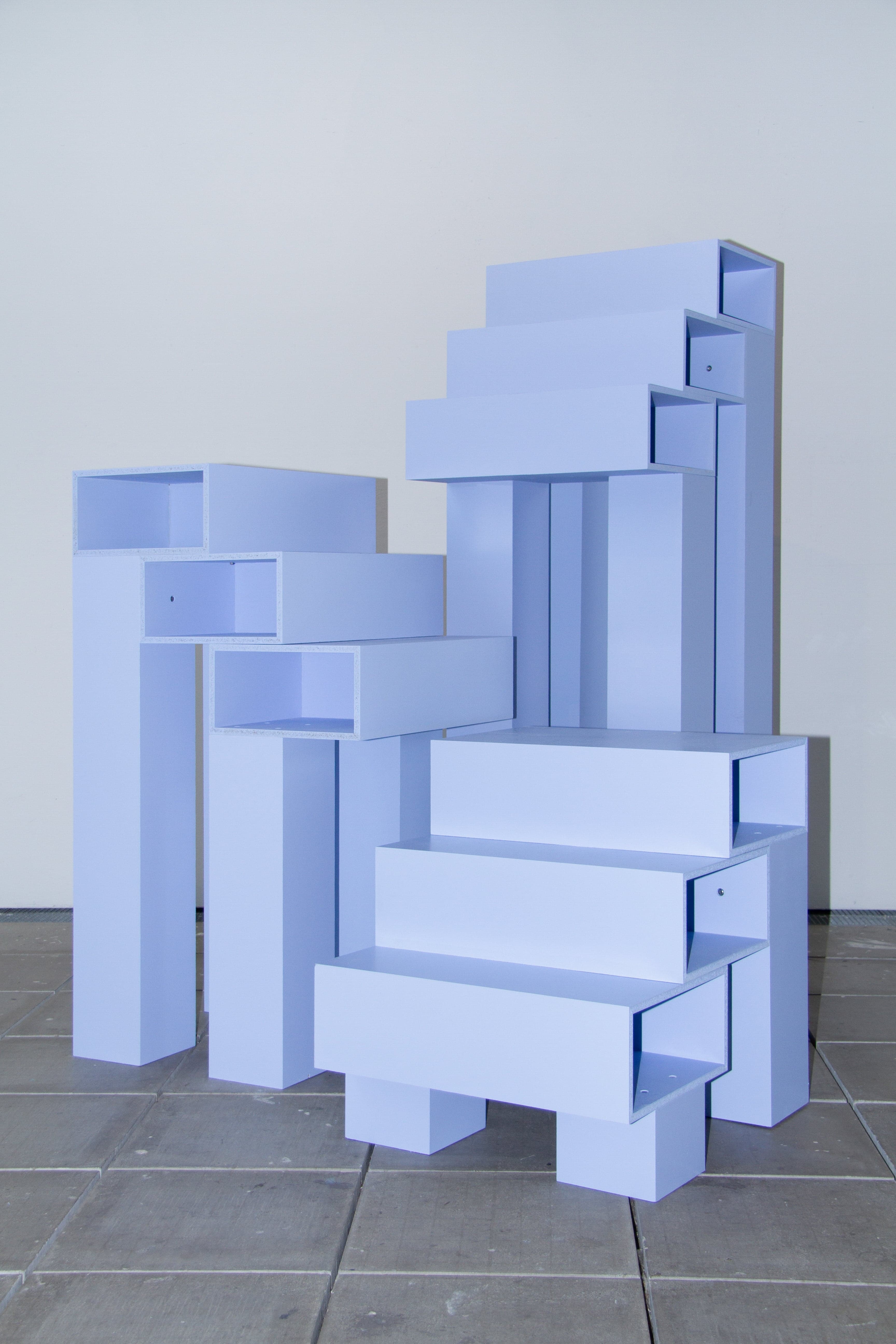 Stair Shelf Is a modular shelving system composed of rearrangeable, multifunctional parts. Alongside exhibitory functions, the modular parts can be used as seating objects or vertically adjustable plateaus enabling new perspectives for both the viewer and the viewed object. Stair shelf is part of the Office Z series. A collection of objects exploring the future of the workplace and contemporary society's needs and desires in the light of digitalization.
Photography: ©Nils Körner
Presskit
© Haus Otto 2023
This website uses cookies. If you continue to use the website, we will assume that you agree.
Yes
No
More